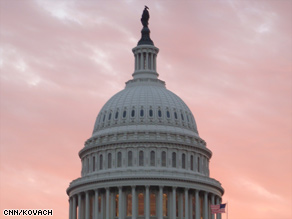 The CNN Washington Bureau's morning speed read of the top stories making news from around the country and the world.
WASHINGTON/POLITICAL
For the latest political news: www.CNNPolitics.com.
CNN: John King's Monday Memo: Foreign affairs will share spotlight with health reform this week
Health care remains, without a doubt, President Obama's top priority, though the week ahead will bring more of a public focus on international and security issues.
CNN: Sebelius: There will be competition with private insurers
A day after President Obama appeared to suggest that his administration might be open to health care reform legislation that does not include a public health insurance option, one of Obama's top aides on the issue left the door open to accepting nonprofit health insurance co-ops, a proposal that has gained traction in bipartisan negotiations in the Senate Finance Committee.
CNN: Democratic senator: Public health insurance option dead
A key Senate negotiator said Sunday that President Obama should drop his push for a government-funded public health insurance option because the Senate will never pass it.
CNN: TX Dem: Bill without public option 'would be very, very difficult'
On the same day that a Cabinet member signaled the administration's willingness to forego inclusion of a public health insurance option in the final version of health care reform legislation, a Texas Democrat who is also a registered nurse suggested that the public option might be a deal breaker for at least some House Democrats.
CNN: Carville: Dems should force GOP to filibuster health care reform
After two weeks of sometimes contentious congressional town hall meetings on health care reform, and amid growing signals from the Obama administration that it may be willing to compromise on a key aspect of health care, Democratic strategist James Carville said Sunday that congressional Democrats should force Republicans to filibuster health care reform in the Senate.
CNN: Doctors', seniors' advocacy groups defend health-care overhaul
Leaders of organizations representing America's doctors and senior citizens on Sunday defended proposals by President Barack Obama and Democratic leaders to overhaul the nation's ailing health-care system.
CNN: Aide: Obama 'can't prevent employers from dropping coverage'
A top Obama aide said Sunday that even if health care reform legislation is passed, the president cannot prevent employers from dropping health care coverage.
CNN: Sebelius on swine flu: 'We're preparing for the worst'
Health and Human Services Secretary Kathleen Sebelius said Sunday that it would likely be Thanksgiving before the most vulnerable, high priority populations are completely vaccinated against the H1N1 or swine flu virus. In the meantime, Sebelius said parents and schools need to make back-up plans to deal with possible illness.
CNN: Yettaw's actions in Myanmar 'regrettable'
An American sentenced to seven years hard labor in Myanmar after he sneaked into the home of detained democracy leader Aung San Suu Kyi, arrived in Thailand on Sunday with the U.S. senator who secured his release.
CNN: Conservative Democrat gets The Last Word
A member of the Democratic Blue Dog Coalition, a group of more moderate to conservative Democrats in the House of Representatives, predicted Sunday that the version of health care reform legislation currently being hashed out by bipartisan negotiators in the Senate Finance Committee will come to dominate the reform debate.
CNN: Obama gets personal in health care town hall meeting
In an unexpectedly personal moment during a town hall meeting Saturday, President Obama invoked the death of his grandmother as he took to task critics of overhauling health care.
CNN: Bacon, ex-Pentagon spokesman, refugee advocate, dies
Kenneth Bacon, a former reporter and Pentagon spokesman who later served as a top advocate of displaced people all over the world, died Saturday, according to Refugees International. He was 64.
New York Times: Obama Pushes States to Shift on Education
Holding out billions of dollars as a potential windfall, the Obama administration is persuading state after state to rewrite education laws to open the door to more charter schools and expand the use of student test scores for judging teachers.
New York Times: In Arkansas, a Democrat Navigates the Health Fight
Nobody got in Senator Blanche Lincoln's face about health care last week. That was because she did not let them.
Washington Post: Pentagon Worries Led to Command Change
In mid-March, as a White House assessment of the war in Afghanistan was nearing completion, Defense Secretary Robert M. Gates and Adm. Mike Mullen, the chairman of the Joint Chiefs of Staff, met in a secure Pentagon room for their fortnightly video conference with Gen. David D. McKiernan, the top U.S. commander in Kabul.
Washington Post: Pathology Institute Defends Its Turf
For nearly 150 years, from its origins during the Civil War, the Armed Forces Institute of Pathology in Washington has helped diagnose illnesses and solve medical mysteries.
NATIONAL
For the latest national news: www.CNN.com.
CNN: Tropical Storm Claudette bears down on Florida
Tropical Storm Claudette is expected to make landfall in the Florida Panhandle by early Monday, and the storm's outer bands already were pounding the area with heavy rain Sunday evening.
CNN: Dry conditions, winds leave California open to big fires
Dry conditions and strong winds in California left much of the state vulnerable to massive fires, with blaze-starters ranging from a cooking fire at a drug trafficking operation to a bird flying into a power line.
CNN: Arrest made in attack on Milwaukee mayor
A 20-year-old Wisconsin man accused of attacking the mayor of Milwaukee with a metal pipe has been arrested, police said Sunday.
CNN: Hudson air crash probe focuses on controller; union cries foul
Investigators probing last weekend's fatal aircraft collision over New York's Hudson River focused Friday on an air traffic controller, though union leaders angrily said the controller could have done nothing to prevent the crash.
CNN: Commentary: Say goodbye to Saturday mail?
On this sultry weekend in the middle of August, take a look at what's on your kitchen counter.
CNN: Prison was 'a turning point,' quarterback Vick says
The Philadelphia Eagles welcomed Michael Vick back into the National Football League on Friday after the quarterback spent almost two years in federal prison on a felony dogfighting conviction.
New York Times: Living and Fighting Alongside Men, and Fitting In
There is no mistaking that this dusty, gravel-strewn camp northeast of Baghdad is anything other than a combat outpost in a still-hostile land. And there is no mistaking that women in uniform have had a transformative effect on it.
New York Times: New Test for Business and Biofuel
An unusual experiment featuring equal parts science, environmental optimism and Native American capitalist ambition is unfolding here on the Southern Ute Indian Reservation in southwest Colorado.
Washington Post: The Signs Don't Point To a Typical Recovery
The wounded U.S. economy has shown signs of improvement in recent weeks. But many economists, who were caught off guard by the brutality of the downturn, are accentuating the negative, bracing for head winds that could cause the recovery to be weak.
Washington Post: Threat Theater
Five minutes before his job interview, John Fisher parks at Ace Fire Extinguisher Services in College Park, his window open and his stomach jumpy. He is nibbling on spoonfuls of cottage cheese when shouts erupt from the car next to his.
USA TODAY: Bad economy sparks more complaints of wage theft
More workers are getting stiffed just when they need their pay the most.
USA TODAY: Controller discussing dead cat prior to Hudson crash
The air traffic controller handling the small plane involved in a deadly crash with a helicopter over the Hudson River was chatting on the telephone about a dead cat at the airport and initially failed to warn the pilot of other aircraft in his path, officials said.
INTERNATIONAL
For the latest international news: http://edition.cnn.com/
CNN: Report: Kim Jong Il meets Hyundai official
North Korean leader Kim Jong Il met with Hyundai's chairwoman, who had come from South Korea seeking the release of an employee detained since March, South Korean media reported.
CNN: Iran releases French woman, officials say
Iran has released a French academic from prison, though it's not clear when Clotilde Reiss can return home, French President Nicolas Sarkozy's office announced Sunday.
CNN: Taiwan's leader takes blame for typhoon response
Taiwanese leader Ma Ying-jeou said Sunday he accepts responsibility for the government's slow response after Typhoon Morakot slammed into the island killing at more than 120 people and unleashing floods, mudslides and misery.
CNN: Nigerian police: Thousands detained in raid on Islamic camp
Police in northern Nigeria on Saturday detained almost 4,000 members of an Islamic community, claiming the group posed a potential violent threat, the police commissioner in the Nigerian state of Niger told CNN.
CNN: Karzai, rivals debate as Afghan elections near
Afghan President Hamid Karzai, heavily criticized last month for skipping a candidates' debate, met two of his political rivals in a nationally televised debate Sunday night, just four days ahead of the war-torn country's presidential elections.
CNN: Bolt smashes own record to win world 100m title
Olympic champion Usain Bolt smashed his own record to end the reign of 100-meter title-holder Tyson Gay at the world athletics championships in Berlin on Sunday night.
CNN: What is happening with Pakistan's Taliban?
So, what is happening with the Pakistan Taliban? From where I stand, there is a curious pattern to recent events.
New York Times: Clerics' Call for Removal Challenges Iran Leader
A group of Iranian clerics has issued an anonymous letter calling Iran's supreme leader a dictator and demanding his removal, the latest and perhaps strongest rhetorical attack on him yet in the country's post-election turmoil.
New York Times: Egyptian President to Tell U.S. Israel Must Make Overture
In White House meetings beginning Monday, President Hosni Mubarak of Egypt is expected to tell the Obama administration that Arab nations want peace, but are unwilling to abide Mr. Obama's call to make good-faith concessions to Israel until Israel takes tangible steps like freezing settlements, an Egyptian official said.
New York Times: Threats by Taliban May Sway Vote in Afghanistan
A group of Taliban fighters made their announcement in the bazaar of a nearby village a few days ago, and the word spread fast: anyone caught voting in the presidential election will have his finger — the one inked for the ballot — cut off.
New York Times: Ripples of Dispute Surround Tiny Island in East Africa
This little island doesn't look like much. It's a slab of rock, not even an acre big, packed with rusty metal shacks, heaps of garbage, glassy-eyed fishermen and squads of prostitutes, essentially a microslum bathing in the middle of Africa's greatest lake.
Washington Post: Gay Men Targeted In Iraq, Report Says
Human Rights Watch will urge in a report to be released Monday that the Iraqi government do more to protect gay men, saying militiamen have killed and tortured scores in recent months as part of a social cleansing campaign.
Wall Street Journal: Afghan Road Project Shows Bumps in Drive for Stability
Khalid Khan's small construction firm was supposed to build a road here that would open his strife-scarred land to commerce and improve its prospects for peace. Instead he wound up in the hands of the Taliban, hanging upside down.
Wall Street Journal: Actor's U.S. Airport Screen Roils India
Fans of Bollywood superstar Shah Rukh Khan burned a U.S. flag in protest Sunday after the actor said he was detained for questioning at a U.S. airport.
Wall Street Journal: North Korea to Let Reunions Resume
North Korea agreed to restart family reunions and tourism by South Korean citizens at an enclave on the country's east coast, the North's state media said, in a move that could ease tensions with the South and revive what had been a steady income stream for the impoverished country.
BBC: UK Afghan forces 'are undeterred'
Five British troops lost their lives over the weekend, bringing the total number of UK service personnel killed since the start of the campaign to 204.
BUSINESS
For the latest business news: www.CNNMoney.com.
CNNMoney: BB&T buys Colonial bank; 4 other banks fail
Troubled Colonial BancGroup will be bought by rival BB&T Friday, the government said after state regulators closed the bank whose assets had been frozen by a federal judge.
CNNMoney: Rising credit card minimums: Fair or foul?
Opening the August credit card statement is going to send the blood pressure of some Chase customers skyward. For the second time this year the bank has changed up the rules for how it calculates the minimum payment due for certain customers, increasing the rate from 2% of the outstanding balance to 5%.
Los Angeles Times: Workers bracing to say goodbye to Toyota auto plant
Most industry analysts believe it's a foregone conclusion that the Japanese automaker will shut California's last remaining auto plant. That leaves 3,600 union workers to hope against enormous odds.
In Case You Missed It
To watch the latest interviews and reporting: http://www.cnn.com/video.
CNN: Sebelius: Public option 'not essential'
Watch Health and Human Services Secretary Kathleen Sebelius discus public insurance as part of health care reform.
Subscribe to the CNN=Politics DAILY podcast at http://www.cnn.com/politicalpodcast.
And now stay posted on the latest from the campaign trail by downloading the CNN=Politics SCREENSAVER at http://www.CNN.com/situationroom.