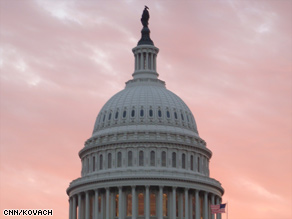 The CNN Washington Bureau's morning speed read of the top stories making news from around the country and the world.
WASHINGTON/POLITICAL
For the latest political news: www.CNNPolitics.com.
CNN: Obama aide says president still favors public health plan
The White House sought to reassure jittery supporters Monday that President Obama is not abandoning the fight for a public health insurance option.
CNN: Man carries assault rifle to Obama protest - and it's legal
A man toting an assault rifle was among a dozen protesters carrying weapons while demonstrating outside President Barack Obama's speech to veterans on Monday, but no laws were broken. It was the second instance in recent days in which unconcealed weapons have appeared near presidential events.
CNN: Economic stimulus for national parks working?
From Yellowstone National Park to the Everglades, America's 391 national parks are in need of repair - and thanks to the economic stimulus signed into law, help is now underway.
CNN: Blue Dog: 'Excellent idea' to start over on health care reform
Acknowledging his amazement at the crowds gathered to debate health care at his town halls, Rep. Allen Boyd, D-Florida, faced three large gatherings on Monday with many questioners voicing skepticism about the proposals being debated in Washington.
CNN: Pelosi: 'Strong support' for public option in House
As President Obama seemed to signal that a public insurance plan would not be a make-or-break issue for his health care proposal, House Speaker Nancy Pelosi said Monday there is still "strong support" among her colleagues for it to be included in the final bill.
CNN: Obama, Bill Clinton to meet at the White House Tuesday
Former President Clinton will meet with President Obama at the White House tomorrow afternoon for the first time since Clinton's trip to North Korea that secured the release of two jailed journalists Eung Lee and Laura Ling in early August.
CNN: Obama pledges increased support to war veterans
President Obama took a brief hiatus from his health care push on Monday, promising increased help for America's war veterans in dealing with life after combat.
CNN: Jenny Sanford on her husband: 'The ball is in his court'
For the first time in nearly two months, Jenny Sanford is opening up about the affair that turned her life upside down.
CNN: Tom DeLay trades political stage for the real thing
Political observers know former House Majority Leader Tom "The Hammer" DeLay can have a heavy hand — the question is, can he be light on his feet?
CNN: WH's use of e-mail in reform push triggers Republican query
A Republican congressman wants to know more about why the Obama administration set up a special e-mail address to collect information about fishy claims made by opponents of heath care reform — and why some people received e-mails from the White House without ever signing up for them.
New York Times: Alternate Plan as Health Option Muddies Debate
The White House has indicated that it could accept a nonprofit health care cooperative as an alternative to a new government insurance plan, originally favored by President Obama. But the co-op idea is so ill defined that no one knows exactly what it would look like or how effectively it would compete with commercial insurers.
Washington Post: Public Option Called Essential
Several leading Democrats voiced concern Monday about an apparent White House shift on health-care reform, objecting to signals from senior administration officials that they would abandon the idea of a government-run insurance plan if it lacked the backing to pass Congress.
Washington Post: Obama Says Marriage Law Should Be Repealed
The Obama administration distanced itself Monday from legal arguments it had made earlier this summer, taking pains to remove and renounce language that had outraged advocates in the gay community in a case that centers on the constitutionality of a same-sex marriage law.
Washington Post: The Keystone Candidacy
A stiff-backed Arlen Specter bounded out of his burgundy Lincoln Town Car at a community center here and into a scene that had become all too familiar for the 79-year-old senator: "Arlen!" several hundred of his fellow Pennsylvanians screamed. "Say 'no' to health care!" they chanted in a moblike throng around his motorcade's path.
Los Angeles Times: Despite fumbles, Biden's a player
The gaffes keep piling up: the untimely comments stoking fears of swine flu, dismissals of Russia that seem straight out of the Cold War.
Boston Globe: A health plan linchpin commands respect
For many Washington lawmakers, it's been an angry August: returning home for the summer recess, they have faced put-downs, shout-downs, and worse at the hands of some constituents seething about the proposed health care overhauls before Congress.
NATIONAL
For the latest national news: www.CNN.com.
CNN: Dogfighters get creative as spotlight on Vick case fades
When pro quarterback Michael Vick pleaded guilty to bankrolling a dogfighting operation in 2007, there was a spike in reports of dogfighting in the United States.
CNN: Judge on trial after refusing to accept death row appeal
The presiding judge of the Texas Court of Criminal Appeals went on trial Monday, facing misconduct allegations over her refusal to accept a last-minute filing to delay an execution.
CNN: Bill could be major hurricane; Claudette soaks part of Southeast
Hurricane Bill was churning in the Atlantic Ocean early Monday evening with winds of 90 mph (145 kph), and forecasters said the storm - still far from any shore - could become a major hurricane by Wednesday.
CNN: School brass facing prison time for luncheon prayer
Two Florida school administrators face contempt charges and possible prison time for saying a prayer at a school luncheon.
CNN: Scientists analyze blood to test for toxic airplane air exposure
Inside a freezer in a research laboratory at the University of Washington are blood and blood plasma samples from 92 people who suffer from mysterious illnesses, including tremors, memory loss and severe migraine headaches.
CNN: Feds clarify description of Hudson River air collision
Federal officials Monday clarified their description of what an air traffic controller at New Jersey's Teterboro Airport could have seen on radar just before a tour helicopter collided with a small plane over the Hudson River.
CNN: Milwaukee mayor out of hospital after attack
Milwaukee, Wisconsin, Mayor Tom Barrett was released Monday from the hospital where he was admitted after being attacked by a man wielding a metal pipe, his chief of staff said.
New York Times: Mental Stress Training Is Planned for U.S. Soldiers
The Army plans to require that all 1.1 million of its soldiers take intensive training in emotional resiliency, military officials say.
New York Times: One Person's Boondoggle, Another's Necessity
The $14.7 million for a new airport on an Alaskan island that averages only 42 flights a month. The half-million dollars for a new skateboard park in unemployment-ravaged Rhode Island. The $3.4 million for fencing and tunnels to keep Florida turtles from becoming roadkill.
New York Times: Officials Say Detainee Fatalities Were Missed
More than one in 10 deaths in immigration detention in the last six years have been overlooked and were omitted from an official list of detainee fatalities issued to Congress in March, the Obama administration said Monday.
New York Times: 3 Indicted in Theft of 130 Million Card Numbers
The man who prosecutors said had masterminded some of the most brazen thefts of credit and debit card numbers in history was charged on Monday with an even larger set of digital break-ins.
Washington Post: Unemployment Spike Compounds Foreclosure Crisis
The country's growing unemployment is overtaking subprime mortgages as the main driver of foreclosures, according to bankers and economists, threatening to send even higher the number of borrowers who will lose their homes and making the foreclosure crisis far more complicated to unwind.
Washington Post: Credit Card Firms Face New Curbs This Week
The first phase of the landmark credit card legislation signed by President Obama in May will take effect this week, forcing card issuers to give consumers more time to pay their bills and to consider interest rate increases.
Boston Globe: Cases of swine flu higher among city blacks, Hispanics
Since its arrival in Boston in late April, swine flu has proved to be a particular source of misery to the city's African-American and Hispanic residents, causing hospitalizations at far higher levels than other groups, disease trackers report.
INTERNATIONAL
For the latest international news: http://edition.cnn.com/
CNN: Iran's Ahmadinejad criticizes rival Rafsanjani
There was a smile, a quick wave hello, a brief chat. Yet, despite the exchange of pleasantries, the simmering tensions between Iranian President Mahmoud Ahmadinejad and one of the nation's most powerful clerics became quickly evident at a major ceremony in Tehran on Monday.
CNN: Gay men attacked, executed in Iraq, rights group says
Hundreds of gay men have been tortured and killed in Iraq in recent months, some by the nation's security forces, Human Rights Watch said Monday.
CNN: Holbrooke: If Pakistan Taliban leader were alive, he'd be on TV
The United States knows that the leader of Pakistan's Taliban is dead because he has not appeared in public to prove that he is alive, the top U.S. envoy to the region told CNN on Monday.
CNN: Missing cargo ship found off African islands
Russian officials on Monday located a Russian cargo ship that has been missing for more than two weeks after it was believed to have been hijacked, a top official said.
CNN: Mozart may have died of strep throat complications
So ill he could not move, Wolfgang Amadeus Mozart supposedly sang parts of his final masterpiece, "Requiem," from his deathbed. Two centuries later, the exact cause of the Austrian composer's premature death, in December 1791 at age 35, is still a mystery.
CNN: Spielberg gets movie cash with India partnership
Financing for DreamWorks Studios' partnership with one of India's richest men was finalized Monday, giving Steven Spielberg and partner Stacey Snider money to resume making movies.
CNN: Mexico shootouts leave 4 dead, 3 wounded
One small slice Monday of Mexican President Felipe Calderon's war on drug cartels: two shootouts on the streets of two cities; a man and a woman ambushed in their car; at least four people dead; three soldiers wounded, one of them gravely.
CNN: Video allegedly shows British soldier abusing Iraqis
As British authorities prepare to resume an inquiry into a hotel clerk's death in Basra while held by British soldiers in 2003, a video has emerged allegedly showing a British soldier abusing Iraqi prisoners.
CNN: Memo: U.S., Brazilian leaders talked of Chile coup in '71
President Richard M. Nixon and his Brazilian counterpart, Emilio Medici, in 1971 discussed ways their countries could work together to overthrow the socialist government of Salvador Allende in Chile, according to a newly declassified document.
CNN: Police chief axed over Russian suicide blast
Russian President Dmitry Medvedev sacked the head of Ingushetia's police after a suicide bomber killed at least 19 people Monday.
New York Times: Brazil Seeks More Control Over Oil Beneath Its Seas
Faced with the world's most important oil discovery in years, the Brazilian government is seeking to step back from more than a decade of close cooperation with foreign oil companies and more directly control the extraction itself.
New York Times: Peace Talks With Taliban Are a Top Issue in Afghan Vote
Whether and how to negotiate peace with the Taliban has become the one issue that no candidate in the Afghan presidential election can avoid taking a stand on. There is broad agreement that the war must end, but debate swirls around whether the government of President Hamid Karzai is moving effectively toward persuading the Taliban to end their insurgency.
Washington Post: S. Korean Launch Raises Questions
South Korea on Wednesday plans to launch a satellite into space using technology capable, in theory, of eventually delivering nuclear warheads or other weapons of mass destruction.
Washington Post: Mexico May Get More Anti-Drug Aid
The Obama administration has concluded that Mexico is working hard to protect human rights while its army and police battle the drug cartels, paving the way for the release of millions of dollars in additional federal aid.
Washington Post: N. Korea Apparently Loosening Strategy
In a shift from pugnacious confrontation to measured conciliation, North Korea appears to be recalibrating its relations with the United States, South Korea and the outside world.
Wall Street Journal: Protesters Storm Chinese Plant Over Lead Poisoning
Hundreds of villagers in northwest China's Shanxi province stormed a smelting plant on Monday to protest the lead poisoning of more than 600 children in the area, state media reported.
BUSINESS
For the latest business news: www.CNNMoney.com.
CNNMoney: Clunkers: Toyota passes GM as top seller
More customers trading in vehicles under the Cash for Clunkers program bought cars from Toyota than any other manufacturer, according to new government statistics. In previous reports, General Motors has topped that list.
CNNMoney: Class of 2009: Who's working, who isn't
The class of 2009 graduated into the worst economy in decades, with unemployment at a 26-year high. Here's how 11 grads are getting by.
Los Angeles Times: Pimco and Goldman Sachs exit Federal Reserve mortgage bond program
The Federal Reserve Bank of New York plans to get along without the help of bond giant Pimco or Goldman Sachs Group as the central bank continues its massive purchases of mortgage-backed securities.
Bloomberg: GM Said to Add Overtime, More Shifts as 'Clunkers' Boosts Sales
General Motors Co., benefiting from the Obama administration's "cash for clunkers" program, is boosting production at car plants in Ohio and Michigan, people familiar with the matter said.
In Case You Missed It
To watch the latest interviews and reporting: http://www.cnn.com/video.
CNN: Michael Vick: Real remorse?
Campbell Brown and panel discuss whether Michael Vick has true remorse for his dogfighting actions.
Subscribe to the CNN=Politics DAILY podcast at http://www.cnn.com/politicalpodcast.
And now stay posted on the latest from the campaign trail by downloading the CNN=Politics SCREENSAVER at http://www.CNN.com/situationroom.