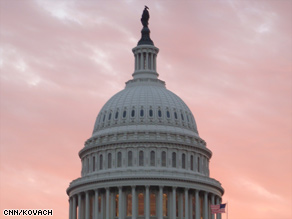 The CNN Washington Bureau's morning speed read of the top stories making news from around the country and the world.
WASHINGTON/POLITICAL
For the latest political news: www.CNNPolitics.com.
CNN: N. Korea feels 'owed' direct talks with U.S., Richardson says
North Korea believes it's owed bilateral talks with the United States after the communist government released two detained American journalists this month - a notion that senior Obama administration officials quickly rejected on Wednesday.
CNN: 'Talk to neighbors, spread the facts' on health care, says Obama
President Obama appealed Wednesday to faith-based groups to help garner support for his plan to overhaul the nation's health care system.
CNN: White House may push through health care without Republicans
The Obama administration is looking hard at pushing through a health care reform bill without Republican backing, top Democrats close to the White House have told CNN.
CNN: Grassley insists he's still looking to make a health care deal
Iowa Sen. Chuck Grassley, the ranking Republican on the Senate Finance Committee, dismissed Democratic criticism Wednesday that it increasingly appears he doesn't want any health care deal at all — a key point Democrats have been making to justify the possibility of going it alone, without GOP votes.
CNN: New White House tactic to bring GOP back to health debate?
In the chess game over health care reform, the White House's last move was to say Democrats might use a procedural move to get a bill through without working with Republicans.
CNN: Palin reveals receiving range of gifts
As Alaska governor, Sarah Palin last year received a wide variety of unique gifts, according to a supplemental disclosure form submitted to the state government. They included a gun case embroidered with "Sarah" on it sent from Tennessee; a piece of glass elephant jewelry from a California woman, an embroidered cross-stitched blanket entitled "The Special Child" from a Texas woman; and a hand-painted plate with Palin's picture on from a stoneware studio in Kansas.
CNN: Polls: Obama approval rating stands at 51 percent
Three new national polls released over the past 24 hours indicate that just over half of all Americans approve of how President Obama's handling his job.
CNN: Ensign: Clinton's affair broke the law, mine didn't
Nevada Sen. John Ensign — who voted as a congressman to impeach President Clinton for lying under oath about his extramarital affair — said Wednesday he saw no reason to resign in light of his own affair, because he had not violated any laws.
CNN: Clintons plan secret trip to Bermuda, says paper
President Obama isn't the only member of his administration planning an island getaway this month.
CNN: Obama administration urges employer flexibility in H1N1 fight
The Obama administration Wednesday urged employers to adopt "flexible and non-punitive" sick-leave policies as it released new guidelines for containing the spread of the H1N1 virus in the coming flu season.
CNN: Huckabee defends Israel trip
Mike Huckabee, the former GOP presidential candidate who is thought to be eyeing a second run for the White House, is standing by his recent comments in Israel criticizing the White House's policy toward the country.
CNN: Crist holds on to primary lead as appointment questions linger
A new poll suggests Florida Gov. Charlie Crist is holding on to a clear advantage over his Republican primary opponent in next year's Senate race. But it's far from clear who he'll be facing – or replacing.
New York Times: C.I.A. Sought Blackwater's Help in Plan to Kill Jihadists
The Central Intelligence Agency in 2004 hired outside contractors from the private security contractor Blackwater USA as part of a secret program to locate and assassinate top operatives of Al Qaeda, according to current and former government officials.
New York Times: Bernanke, a Hero to His Own, Can't Shake Critics
Ben S. Bernanke, chairman of the Federal Reserve, no longer looks sleep-deprived.
New York Times: Government Jobs Have Grown Since Recession
While the private sector has shed 6.9 million jobs since the beginning of the recession, state and local governments have expanded their payrolls and added 110,000 jobs, according to a report to be issued Thursday by the Nelson A. Rockefeller Institute of Government.
Washington Post: Administration Makes Progress on Resettling Detainees
The Obama administration has secured commitments from nearly a dozen countries willing to accept detainees from Guantanamo Bay and is increasingly confident about its ability to transfer a large majority of the prisoners who have been cleared for release, according to U.S. and foreign officials.
Washington Post: Senator Calls for Narrower Measure
Sen. Charles E. Grassley, a key Republican negotiator in the quest for bipartisan health-care reform, said Wednesday that the outpouring of anger at town hall meetings this month has fundamentally altered the nature of the debate and convinced him that lawmakers should consider drastically scaling back the scope of the effort.
Washington Post: Dean Challenges Obama to Deliver Reform
Former Democratic National Committee chairman Howard Dean is emerging as a thorn in the side of a White House that effectively swept him out of Washington, regularly challenging President Obama and Congress as he crisscrosses the country preaching his progressive vision for universal health care.
Boston Globe: Kennedy, looking ahead, urges that Senate seat be filled quickly
Senator Edward M. Kennedy, in a poignant acknowledgment of his mortality at a critical time in the national health care debate, has privately asked the governor and legislative leaders to change the succession law to guarantee that Massachusetts will not lack a Senate vote when his seat becomes vacant.
Wall Street Journal: New Rx for Health Plan: Split Bill
The White House and Senate Democratic leaders, seeing little chance of bipartisan support for their health-care overhaul, are considering a strategy shift that would break the legislation into two parts and pass the most expensive provisions solely with Democratic votes.
NATIONAL
For the latest national news: www.CNN.com.
CNN: Man gets 4 years for crashing plane, trying to fake death
A man who crashed his plane in the Florida Panhandle in an apparent attempt to fake his death was sentenced Wednesday to more than four years in federal prison, officials said.
CNN: Reality TV star sought in swimsuit model's death
A reality TV contestant is wanted for questioning in connection with the death of his ex-wife, a former swimsuit model whose nude body was found stuffed into a suitcase.
CNN: L.A. coroner returns to office of Jackson's dermatologist
The Los Angeles Coroner's chief investigator revisited the office of Michael Jackson's dermatologist Wednesday, even though the coroner announced last week his "thorough and comprehensive" report was completed.
CNN: Discovery set to launch next week for space station
Space shuttle Discovery is set to launch next week on a mission to the international space station, NASA's Flight Readiness Review team said Wednesday.
CNN: '60 Minutes' creator Don Hewitt dies
Television pioneer and longtime CBS executive Don Hewitt, the creator of "60 Minutes," has died, the network said Wednesday. He was 86.
CNN: Don Hewitt had a passion for stories
Don Hewitt created a remarkable system to get the best stories on the air. First of all, he never held an editorial meeting. It was up to each producer to stay on top of the news and claim a story as soon as you knew you had something. You claimed a story by submitting a "blue sheet" - before computers, the paper must have been blue - and you wrote a few lines describing the story and the best reason it should be on television.
CNN: More women held for driving while intoxicated, study finds
Arrests for women driving under the influence jumped by nearly 30 percent during the decade ending in 2007, according to a study released Wednesday by the U.S. Transportation Department.
New York Times: At the End, Offering Not a Cure but Comfort
Deborah Migliore was pushed into a small conference room in a wheelchair, looking kittenish in red and white pajamas and big gold hoop earrings. Her weight was down to about 90 pounds, from 116, her face gaunt, her sad eyes droopier than ever.
New York Times: Judge Faults Freezing of Assets in Terror Case
In a ruling that threw into doubt one of the government's main counterterrorism tools, a federal judge said the Treasury Department acted unconstitutionally three years ago when it froze the assets of an Ohio charity suspected of aiding terrorists.
Christian Science Monitor: Date set for challenge of California gay-marriage ban
A federal judge on Wednesday set a Jan. 11 court date for the first legal challenge to Proposition 8, the California ballot initiative that outlawed same-sex marriage.
INTERNATIONAL
For the latest international news: http://edition.cnn.com/
CNN: Afghans head to the polls
Polls opened Thursday morning in Afghanistan, as the war-ravaged nation held its second-ever presidential and provincial council elections.
CNN: Iranian hard-liners criticize reformist
Legal action must be taken against Iranian opposition leader Mehdi Karrubi for claiming post-election detainees were being raped behind bars, said the governor of Tehran province, as hard-line criticism grew against the reformist.
CNN: Taliban official reportedly names self acting leader in Pakistan
Senior Taliban official Maulvi Faqir Mohammad has named himself acting head of the Pakistani Taliban, a close relative of Mohammad and local Taliban spokesmen in Pakistan's federally administered tribal areas told CNN Wednesday.
CNN: 'Extremely dangerous' Hurricane Bill churns in Atlantic
Described as "an extremely dangerous Category 4 hurricane," Hurricane Bill was churning closer to the Atlantic island of Bermuda on Wednesday, forecasters said.
CNN: Experts: Voter turnout could deal blow to Taliban
A high voter turnout in Thursday's presidential elections in Afghanistan could help marginalize the Taliban, experts said Wednesday.
CNN: China probe of abuse at Web addiction camp
A 14-year-old boy allegedly beaten at a boot camp in China for young Internet addicts was in critical condition Thursday, less than three weeks after a youth at a different camp died, Chinese state media reported.
CNN: Swedish paper's organ harvesting article draws Israeli outrage
Israel has expressed outrage about a Swedish newspaper article that called for an investigation into claims that Israeli soldiers may have harvested organs from dead Palestinians.
CNN: London police arrest 2 in bold $65M jewelry heist
Two men were arrested Wednesday in connection with this month's brazen London jewelry store robbery of millions of dollars worth of gems, Metropolitan Police said.
CNN: Owner sentenced in fatal club fire; band absolved
Argentina's Court of Justice on Wednesday convicted and sentenced a club owner to 20 years in prison for a deadly club fire that killed 194 people but absolved the band that had played that night of responsibility for the tragedy.
New York Times: 2 Blasts Expose Security Flaws in Heart of Iraq
Insurgents struck at the heart of the Iraqi government on Wednesday in two huge and deadly bombings that exposed a new vulnerability after Americans ceded control for security here on June 30. Nearby American soldiers stood by helplessly — despite the needs of hundreds of wounded lying among the dead — waiting for a request for assistance from Iraqi officials that apparently never came.
BUSINESS
For the latest business news: www.CNNMoney.com.
CNNMoney: Dealers want end to Cash for Clunkers
The National Automobile Dealers Association is urging the federal government to begin shutting down the Cash for Clunkers program immediately.
CNNMoney: Why oil won't return to triple digits
Oil prices have surged more than 50% from the start of the year, but don't expect a return to triple digits anytime soon - worries about the pace of an economic recovery will continue to drive near-term volatility.
CNNMoney: New Orleans economy: Recovery, interrupted
In a century-old building at 220 Camp St. bustle a bunch of new-fangled companies - the kind once considered as likely to call New Orleans home as the Saints winning the Super Bowl.
New York Times: Names Deal Cracks Swiss Bank Secrecy
In the latest setback to Switzerland's tradition of banking secrecy, UBS, one of the nation's largest banks, agreed on Wednesday to turn over information on more than 4,400 American clients suspected by the Internal Revenue Service of using Swiss accounts for tax evasion.
Washington Post: Derivatives Proposal Is Too Soft, Regulator Says
A top federal regulator has urged Congress to adopt tougher rules to govern betting in exotic financial instruments known as derivatives than the Obama administration has proposed, warning that the administration's new vision of market regulation could contain loopholes.
In Case You Missed It
To watch the latest interviews and reporting: http://www.cnn.com/video.
CNN: Deadliest day in Iraq
Deadliest day in Iraq since the US military handed security over to the Iraqi's. CNN's Arwa Damon reports.
Subscribe to the CNN=Politics DAILY podcast at http://www.cnn.com/politicalpodcast.
And now stay posted on the latest from the campaign trail by downloading the CNN=Politics SCREENSAVER at http://www.CNN.com/situationroom.