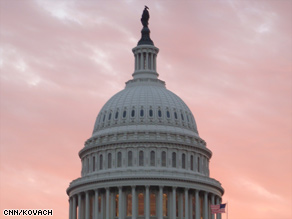 The CNN Washington Bureau's morning speed read of the top stories making news from around the country and the world.
WASHINGTON/POLITICAL
For the latest political news: www.CNNPolitics.com.
CNN: Ridge: I fought raising security level before '04 vote
Former Secretary of Homeland Security Tom Ridge says he successfully countered an effort by senior Bush administration officials to raise the nation's terror alert level in the days before the 2004 presidential vote.
CNN: 'Romney care' touted as a model for national health care reform
If Washington wants health care reform with bipartisan support, experts say consider what former Republican presidential candidate Mitt Romney accomplished as governor in Democratic Massachusetts.
CNN: Pelosi: Health bill must have public option to pass House
House Speaker Nancy Pelosi sent a clear message Thursday to congressional negotiators on the health-care bill — dropping the public option would destroy any chance for comprehensive reform.
CNN: Source: CIA hired Blackwater to help hunt al Qaeda leaders
The Central Intelligence Agency hired the private security firm Blackwater USA in 2004 to work on a covert program aimed at targeting and potentially killing top al Qaeda leaders, according to a source familiar with the program.
CNN: Ailing Kennedy wants replacement law changed
Sen. Edward Kennedy, who is battling brain cancer, is urging Massachusetts officials to change a law to allow for an immediate temporary replacement should a vacancy occur for one of his state's two Senate seats.
CNN: Kennedy letter followed discussions with Kerry, Frank
A source close to Ted Kennedy tells CNN that he decided to write his letter on how he believed a Senate vacancy should be filled after a series of private discussions in late June with Massachusetts colleagues and friends including Sen. John Kerry, Rep. Barney Frank and Rep. William Delahunt.
CNN: Obama says reform a 'matter of necessity'
President Obama took his health care message to talk radio Thursday, telling listeners of Philadelphia-based host Michael Smerconish that he wants to overhaul the nation's ailing health care system out of necessity rather than politics.
CNN: Rumors influencing health care debate
A woman asked Rep. Allen Boyd at a town hall meeting the other day if health care reform proposals would force people to let the government access their bank accounts.
CNN: Obama approval dips to new low in Florida
President Obama's approval ratings are sinking in a key state that helped seal his White House victory, a new survey out Thursday suggests.
CNN: Elizabeth Edwards: I expect a paternity test on Hunter's child
Elizabeth Edwards, wife of former Democratic presidential candidate John Edwards, told CNN she believes a DNA test will be conducted to confirm the paternity of the child of Rielle Hunter, with whom her husband conducted an affair.
CNN: Biden announces more than $1B in funding for e-health records
Nearly $1.2 billion in grants from the $787 billion stimulus bill are being made available to help fund use of electronic health records, the office of Vice President Joe Biden announced Thursday.
CNN: Richardson: discussions with N. Koreans show a 'bit of a thaw'
A day after meeting with New Mexico Gov. Bill Richardson, two North Korean diplomats will meet Thursday with community and business leaders in the state to discuss renewable energy initiatives, the governor's office said.
CNN: Coleman headed to Harvard
Former Minnesota Sen. Norm Coleman has a new gig — at successor Al Franken's alma mater.
New York Times: Where Elderly Back Obama, Health Bill Anxiety
It was karaoke night at the Sunrise Lakes retirement village, and 76-year-old Shirley Scrop, wearing a T-shirt commemorating her granddaughter's bat mitzvah, was laying down a rap about health care.
New York Times: C.I.A. Said to Use Outsiders to Put Bombs on Drones
From a secret division at its North Carolina headquarters, the company formerly known as Blackwater has assumed a role in Washington's most important counterterrorism program: the use of remotely piloted drones to kill Al Qaeda's leaders, according to government officials and current and former employees.
New York Times: Britons Fault Health Service, Until Others Do
People here complain endlessly about the National Health Service, which is financed by taxpayers and provides access to care, free at the point of delivery, to everyone in the country. They deplore the system's waiting lists, its regional disparities in treatment, its infection-breeding hospitals and its top-heavy bureaucracy.
Washington Post: Detainees Shown CIA Officers' Photos
The Justice Department recently questioned military defense attorneys at Guantanamo Bay about whether photographs of CIA personnel, including covert officers, were unlawfully provided to detainees charged with organizing the Sept. 11, 2001, attacks, according to sources familiar with the investigation.
Boston Globe: State GOP leader calls Kennedy request 'hypocrisy'
Massachusetts Republicans spoke out today against a proposal by US Senator Edward M. Kennedy, who is battling brain cancer, under which Kennedy's Senate seat would be filled by an appointment by Democratic Governor Deval Patrick until a special election could be held.
NATIONAL
For the latest national news: www.CNN.com.
CNN: Most families outraged at Pan Am 103 bomber's release
Victims' family members and advocates are grieving anew as the only man convicted in the 1988 bombing of Pan Am Flight 103 over Lockerbie, Scotland - which killed 270 people - was released Thursday from a British prison.
CNN: Transcript: Scotland official talks of Lockerbie release
Abdelbeset Ali Mohmed al Megrahi, convicted of murdering 270 people by blowing up Pan Am flight 103 over Lockerbie, Scotland, two decades ago was returned to his native Libya on Thursday.
CNN: Report criticizes Yahoo over prescription-drug ads
One of the largest Internet search engines is being accused of violating both federal and state laws by accepting advertising from online pharmacies it should have known were selling drugs without valid prescriptions.
CNN: When a parent goes to war, military kids grow up fast
In Pennsylvania, Tyler Dix, a 16-year-old movie buff, is wide awake by 7 a.m. to cook breakfast for his younger siblings.
CNN: Ten alleged Mexican drug cartel leaders indicted in U.S.
Ten suspected Mexican drug cartel leaders and 33 alleged drug traffickers have been indicted in New York and Chicago - accused in illicit drug sales of more than $5 billion, federal authorities said Thursday.
CNN: Adult, 2 teens charged with beating elderly black man
Authorities have charged two teenagers and an adult in connection with the beating of a 76-year-old African-American man early Tuesday in Baltimore, Maryland, in an incident police say had a racial connection.
CNN: Prosecutors: Man charged in attack on Milwaukee mayor
Prosecutors charged a Milwaukee, Wisconsin, man with attacking the city's mayor in an incident that landed the mayor in the hospital with wounds to his head and face, according to a criminal complaint filed by the district attorney Thursday.
CNN: Tickets to Michael Jackson movie go on sale September 27
The film about Michael Jackson's final three months, which uses video of rehearsals for his concert comeback, will run in theaters worldwide for two weeks only beginning October 28, according to Sony Pictures.
New York Times: Rise of the Super-Rich Hits a Sobering Wall
The rich have been getting richer for so long that the trend has come to seem almost permanent.
New York Times: Bond of Two Iowa Families Unbroken Despite Killing
The body of the football coach lies under a rectangular patch of dirt, slowly being covered by creeping clover and crab grass. But there is no doubt among people here that his soul is somewhere high above. A tombstone for Ed Thomas should be in place this fall.
Washington Post: The Deadly Cost of Swooping In to Save a Life
Shortly after midnight on a storm-swept October night in 2004, Tom Palcic, a medical helicopter pilot, started across Choctawatchee Bay to pick up a hospital patient and transport him to a facility 60 miles away.
USA TODAY: Bike-riding mom denied at drive-through turns to Twitter
Sarah Gilbert stepped off her bicycle long enough to send one angry tweet via Twitter— and it's changed the way one fast-growing burger chain treats bike riders.
Wall Street Journal: For Moms, Therapy Beats Drugs
Pregnant women suffering from depression should consider psychotherapy before taking antidepressant medications, according to the first comprehensive treatment recommendations issued on the subject.
INTERNATIONAL
For the latest international news: http://edition.cnn.com/
CNN: Terminally ill Lockerbie bomber lands in Libya
The man convicted of murdering 270 people by blowing up Pan Am flight 103 over Lockerbie, Scotland, two decades ago received a boisterous welcome when his plane landed in his native Libya on Thursday.
CNN: Source: U.N. inspectors return to Iran plants
International inspectors have made new visits to two of Iran's nuclear facilities, including a research reactor that the U.N.'s watchdog agency has been kept out of for a year, a source familiar with Iran's International Atomic Energy Agency file said Thursday.
CNN: Officials hail Afghan vote a success despite deaths
Afghanistan officials said 26 people across the country were killed in election day violence, although they hailed Thursday's vote as a success.
CNN: Hurricane Bill leads to tropical storm warning for Bermuda
Forecasters issued a tropical storm warning Thursday for the Atlantic island of Bermuda as Category 3 Hurricane Bill neared.
CNN: Afghan count begins in tents
Election workers labored in tents by the light of battery-powered lanterns, counting ballots after a day of brisk voting Thursday.
CNN: Another arrested in London $65M heist
London police arrested another man in connection with this month's brazen jewelry store robbery of some $65 million worth of gems, Metropolitan Police said.
New York Times: As Japan's Mediums Die, Ancient Tradition Fades
Its name means the Mountain of Horror, which seems an apt description for this sacred Buddhist site inside the crater of a dormant volcano. The weather-beaten temple here is surrounded by a lifeless lake and a wasteland of naked rock reeking of sulfur that conjures images of Buddhist hell.
Wall Street Journal: In This Spat Between Bolivia and Peru, The Details Are in the Devils
A diplomatic storm is brewing between Peru and Bolivia. Bolivia's president has accused Peru of thievery. Peru's Congress issued a bristling denial. Bolivian diplomats are threatening to take the dispute to an international tribunal at The Hague.
BBC: Campaign for US trio held in Iran
Shane Bauer, Sarah Shourd and Joshua Fattal had made a "regrettable mistake" when they crossed into Iran from Iraqi Kurdistan in July, relatives said.
BUSINESS
For the latest business news: www.CNNMoney.com.
CNNMoney: Cash for Clunkers ending
The $3 billion Cash for Clunkers program will shut down on Monday, the government said Thursday.
CNNMoney: How banks really used TARP money
If you're looking for the most detailed look yet about how banks have used funds from the $700 billion bailout, you're in luck.
Bloomberg: Pension Plans' Private-Equity Cash Depleted as Profits Shrink
U.S. pension funds contributed to the record $1.2 trillion that private-equity firms raised this decade. Three of the biggest investors, state pensions in California, Oregon and Washington, plunked down at least $53.8 billion. So far, they only have windling paper profits and a lot less cash to show the millions of policemen, teachers and other civil servants in their retirement plans.
In Case You Missed It
To watch the latest interviews and reporting: http://www.cnn.com/video.
CNN: Naked New Yorkers
Pole dancing in the subway and towing a stripper pole around town. CNN's Jeanne Moos covers the bare essentials.
Subscribe to the CNN=Politics DAILY podcast at http://www.cnn.com/politicalpodcast.
And now stay posted on the latest from the campaign trail by downloading the CNN=Politics SCREENSAVER at http://www.CNN.com/situationroom.