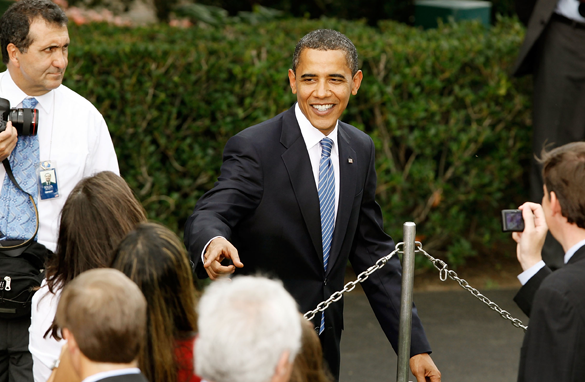 A new poll suggests Americans are losing confidence in President Obama. (Getty Images)
WASHINGTON (CNN) - A new poll suggests that Americans' faith in President Barack Obama to make the right decisions for the country is dropping.
Forty-nine percent of people questioned in a ABC/Washington Post survey released Friday say they have a great deal or good amount of confidence in the president's leadership, down 11 points from April. According to the poll, half of all Americans have little or no confidence in Obama's ability to make the right decisions, up ten points from April.
But the survey indicates that a dip in confidence in the president doesn't mean a rise in confidence in Republicans in Congress. Just 20 percent of people questioned say they have a great deal or good amount of faith in Congressional Republicans to make the right decisions, unchanged from April.
"This summer has been the season of discontent with all politicians," says CNN Polling Director Keating Holland. "The ABC/Washington Post poll indicates that Americans don't have confidence in the president or in Congress, and aren't confident about Democrats or Republicans."
According to the poll, 57 percent of Americans approve of the job Obama's doing as president, down two points from July. Four in ten disapprove, up three points from the 37 percent who disapproved of the president's performance in last month's survey by ABC/Washington Post.
Three other national polls released earlier this week, NBC News, Pew Research Center and the Gallup daily tracking poll, all separately indicated a 51 percent approval rating for Obama.
"Why does the ABC/Washington Post poll show a higher approval rating than other recent polls? One clue may be that all those polls report virtually identical numbers who disapprove of Obama - roughly 40 percent - and that's the same disapproval rating that the ABC/Post poll has," notes Holland. "The difference is the number of respondents who say they don't have an opinion of Obama, which is lower in the ABC/Post survey. That suggests that there may be a large number of Americans who like Obama but are reluctant to say so. The ABC/Washington Post poll may be overstating Obama's support, but it's also possible that their interviewers are doing a better job of getting people who mildly support Obama to say so."
The release of these surveys comes as protests over health care reform continue at town halls being held by members of Congress, who are on summer recess and back in their home districts and states.
According to the ABC/Washington Post poll, half of all Americans disapprove of how the president is handling health care, up six points from July, with 46 approving of how Obama's dealing with the issue, down three points from last month. The survey suggests that much of the drop in support comes from seniors and independents.
But the NBC News poll from earlier in the week suggests no change in Americans' views on Obama's health care performance. Forty-one percent questioned in that survey support how Obama's handling the issue of health care reform, with 47 percent opposed. The 41 percent who support the president is unchanged from an NBC/Wall Street Journal poll from mid-July, before Congress began its summer recess and intense media coverage of protests at health care town halls held by lawmakers. The 47 percent who oppose Obama's health care performance is up a single point from last month. A Gallup poll released last week also suggested that the president's approval on health care is unchanged from last month.
"One key finding from the ABC/Washington Post poll is the intensity of support or opposition to the Democrats' health care plans," says Holland. "Forty percent say they strongly oppose those proposals. The number who strongly support them is much smaller - only 27 percent."
The ABC/Washington Post poll was completed just as the debate over the public option for health care reform erupted in the media. According to the survey, 52 percent say they support the creation of a government insurance plan that would compete with private insurers, with 46 percent opposed. The 52 percent support is down ten points from late June, while opposition jumped 13 points. The poll finds much of the drop in support coming from seniors and Independents.
The ABC/Washington Post poll was conducted August 13-17, with 1,001 adults questioned by telephone. The survey's sampling error is plus or minus 3.5 percentage points.