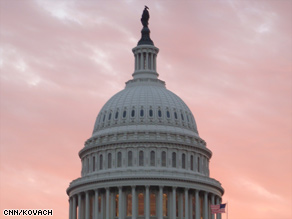 The CNN Washington Bureau's morning speed read of the top stories making news from around the country and the world.
WASHINGTON/POLITICAL
For the latest political news: www.CNNPolitics.com.
CNN: John King: Monday Memo: Presidential vacations rarely very peaceful
"No Public Events," is the headline of the White House in the week ahead, as President Obama and the first family look to enjoy a summer break on Martha's Vineyard.
CNN: Sources: Report to detail alleged abuse inside CIA secret prisons
CIA interrogators threatened an al Qaeda prisoner with a gun and an electric drill to try to scare him into giving up information, according to a long-concealed inspector-general's report due to be made public on Monday, sources familiar with the report confirmed to CNN.
CNN: Mullen: I was 'appalled' by release of Lockerbie bomber
A top military adviser to President Obama is deferring comment on the political or longer-term strategic implications of the recent release of the only man convicted of bombing Pan Am flight 103. But Admiral Mike Mullen, Chairman of the Joint Chiefs of Staff, expressed his personal displeasure Sunday at the release.
CNN: Schumer asks for U.N. condemnation of Libya
New York Senator Chuck Schumer appealed to the United Nations Saturday to condemn Libya's joyful welcome home for the Lockerbie bomber.
CNN: Senator to actor: 'Make my day'
Former Democrat Sen. Joe Lieberman of Connecticut has a simple message for Hollywood actor Alec Baldwin: bring it on.
CNN: McCain says 'ambiguous' health bills fuel 'death panel' claims
Sen. John McCain says loose language in Democratic health-care bills fueled claims by his former running mate that the plan could lead to "death panels" for the elderly and handicapped.
CNN: Republican: Obama must lead on Afghanistan
The Ranking Republican on the Senate Foreign Relations Committee said Sunday that President Obama has not articulated a clear vision of the United States mission in Afghanistan. Sen. Richard Lugar added that once Obama's top military officer in the country completes an assessment of troop levels, the president needs to assert leadership to get the American mission on the right path.
CNN: Mullen 'extremely concerned' over eruption of violence in Iraq
The bloody attacks in Iraq last week have raised concerns over a renewal sectarian violence, the chairman of the U.S. Joint Chiefs of Staff said on Sunday.
CNN: Obama's White House passes 1M followers on Twitter
President Barack Obama's wired White House is now in the seven figures category on Twitter.
New York Times: Justice Dept. Report Advises Pursuing C.I.A. Abuse Cases
The Justice Department's ethics office has recommended reversing the Bush administration and reopening nearly a dozen prisoner-abuse cases, potentially exposing Central Intelligence Agency employees and contractors to prosecution for brutal treatment of terrorism suspects, according to a person officially briefed on the matter.
New York Times: U.S. Military Says Its Force in Afghanistan Is Insufficient
American military commanders with the NATO mission in Afghanistan told President Obama's chief envoy to the region this weekend that they did not have enough troops to do their job, pushed past their limit by Taliban rebels who operate across borders.
Washington Post: New Unit to Question Key Terror Suspects
President Obama has approved the creation of an elite team of interrogators to question key terrorism suspects, part of a broader effort to revamp U.S. policy on detention and interrogation, senior administration officials said Sunday.
New York Times: Obama's Team Is Lacking Most of Its Top Players
As President Obama tries to turn around a summer of setbacks, he finds himself still without most of his own team. Seven months into his presidency, fewer than half of his top appointees are in place advancing his agenda.
Washington Post: The Insider's Insider
The chairman beams. So many people just dying to see him, the business guys, the pols, the lobbyists - lots and lots of lobbyists. They circle Charlie Rangel - birthday boy, Democrat and, of course, House Ways and Means chairman - circles like rings on a tree planted in the party room here at Tavern on the Green. Simple math: the more powerful the pol, the more rings on the tree. This is a very thick tree.
Boston Globe: Amid buzz, Obamas enter quietly
President Obama and his family have insisted they were looking forward to a real family vacation – a quiet one – and yesterday they began in just such a fashion, arriving at the secluded Chilmark estate they rented on Martha's Vineyard without so much as a stop for ice cream.
NATIONAL
For the latest national news: www.CNN.com.
CNN: Suspect in model's murder found dead in Canada
Ryan Alexander Jenkins, a reality TV contestant suspected in his wife's slaying in California, was found dead in a hotel room in British Columbia, Canadian and U.S. authorities said Sunday.
CNN: VA workers given millions in bonuses as vets await checks
While hundreds of thousands of disability claims lay backlogged at the Department of Veterans Affairs, thousands of technology employees at the department received $24 million in bonuses, a new report says.
CNN: FBI chief: Bomber's release 'a mockery'
FBI Director Robert Mueller harshly criticized the decision to release the Lockerbie bomber in a letter released Saturday, calling it "a mockery of the rule of law."
CNN: Girl dies after wave knocks her into ocean; Bill heads to Canada
A 7-year-old girl died after a large ocean wave kicked up by Hurricane Bill knocked her and two other people into the Atlantic off Maine's Acadia National Park on Sunday, a park official said.
CNN: Plane lands on California highway, no major injuries
A single-engine airplane made an emergency landing on a California highway Sunday morning, though no major injuries were reported, authorities said.
New York Times: After 48 Years, Julia Child Has a Big Best Seller, Butter and All
Almost 48 years after it was first published, "Mastering the Art of French Cooking" by Julia Child is finally topping the best-seller list, bringing with it all the butter, salt and goose fat that home chefs had largely abandoned in the age of Lipitor.
USA Today: Dialysis treatment in USA: High costs, high death rates
Deb Lustman was late getting to work a few days every week, and often felt she wasn't thinking as clearly as she once did.
McClatchy: Homelessness grows in shadow of White House
At 6 a.m., a block from the manicured lawns of the White House, Poppy Cali starts his days. The 36-year-old Navy veteran wakes up just after dawn, before the park security can find him sleeping on the steps of the General Services Administration building near the grate that he uses to warm himself in the winter.
INTERNATIONAL
For the latest international news: http://edition.cnn.com/
CNN: Malaysia frees woman scheduled for caning
A Malaysian model, who was set to become the first woman to be caned in the southeast Asian country for drinking beer in public, was inexplicably spared her sentence Monday, her father said.
CNN: Pakistan foils suicide terror plot, minister says
Pakistani forces in the last month foiled a planned attack on the parliament building, the intelligence agency and other federal institutions, the country's interior minister told CNN Sunday.
CNN: New images show healthier Fidel Castro
A new video and a photo of ailing Communist leader Fidel Castro surfaced on Sunday, revealing a more healthier-looking man than in prior photos.
CNN: Israel hits back over Swedish organ harvesting article
Israel on Sunday withheld the press credentials of a Swedish newspaper in retaliation for a controversial piece that suggested the Israeli army kidnapped and killed young Palestinians to harvest their organs.
CNN: Ex-president's funeral warms Korea relations
South Korea bade farewell to former President Kim Dae-Jung Sunday in a ceremony attended by thousands of citizens, dignitaries and politicians.
CNN: Bolt: I want to be a legend
After bagging three gold medals and setting two world records at the Berlin world championships, Jamaican sprinter Usain Bolt told CNN he didn't expect to be so successful.
CNN: Iraqi violence overshadows start of Ramadan
Ramadan, the holy month of Islam, began Saturday with Iraqis hoping for tranquility but fearful after recent attacks that have shaken the country.
New York Times: Dancing by the Waves, Iraqis Forget War for a Day
A few hours outside Baghdad in the middle of Iraq's vast western desert is a sight that could understandably be mistaken for a mirage: a long, sandy beach filled with thousands of people swimming and dancing barefoot under the hot sun without apparent care.
New York Times: Iraq Military Broadcasts Confession on Bombing
Iraq's military showed on Sunday what it called the confession of a mastermind of last week's deadly attacks on two government ministries, and it announced the arrests of police and army officers the man said had been bribed to allow a huge truck bomb through checkpoints into Baghdad.
Washington Post: Karzai Opponent Alleges 'Widespread' Voter Fraud
The main challenger to Afghan President Hamid Karzai said Sunday that he has received "alarming" reports of "widespread rigging" in Thursday's presidential election by pro-government groups and officials, but he called on supporters to be patient and said he hopes the problem will be resolved through the official election review.
LA Times: Kim Dae-jung funeral brings Koreas together
As tens of thousands gathered here Sunday to mourn the death of former South Korean President Kim Dae-jung, who was awarded the Nobel Peace Prize for his bid to reconcile relations with North Korea, Seoul's conservative government took a page from his diplomatic playbook, meeting face to face with envoys from its communist counterpart.
BUSINESS
For the latest business news: www.CNNMoney.com.
CNNMoney: Wall Street hopes to extend hot streak
Investors are hoping the surprisingly strong summer market rally will last at least one more week - before any second-guessing in the fall kicks in.
CNNMoney: Do you Yahoo? Probably.
To answer Yahoo's famous slogan: 157 million users say yes. But rival Google draws just about the same number of visitors and makes 11 times as much. So, what gives?
Wall Street Journal: Budget Pain Spreads to Energy-Rich States
Energy-rich states, flooded with cash last year when oil and natural-gas prices soared to record highs, are now being drained as gas prices plunged to a seven-year low Friday.
In Case You Missed It
To watch the latest interviews and reporting: http://www.cnn.com/video.
CNN: Counting Afghan ballots
The result of Afghanistan's presidential election is now in the hands of the Independent Election Commission.
CNN: Army cycle of strain
John King visits Fort Riley to look at the cycle of strain caused by Army deployments.
Subscribe to the CNN=Politics DAILY podcast at http://www.cnn.com/politicalpodcast.
And now stay posted on the latest from the campaign trail by downloading the CNN=Politics SCREENSAVER at http://www.CNN.com/situationroom.