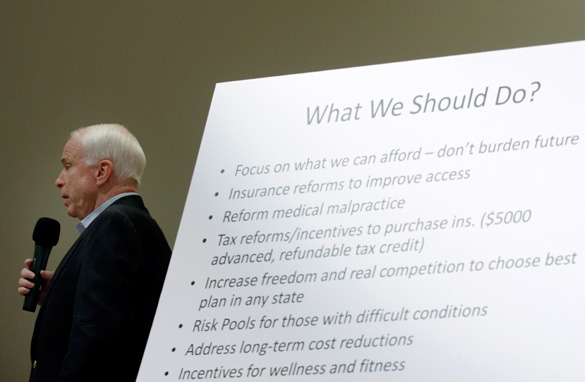 Sen. McCain spoke about health care at a town-hall event in Arizona Tuesday. (Photo Credit: Getty Images)
(CNN) - Sen. John McCain, R-Arizona, said Tuesday that President Obama's efforts to reform health care have sparked "a peaceful revolt in America."
"I've seen involvement and engagement on the part of Americans that I have never seen the likes of which before," McCain said at a town hall in Phoenix, the first of eight such meetings he will hold around the state this week.
For more than an hour, the former GOP nominee alternated between cracking some well-worn jokes from his two presidential campaigns and listening to the concerns of his constituents, one of whom demanded that McCain "nuke" the health care plan entirely.
"No compromises, no comprises, no compromises," chanted one woman, a self-described former Democrat. "Senator, nuke it now!"
Though McCain firmly rejected the idea of a government-run insurance option, saying it would eventually drive private insurers out of business and lead to a full government takeover of health care, he echoed his 2008 campaign platform and said it would be irresponsible to simply "do nothing" - especially with the threat of Medicare and Social Security going broke.
"So let's go back with constructive, free-market incentives to improve the quality of health care and the affordability and availability," he said.
Later in the meeting, McCain was jeered when he insisted that Obama's views be respected despite his differing opinions on how to achieve reform.

"I am convinced the president is absolutely sincere in his beliefs," he said to groans. "Wait a minute. Wait a minute. He is sincere in his beliefs. We just happen to disagree. He is the president of the United States and let's be respectful."
But McCain made clear he is "unalterably opposed" to "reconciliation" - a Senate maneuver that would allow the White House to pass a bill with just 51 votes instead of a filibuster-proof majority.
"It would be a drastic change in the way that the United States Senate does business," he said. "And I hope that if you see something like that coming you would not allow it to happen."