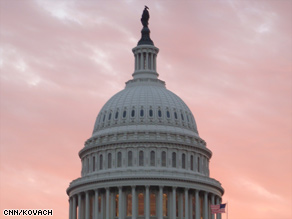 The CNN Washington Bureau's morning speed read of the top stories making news from around the country and the world.
WASHINGTON/POLITICAL
For the latest political news: www.CNNPolitics.com.
CNNMoney: Obama to tap Bernanke for 2nd term
President Obama is expected to nominate Ben Bernanke to a second term as head of the Federal Reserve, a senior administration official told CNN Monday night.
CNN: Obama, Democrats urged to find unity on health care reform
With health care negotiations stalled until Congress comes back from August recess, a top Democratic strategist says President Obama and his party need to seize control of the debate.
CNN: Top prosecutor orders probe into interrogations; Obama shifts onus
Attorney General Eric Holder has asked federal prosecutor John Durham to examine whether CIA interrogations of suspected terrorists were illegal, the Justice Department announced Monday.
CNN: SC Republican gov candidate jabs Sanford in announcement
South Carolina's Republican Attorney General Henry McMaster officially announced his intention to run for governor on Monday — and he did so with a not-so-subtle swipe at the state's current scandal-tainted governor, Mark Sanford.
CNN: Congresswoman says some senators 'Neanderthals'
As President Obama begins his vacation in Martha's Vineyard this week, the fiery debate over health care reform continues to rage.
CNN: More troops may be needed to bolster Afghanistan
Adm. Michael Mullen, the highest-ranking man in the U.S. military, said the situation in Afghanistan is getting worse, as fresh indications emerge that President Obama soon could be asked to commit more American troops.
CNN: Baldwin: Lieberman's one of a 'few moderate Republicans left'
It seems that what could have been one of the greatest political face-offs of 2012 is not meant to be after all.
CNN: Elizabeth Edwards puts politics aside, opens store
Elizabeth Edwards, a vigorous proponent of health care reform and the wife of former presidential candidate John Edwards, is putting politics aside in her new job.
CNN: What Obama's reading on the Vineyard
The White House has said President Obama plans to play golf and spend time with his family during his week away from Washington. But it appears the president also wants to get some reading in: a lot of it.
CNN: Progressives launch new site to help organize on Twitter
Tracy Viselli, a progressive blogger and social media consultant who admitted on Friday to CNN that conservatives have the upper hand on Twitter, launched a Web site Monday geared towards changing the paradigm on Twitter.
New York Times: Bioethicist Becomes a Lightning Rod for Criticism
Few people hold a more uncomfortable place at the health care debate's intersection between nuanced policy and cable-ready political rhetoric than President Obama's special health care adviser, Dr. Ezekiel J. Emanuel.
New York Times: Calm, but Moved to Be Heard on Health Care
Until Thursday evening, nothing in Bob Collier's 62 years had stirred in him the slightest desire to take a stand — about anything — in public.
New York Times: Rendition to Continue, but With Better Oversight, U.S. Says
The Obama administration will continue the Bush administration's practice of sending terrorism suspects to third countries for detention and interrogation, but pledges to closely monitor their treatment to ensure that they are not tortured, administration officials said Monday.
New York Times: Giuliani, Seeing Opening, Mulls a Governor Bid
Nineteen months after ending his disastrous run for the presidency, Rudolph W. Giuliani is clearing a path for a possible race for governor in 2010, believing public anger at an ineffectual Albany and unease over the economy could create ideal conditions for a Republican to reclaim the governor's mansion.
Washington Post: Two Administrations Drew Different Lessons From 2004 Report
When an internal CIA report concluded in May 2004 that "unauthorized, improvised, inhumane, and undocumented" interrogation methods had been used on suspected al-Qaeda members, the predominant reaction within the Bush administration was not revulsion but frustration that the agency's efforts inside a network of secret prisons had not been more effective, former senior intelligence and White House officials recall.
Washington Post: Auto Industry Braces For Hangover After The 'Clunker' Party
As the U.S. government's popular "Cash for Clunkers" program shut down officially at 8 p.m. Monday, it left behind mounds of paperwork and empty lots at dealerships across the country.
Washington Post: Specter Prods VA On End-of-Life Advice
Sen. Arlen Specter (D-Pa.) called on the Department of Veterans Affairs on Monday to consider suspending its use of an end-of-life planning document that critics have dubbed the "death book for veterans."
Wall Street Journal: President Makes Safe Choice at Fed
President Barack Obama, facing a raft of political fights and growing challenges abroad, made the politically easy choice when he decided Federal Reserve Chairman Ben S. Bernanke should serve another term.
Los Angeles Times: U.S. Chamber of Commerce seeks trial on global warming
The nation's largest business lobby wants to put the science of global warming on trial.
NATIONAL
For the latest national news: www.CNN.com.
CNN: Coroner's preliminary finding: Jackson overdosed on propofol
The Los Angeles coroner has concluded preliminarily that singer Michael Jackson died of an overdose of propofol, a powerful sedative he was given to help him sleep, according to court documents released Monday.
CNN: Report: Swine flu could cause up to 90,000 U.S. deaths
The H1N1 flu virus could cause up to 90,000 U.S. deaths, mainly among children and young adults, if it resurges this fall as expected, according to a report released Monday by a presidential advisory panel.
CNN: Weather delays Space Shuttle Discovery launch
The Space Shuttle Discovery launch was scrubbed early Tuesday because of bad weather, NASA said.
CNN: Scottish minister defends Lockerbie bomber release
The government official who allowed the Lockerbie bomber to go back to Libya defended his decision before an emergency session of Scotland's parliament called Monday amid growing international outrage over the move.
CNN: Gadhafi camping in New Jersey?
In just a few short weeks, Rabbi Shmuley Boteach could wake up at his home in Englewood, New Jersey, with Libyan leader Moammar Gadhafi camped a few feet from his front lawn.
CNN: Rose no closer to baseball reinstatement 20 years into ban
It's one of the great ironies in all of sports: Pro baseball's career hitting leader is not in baseball's Hall of Fame.
CNN: Milwaukee mayor back at work, still recovering from attack
Milwaukee Mayor Tom Barrett returned to City Hall on Monday afternoon for the first time since he was attacked earlier this month.
CNN: Two brothers, no fears and $1 billion empire
Michael and Steven Roberts didn't have two quarters to rub together a couple of decades ago. Now, the two African-American business leaders estimate their holdings - from hotels to TV stations - are worth $1 billion. One St. Louis hotel they own once barred black people.
New York Times: China Racing Ahead of U.S. in Drive to Go Solar
President Obama wants to make the United States "the world's leading exporter of renewable energy," but in his seven months in office, it is China that has stepped on the gas in an effort to become the dominant player in green energy — especially in solar power, and even in the United States.
INTERNATIONAL
For the latest international news: http://edition.cnn.com/
CNN: Detainee goes home after 7 years at Gitmo
Longtime Guantanamo Bay, Cuba, detainee Mohammed Jawad has been returned to his native Afghanistan, the Justice Department announced Monday.
CNN: OAS team in Honduras to push for ousted leader's return
A delegation of foreign ministers led by the Organization of American States' secretary-general arrived Monday in Honduras in an effort to restore ousted President Jose Manuel Zelaya to office.
CNN: New Iraqi political alliance excludes al-Maliki
Iraq's main Shiite parties Monday announced the formation of a new alliance that excludes the prime minister - at least for now.
CNN: Two Koreas to discuss reunions for split families
North and South Korea will hold three days of talks on reunions for families torn apart by the Korean War and divisions between the two countries, South Korea's Unification Ministry said Tuesday.
CNN: Iran military wants 'swift retribution'
Top Iranian military officials have called for even faster prosecutions and demanded "swift retribution" for post-election detainees, despite more than 100 Iranians going through mass trials this month, Iranian media reported.
CNN: Karzai rival claims widespread fraud in Afghan vote
Incumbent President Hamid Karzai's chief rival, Abdullah Abdullah, repeated his charges of widespread ballot fraud Monday and declared that Karzai "single-handedly put Afghanistan at risk by trying to rig the elections."
CNN: Report: More than 200 face trial over China ethnic riots
More than 200 people charged in connection with last month's deadly riots in the western Chinese city of Urumqi could be tried this week, according to reports from the state-run China Daily.
New York Times: S. Africa Embraces Study Critical of Health Policy
Leading South African scientists challenged the governing party on Monday to break with its deeply flawed record on AIDS and public health, spurring the country's new health minister to say that he and his party shared their diagnosis of systemic problems and were determined to repair them.
Washington Post: The High-Reaching Goal of Rebuilding Afghanistan's Air Corps
How long is the U.S. military going to be in Afghanistan? At least until 2016, if the U.S. Air Force general training the Afghan National Army Air Corps is correct.
Los Angeles Times: Beijing loves IKEA - but not for shopping
With no plans one Saturday, Zhang Xin told his wife, son and mother to wear something smart and hop into the family sedan. He could have taken them to the Forbidden City or the Great Wall, but he decided on another popular destination - IKEA.
BBC: Brown holds talks with Netanyahu
During a Downing Street meeting, Mr Brown is likely to push for a halt to the expansion of Israeli settlements on Palestinian territory.
BUSINESS
For the latest business news: www.CNNMoney.com.
CNNMoney: Clunkers: Dealers get ready for the 'hangover'
After the mad rush of car sales sparked by Cash for Clunkers, dealers will now find they have plenty of downtime to count their money.
CNNMoney: BofA defends Merrill bonus settlement
Bank of America defended the fairness of a proposed $33 million settlement it struck with federal regulators over the Merrill Lynch bonus scandal, according to a federal court filing submitted Monday.
New York Times: A Few Dollars at a Time, Patrons Support Artists on the Web
Earl Scioneaux III is not a famous music producer like Quincy Jones. He is a simple audio engineer in New Orleans who mixes live albums of local jazz musicians by day and creates electronic music by night. He had long wanted to pursue his dream of making his own album that married jazz and electronica, but he had no easy way to raise the $4,000 he needed for production.
Wall Street Journal: Fewer Catching Up on Lapsed Mortgages
Homeowners who fall behind on their mortgage payments have become much less likely to catch up again, a new study shows.
In Case You Missed It
To watch the latest interviews and reporting: http://www.cnn.com/video.
CNN: Medevac flights for $11
CNN photojournalist Oliver Janney shows that the cost of getting to the hospital quickly might surprise you.
Subscribe to the CNN=Politics DAILY podcast at http://www.cnn.com/politicalpodcast.
And now stay posted on the latest from the campaign trail by downloading the CNN=Politics SCREENSAVER at http://www.CNN.com/situationroom.