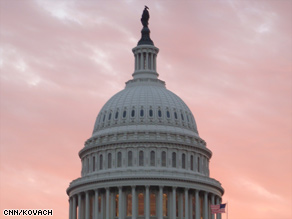 The CNN Washington Bureau's morning speed read of the top stories making news from around the country and the world.
WASHINGTON/POLITICAL
For the latest political news: www.CNNPolitics.com.
CNN: Calls for bipartisanship rise as health care debate nears
As Congress prepares to come back from its August recess and tackle health care reform, the question arises whether lawmakers will do something in honor of the "Lion of the Senate" - or should Congress simply start over?
CNN: Palin to Hong Kong
Former Alaska Gov. Sarah Palin's first major speaking engagement after leaving office won't be in Iowa, New Hampshire or South Carolina.
CNN: Republican warns against tactic to pass health-care reform
A top Republican in Congress warned Monday that using a legislative tactic to pass a Democratic health-care bill opposed by Republicans would increase public anger over partisan politics.
CNN: Steele: No guilt trip after Kennedy death
Republican National Committee chairman Michael Steele said Monday that Americans shouldn't be "guilted" into passing health care reform because of the death of Sen. Ted Kennedy.
CNN: MA lawmakers set date for succession bill hearing
Two Massachusetts political sources say the Joint Elections Committee in the state legislature plans to hear a Senate succession
bill in just a week and a half.
CNN: King not taking on Gillibrand
Peter King made it official Monday. The Republican congressman from New York State announced that he won't take on Democrat Kirsten Gillibrand next year when the appointed senator runs for the final two years of Hillary Clinton's term.
CNN: Obama official disputes Cheney's interrogation claims
Former Vice President Dick Cheney had his facts wrong when he blasted Attorney General Eric Holder last week for launching an investigation into past CIA interrogation techniques, an administration official asserted Monday.
CNN: Commentary: Bergen: Cheney wrong on interrogations
Former Vice President Dick Cheney said in an interview Friday that just-released CIA documents demonstrate the effectiveness of coercive interrogation techniques.
CNN: Mortgage program hasn't helped enough, some say
When President Obama unveiled the Making Home Affordable Program in March, he said it would help "responsible folks who have been making their payments" reduce their monthly mortgage bills and avoid losing their homes to foreclosure.
CNN: McDonnell blasted for controversial research paper
Eager to draw attention Bob McDonnell's conservative roots, campaign advisers to Democrat Creigh Deeds on Monday called McDonnell's newly-discovered 1989 graduate thesis a "devastating" revelation that threatens to sink the Republican's campaign for the Virginia governor's mansion.
CNN: Reid camp responds to highly critical op-ed
A spokesman for Senate Majority Leader Harry Reid on Monday responded to a scathing column published in Sunday's Las Vegas Review-Journal that recounted an unfriendly encounter between Reid and the paper's advertising director, in which the Nevada senator told the executive: "I hope you go out of business."
CNN: Corzine camp slams Christie loan in new ad
New Jersey Gov. Jon Corzine's campaign is staying on the attack, releasing a fresh negative ad that charges Republican rival Chris Christie has "one set of rules for himself, another for everyone else."
CNN: U.S. commander says Afghan war winnable, new strategy needed
Success is achievable in Afghanistan if the United States revises its strategy there, the top U.S. commander in that country said in a statement issued Monday.
New York Times: Groundwork Is Laid for New Troops in Afghanistan
A new report by the top commander in Afghanistan detailing the deteriorating situation there confronts President Obama with the politically perilous decision of whether to deepen American involvement in the eight-year-old war amid shrinking public support at home.
Washington Post: U.N. Chief's 'Quiet' Outreach To Autocrats Causing Discord
U.N. Secretary General Ban Ki-moon has a message for despots and dictators: We can talk.
Washington Post: Study Raises Questions About Cost Savings From Preventive Care
Preventive services for the chronically ill may reduce health-care costs, but they are unlikely to generate the kind of fantastic savings that President Obama and other Democrats have said could help pay for an overhaul of the nation's health system, according to a study being published Tuesday.
Washington Post: Today, He's the White House's Tour de Force
Josh Lipsky stands under the Dolley Madison portrait, in the doorway between the empty Red Room and the empty State Dining Room, in the early-morning hours of a dog day of summer. This spot is where visitors usually bottleneck.
Bloomberg: Wall Street Stealth Lobby Defends $35 Billion Derivatives Haul
Wall Street is suiting up for a battle to protect one of its richest fiefdoms, the $592 trillion over-the-counter derivatives market that is facing the biggest overhaul since its creation 30 years ago.
Chicago Tribune: Rod Blagojevich book blames others
After myriad television appearances, radio shows and news conferences since his arrest on corruption charges, the seemingly omnipresent former Gov. Rod Blagojevich has made the case for his innocence again, this time in a 259-page memoir that offers small glimpses of both his rocky tenure and his upcoming criminal defense.
NATIONAL
For the latest national news: www.CNN.com.
CNN: 'Angry fire' roars across 100,000 California acres
Bone-dry conditions in an area that has not seen a major fire in more than 60 years pushed a Southern California wildfire from 45,000 acres to more than 100,000 acres in a matter of hours Monday, fire officials said.
CNN: Garrido victim: 'He had me for 8 hours. He had her for 18 years'
Katie Callaway Hall trembled for four hours when she heard Phillip Garrido was arrested.
CNN: Kidnap suspect: Mind control helped stop my sexual urges
Phillip Garrido had a story to tell - about how God helped him overcome the evil inside him.
CNN: Fed-up fliers ready for rights
Claustrophobia was not a condition Bill Johnson understood. That changed on August 8 when he and his new bride, while returning from their honeymoon, found themselves among the 47 airplane passengers left trapped overnight on a tarmac in Rochester, Minnesota.
CNN: Survey: Worst of recession has yet to hit U.S. cities' coffers
The light at the end of the recession tunnel is distant and dim for the nation's cities, according to a survey by the National League of Cities.
CNN: Georgia slayings 911 call: 'My whole family's dead'
In an anguished 911 call, a Georgia man told dispatchers that he arrived home to find "my whole family's dead."
CNN: Police offer details of DJ AM's last day alive
As the pieces are still being put together to identify the cause of Adam "DJ AM" Goldstein's death, a police source tells PEOPLE that on Friday, August 28, the day he was later discovered dead in his Manhattan apartment, the celebrity deejay had sent his last text message to two friends at 1 a.m.
CNN: Michael Jackson hoax was 'experiment,' broadcaster says
A hoax video purporting to show Michael Jackson hopping out of a coroner's van alive was produced by a German television station as an experiment, the broadcaster told CNN Monday.
CNN: Former Miss California USA sues pageant officials
Carrie Prejean has filed a lawsuit against Miss California USA officials who stripped her of her title, accusing them of libel and religious discrimination for her views on same-sex marriage.
CNN: Federal government to buy land for Flight 93 memorial
Pennsylvania landowners around the September 11, 2001, crash site of Flight 93 have reached an agreement with the federal government allowing construction of a permanent memorial there, the government announced Monday.
New York Times: Justice Dept. to Recharge Enforcement of Civil Rights
Seven months after taking office, Attorney General Eric H. Holder Jr. is reshaping the Justice Department's Civil Rights Division by pushing it back into some of the most important areas of American political life, including voting rights, housing, employment, bank lending practices and redistricting after the 2010 census.
New York Times: Soldier's Service Leads to a Custody Battle at Home
During the 10 months she was deployed in Iraq, Leydi Mendoza, a 22-year-old specialist in the New Jersey National Guard, did everything she could think of to ease her longing for the year-old daughter she had left back home.
New York Times: Montana Court to Rule on Assisted Suicide Case
Robert Baxter was by all accounts a tough man. Even in the end, last year, as lymphocytic leukemia was killing him, Mr. Baxter, a 76-year-old retired truck driver from Billings, Mont., fought on. But by then he was struggling not for life, but for the right to die with help from his doctor.
New York Times: Massachusetts Cuts Back Immigrant Health Care
State-subsidized health insurance for 31,000 legal immigrants here will no longer cover dental, hospice or skilled-nursing care under a scaled-back plan that Gov. Deval Patrick announced Monday.
USA TODAY: Airlines take precautions to protect fliers from swine flu
Airlines say they're preparing for the return of swine flu this fall but stop short of declaring they'll bar passengers with symptoms from planes or give refunds for trips canceled because of the illness.
INTERNATIONAL
For the latest international news: http://edition.cnn.com/
CNN: Mayor of violence-torn Juarez: 'We're at turning point'
Ciudad Juarez, Mexico, may be one of the world's most dangerous cities, but an influx of new police officers will stem the wave of violence set to make August the deadliest month yet, Juarez Mayor Jose Reyes Ferriz told CNN Monday.
CNN: Border traffic back to normal between Koreas
Cross-border traffic between North and South Korea returned to normal Tuesday, ending eight months of restrictions imposed by the North, South Korea's Yonhap news agency reported.
CNN: Iran prisoner beaten to death, coroner says
A coroner's report says that a man arrested in the violent aftermath of Iran's presidential elections died from beatings, Iranian media reported Monday in what appeared to be the first official confirmation of a detainee's death from mistreatment.
CNN: Sex-tourism operation nets three, Justice Department says
Three men charged with sexually exploiting Cambodian children are being brought back to the United States to face prosecution, the Justice Department announced Monday.
CNN: Report criticizes Iraq's executions; official defends justice policy
At least 1,000 prisoners are on death row in Iraq, which now has one of the highest rates of execution in the world, the human rights group Amnesty International says in a report being released Tuesday.
CNN: Videos show FARC captives
Police officers and soldiers held captive by the leftist guerrilla group known as FARC pleaded to Colombian President Alvaro Uribe to negotiate their release in a series of nine proof-of-life videos released Monday.
CNN: Hurricane warning issued for southern Baja California
Mexico issued a hurricane warning for the southern Baja California peninsula Monday in preparation for Hurricane Jimena, a powerful Category 4 storm with winds near 155 mph (250 kph), the U.S. National Hurricane Center said.
New York Times: Victors in Japan Are Set to Abandon Market Reform
Japan's opposition party won an overwhelming victory at the polls on Sunday pledging to increase social welfare, better protect workers and do away with American-style, pro-market reforms to lead the country out of its long slump.
New York Times: Son to Succeed Father as Iraqi Shiite Party Leader
One of Iraq's leading Shiite political parties moved quickly on Monday to fill the vacuum left by the death of its influential leader last week, nominating his son to take over a party now poised to challenge Prime Minister Nuri Kamal al-Maliki in national elections next year.
Wall Street Journal: Syria Cracks Open Its Frail Economy
Syria is accelerating its economic opening - boosting U.S. hopes that its tight relationship with Iran might be weakened.
BUSINESS
For the latest business news: www.CNNMoney.com.
CNNMoney: Cut my pay ... please!
Finding work in this recession takes determination, perseverance and, most of all, sacrifice.
CNNMoney: Pow! Bam! Are takeovers back?
Mickey Mouse and Spider-Man may help provide some much needed spark to the sleepy merger market.
New York Times: EBay Is Said to Have Deal to Sell Skype
EBay plans to announce on Tuesday a deal to sell its Skype Internet calling division to a group of private investors, according to two people briefed on the company's plans.
In Case You Missed It
To watch the latest interviews and reporting: http://www.cnn.com/video.
CNN: Poland remembers WWII
European leaders mark seventy years since the first German attack of the Second World War. CNN's Paula Newton reports.
Subscribe to the CNN=Politics DAILY podcast at http://www.cnn.com/politicalpodcast.
And now stay posted on the latest from the campaign trail by downloading the CNN=Politics SCREENSAVER at http://www.CNN.com/situationroom.