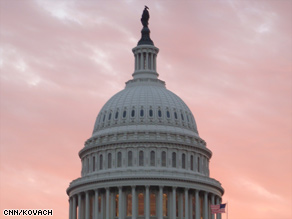 The CNN Washington Bureau's morning speed read of the top stories making news from around the country and the world.
WASHINGTON/POLITICAL
For the latest political news: www.CNNPolitics.com.
CNN Poll: Afghanistan War opposition at all-time high
Opposition to the war in Afghanistan is at an all-time high in a new national poll. Fifty-seven percent of Americans questioned in a CNN/Opinion Research Corporation survey released Tuesday say they oppose the U.S. war in Afghanistan, with 42 percent supporting the military mission.
CNN: No love for Harry Reid on the Tea Party Express
As the Tea Party Express rolls out of Las Vegas, there is at least one person who may be glad to see it go: Senate Majority Leader Harry Reid.
CNN: Use 'common-sense' steps against H1N1 virus, Obama says
President Obama encouraged all Americans Tuesday to take "common-sense" steps in preparation for an expected resurgence in the H1N1 virus this fall.
CNN: Palin's PAC steps up contributions to GOP candidates
Sarah Palin's political action committee is handing out cash to some of the most conservative members of Congress, a new report filed with the Federal Elections Commission reveals.
CNN Poll: Independents disapprove of Obama
A majority of independent voters disapprove of how Barack Obama's handling his job as president, according to a new national poll.
CNN: GOP senator warns of 'minor revolution' over health care
A top Republican senator warned Tuesday that if Democrats try to overhaul health care without Republican support, "it will wreck our health care system and wreck the Democratic Party."
CNN: Ex-homeland security chief denies attacking Rumsfeld, Ashcroft
Tom Ridge, the first U.S. Secretary of Homeland Security, denied Tuesday that he attacked former colleagues Donald Rumsfeld and John Ashcroft in his controversial new book.
CNN: Woman held in identity theft ring that netted Fed chief
Federal agents have nabbed a woman who they say is involved in a sophisticated identity-theft ring that claimed Fed Chairman Ben Bernanke among its victims, authorities said Tuesday.
CNNMoney: Is health care the next 'bonusgate'?
Earlier this year, public outrage boiled over with news of eye-popping pay to top executives on Wall Street.
CNN: RNC ad calls for 'Seniors' Bill of Rights'
The Republican National Committee is intensifying its push to reach seniors skeptical of President Obama's health care proposal, releasing a new television ad Tuesday that targets the powerful voter bloc.
CNN: Massachusetts AG takes steps to run for Kennedy's seat
Massachusetts Attorney General Martha Coakley, a Democrat, has taken the first step to run for Ted Kennedy's empty Senate seat.
CNN: Polls: Christie still on top in NJ gov race
With two months until election day, two new polls in New Jersey indicate that Republican challenger Chris Christie maintains the edge over Democratic incumbent Jon Corzine in the Garden State's gubernatorial battle.
New York Times: Conservative Democrats Expect a Health Deal
Like her colleagues, Representative Stephanie Herseth Sandlin, a South Dakota Democrat and leader of the fiscally conservative Blue Dog Coalition, has been weathering the summer of health care discontent.
Washington Post: Report Details Misbehavior by Kabul Embassy Guards
Private security contractors who guard the U.S. Embassy in Kabul have engaged in lewd behavior and hazed subordinates, demoralizing the undermanned force and posing a "significant threat" to security at a time when the Taliban is intensifying attacks in the Afghan capital, according to an investigation released Tuesday by an independent watchdog group.
POLITICO: Under fire, Obama shifts strategy
Aides to President Barack Obama are putting the final touches on a new strategy to help Democrats recover from a brutal August recess by specifying what Obama wants to see in a compromise health care deal and directly confronting other trouble spots, West Wing officials tell POLITICO.
Los Angeles Times: States most likely to win under healthcare overhaul are home to its biggest foes
Rural states have more uninsured and lower-income people who stand to benefit from legislation, but it's there where the effort faces the most vocal resistance. It's a factor that stymies legislators.
NATIONAL
For the latest national news: www.CNN.com.
CNN: Police say missing boy dead, foster parents suspects
Police say the foster parents of a missing 5-year-old California boy with cerebral palsy are suspects in what is now being called a homicide investigation.
CNN: Attorney to seek wrong-way driver's exhumation
The attorney for a man whose wife's wrong-way accident killed eight people on New York's Taconic Parkway in July says he will ask authorities to exhume her body in order to prove she wasn't drinking at the time of the accident.
CNN: FAA says 2 in helicopter crash were FAA safety inspectors
One FAA safety inspector was killed and another injured Tuesday when a helicopter they were on crashed into an apparently unoccupied house in Jackson, Mississippi, authorities said.
CNN: Dr. Gupta offers advice to parents on H1N1
Over this past week, I had some interesting conversations with colleagues who are also health care professionals. These conversations usually start with, "You know what I hate about the media ... ?"
CNN: Experts: Monitoring tools failed to unearth Garrido's secret
Phillip Garrido was registered as a sex offender, required to meet with by parole officers and fitted with an ankle bracelet to track his movements - but nothing prevented him from being around children, according to a victim's advocacy group.
CNN: Dying former 'Manson family' member up for parole
A former "Manson family" member who stabbed actress Sharon Tate to death more than 40 years ago and is now terminally ill faces her 13th parole hearing on Wednesday.
CNN: Oklahoma pastor was found nude, stabbed behind altar, source says
A 61-year-old pastor who was killed in a rural Oklahoma church was found lying behind the altar with her arms outstretched, a source close to the investigation told CNN.
CNN: Couple help usher in same-sex marriages in Vermont
Facing a busy day, Stephanie Maheu and Janis LeBaron awoke early Tuesday to meet the town clerk in Duxbury, Vermont, with one objective in mind: marriage.
New York Times: A Clinic Fills a Need but Faces Failure
Like many low-income neighborhoods, the north side of Milwaukee has seen a gradual depletion of its primary care doctors over the last two decades. One by one, they have retired or surrendered to financial reality, rarely to be replaced.
New York Times: Call to Jury Duty Strikes New Fear: Financial Ruin
One by one, jurors answered Judge Robert A. Rosenberg when he asked whether serving a trial of four to five weeks would be a hardship. Chemelle Charles, a nurse, said it definitely would: "I'm the only one working in my house right now."
Washington Post: Flu Trackers Encourage Patients to Blog About It
Think you have the flu? In some places, you can now go directly to the Internet and report your symptoms to officials eager to spot outbreaks.
Washington Post: New Coalition Targets Policies Of Wal-Mart
Labor groups renewed their campaign against Wal-Mart on Tuesday, launching a coalition that calls for improvements in the company's wages, health care, and environmental and labor policies.
INTERNATIONAL
For the latest international news: http://edition.cnn.com/
CNN: Report: Iran has 'updated nuclear package'; ready to hold talks
Iran has "prepared an updated nuclear package" and is ready to hold talks with world powers, the country's state-run Press TV reported Tuesday.
CNN: Dead Iran detainee's father satisfied
The father of a detainee beaten to death in an Iranian prison says he's satisfied with the way the Islamic government has handled the case - even as it serves as proof imprisoned protesters were abused.
CNN: Iraqi woman fears execution, can't stop thinking of gallows
Samar Saed Abdullah's entire body trembles as she speaks about her impending execution. She thinks of the gallows room, the noose around her neck and that moment when she will take her final breath.
CNN: Hurricane Jimena loses power on approach to Baja
Hurricane Jimena weakened Tuesday evening as the still-dangerous Category 3 storm closed on the Mexican peninsula of Baja California and the resort town of Cabo San Lucas.
CNN: Donor says he got thousands for his kidney
Four years ago, a young, cash-starved Israeli answered an ad in a newspaper for a kidney donor.
CNN: Libya marks anniversary of Gadhafi rule
Libyans on Tuesday celebrated Col. Moammar Gadhafi's 40 years of rule with lavish pageantry - complete with a lengthy parade, an elaborate stage production and spectacular fireworks.
CNN: Turkey, Armenia edge towards peace deal
Hours after Turkey and Armenia announced a tentative, Swiss-mediated peace deal, opposition politicians in Turkey were blasting the proposal.
CNN: Chile seeks arrests for alleged human rights violations
Arrest warrants for more than 120 former soldiers and agents of Chile's National Intelligence Directorate were issued Tuesday for alleged human rights violations during the dictatorship of Augusto Pinochet, CNN Chile reported.
New York Times: Tribal Leaders Say Karzai's Team Forged 23,900 Votes
Just a week before this country's presidential election, the leaders of a southern Afghan tribe called Bariz gathered to make a bold decision: they would abandon the incumbent and local favorite, Hamid Karzai, and endorse his challenger, Abdullah Abdullah.
New York Times: U.S. Is Seeing Policy Thorns in Japan Shift
Japan's landmark election presents the Obama administration with an untested government, creating a new set of imponderables for a White House already burdened by foreign policy headaches in Afghanistan, Iran and North Korea.
New York Times: U.N. Agency Finds Evidence of Drug Cartels Forming in Afghanistan
Though the Afghan opium harvest has declined for the second consecutive year, a new United Nations report says, there is growing evidence that some Afghan insurgent forces are becoming "narco-cartels" — similar to anti-government guerrilla groups in Colombia — that view drug profits as more important than ideology.
Washington Post: Taliban Surprising U.S. Forces With Improved Tactics
The Taliban has become a much more potent adversary in Afghanistan by improving its own tactics and finding gaps in the U.S. military playbook, according to senior American military officials who acknowledged that the enemy's resurgence this year has taken them by surprise.
Washington Post: Hamas Objects to Possible Lessons on Holocaust in U.N.-Run Schools in Gaza
The prospect of United Nations-run schools in the Gaza Strip teaching children about the Holocaust has sparked fierce resistance this week from leaders of the Palestinian Hamas movement and forced international officials to confront a situation fraught with political risk.
Wall Street Journal: U.N. Reports a Decline in Afghanistan's Opium Trade
Farmers in Afghanistan are growing less opium than last year and prices for the illicit crop have fallen to levels not seen in a decade, according to a new report from the United Nations.
BBC: PM faces more Lockerbie questions
Gordon Brown is facing further questions over the UK government's role in the Lockerbie bomber's release after new details about discussions emerged.
BUSINESS
For the latest business news: www.CNNMoney.com.
CNNMoney: Buy good banks. Dump bad banks.
Investors are slowly starting to differentiate between financial stocks that are still troubled and those that are in better shape.
CNNMoney: Hanging up on telemarketers
Starting today, many "robocalls" from telemarketers will be illegal. But there are lots of other ways that telemarketers can get to you. Here is how you can tune out and reduce the solicitations.
New York Times: Taking Risk for Profit, Industry Seeks Cancer Drugs
Pfizer's fortunes in the past were built on cardiovascular drugs, like the cholesterol buster Lipitor and the blood pressure pill Norvasc.
In Case You Missed It
To watch the latest interviews and reporting: http://www.cnn.com/video.
CNN: Electric car drag racing
CNN's Poppy Harlow reports on electric cars that drag race in Hagerstown, Maryland.
Subscribe to the CNN=Politics DAILY podcast at http://www.cnn.com/politicalpodcast.
And now stay posted on the latest from the campaign trail by downloading the CNN=Politics SCREENSAVER at http://www.CNN.com/situationroom.