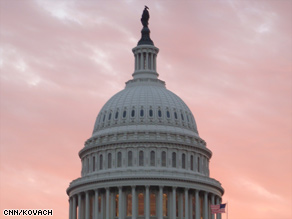 The CNN Washington Bureau's morning speed read of the top stories making news from around the country and the world.
WASHINGTON/POLITICAL
For the latest political news: www.CNNPolitics.com.
CNN: Sources: Obama to address Congress on health care
President Obama will address the contentious issue of health-care reform in a speech to a joint session of Congress on September 9, multiple Democratic sources said Wednesday.
CNN: Borger: Obama's only choice is to speak out
In a way, the president really has no other choice but to finally speak - and speak conclusively about what he wants in a health care reform bill.
CNN: Sources: Obama, GOP's Snowe work on health care compromise
President Obama and top aides have quietly stepped up talks with moderate Republican Sen. Olympia Snowe of Maine on a scaled-back health care bill, according to two sources familiar with the negotiations.
First on the CNN Ticker: DNC takes aim at Cheney
The Democratic National Committee is taking aim at Dick Cheney over his string of high-profile media appearances during which the former vice president has been highly critical of President Obama's national security policies.
CNN: Medicare pays 4 times suppliers' wheelchair cost, report says
Power-driven wheelchairs are costing Medicare and its beneficiaries nearly four times what suppliers pay for them, and competitive bidding could have reduced those costs, according to an inspector general's report released Wednesday.
CNN: How long before Americans demand change in Afghanistan?
While support for the war in Afghanistan has been falling, most experts think Americans will give President Obama the benefit of the doubt - at least for another year.
CNN: Looking for a leader, Tea Partiers issue invite to Palin
As the Tea Party Express makes its way across the country, Sarah Palin has emerged as a favorite daughter of the movement, and organizers have invited her to join the tour — or at least come to the final stop in the nation's capital.
CNN: Former New York governor Spitzer teaching at City College
Scandal-tarnished former New York Gov. Eliot Spitzer has found an opportunity to reassert his authority — in the classroom.
CNN: Schilling: 'I don't know' about Senate run
Former Boston Red Sox ace Curt Schilling is downplaying speculation that he may run for Ted Kennedy's Senate seat — but he's not ruling it out either.
CNN: Florida GOP chair: Obama trying to 'indoctrinate' children
The chairman of the Republican Party of Florida on Tuesday issued a statement to "condemn President Obama's use of taxpayer dollars to indoctrinate America's children to his socialist agenda."
CNN: DNC to pump $5 million into Virginia governor's race
The Democratic National Committee said Wednesday it will pump $5 million into the commonwealth of Virginia over the next two months to help put Creigh Deeds in the governor's mansion.
CNN: Traficant released from prison
Former Rep. James Traficant was released from federal prison Wednesday.
CNN Poll: Keep working on health care reform
A slight majority of Americans want Congress to continue working on health care reform when lawmakers return from summer recess next week, according to a new national poll. But nearly half of those questioned in a CNN/Opinion Research Corporation survey released Wednesday say Congress should start from scratch, or stop working at all on any bills that would change the country's health care system.
New York Times: Obama Aides Aim to Simplify and Scale Back Health Bills
President Obama plans to address a joint session of Congress next week in an effort to rally support for health care legislation as White House officials look for ways to simplify and scale back the major Democratic bills, lower the cost and drop contentious but nonessential elements.
New York Times: Kennedy Memoir Doesn't Ignore Lows
In a memoir being published this month, Senator Edward M. Kennedy called his behavior after the 1969 car accident that killed Mary Jo Kopechne "inexcusable" and said the events might have shortened the life of his ailing father, Joseph P. Kennedy.
Washington Post: Fed Optimistic Recovery Is Ahead - but Unsure How Far and How Strong
Federal Reserve leaders have become more confident that the economy is stabilizing. But they are less sure about what the recovery will look like.
New York Times: G.O.P. May Be Vital to Obama on Afghan War
As President Obama prepares to decide whether to send additional troops to Afghanistan, the political climate appears increasingly challenging for him, leaving him in the awkward position of relying on the Republican Party, and not his own, for support.
Washington Post: The Voice of a New Generation of Veterans
Matt Flavin oversaw a 450-person intelligence unit in Bosnia, deployed overseas with the Navy SEALs and survived combat in Afghanistan and Iraq. But the challenge now facing the 29-year-old is in Washington, where he is charged with helping President Obama make good on his pledge to expand veterans' benefits.
Boston Globe: New airport name sought to honor Kennedy
A Massachusetts lawmaker is calling for Logan International Airport to also include Senator Edward M. Kennedy's name, in what is likely to be one of a series of proposals to memorialize the senator's nearly half-century of legislative accomplishments.
McClatchy: What a difference an election makes: GOP now likes polls
Republicans are using ammunition they scorned for years to attack President Barack Obama's proposed health care overhaul: polls.
NATIONAL
For the latest national news: www.CNN.com.
CNN: Dealers await reimbursements for clunkers
John Londoff Jr. is waiting for the government to reimburse his Chevrolet dealership in St. Louis, Missouri for 142 of the 153 cars it paid rebates for under the Cash for Clunkers program that ended more than a week ago.
CNN: Former 'Manson family' member denied parole
Former "Manson Family" member Susan Atkins, who stabbed actress Sharon Tate to death more than 40 years ago and now is terminally ill, was denied parole Wednesday, prison officials said.
CNN: Investigation under way into cause of Station fire
The investigation into the massive Station fire north of Los Angeles is underway with authorities working to determine how the raging fire started, fire officials in California said Wednesday.
CNN: Drug giant Pfizer to pay record $2.3B fine
Pharmaceutical giant Pfizer has agreed to pay a record $2.3 billion settlement to resolve criminal and civil liability for illegally promoting certain pharmaceuticals, the Justice Department announced Wednesday.
CNN: Attorney for kidnap case wife worried by media coverage
The attorney for Nancy Garrido, charged in the Jaycee Lee Dugard abduction case, expressed concern Wednesday that intense media coverage may prejudice his client's ability to get a fair trial.
CNN: FDA says residue is frog or toad; how did it get in Pepsi can?
The "disgusting" blob that Fred DeNegri's wife says she poured out of his Diet Pepsi can was probably a gutted frog or toad, the Food and Drug Administration said.
CNN: Study: High school put-downs could put students behind
Whoever said names will never hurt you was wrong, according to a new study. The study from the University of Illinois suggests dealing with classmate put-downs can make it harder for good students to learn and make it more difficult for students who are behind to catch up.
CNN: California counts cost of raging wildfires
A raging wildfire north of Los Angeles has displaced thousands of anxious Californians, burning 140,150 acres by Wednesday.
CNN: Judge orders estate to pay for Jackson burial
A judge Wednesday approved Katherine Jackson's request that Michael Jackson's estate get the bill for the cost of this week's burial of her son.
New York Times: Shroud of Smoky Haze Hangs Over Much of the West
A smoky gray soup settled over Denver and other towns and cities across the West this week, a byproduct of fires that continue to blaze in California, Utah and Colorado.
USA TODAY: Women take over job market
Women are on the verge of outnumbering men in the workforce for the first time, a historic reversal caused by long-term changes in women's roles and massive job losses for men during this recession.
INTERNATIONAL
For the latest international news: http://edition.cnn.com/
CNN: Erika close to losing status as tropical storm
Tropical Storm Erika was poorly organized and barely clinging to tropical-storm status late Wednesday, and it was expected to weaken further on Thursday, the National Hurricane Center said.
CNN: Arms dealer allegedly conspires to sell military parts to Iran
A man dubbed "the Field Marshal" by one advocacy group for alleged third-world arms dealing has been arrested on charges that he conspired to illegally export U.S. F-5 fighter jet engines and parts to Iran.
CNN: U.S. contractor accused of 'deviant hazing'
Some private security guards hired to protect the U.S. Embassy in Afghanistan say their contractor has allowed widespread mistreatment, sexual activity and intimidation within their ranks, according to the watchdog group Project On Government Oversight (POGO).
CNN: Senior security official shot dead in Mexico
Gunmen shot dead the No. 2 security official and three others Wednesday in the home state of Mexican President Felipe Calderon, a government spokesman said.
CNN: Powerful earthquake kills 44 in Indonesia, dozens feared buried
Rescue workers late Wednesday were trying to clear the road into the Indonesian town of Cianjur after a major earthquake triggered a landslide, trapping residents inside their homes.
CNN: U.S. North Korean envoy heads to Asia
The Obama administration's point man on North Korea was due to arrive in Beijing on Thursday to start a tour of Asia - the latest attempt to restart stalled nuclear negotiations with the reclusive state.
CNN: Baby with protruding heart set for surgery
Doctors at an Indian government hospital were ready Thursday morning for a critical surgery to save a baby boy born with a heart protruding from his chest.
CNN: Canadian asylum ruling will foster racism, South Africa says
An attorney for a white South African man says his client was rightfully granted refugee status in Canada because he was the victim of racial violence and discrimination in his homeland.
New York Times: Religious-Secular Divide, Tugging at Israel's Heart
On Saturday, as on every Saturday in recent weeks, hundreds of ultra-Orthodox Jews gathered before dusk on the terraces above the Carta parking lot just outside the Old City walls. In black silk Sabbath robes and fur hats, they lined up in rows, perched and waiting.
New York Times: Fresh Off Victory, Japanese Party Flexes Muscle
Moving quickly to fulfill an election promise, Japan's newly victorious Democratic Party has begun its battle to rein in the nation's powerful bureaucracy by challenging a seemingly mundane appointment at the consumer affairs agency.
USA TODAY: 'Likely' Karzai win sparks calls for unrest
President Hamid Karzai moved closer Wednesday toward collecting enough votes to avoid a runoff, prompting threats of civil unrest from Afghan tribal leaders who oppose him and are angry over alleged election fraud.
BUSINESS
For the latest business news: www.CNNMoney.com.
CNNMoney: SEC investigation: We missed Madoff
The Securities and Exchange Commission overlooked "more than ample" evidence, including six complaints, that red-flagged the Bernard Madoff Ponzi scheme, an internal watchdog said Wednesday.
CNNMoney: Stimulus tax relief: Who's feeling it
Are you feeling the relief? This week, Americans got their first glimpse at exactly where the Recovery Act's tax relief is heading.
New York Times: A Reluctance to Retire Means Fewer Openings
To the long list of reasons American companies aren't hiring — business losses, tight credit, consumer retrenchment — add the fact that many of their older workers are unable, or afraid, to retire.
In Case You Missed It
To watch the latest interviews and reporting: http://www.cnn.com/video.
CNN: Ling and Lee describe capture
In a Web posting, the two U.S. journalists released from North Korea describe their capture. CNN's Alina Cho reports.
Subscribe to the CNN=Politics DAILY podcast at http://www.cnn.com/politicalpodcast.
And now stay posted on the latest from the campaign trail by downloading the CNN=Politics SCREENSAVER at http://www.CNN.com/situationroom.