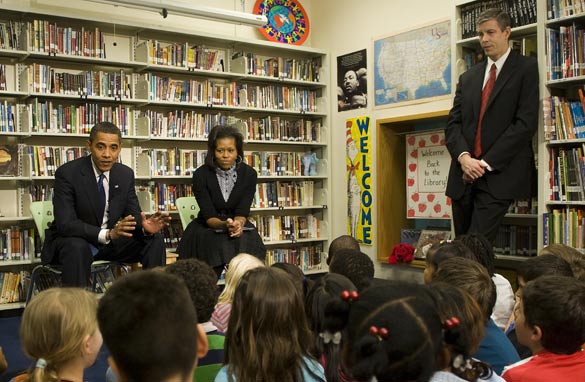 Education Secretary Arne Duncan, pictured here in a February file photo during a visit to a D.C. charter school with the first couple, said Sunday it would be 'silly' for parents to keep their kids home from school on Tuesday when the president is set to address the nation's schoolchildren.
(Photo Credit: Getty Images/File)

(CNN) - Secretary of Education Arne Duncan said Sunday that parents threatening to keep their children home Tuesday to avoid President Barack Obama's planned nationwide speech to school students were being "silly."
Appearing on the CBS program "Face the Nation," Duncan said the 18-minute speech would be posted Monday on the White House Web site so people can read it before its scheduled Internet broadcast to schoolchildren on Tuesday.
Duncan emphasized it is up to school officials whether to include the speech in the day's activities, and that the message of the speech was to encourage children to finish school.
"That's just silly," he said of anyone planning to have their kids stay home because of the speech. "They can go to school. They can not watch."
The speech is about "the president challenging young people," Duncan said in response to protests by conservatives that it would be used to force the president's political agenda on students.
Last week, conservative parents and some Republicans reacted harshly to news of the speech.

"Thinking about my kids in school having to listen to that just really upsets me," suburban Colorado mother Shanneen Barron told CNN Denver affiliate KMGH. "I'm an American. They are Americans, and I don't feel that's OK. I feel very scared to be in this country with our leadership right now."
Some school administrators have decided to show the president's speech, while others will not.
Minnesota Gov. Tim Pawlenty, a possible contender for the GOP's 2012 presidential nomination, said Sunday that Obama's speech would disrupt an already-hectic first day of school for many students.
"I think there's concerns about the disruption," he said on CNN's "State of the Union," calling the scheduling of the speech a "little ham-fisted" by the White House. "There is also concerns about is this going to be done in an appropriate manner. I trust and hope that the White House will have a content that is not political and they're not using the public school infrastructure for that purpose."
Duncan, however, noted Obama's speech is not unprecedented. President George H.W. Bush delivered a nationally televised speech to students from a Washington D.C., school in the fall of 1991, encouraging them to say no to drugs and work hard.
Some of the controversy involved a proposed lesson plan created by the Education Department to accompany the address. An initial version of the plan recommended that students draft letters to themselves discussing "what they can do to help the president."
The letters "would be collected and redistributed at an appropriate later date by the teacher to make students accountable to their goals," the plan stated.
After pressure from conservatives, the White House distributed a revised version encouraging students to write letters about how they can "achieve their short-term and long-term education goals."
Duncan said Sunday that the passage was poorly worded.
At least one conservative backed the idea for a presidential speech to students.
Former House Speaker Newt Gingrich told "FOX News Sunday" that Obama's speech is a good idea if the message is a positive one about completing school. Gingrich said people would be able to see for themselves by reading it on the White House Web site on Monday.
"If that's what it is, then it is good to have the president of the United States say to young people across America, 'Stay in school, study, and do your homework,'" Gingrich said.
–CNN's Rebecca Sinderbrand contributed to this story.
Updated: 4:24 p.m.