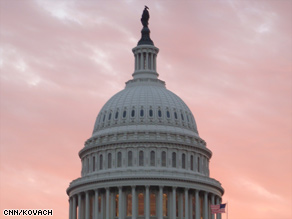 The CNN Washington Bureau's morning speed read of the top stories making news from around the country and the world.
WASHINGTON/POLITICAL
For the latest political news: www.CNNPolitics.com.
CNN: Aides: President to be 'very forceful' in Wednesday address
President Barack Obama plans to get much more assertive when he addresses a joint session of Congress Wednesday night at a critical stage in the health-care debate.
CNN: Baucus floats compromise on health care bill
A proposed health-care compromise by the powerful chairman of the Senate Finance Committee lacks a government-run insurance option favored by Democrats and would tax the most expensive health insurance plans, a source close to the discussions told CNN Monday.
CNN: In school speech, Obama says education key to country's future
The White House released the text Monday of a controversial back-to-school speech to students from President Obama.
CNN: Palin calls news org 'heartless and selfish'
Sarah Palin is calling the AP's decision to release a battlefield photo of a dying Marine over the family's objection "an evil thing to do."
CNN: Laura Bush praises Obama, bemoans excessive partisanship
Former first lady Laura Bush praised the performance of her husband's successor Monday, breaking with many Republicans in telling CNN that she thinks President Obama is doing a good job under tough circumstances.
CNN: Florida GOP chair: WH 'redid the lesson plans'
Jim Greer, the Florida Republican party chairman who accused President Barack Obama last week of trying to "indoctrinate America's children to his socialist agenda," suggested Monday that the president's original speech on education was "different," but said he is now encouraging all kids to watch it.
CNN: Tea Party Express takes aim at lawmakers
Organizers of the Tea Party Express bus tour arriving in Washington later this week planned their route to go though Democratic congressional districts they consider vulnerable.
CNN: Jones' resignation puts focus on criticism of Obama's 'czars'
As one so-called White House czar resigned over the weekend, President Obama announced the appointment of another one Monday, much to the frustration of Republican critics.
CNN: Rousing welcome home for Traficant
Former Rep. James Traficant had a triumphant homecoming Sunday night, his first public appearance since being released from federal prison, a local paper reports.
CNN: Kennedy opts out of Massachusetts Senate race
Joe Kennedy has decided not to enter the fight to succeed his uncle Ted Kennedy in the U.S. Senate.
CNN: Obama names Bloom administration manufacturing adviser
President Barack Obama plans to name Ron Bloom as the administration's senior counselor for manufacturing policy, the White House said Monday.
Washington Post: Deeply Divided House Democrats Return to Work - and the Same Set of Problems
After a nearly 40-day recess that was anything but restful, House Democrats are returning to work Tuesday still unsettled over pending health-care legislation and sure only that the people have had their say.
Washington Post: U.S. Tried to Soften Treaty on Detainees
From 2003 to 2006, the Bush administration quietly tried to relax the draft language of a treaty meant to bar and punish "enforced disappearances" so that those overseeing the CIA's secret prison system would not be criminally prosecuted under its provisions, according to former officials and hundreds of pages of documents recently declassified by the State Department.
McClatchy: Military leery of Afghanistan escalation with no clear goals
As the Obama administration and Congress begin a heated debate about how many more American troops to send to Afghanistan, military observers, soldiers on the ground there and some top Pentagon officials are warning that dispatching even tens of thousands more soldiers and Marines might not ensure success.
McClatchy: As usual, Congress is way behind on budget bills
President Barack Obama earlier this year promised America a new era of fiscal responsibility. But with his first full fiscal year about to begin on October 1, the Democratic-controlled Congress has not passed a single major fiscal 2010 spending bill, and is virtually certain to begin funding the government next month with the same kind of stopgap steady-spending measure used during all eight years of the Bush administration.
NATIONAL
For the latest national news: www.CNN.com.
CNN: Dugard's abduction, rescue bring town full circle
It was an eerily familiar sight - the townspeople of South Lake Tahoe, California, walking arm in arm down the street in support of kidnap victim Jaycee Dugard. But this time, things were different.
CNN: Jaycee Dugard kidnap suspect used bondage, captivity in past
Fifteen years before the girl was held captive in the shed, there was the woman in the warehouse - and at least one other woman who escaped capture.
CNN: Motorized parachute crashes into Utah crowd; 6 hurt
A motorized parachute crashed into a crowd at a Labor Day festival in Hooper, Utah, injuring at least six people including children, authorities said.
CNN: Georgia fans cheer on teen tennis phenomenon
Beneath seven flat-screen TVs and one large pulldown screen, members of the Racquet Club of the South gathered Monday to watch and celebrate one of their own.
CNN: Bay Bridge will be closed Tuesday
Tens of thousands of commuters who usually cross the San Francisco-Oakland Bay Bridge each day were forced to come up with alternative plans for Tuesday as officials announced that work on the bridge would not be completed by morning.
New York Times: Schools Aided by Stimulus Money Still Facing Cuts
Children are returning to classrooms across the nation during one of the most tumultuous periods in American education, in which many thousands of teachers and other school workers — no one yet knows how many — were laid off in dozens of states because of plummeting state and local revenue. Many were hired back, thanks in part to $100 billion in federal stimulus money.
New York Times: In Michigan, the Disappearing State Fair
Since 1849, Michigan residents have attended the annual state fair, where urban, suburban and farm dwellers can pet Clydesdales, attend rock concerts and watch heifers being born. Barring last-minute support, however, Michigan's State Fair, the nation's oldest, held its last event when it ended its 11-day run Monday.
Washington Post: When Your Insurer Says You're No Longer Covered
The untimely disappearance of Sally Marrari's medical coverage goes a long way toward explaining why insurance companies are cast as the villain in the health-care reform drama.
Los Angeles Times: 'Good progress' continues in Station fire fight
Winds and low humidity stoked flames on the northern front of the huge Station fire tonight, while the western flank from La Cañada to Acton remained quiet.
INTERNATIONAL
For the latest international news: http://edition.cnn.com/
CNN: U.S., U.N. urge probe into Afghanistan election
Increasingly credible allegations of vote fraud were the topic of conversation Monday night for a meeting between U.S. Ambassador to Afghanistan Karl Eikenberry, U.N. officials and Afghanistan President Hamid Karzai, senior State Department officials said.
CNN: Corruption sting nabs Iraqi deputy minister
Iraq's deputy minister of transport has been arrested after investigators taped him taking a $100,000 bribe, the Iraqi Integrity Commission said Monday.
CNN: Mexican president reshuffles cabinet
President Felipe Calderon on Monday announced changes to three of the most important cabinet positions in his government, including the overseer of Mexico's battle against the drug cartels.
CNN: 'Tight pants' woman jailed for not paying fine
A woman put on trial for wearing clothing deemed indecent by Sudanese authorities was jailed Monday for refusing to pay a court-ordered fine, her lawyer said.
CNN: Passenger rescued in Philippine ferry sinking after 24 hours
A passenger on a ferry that capsized Sunday in the Philippines has been rescued after being in the water for more than 24 hours, officials said.
CNN: New giant rat species discovered
Scientists have discovered a new species of giant rat in a remote rainforest in Papua New Guinea.
CNN: Active Twitter user celebrates 104th birthday
Tuesday is her 104th birthday, but that hasn't stopped Britain's Ivy Bean from being an avid Twitter user and possibly the oldest person on the social networking site.
CNN: Robbery cited as motive for killing of Mexican candidate, family
Mexican officials say the theft of cash, computers and other household goods was the motive for the weekend slayings of a legislative candidate, his wife and two children, the state-run Notimex news agency said.
New York Times: Crux of Afghan Debate: Will More Troops Curb Terror?
Does the United States need a large and growing ground force in Afghanistan to prevent another major terrorist attack on American soil?
New York Times: Lush Land Dries Up, Withering Kenya's Hopes
The sun somehow feels closer here, more intense, more personal. As Philip Lolua waits under a tree for a scoop of food, heat waves dance up from the desert floor, blurring the dead animal carcasses sprawled in front of him.
New York Times: Israel Tries to Placate Settlers by Allowing Some Construction Before Freeze
Israel's defense minister, Ehud Barak, authorized plans for 455 new housing units in Jewish settlements in the West Bank on Monday, in a move aimed at placating Israel's pro-settlement camp before an expected construction freeze demanded by the Arab world and the United States.
Washington Post: In Germany, Political Turmoil Over Ordering Of Airstrike
German lawmakers demanded explanations Monday for how and why their soldiers in Afghanistan, normally restricted to peacekeeping duties, triggered a NATO airstrike that killed approximately 100 people. Political fallout from the attack jolted Germany's election campaign just weeks before the vote and threatened to sour relations with the United States.

Los Angeles Times: An Iraqi singer's bittersweet homecoming
Qassim Sultan fled soon after the U.S.-led war, but not before recording a battle song to rally troops. Now he's back, in a new Iraq where he, a Sunni, is known for the song, but cannot perform it.
BUSINESS
For the latest business news: www.CNNMoney.com.
CNNMoney: Michigan prison closure rattles small-town economy
As Michigan's economy worsened last year, Michael Hester decided it was time to leave the private sector to work in the prison system, figuring a state job as a corrections officer would be more stable.
CNNMoney: Cadbury says no to Kraft
British candy maker Cadbury has rejected a $16.7 billion offer from U.S. food giant Kraft to merge the companies, according to a statement released Monday.
New York Times: Closely Watched Buffett Recalculating His Bets
Warren E. Buffett has two cardinal rules of investing. Rule No. 1: Never lose money. Rule No. 2: Never forget Rule No. 1.
Washington Post: As Cheaper Chinese Tires Roll In, Obama Faces an Early Trade Test
At the vast Cooper Tire plant here, workers heard for years about their rivals in Chinese factories.
USA TODAY: Chill settles on once-hot solar panel companies
Summer may be winding down, but investors holding solar energy stocks are getting one nasty burn. Shares of companies that make solar panels have flamed out this year, missing out on what's been a significant recovery in the stock market.
In Case You Missed It
To watch the latest interviews and reporting: http://www.cnn.com/video.
CNN: Cheering for Oudin
Friends and fans of tennis phenomenon Melanie Oudin react to her latest success in climbing the ranks at the U.S. Open.
Subscribe to the CNN=Politics DAILY podcast at http://www.cnn.com/politicalpodcast.
And now stay posted on the latest from the campaign trail by downloading the CNN=Politics SCREENSAVER at http://www.CNN.com/situationroom.