Editor's Note: PolitiFact.com is a project of the St. Petersburg Times that aims to help you find the truth in politics. Every day, reporters and researchers from the Times examine statements by members of Congress, the president, etc. They research their statements and then rate the accuracy on their Truth-O-Meter.
Republican Party of Florida says Obama will "indoctrinate" schoolchildren with "socialist ideology"
[cnn-photo-caption image= http://i2.cdn.turner.com/cnn/2009/images/09/08/greer.jim.cnn.art.jpg caption="Florida RNC Chairman Jim Greer appears on CNN September 07, 2009."]
Schoolchildren across the nation "will be forced to watch the president justify his plans for government-run health care, banks, and automobile companies, increasing taxes on those who create jobs, and racking up more debt than any other president."
-Republican Party of Florida on Tuesday, September 1st, 2009 in a press release
The Truth-O-Meter says: PANTS ON FIRE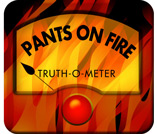 Read more: We didn't realize studying hard was socialist ideology