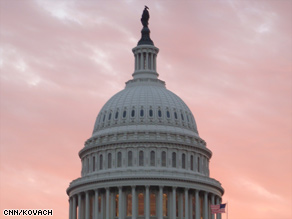 The CNN Washington Bureau's morning speed read of the top stories making news from around the country and the world.
WASHINGTON/POLITICAL
For the latest political news: www.CNNPolitics.com.
CNN: Obama calls for Congress to face health care challenge
President Obama on Wednesday made a passionate call for Congress to fix the nation's ailing health care system in the same spirit that created Social Security and Medicare in difficult times.
CNN: Rep. Wilson shouts to Obama during speech: 'You lie'
A Republican House member shouted "You lie" during President Obama's health care speech to Congress on Wednesday, and members of both parties condemned the heckling.
CNN: Wilson calls White House to apologize
CNN's Deirdre Walsh reports that Republican Rep. Joe Wilson called the White House Wednesday night to apologize for his outburst during President Obama's speech, and spoke with White House Chief of Staff Rahm Emanuel.
CNN: GOP's Boustany urges bipartisan health care plan
U.S. Rep. Charles Boustany urged Congress to pass a health-care plan by "working together in a bipartisan way" in remarks delivered after President Obama's address to a joint session of Congress on Wednesday.
CNN: Obama wins with speech-watchers, poll says
Two out of three Americans who watched President Obama's health care reform speech Wednesday night favor his health care plans, a 14-point gain among speech-watchers, according to a CNN/Opinion Research Corp. national poll.
First on the Ticker: S.C. GOP chair to seek Sanford's resignation
South Carolina Republican Party Chairwoman Karen Floyd is expected to seek a party resolution calling for Mark Sanford's resignation, a source familiar with plans for the call told CNN.
CNN: Palin gets tough on Democrats' health care proposals
For the second time since resigning the Alaska governorship more than a month ago, Sarah Palin is adding her voice to the fiery debate over health care.
CNN: First on the Ticker: GOP heckler blasted by 2010 challenger
The Democrat hoping to unseat South Carolina congressman Joe Wilson in next year's midterm elections quickly seized on the Republican's shout of "You lie!" during President Obama's health care speech on Wednesday.
CNN: Kennedy to Obama: 'There will be struggles' over health care
The White House has released the text of the letter from the late Sen. Ted Kennedy that President Obama referenced in his address to Congress
CNN: Obama calls for mandatory health insurance for all Americans
President Barack Obama said Wednesday that all Americans would be required by law to have health insurance under legislation he is proposing for congressional approval.
CNN: Key senator says Obama should drop public health care option
A key Republican senator in health care negotiations said Wednesday that President Barack Obama should drop his push for a government-run public insurance option.
CNN: Obama defends public option, but says he's open to alternatives
President Barack Obama on Wednesday defended his proposal for government-run public health insurance as an option for consumers, saying it would force private insurers lower costs.
CNN: Obama ready to move on tort reform
President Barack Obama on Wednesday directed his administration to set up demonstration projects in several states to move toward medical malpractice reform, throwing a bone to Republicans who have long called for tort reform to bring down health care costs.
CNN: Obama warns anyone who would 'misrepresent' plan
President Barack Obama said Wednesday he would call out anyone who misrepresents what's in his health care plan.
CNN: High court hears 'Hillary: The Movie!' campaign finance case
The Supreme Court heard new arguments Wednesday in a dramatic case that started with a movie attacking Hillary Clinton — but that could have far-reaching implications for U.S. elections.
CNN: Sources: Justice examining handling of alleged intimidation case
A Justice Department unit has opened an internal inquiry into how government lawyers handled a controversial case of alleged voter intimidation by members of the New Black Panther Party on Election Day, sources told CNN.
CNN: Democrats thump Pawlenty for Virginia appearance
Moderates? To hear the Democratic National Committee tell it, Tim Pawlenty is a conservative wolf in sheep's clothing, and Bob McDonnell is his right-wing muse.
CNN: Could President Obama propose a soda tax?
Grabbing a soda out of a vending machine could eventually come with a higher price tag, according to President Barack Obama, who says he would consider taxing the sugary beverages to benefit the nation's children.
New York Times: Making the Case for Leadership, Not Just Health Legislation
On one level, President Obama's address to a joint session of Congress on Wednesday night was what it seemed: an attempt to corral lawmakers into approving the signature initiative of his presidency, the health care overhaul that has eluded Washington, as Mr. Obama said, for 65 years.
New York Times: U.S. Says Iran Has Ability to Expedite a Nuclear Bomb
American intelligence agencies have concluded in recent months that Iran has created enough nuclear fuel to make a rapid, if risky, sprint for a nuclear weapon. But new intelligence reports delivered to the White House say that the country has deliberately stopped short of the critical last steps to make a bomb.
Washington Post: Murtha's Earmarking Not Unusual Among Subcommittee Members
A senior congressman's controversial pattern of steering lucrative defense contracts to firms represented by his close friends and former staffers is a common practice among his fellow members on a powerful appropriations subcommittee, according to a new analysis by a watchdog group.
Washington Post: Senate May Narrow Proposed Regulatory Role for Fed
The Obama administration's vision for revamping the nation's financial regulatory system could face significant revisions in the Senate, where proposed reform legislation departs from the White House proposal on several key points, according to staff members, lobbyists and a lawmaker briefed on the plans.
NATIONAL
For the latest national news: www.CNN.com.
CNN: FDA panel urges HPV vaccine be given to boys
Boys may soon be able to get Gardasil, the vaccine given to girls and young women to prevent infection by four types of human papillomavirus.
CNN: 2,500 suspected cases of H1N1 reported at university
An outbreak of flu at Washington State University showed few signs of slowing down as more students continued to report symptoms suspected of being from the H1N1 virus, school officials said Wednesday.
CNN: Ground broken on $3.4 billion Homeland Security complex
Washington notables broke ground on the future home of the Department of Homeland Security on Wednesday, symbolically starting construction on the biggest federal building project in the Washington area since the Pentagon 68 years ago.
CNN: Harvard Crimson says Holocaust denial ad published by accident
Harvard University, one of America's premiere academic institutions, is coming under fire for running an advertisement in its campus newspaper questioning the reality of the Holocaust.
CNN: Arrest made in nationwide string of J.C. Penney burglaries
Authorities in St. Tammany Parish, Louisiana, say they have arrested a suspect and recovered more than $3 million in stolen property in a multistate string of J.C. Penney store burglaries.
New York Times: Recession Hurts States' Gambling Revenues
Casinos and lotteries in most states are reporting a downturn in revenue for the first time, resulting in a drop in the money collected by state and local governments, according to new state data.
Wall Street Journal: Income Gap Shrinks in Slump at the Expense of the Wealthy
The deepest downturn in the U.S. economy since the Great Depression may finally shrink the gap between the very best-off Americans and everyone else.
INTERNATIONAL
For the latest international news: http://edition.cnn.com/
CNN: Minister suspect in hijacking said 9/9/9 date a divine sign
A 44-year-old former drug addict and alcoholic who now works as a minister was the sole person responsible for the brief hijacking Wednesday of a commercial jetliner, a Mexican official said.
CNN: Skin whiteners labeled racist
Cosmetic advertisements in Asia are targeting men with blunt campaigns aimed at skin color that one lawmaker labels racist.
CNN: Gang members, cop arrested in filmmaker's slaying in El Salvador
Five men in El Salvador, including a police officer, were arrested Wednesday in connection with the killing last week of French filmmaker and photographer Christian Poveda, the country's attorney general's office said.
New York Times: As Taliban Threat to Hostages Grew, British Moved In
Britain ordered a predawn commando raid in northern Afghanistan on Wednesday to rescue a British reporter for The New York Times and his Afghan interpreter after Afghan agents learned that the Taliban was planning to move the hostages into Pakistan, a senior Afghan official said Wednesday.
New York Times: Black Sea Port Is Flash Point for Georgia and Russia
Rising tensions between Russia and Georgia over shipping rights to a breakaway Georgian region have opened a potential new theater for conflict between the countries, a little more than a year after they went to war.
Washington Post: Day of the Gaucho Waning in Argentina
Cattle once ruled the seemingly endless grasslands here, delivering decades of prosperity for Argentina and producing a brand familiar to the world - natural, grass-fed beef.
Wall Street Journal: On São Paulo's Mean Streets, the Rich Roll in Armored Splendor
Everywhere 19-year-old Kareen Passos drives in her pink VW New Beetle, men approach her and onlookers shout "Barbie!"
Los Angeles Times: Farmers wage turf battle with Japan air force
Antiwar farmers near an air base northeast of Tokyo have infiltrated the base by working plots of land and have surrounded it with 'peace parks.' The government seeks to buy them out, but in vain.
BUSINESS
For the latest business news: www.CNNMoney.com.
CNNMoney: Fix health care. But fix the deficits, too
President Obama says reforming health care is central to the task of getting the government's long-term financial problems under control. And he's right.
CNNMoney: Steve Jobs unveils new iPods
Apple Chief Executive Steve Jobs announced several new products in a keynote address at a company event in San Francisco on Wednesday, making his first appearance at an Apple event in nearly a year.
New York Times: In Florida, Vestiges of the Boom
On the corner of Flamingo Road and Pink Flamingo Lane, beyond the putting green, the crystalline lagoon and the Sawgrass Mills mall, a soaring monument to the great condominium bust bakes under the Florida sun.
In Case You Missed It
To watch the latest interviews and reporting: http://www.cnn.com/video.
CNN: Backstory from Nic Robertson
The convicted Pan Am Flight 103 terrorist is in public for the first time since his return to Libya. CNN's Nic Robertson reports.
Subscribe to the CNN=Politics DAILY podcast at http://www.cnn.com/politicalpodcast.
And now stay posted on the latest from the campaign trail by downloading the CNN=Politics SCREENSAVER at http://www.CNN.com/situationroom.