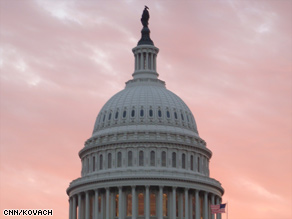 The CNN Washington Bureau's morning speed read of the top stories making news from around the country and the world.
WASHINGTON/POLITICAL
For the latest political news: www.CNNPolitics.com.
CNN: King: Is recovery for real? This week should provide key clues
From start to finish, this week offers tests of whether economic recovery is taking root and also should answer whether months of Senate negotiations on health lead to a bill with any Republican support.
CNN: Wilson: No more apologies for outburst against president
Rep. Joe Wilson said Sunday he will not apologize again for yelling out that President Obama lied during the president's speech to Congress last week.
CNN: Wilson funds reach $1 million after 'you lie' cry, aide says
U.S. Rep. Joe Wilson - the South Carolina Republican who heckled President Obama during his speech to a joint session of Congress - has raised at least $1 million in contributions, a campaign aide confirmed.
CNN: Dem senators: Afghanistan mission needs timeline, clarity
Some eight years after the terrorists attacks of September 11, 2001, two Democratic senators said Sunday that the Obama administration needs to provide Congress with a clear sense of the U.S. military mission in the war-torn country and a clear timeline for when the president expects to bring American troops home.
CNN: Tea party activists rally at U.S. Capitol
The conservative advocacy group Tea Party Express massed at the U.S. Capitol on Saturday to protest health care reform, higher taxes and what they see as out-of-control government spending.
CNN: Aide: Obama doesn't think tea partiers are racist
A day after tens of thousands of conservatives gathered in Washington to protest the policies of the Obama administration, a top White House aide said that President Obama doesn't think the protests and the growing conservative movement against Obama are motivated by racism.
CNN: Franken draws big laughs at Iowa fundraiser
Sen. Al Franken, D-Minnesota, the former comedian who has largely put the funny business on hold as he plays catch-up due to his late arrival in Washington, proved to a Iowa crowd Sunday that he's still got it.
CNN: Key senator rejects 'trigger' for public health insurance option
A moderate Republican who has previously broken with her party to support President Obama's $787 billion stimulus bill said Sunday that she does not support the idea of using a so called "trigger" on the public health insurance option as part of health care reform legislation.
CNN: Two senators say House health-care proposal is dead
More and more, a possible compromise on how to overhaul the nation's ailing health-care system is taking shape.
CNN: Key Senate Dem: There will be a public option
Iowa Sen. Tom Harkin, a Democrat who recently filled the late Sen. Ted Kennedy's seat as chairman of the Health, Education, Labor and Pensions Committee, said Sunday that a Senate health-care reform bill would include a "strong" public option and that it would get through by the holiday recess.
CNN: Let's move past Wilson's outburst, Cantor says
The House Republican Whip said Sunday that the country needs to move on from South Carolina Republican Rep. Joe Wilson's recent "You Lie!" outburst during President Obama's address to Congress last week.
CNN: McDonnell drops F-bomb in live interview
Bob McDonnell, the normally-disciplined Republican candidate for governor in Virginia, mistakenly blurted out the F-bomb during a live radio interview on Friday.
New York Times: U.S. Is Finding Its Role in Business Hard to Unwind
When President Obama travels to Wall Street on Monday to speak from Federal Hall, where the founders once argued bitterly over how much the government should control the national economy, he is likely to cast himself as a "reluctant shareholder" in America's biggest industries and financial institutions.
New York Times: U.S. Cost-Saving Policy Forces New Kidney Transplant
Melissa J. Whitaker has one very compelling reason to keep up with the health care legislation being written in Washington: her second transplanted kidney.
Wall Street Journal: Obama Pledges to 'Own' Health-Care Bill
President Barack Obama, continuing his push to secure support for a health-care overhaul, reiterated his willingness to address the issue of medical malpractice suits, a Republican priority.
Los Angeles Times: Obama shrugs off political 'circus' over healthcare
President Obama on Sunday dismissed the uproar over Rep. Joe Wilson's heckling during the president's speech Wednesday to a joint session of Congress, suggesting it was only a distraction - even as some members of Obama's party threatened to punish the South Carolina Republican.
POLITICO: Who's afraid of Barack Obama?
Who's afraid of Barack Obama? The new president spent his first months in office coasting on love and popularity. In his health care speech to Congress Wednesday, he rallied after a rough summer with a new round of tough talk.
NATIONAL
For the latest national news: www.CNN.com.
CNN: Police: Body found could be missing Yale student
Investigators found the remains of a woman they assume is missing Yale graduate student Annie Le, a senior police official said Sunday.
CNN: Suspect in at least 10 bank robberies arrested
A man authorities believe has robbed at least 10 banks in at least four states was arrested in Missouri after a retired state trooper saw him and learned he was wanted, authorities said Sunday.
CNN: Dying Blagojevich fundraiser said he overdosed, mayor says
Police are investigating the death of the former chief fundraiser for ex-Illinois Gov. Rod Blagojevich as a "death-suicide," an Illinois mayor said Sunday.
CNN: Soldier detained in contractor's shooting death
A U.S. soldier was detained Sunday in connection with the shooting death of a civilian contractor at Contingency Operating Base Speicher in Tikrit, Iraq, the military said.
CNN: Gertrude Baines, world's oldest person, dies at 115
Gertrude Baines, the world's oldest person, has died in Los Angeles, California, at the age of 115, according to the home where she lived and Guinness World Records said Saturday.
New York Times: Welcome to Our Town. Wish We Weren't Here.
Mayor Bill Blunk sees no reason for sugar-coating his opinion when asked to describe this town.
Washington Post: Water Measured From the Sky
Water management is serious business in the American West, where precipitation is scarce, irrigated agriculture is a major industry, new housing subdivisions spread across arid landscapes and water rights are allocated in a complicated seniority system.
USA TODAY: Home births get a bump, over obstetricians' objections
Although the delivery of her first son, Nicholas, went as planned, Mara Vaughan began thinking a change of venue for her second child's birth might be in order.
Los Angeles Times: Disney, union workers clash over healthcare
Jean Bustamante views the nation's raging healthcare debate in very personal terms.
INTERNATIONAL
For the latest international news: http://edition.cnn.com/
CNN: Purported bin Laden message surfaces
An audio message purportedly from al Qaeda leader Osama bin Laden emerged on radical Islamist Web sites, just two days after the United States marked the eighth anniversary of the September 11, 2001, terror attacks.
CNN: Hundreds arrested in deadly Uganda riots
At least 640 people were arrested and 14 killed in fighting in Uganda's capital between government forces and loyalists of a traditional kingdom, police said Sunday.
CNN: Israel pilot, son of space shuttle Columbia crewman, dies in crash
An Israel air force pilot, the son of an astronaut who died aboard the space shuttle Columbia in 2003, was killed Sunday in an F-16 fighter jet crash, Israel Defense Forces said in a statement.
CNN: Israeli PM heads to Egypt for talks on peace process
Israeli Prime Minister Benjamin Netanyahu said he will fly to Egypt Sunday to discuss the Israeli-Palestinian peace process with President Hosni Mubarak.
CNN: Thousands mourn Cuban revolutionary
Thousands gathered in the Cuban capital on Sunday to pay their respects to one of Cuba's few remaining original revolutionaries, Juan Almeida, who according to state media died of a heart attack Friday evening.
CNN: EU: Sanctions against Zimbabwe to remain
The European Union will not lift sanctions on Zimbabwean President Robert Mugabe and his allies until the country improves its human rights record and moves ahead on a power-sharing plan, an EU official said Sunday.
CNN: Indian teen tossed from train loses leg
Doctors had to amputate the leg of a 13-year-old snack vendor who was thrown off a moving train after he reportedly did not have money to bribe a guard, authorities said Sunday.
CNN: Britain denies deal with Libya over slain London cop
The British government has not dropped the case of a British police officer who was shot dead outside the Libyan embassy in London 25 years ago, the Foreign Office insisted Sunday.
New York Times: West Bank Settlers Dig In, but Resolve May Have a Limit
Of the hundreds of thousands of Israeli settlers in the West Bank, those who live in unauthorized hilltop outposts like this one, a hardscrabble unpaved collection of 20 trailers, are considered the most dangerous.
Washington Post: In Kandahar, a Taliban on the Rise
The letter, neatly folded and placed under the front door, was addressed to Nisar Ahmad's father, a gray-bearded schoolteacher who could not have been prouder that his son had graduated from Kandahar University and had secured a well-paying job as a field assistant here for the U.N. Development Program.
Wall Street Journal: Web Censoring Widens Across Southeast Asia
Attempts to censor the Internet are spreading to Southeast Asia as governments turn to coercion and intimidation to rein in online criticism.
Wall Street Journal: Epidemic Exposes Hospital Flaws
The children's hospital in San Miguel de Tucumán, Argentina, handled lots of tough cases during a recent swine-flu outbreak, but none more wrenching than the sudden deaths of two of its own nurses in July.
Christian Science Monitor: China's auto industry shifts into high gear
As General Motors emerged from bankruptcy and launched the new LaCrosse under its surviving Buick brand this summer, the car showcased a unique feature: an interior that was entirely designed in China.
BBC: Chavez in $2bn Russian arms deal
Russia has agreed to lend Venezuela over $2bn (£1.2bn) to buy weapons, President Hugo Chavez has said.
BUSINESS
For the latest business news: www.CNNMoney.com.
CNNMoney: Big week ahead on Wall Street
Reports of the stock rally's demise have been greatly exaggerated, with September so far managing to eschew a much-predicted selloff. A torrent of economic news this week could turn the tide.
CNNMoney: Fixing the financial rules: Slow going
Just a month after taking office, President Obama asked Congress to move fast to reform the "outdated" system of financial oversight and install "tough, new common-sense rules of the road" for Wall Street.
In Case You Missed It
To watch the latest interviews and reporting: http://www.cnn.com/video.
CNN: Cantor gets 'The Last Word'
Rep. Eric Cantor, the House Minority Whip, speaks wtih CNN's John King about health care and Afghanistan.
Subscribe to the CNN=Politics DAILY podcast at http://www.cnn.com/politicalpodcast.
And now stay posted on the latest from the campaign trail by downloading the CNN=Politics SCREENSAVER at http://www.CNN.com/situationroom.