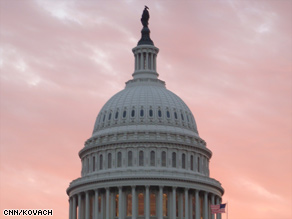 The CNN Washington Bureau's morning speed read of the top stories making news from around the country and the world.
WASHINGTON/POLITICAL
For the latest political news: www.CNNPolitics.com.
CNN: Health care negotiators finding common ground, Democrat says
Increased awareness of the details of a possible compromise health care bill is boosting the comfort level of both Democrats and Republicans, a key Democratic senator said Monday.
CNN: House to consider resolution criticizing Wilson on Tuesday
The House will vote Tuesday on a resolution of disapproval of Rep. Joe Wilson, the South Carolina Republican who yelled "you lie" during President Barack Obama's health-care speech to a joint session of Congress last week.
CNN: Boehner: I'll vote against any resolution criticizing Wilson
House Republican Leader John Boehner, R-Ohio, said Monday he would vote against any resolution admonishing Rep. Joe Wilson for his outburst during the president's address to Congress on health care last Wednesday.
CNN Poll: Americans divided on President's health care plans
In the wake of President Barack Obama's nationally televised speech to Congress last week, a new national poll indicates that the president's approval rating is on the rise. But the CNN/Opinion Corporation survey (pdf) released Monday also suggests that the president's personal popularity has not translated into widespread support for his health care reform proposals.
CNN: Senate Caucus Room renamed to honor Kennedy brothers
The historic Senate Caucus Room was renamed the Kennedy Caucus Room on Monday in honor of the three Kennedy brothers who served in the chamber, according to a statement by Sens. Chris Dodd and John Kerry.
CNN: Ted's sons: Yes, the Kennedy men do cry
When the late Sen. Edward Kennedy was growing up, there was a family edict: Kennedy men don't cry.
CNN: Obama: 'Learn lessons of Lehman'
The bailouts have largely stabilized the financial system, but regulatory reform is needed to prevent a similar crisis from happening again, said President Obama in a speech delivered Monday on Wall Street.
CNN: Media shut out from Palin's Hong Kong speech
Sarah Palin's speech to investors in China later this month will be closed to the media, organizers of the event confirmed to CNN Monday.
CNN: Former White House press secretary Jody Powell dead at 65
Former White House press secretary Jody Powell has died, a spokesman for the Carter Center said Monday.
CNN: Former NFL player to run for Congress
Former professional football player Jay Riemersma announced Monday that he is running for Congress in Michigan in 2010.
CNN: Traficant mulling another run for Congress
Former Democratic Rep. James Traficant, who only days ago was released from a federal prison after serving seven years on a bribery and racketeering conviction, told CNN Monday he may make a bid to return to Congress.
CNN: Gillibrand raises cash off Rudy
With rumors flying that Rudy Giuliani might make a run at Kirsten Gillbrand's Senate seat next year, the New York Democrat's campaign isn't wasting a chance to raise some cash off the polarizing former mayor.
New York Times: House for Sale Comes With a View: The Obamas
There is a "for sale" sign in the front yard, not that potential buyers would see it. The street is closed to nonresidents by order of the United States Secret Service.
New York Times: New Objections to Baucus Health Care Proposal
Two of the three Republicans in a small group trying to forge a bipartisan compromise on health care have requested numerous major changes in a proposal drafted by the chairman of the Senate Finance Committee, reducing the chances that he can win their support.
Washington Post: Lots of Fear Remains Over Economy, Job Losses
Despite fresh signs that the worst may be over for the beleaguered U.S. economy, there has been no letup in public fears about possible financial hardship ahead and there is broad concern that not enough is being done to avert another meltdown, according to a new Washington Post-ABC News poll.
Washington Post: Interior Launches Climate Strategy
Interior Secretary Ken Salazar launched the Obama administration's first coordinated response to the impacts of climate change Monday, which he said would both monitor how global warming is altering the nation's landscape and help the country cope with those changes.
Washington Post: Obama Cautious on Faith-Based Initiatives
Candidate Barack Obama drew little attention during last year's presidential campaign when he ventured into the thorny territory of church and state.
Los Angeles Times: Healthcare reform wins over doctors lobby
The American Medical Assn., after 60 years of opposing any government overhaul of healthcare, is now lobbying and advertising to win public support for President Obama's sweeping plan - a proposal that promises hundreds of billions of dollars for America's doctors.
McClatchy: Tourism boycott threatened over Wilson's 'You lie' outburst
State and local tourism officials are being flooded by emails and calls from people across the country, saying they won't vacation in South Carolina because they're upset by GOP Rep. Joe Wilson's outburst at President Barack Obama.
NATIONAL
For the latest national news: www.CNN.com.
CNN: Patrick Swayze dies of cancer at 57
Patrick Swayze, whose good looks and sympathetic performances in films such as "Dirty Dancing" and "Ghost" made him a romantic idol to millions, died Monday. He was 57.
CNN: Yale student's killing 'completely senseless,' roommate says
A quiet rendition of "Amazing Grace" capped an emotional candlelight vigil Monday night for slain Yale University student Annie Le, whose body was found on what was to have been her wedding day.
CNN: FBI seizes letter from Jackie Kennedy to RFK's widow
The FBI has seized a two-page, handwritten letter of condolence sent by Jacqueline Kennedy to the widow of Robert F. Kennedy shortly after he was assassinated in 1968. The family contends the letter was stolen.
CNN: New Orleans hospital deaths back in spotlight
The Orleans Parish district attorney said he plans to look into deaths at a New Orleans hospital in the days following Hurricane Katrina, but stopped short of calling it an investigation.
CNN: Martin Luther King children in court over estate case
A judge has ordered the children of the Rev. Martin Luther King Jr. to meet in their capacity as the sole shareholders of the corporation that manages their iconic father's estate.
CNN: Police: No evidence teen was threatened over Christianity
A Florida law enforcement report has found no credible evidence that a teenager's father threatened to kill her for converting from Islam to Christianity.
CNN: Community swamped by coal sludge to get $40 million
The Tennessee community that was buried under more than a billion gallons of coal sludge last year is getting $40 million from the nation's largest public utility for economic development projects.
New York Times: New York Eyes 'No Smoking' Outdoors, Too
New York City's workplace smoking ban six years ago drove cigarette and cigar puffers outdoors. But soon some of the outdoors may be off limits, too: The city's health commissioner, Dr. Thomas A. Farley, said Monday that he would seek to ban smoking at city parks and beaches.
New York Times: Hawaii Tries Green Tools in Remaking Power Grids
Two miles or so from this tiny town in the southernmost corner of the United States, across ranches where cattle herds graze beneath the distant Mauna Loa volcano, the giant turbines of a new wind farm cut through the air.
New York Times: Schools Look Abroad to Hire Teachers
Some American school districts have turned increasingly to overseas recruiting to find teachers willing to work in their hard-to-staff schools, according to a new report by a national teachers union.
Washington Post: When It Comes to Pollution, Less (Kids) May Be More
To heck with carbon dioxide. A new study performed by the London School of Economics suggests that, to fight climate change, governments should focus on another pollutant: us.
INTERNATIONAL
For the latest international news: http://edition.cnn.com/
CNN: Afghan junkies risk triggering AIDS explosion
Afghanistan's reputation as the world's leading narcotics supplier is well-known, but in a squalid ruin in Kabul, the country hides a darker secret - a huge home grown drug addiction problem now on the brink of fueling an HIV/AIDS epidemic.
CNN: U.S. may have killed al Qaeda target in Somalia, officials say
A U.S. Special Forces raid in Somalia on Monday may have killed a wanted al Qaeda terrorist, U.S. officials said.
CNN: Ancient bones seized, returned to China
Fossilized bones of a saber-toothed cat and dinosaurs that may be 100 million years old are among "priceless" artifacts that the United States handed over to China in a ceremony Monday.
CNN: India athlete makes plea for Semenya
She lost her career, was ostracized and driven to a suicide attempt.
CNN: Airliner bomb plotters get life sentences
Three men convicted of plotting to bomb planes flying from London to North America with liquid explosives hidden in soft drink bottles were Monday given life sentences.
CNN: Bush 'shoe thrower' to be freed from Iraqi jail
The Iraqi man who threw his shoes at President George W. Bush last year, Muntadhar al-Zaidi, will be released from jail Tuesday, his lawyer told CNN Monday.
New York Times: Pakistan Army Is Said to Be Linked to Many Killings in Swat
Two months after the Pakistani Army wrested control of the Swat Valley from Taliban militants, a new campaign of fear has taken hold, with scores, perhaps hundreds, of bodies dumped on the streets in what human rights advocates and local residents say is the work of the military.
BUSINESS
For the latest business news: www.CNNMoney.com.
CNNMoney: Ranking the rescues
The collapse of Lehman led to a deeper recession and a litany of government programs to try to end the pain. We rate just how bold and effective the plans have been so far.
CNNMoney: Fixing the financial rules: Slow going
Just a month after taking office, President Obama asked Congress to move fast to reform the "outdated" system of financial oversight and install "tough, new common-sense rules of the road" for Wall Street.
Washington Post: Threat of Trade War With China Sparks Worries in a Debtor U.S.
The prospect of a trade war with China fueled fears of wider fallout Monday, rattling bond markets and prompting many economists to criticize President Obama's decision to slap import tariffs on Chinese-made tires.
Wall Street Journal: Behind Lehman's Big Property Struggle
A year after Lehman Brothers' collapse, the firm overseeing its bankruptcy is moving to restructure loans for 900 properties to help salvage a battered $16 billion real-estate portfolio.
In Case You Missed It
To watch the latest interviews and reporting: http://www.cnn.com/video.
CNN: Need for speed
CNN.com's Naamua Delaney finds out first-hand what it takes to go 175 mph with NASCAR's Jeff Burton.
Subscribe to the CNN=Politics DAILY podcast at http://www.cnn.com/politicalpodcast.
And now stay posted on the latest from the campaign trail by downloading the CNN=Politics SCREENSAVER at http://www.CNN.com/situationroom.