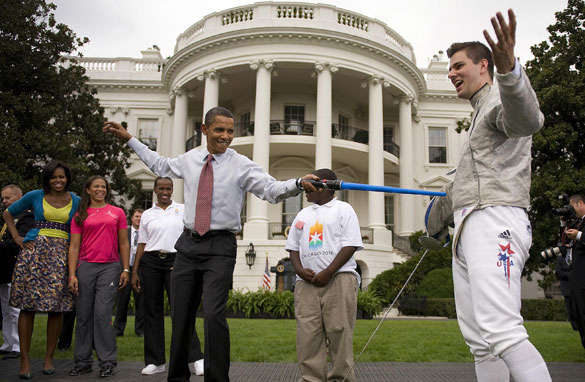 President Obama fences with US Olympic Fencer Tim Morehouse with a lightsaber. (Photo Credit: Jim Watson/Getty Images)

WASHINGTON (CNN) - President Barack Obama and first lady Michelle Obama will try to bolster their hometown's chances of hosting the 2016 Summer Olympic Games Wednesday.
Chicago, Illinois, is competing with Madrid, Spain; Rio de Janeiro, Brazil; and Tokyo, Japan, for the opportunity to hold the Summer Olympics.
Wednesday afternoon, the Obamas will play host to an event at the White House aiming to boost Chicago's bid.
Chicago Mayor Richard Daley and U.S. Olympians and Paralympians are among those who will participate in the event, the White House said in a statement.
The International Olympic Committee will vote on the host city next month in Copenhagen, Denmark.
Michelle Obama announced last week that she would be traveling to Copenhagen for the meeting to support Chicago's chances.