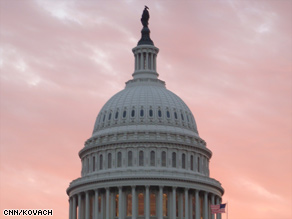 The CNN Washington Bureau's morning speed read of the top stories making news from around the country and the world.
WASHINGTON/POLITICAL
For the latest political news: www.CNNPolitics.com.
CNN: Health care proposal mandates coverage, drops public option
The seemingly elusive effort to reach a consensus on health care reform got a new boost Wednesday with the long-awaited launch of a plan believed to have the best hope so far of winning support from centrist Democrats and Republicans.
CNN: What's in Baucus' health care proposal?
Senate Finance Committee Chairman Max Baucus, D-Montana, unveiled a summary of his proposed health care plan Monday.
CNN: House Democrats agree on health-care position, chairman says
As the Senate struggles with a second, competing version of health-care reform, a key player in House negotiations says pivotal committee chairmen in that chamber have coalesced around one position for a final House bill.
CNN: Obama steps up Senate lobbying on health
As a health care reform bill sponsored by Senate Finance Chairman Max Baucus got a cool reception from Republicans and some Democrats on Capitol Hill Wednesday, President Obama quietly held a White House meeting with two Senate sponsors of a rival health care proposal.
CNN: Carter again cites racism as factor in Obama's treatment
Former President Jimmy Carter reiterated Wednesday that he believes racism is an issue for President Obama in trying to lead the country.
CNN: White House: Obama doesn't think race a factor
The White House said Wednesday President Barack Obama doesn't believe that he's being attacked by critics because of his race.
CNN: Steele admonishes Democrats' charges of racism
Republican National Committee Chairman Michael Steele on Wednesday sharply criticized a statement made by prominent Democrats — including Former President Jimmy Carter — that members of his party hold negative views of President Obama solely because he is black.
CNN: ACORN announces new training, review after 'prostitution' videos
The community organizing group ACORN on Wednesday announced a hiring freeze, new training programs and an independent review of its programs after the recent release of a series of videotapes embarrassing to the agency.
CNN: White House fights back against 'czar' claims
The White House began pushing back Wednesday against conservatives who have slammed the adminstration of late for appointing high-ranking "czars" with broad, interagency oversight and nebulous job descriptions.
CNN: Tarkanian seeks to defeat Reid
Danny Tarkanian sailed into Washington this week on a wave of polling data that indicates he — and other Republican Senate prospects — could defeat Senate Majority Leader Harry Reid next year.
CNN: House ethics panel defers probe on Jesse Jackson Jr.
A House ethics panel said it is investigating allegations against three lawmakers, including Rep. Jesse Jackson Jr.
CNN: Reassessing Obama's 'war of necessity'
As support for the war in Afghanistan dips to an all-time low, some leading lawmakers are questioning President Obama's approach to what he calls a "war of necessity."
CNN: Senate passes measure to allow gun transport on Amtrak
Amtrak would lose its federal subsidies if it doesn't put a system in place by early next year to check and track firearms so that passengers can legally put the weapons in their checked baggage, the Senate voted Wednesday.
CNN: Obamas host event to support Chicago's bid for 2016 Olympics
President Barack Obama and first lady Michelle Obama will try to bolster their hometown's chances of hosting the 2016 Summer Olympic Games Wednesday.
CNN: Romney plans busy weekend in Washington area
Former Massachusetts governor Mitt Romney has planned a flurry of appearances in the Washington area this weekend, an indicator of the kind of hectic schedule he's been keeping as he looks ahead to a possible presidential bid in 2012.
CNN: A cage match in Connecticut
Pro- wrestling businesswoman Linda McMahon announced Wednesday she would run for Senate in Connecticut next year as a Republican.
New York Times: For Democrats, 60 Senators Is Magic Number for Health Bill
The unveiling of a compromise health care proposal has Senate Democrats pondering a daunting mathematical challenge: how to keep all 59 Democrats united and attract at least one Republican to pass an overhaul measure.
New York Times: Obama Offers Ways to Rate Efforts in Afghan Region
The Obama administration delivered to Congress on Wednesday about 50 measures to determine whether a broad military and nation-building campaign to stabilize Afghanistan and Pakistan was succeeding, paving the way for the White House to argue that the American combat effort in the region would not be open-ended.
Wall Street Journal: U.S. to Shelve Nuclear-Missile Shield
The White House will shelve Bush administration plans to build a missile-defense system in Poland and the Czech Republic, according to people familiar with the matter, a move likely to cheer Moscow and roil the security debate in Europe.
Wall Street Journal: Vacant Senate Seat Triggers Flip-Flop
The Democrat-controlled legislature in Massachusetts is poised to pass a bill in coming days giving Democratic Gov. Deval Patrick authority to appoint an interim senator to succeed the late Edward M. Kennedy, strengthening the party's U.S. Senate majority and bolstering prospects for passage of a health-care overhaul.
Wall Street Journal: Obama Used Faulty Anecdote in Speech to Congress
President Barack Obama, seeking to make a case for health-insurance regulation, told a poignant story to a joint session of Congress last week. An Illinois man getting chemotherapy was dropped from his insurance plan when his insurer discovered an unreported gallstone the patient hadn't known about.
Los Angeles Times: Former Interior Secretary Gale Norton is focus of corruption probe
The Justice Department is investigating whether former Interior Secretary Gale A. Norton illegally used her position to benefit Royal Dutch Shell PLC, the company that later hired her, according to officials in federal law enforcement and the Interior Department.
NATIONAL
For the latest national news: www.CNN.com.
CNN: Denver apartment searched in terror probe
The man at the center of a federal probe into a possible terrorist attack has given writing, fingerprint and DNA samples to federal agents, his attorney said Wednesday.
CNN: Yale student strangled, medical examiner's office says
Yale University graduate student Annie Le, whose body was found in the basement wall of an off-campus medical research building, was strangled, a spokesman for the Connecticut medical examiner's office said Wednesday.
CNN: Police: Bones found on Garrido property
Investigators have found bones on the property where kidnapping suspects Phillip and Nancy Garrido lived for 18 years with Jaycee Dugard and her two daughters, police said Wednesday.
CNN: Folk singer Mary Travers dead at 72
Mary Travers of 1960s folk trio Peter, Paul and Mary, has died, according to her publicist. She was 72.
CNN: Hofstra student recants gang rape allegations
Charges have been dropped against four men accused of raping an 18-year-old student at Hofstra University after the woman recanted her allegations, prosecutors said.
CNN: FBI: Beating at Cracker Barrel may be hate crime
The FBI is investigating as a possible hate crime an incident in which a woman was beaten to the ground in front of her child at the entrance to a Cracker Barrel restaurant in Morrow, Georgia, south of Atlanta.
CNN: Actor Henry Gibson dead at 73, spokesman says
Actor Henry Gibson, who played roles ranging from loopy poets to vengeful Illinois Nazis and cranky judges during a 40-year film and television career, has died at age 73, his representatives said Wednesday.
CNN: Tooth helps restore desperate woman's sight
Nine years of blindness almost drove Sharron "Kay" Thornton to suicide.
New York Times: Following Trash and Recyclables on Their Journey
Where does all the trash go? Karin Landsberg, 42, a self-described "eco-geek" in Seattle, was so curious that she invited researchers from the Massachusetts Institute of Technology into her home last month to fish 12 items out of her garbage and recycling bins — a can of beans, a compact fluorescent light bulb — and tag them with small electronic tracking devices.
Washington Post: A Silver Lining in Grocery Aisles
Supermarket prices are plunging as the global downturn drives down the cost of staples such as wheat, corn and milk and grocers fight for the wallets of penny-pinching consumers.
USA TODAY: Feds keep little-used airports in business
One of the USA's newest airports has a 5,500-foot lighted runway, a Colonial-style terminal with white columns, and hundreds of acres for growth. But Kentucky's Williamsburg-Whitley County Airport lacks one feature: airline passengers.
INTERNATIONAL
For the latest international news: http://edition.cnn.com/
CNN: First rocky planet found outside solar system
Scientists have discovered the first confirmed Earthlike planet outside our solar system, they announced Wednesday.
CNN: Four killed in anti-terror raid in Indonesia
Indonesian police stormed a suspected terrorist hideout in central Java early Thursday, the National Police said.
CNN: Italy probes mob link with sunken ships
Italian authorities are investigating dozens of sunken ships, possibly containing toxic waste, that may have been submerged by a local crime syndicate.
CNN: Yemeni government defends efforts to end girls' marriages
The Yemeni government Wednesday defended its efforts to end the practice of young girls marrying, citing last week's death during childbirth of a 12-year-old Yemeni.
CNN: UN World Food Program issues urgent appeal for aid
The United Nations' World Food Program appealed Wednesday for $3 billion in donations, blaming the world economic crisis for a surge in demand and a drop in donations.
New York Times: In Somalia, a Leader Is Raising Hopes for Stability
From the gates of Villa Somalia, the hilltop presidential palace, this ruin of a city almost looks peaceful.
McClatchy: 'Old friends' Cuba, China strengthen ties
Why is the world's third-largest economy spending hundreds of millions of dollars in Cuba, an impoverished island with few natural resources and a history of making things difficult for foreign investors?
BUSINESS
For the latest business news: www.CNNMoney.com.
CNNMoney: Stocks spike to 1-year highs
Stocks gained Wednesday, pushing Wall Street to its highest level in a year, with a rise in industrial production and a spike in commodity prices and equities fueling the advance.
CNNMoney: New health care plan and your wallet
The health reform debate is still far from the finish line, but Wednesday brought an important milestone: A key senator's highly-anticipated proposal echoing many of the reforms that President Obama is calling for.
CNNMoney: BofA board members subpoenaed
New York Attorney General Andrew Cuomo issued subpoenas to five Bank of America board members on Wednesday, as part of his investigation into the bank's purchase of Merrill Lynch a year ago, a source close to the investigation told CNN.
New York Times: Citing Risks, U.S. Seeks New Rules for Niche Banks
Generations ago, industrialists and financiers extracted fortunes from the copper and gold mines dug into the canyons near here. Now, their modern-day counterparts are resisting a government proposal that could shut down what has become another gold mine of sorts.
In Case You Missed It
To watch the latest interviews and reporting: http://www.cnn.com/video.
CNN: Ancient heads found
Inspectors discovered 100-million-year-old heads of dinosaurs and a saber-toothed cat in mail. CNN's Josh Levs reports.
Subscribe to the CNN=Politics DAILY podcast at http://www.cnn.com/politicalpodcast.
And now stay posted on the latest from the campaign trail by downloading the CNN=Politics SCREENSAVER at http://www.CNN.com/situationroom.