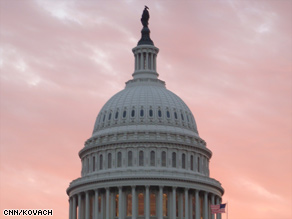 The CNN Washington Bureau's morning speed read of the top stories making news from around the country and the world.
WASHINGTON/POLITICAL
For the latest political news: www.CNNPolitics.com.
CNN: Obama scraps Bush-era missile defense for new plan
The United States is overhauling Bush-era plans for a missile defense shield in Europe, based partly on the latest analysis of Iran's offensive capabilities, President Obama said Thursday.
CNN: House passes amendment to cut government funding for ACORN
The House of Representatives approved an amendment Thursday that calls for halting government funding to the community organizing group ACORN.
CNN: Race and politics in the age of Obama
Race and politics are a combustible combo that explodes into headlines when an ex-president lights the fuse, as Jimmy Carter did recently.
CNN: Obama as witch doctor: Racist or satirical?
Posters portraying President Obama as a witch doctor may be racist, organizers of Tea Party protests say, but they reflect anger about where he is leading the country.
CNN: Medal of Honor recipient remembered as a selfless friend
It's a crisp New England day and Paul Monti is sitting in the backyard garden he built to honor the memory of his son, sipping coffee from his favorite Boston Red Sox mug, and nursing what he calls a "morning cigar."
CNN: Congress to Gen. McChrystal: Come on down!
The intrigue surrounding Gen. Stanley McChrystal's plans for Afghanistan is making him a popular man on Capitol Hill. But for now, Congress is going to have to wait to talk to the top commander in Afghanistan.
CNN: Biden: 'Premature' to say if more troops needed in Afghanistan
It's too early to say whether more troops are needed for Afghanistan, Vice President Joe Biden said Thursday, days after the top U.S. military officer said more forces are probably needed in order to effectively fight the insurgency.
CNN: White House offers medical malpractice initiative
The Obama administration announced a $25 million medical malpractice initiative Thursday as part of its plan to rein in skyrocketing health care costs.
CNN: Grassley: 'I kinda resent' White House over health care reform
Iowa Republican Sen. Charles Grassley — one of the Republican members of the Senate Finance Committee's "Gang of Six" — told reporters Thursday it's been six weeks since he's spoken to President Obama or anyone on the White House staff.
CNN: Baucus gets support from the center
Senator Max Baucus stood alone on Wednesday when he introduced his summary for a health care reform bill. But one day later, the chairman of the Senate Finance Committee is getting some support from the center.
CNN: Pelosi gets emotional about political climate
House Speaker Nancy Pelosi, who appears to rank only behind President Obama as a top target of health care reform opponents, grew visibly emotional Thursday when asked to compare the current political climate to that of years past.
CNN: Potential 2012 candidates knock Obama on missile defense
Mitt Romney and Rick Santorum — two of the Republicans thinking about challenging President Obama in 2012 — are savaging the administration's plans to scrap a planned missile defense shield in Europe.
CNN: Senate GOP bests Democrats in fundraising
Senate Republicans raised more money last month than their Democratic counterparts and the GOP has more cash-on-hand 14 months before the midterm elections.
CNN: First on the Ticker: Wilson challenger to raise cash in D.C.
Rep. Joe Wilson's Democratic challenger Rob Miller has collected more than $1 million online since Wilson shouted "You lie!" at President Obama, but next week Miller will be raising money the old-fashioned way.
CNN: Michelle Obama goes green
With health care on the minds of Americans across the nation, Michelle Obama is continuing her efforts to make healthy food choices a priority amongst Americans.
CNN: Poll: If not Kennedy, Massachusetts Dems want Coakley
A new survey out of Massachusetts suggests the frontrunner to replace the late Sen. Ted Kennedy is not even a candidate in the race.
CNN: Former Ron Paul advisor enters CT Senate race
Connecticut Republican Peter Schiff formally announced his intent to run for Sen. Chris Dodd's Senate seat Thursday — the fifth GOP candidate to enter the race.
New York Times: U.S. Proposes Ban on 'Flash' Trading on Wall Street
It is an obscure art of Wall Street, a technique that gives a scattering of traders an edge over everyone else — and the Securities and Exchange Commission wants to stamp it out.
Washington Post: Affordability Is Major Challenge for Reform
Lawmakers in both parties raised concerns Thursday that the health-care reform bill offered by Senate Finance Chairman Max Baucus a day earlier would impose too high a cost on middle-class Americans and said they will seek to change the legislation to ease that potential burden.
Washington Post: Housing Agency's Cash Reserves Will Drop Below Requirement
The Federal Housing Administration has been hit so hard by the mortgage crisis that for the first time, the agency's cash reserves will drop below the minimum level set by Congress, FHA officials said.
Washington Post: Intelligence Oversight Bill Faces Obstacles
The Senate has approved intelligence oversight legislation, deferring discussion of rules for interrogation and detention of terrorism suspects that have derailed previous proposals.
Boston Globe: House backs an interim senator
House lawmakers approved legislation last night that gives Governor Deval Patrick the power to appoint a temporary successor to the late Edward M. Kennedy in the US Senate, putting Massachusetts on track to have a new senator in place by next week.
Wall Street Journal: Bankers Face Sweeping Curbs on Pay
Policies that set the pay for tens of thousands of bank employees nationwide would require approval from the Federal Reserve as part of a far-reaching proposal to rein in risk-taking at financial institutions.
NATIONAL
For the latest national news: www.CNN.com.
CNN: FBI quizzes Colorado man for 2nd day in terror probe
A Colorado resident at the center of a federal terrorism probe met with FBI agents for a second day Thursday as his lawyer disputed a report that bomb-making plans were found on the man's computer.
CNN: Yale lab worker arrested in student's killing, police say
A Yale University lab technician was arrested Thursday and charged with murder in the slaying of a graduate student whose body was found in the basement wall of an off-campus medical research building, police said.
CNN: Co-worker: Raymond Clark III 'a nice man, always'
Raymond J. Clark III, charged with murder in the death of Yale graduate student Annie Le, was smart, amiable and loved his dog, say those who knew him.
CNN: Cadaver dogs indicate possible remains on Garrido property
Two cadaver dogs working separately each showed interest in the same area of property belonging to kidnapping suspects Phillip and Nancy Garrido, a possible indication of human remains, police said Thursday.
CNN: $86,000 monthly allowance for Michael Jackson's mom, kids
Michael Jackson's mother and his three children receive an allowance totaling more than $86,000 a month, according to court documents released Thursday.
CNN: Coach found not guilty in death of player
A jury Thursday acquitted a former Louisville, Kentucky, high school football coach of all charges connected to the heat-related death of a player last year.
CNN: Man who set up home for kids in Haiti charged with sexual abuse
An American who founded a home for needy children in Haiti more than 10 years ago has been accused of sexually abusing some of the same boys he set out to help, the U.S. Department of Justice announced Thursday.
CNN: Florida school officials in prayer case could get jail time
Two Florida school administrators were due to appear in federal court Thursday to face contempt charges for saying a prayer at a school luncheon.
CNN: Photos of fallen Vietnam veterans sought
The organizers of the Vietnam Veterans Memorial and Federal Express are issuing a nationwide "call for photos" to help document the stories of those lost in the war.
CNN: Scam targets veterans' credit card info, VA warns
Watch out for the latest scam targeting veterans and their credit card numbers, the Department of Veterans Affairs warns.
New York Times: Health Ills Abound as Farm Runoff Fouls Wells
All it took was an early thaw for the drinking water here to become unsafe.
New York Times: On the Lookout for Stimulus Fraud
It would not ordinarily go down in the annals of crime. But when Robert Fitzsimmons was arrested this summer and accused of cashing a check made out to his long-dead father at a Pay-O-Matic check cashing store in Manhattan, he became one of the first people in the country accused of stealing some of the $787 billion in federal stimulus money.
New York Times: Inmate Will Testify About Failed Execution
Two days after the execution of a convicted rapist-murderer was halted when technicians were unable to inject him with lethal drugs, a federal judge ordered Thursday that the inmate be deposed for a federal lawsuit challenging the constitutionality of Ohio's lethal injection procedure.
New York Times: Scathing Report on Border Security Is Issued
Government auditors reported Thursday that the effort to secure the Mexican border with technology and fences has fallen years behind schedule, will cost billions of dollars extra in maintenance costs and has no clear means of gauging whether illegal crossings have been curtailed.
Washington Post: Easing From Combat to Classroom
During his second tour of duty in Afghanistan, Sgt. Chris Day made a habit of wearing a Terps T-shirt under his uniform. He planned to enroll at the University of Maryland as soon as he got out of the Army.
USA TODAY: Incomes of young in 8-year nose dive
The incomes of the young and middle-aged — especially men — have fallen off a cliff since 2000, leaving many age groups poorer than they were even in the 1970s, a USA TODAY analysis of new Census data found.
Wall Street Journal: As Riches Fade, So Does Finance's Allure
Like nearly 30% of Massachusetts Institute of Technology graduates in recent years, Ted Fernandez set his sights on finance. Though he majored in materials science and engineering, he was wowed by tales of excitement from friends who went to Wall Street.
Wall Street Journal: Hate Calculus? Try Counting Cow Carbon
Shoppers soon will be able to buy everything from meat to moccasins based on a number that purports to tell them the products' environmental impact.
Washington Times: Marine widow, baby in limbo
Hotaru Ferschke just wants to raise her 8-month-old son in his grandparents' Tennessee home, surrounded by photos and memories of the father he'll never meet, a Marine who died in combat a month after marrying her from thousands of miles away.
INTERNATIONAL
For the latest international news: http://edition.cnn.com/
CNN: Tiny T. rex fossil discovery startles scientists
A pint-sized version of the Tyrannosaurus rex, with similarly powerful legs, razor-sharp teeth and tiny arms, roamed China some 125 million years ago, said scientists who remain startled by the discovery.
CNN: Afghanistan blast kills at least 16
At least 16 people were killed, including international soldiers, and 55 were wounded when a car bomb rocked parts of Afghanistan's capital Thursday, authorities said.
CNN: Suicide bombers use U.N. disguise in Somali attack
Suicide attackers breached security at the African Union base in Somalia's capital by using vehicles with United Nations logos to carry out a deadly double car bombing, the organization told CNN.
CNN: Report: Man fathered four with daughter
An Australian man has been arrested for allegedly fathering four children with a daughter he repeatedly raped for more than 30 years, local media reported Thursday.
New York Times: In a New Age, Bahrain Struggles to Honor the Dead While Serving the Living
There is a great clash of values taking place here, as it has throughout a region where fabulous oil wealth and the intoxicating influence of globalization have often overwhelmed heritage and tradition.
New York Times: Recovery Picks Up in China as U.S. Economy Still Ails
Just eight months ago, thousands of Chinese workers rioted outside factories closed by the global downturn.
New York Times: Afghan Blast Raises New Doubts in Europe
A powerful suicide bomb that killed six Italian soldiers here on Thursday prompted Prime Minister Silvio Berlusconi of Italy to declare that his nation had begun planning to "bring our young men home as soon as possible."
BUSINESS
For the latest business news: www.CNNMoney.com.
CNNMoney: 1.4 million Americans score $8,000 tax credit
More than 1.4 million Americans have already claimed the new tax credit for first-time home buyers, according to a report from the Internal Revenue Service.
CNNMoney: When workers take charge
It's a unique model – the worker-owned business. Some say it sounds like socialism, but these six companies say it's helped them tough out the recession.
CNNMoney: House to vote on extending unemployment benefits
Jobless Americans in high-unemployment states would see their benefits extended for another 13 weeks under legislation to be considered by Congress next Wednesday.
In Case You Missed It
To watch the latest interviews and reporting: http://www.cnn.com/video.
CNN: Israel's fighting women
Israeli women soldiers on why the country's female fighting force is as good as its military men.
Subscribe to the CNN=Politics DAILY podcast at http://www.cnn.com/politicalpodcast.
And now stay posted on the latest from the campaign trail by downloading the CNN=Politics SCREENSAVER at http://www.CNN.com/situationroom.