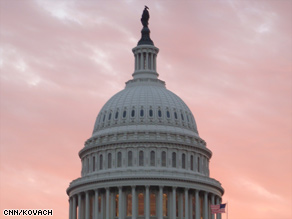 The CNN Washington Bureau's morning speed read of the top stories making news from around the country and the world.
WASHINGTON/POLITICAL
For the latest political news: www.CNNPolitics.com.
CNN: King: Busy week for the president
A remarkably diverse issues portfolio in the week ahead, and if you prefer a neat theme to lump it all together, try this: Follow the leader - or leaders if you want a week with international flavor.
CNN: President Obama to host Israeli-Palestinian talks
President Obama will host meetings Tuesday with Israeli Prime Minister Benjamin Netanyahu and Palestinian Authority President Mahmoud Abbas, the White House announced Saturday.
CNN: Obama: Economy probably won't produce enough jobs until 2010
President Obama says that despite signs of economic recovery, the country will not see large-scale job growth until next year.
CNN: Obama: Requiring health insurance is not a tax increase
President Obama insists that requiring Americans to get health insurance does not amount to a tax increase.
CNN: Romney defends record as Huckabee wins straw poll
A day after former Baptist minister and likely presidential rival Mike Huckabee offered a withering critique of Mitt Romney's record, the former Massachusetts governor made his pitch to the same group of religious conservatives.
CNN: Obama: Taped ACORN misdeeds should be investigated
President Barack Obama says ACORN misdeeds captured on secretly taped videos should be investigated, but that the controversy over the community service group was not occupying much of his time.
CNN: NY Gov. Paterson vows to run despite White House 'concern'
New York Gov. David A. Paterson said Sunday he will run for election to hold onto his office next year, despite a New York Times report that said the White House is "urging" him to withdraw.
CNN: Obama: Afghanistan strategy is still a work in progress
Eight months after Inauguration Day, the Obama administration is still working out its strategy for continued U.S. military involvement in Afghanistan, the president said in an interview that airs Sunday on CNN's State of the Union.
CNN: Levin takes on McCain over Afghanistan strategy
The chairman of the Senate Armed Forces Committee responded Sunday to recent criticism from former White House hopeful Sen. John McCain, the ranking Republican on the committee.
CNN: McConnell expresses support for Obama on Afghanistan
The top Republican in the Senate had rare praise Sunday for President Obama on a foreign policy issue but continued to challenge the president over the Democratic Party's plans for health care reform.
CNN: Obama: Family 'will stand in line like everybody else' for vaccine
The nation's first family will not get any special dispensation when it comes to the much awaited vaccine for the H1N1 virus, President Obama tells CNN.
CNN: Obama shares Bill Clinton's assessment of North Korea's leader
Former President Bill Clinton got more from his visit to North Korea than the release of two American journalists. Clinton, whose wife is Secretary of State, was able to bring valuable information back to the White House about North Korean leader Kim Jong-Il, President Obama tells CNN.
Washington Post: McChrystal: More Forces or 'Mission Failure'
The top U.S. and NATO commander in Afghanistan warns in an urgent, confidential assessment of the war that he needs more forces within the next year and bluntly states that without them, the eight-year conflict "will likely result in failure," according to a copy of the 66-page document obtained by The Washington Post.
Washington Post: Democrats Target Bank Overdraft Charges
A backlash is brewing on Capitol Hill against banks that charge large fees for overdrafts without asking or telling customers, the latest sign that the financial crisis is shifting the balance of power from banks toward borrowers.
Washington Post: Half a Ton of Uranium - and a Long Flight
On a snowy day in December 1993, just months after Andy Weber began his diplomatic job at the U.S. Embassy in Almaty, Kazakhstan, he met with a tall, bullet-headed man he knew only as Col. Korbator.
Washington Post: Obama Missile Decision May Smooth U.S.-Russia Arms Talks
President Obama's decision to scrap a planned missile defense system that had infuriated Russia is expected to produce one quick payback: smoother talks between the two nuclear giants on renegotiating their most important arms-reduction treaty. But U.S. and Russian officials say it is too late to replace the pact before it expires in December.
Washington Post: Audit Finds Waste in 'Green' Projects
The four drafty buildings had been fixtures of the Energy Department complex in Oak Ridge, Tenn., for more than half a century. They burned energy like 1950s sedans.
Boston Globe: Health fight has other bills sidelined
The pitched battle over a national health care plan is inflicting collateral damage on other legislation in Congress, with some lawmakers and advocates arguing that it has sidetracked action on other urgent priorities.
New York Times: Congress Aims to Force Bank of America to Give Details on Merrill
For months, Bank of America has been trying to keep secret its legal conversations at the end of last year about its coming merger with Merrill Lynch. So far, it has succeeded, mainly by arguing that those conversations should remain confidential because they are protected by attorney-client privilege.
NATIONAL
For the latest national news: www.CNN.com.
CNN: Terror suspect: 'Our phone call is being monitored'
One of three men charged with lying to federal agents during a terrorism probe warned a co-defendant that their phone call was being monitored, according to court papers.
CNN: 'Mad Men,' '30 Rock' top Emmy Awards
"Mad Men" won just three Emmy Awards this year - after starting with 16 nominations - but one of them was the big one, best drama series, at the 61st Primetime Emmy Awards Sunday night.
CNN: Police look for man whose wife, 5 children found killed
Florida authorities were searching Sunday for a 33-year-old man after his wife and five children were found dead in their Naples home.
CNN: Washington state killer captured after field-trip escape
A legally insane killer who escaped in Washington state during a field trip to a fair was recaptured Sunday, the Spokane County Sheriff's Department said.
CNN: Police: Escaped inmate rappelled down building using bedsheets
Texas authorities on Sunday were searching for a convicted burglar who escaped from a medical facility by rappelling off the building using a string of bedsheets, officials said.
CNN: Rocket launch prompts calls of strange lights in sky
A series of spooky lights above parts of the northeastern United States Saturday sparked a flurry of phone calls to authorities and television news stations.
Washington Post: Reports Criticize Pandemic Planning
Many state and local governments are not adequately prepared to deal with a surge of patients in a flu pandemic or quickly distribute vaccine and antiviral drugs, according to two reports by federal investigators being released on Monday.
Los Angeles Times: Bald eagle case raises issue of religious liberty
On Wyoming's Wind River Indian Reservation, Winslow Friday is preparing to surrender in his long fight with the federal government.
INTERNATIONAL
For the latest international news: http://edition.cnn.com/
CNN: Iranian leader decries Obama's missile defense plan
Iran's supreme leader on Sunday blasted U.S. plans to overhaul the setup for a missile defense shield in Europe, calling the Obama administration's intentions "anti-Iranian," state-run media reported.
CNN: Hundreds of thousands attend Cuba 'peace concert'
Hundreds of thousands of people packed a main square in the Cuban capital Sunday to witness a rare and ambitious concert that, despite its nonpolitical theme, drew criticism from some Cuban exiles in the United States.
CNN: Taliban leader boasts of eventual victory in Afghanistan
The Taliban fight against American and NATO troops in Afghanistan "is forging ahead like a powerful flood," according to a purported online message posted Saturday by the Taliban's elusive leader, Mullah Mohammed Omar.
CNN: State-run media: Yemeni military kills 150 rebels
Yemeni forces killed about 150 Shiite rebels Sunday in northwestern Yemen after the rebels tried to take over the presidential palace in Saada, breaching a recent cease-fire, state-run media reported.
CNN: Radical Somali leader defends peacekeepers' killings
A radical Islamist leader in Somalia said Sunday that a suicide attack that killed 21 African Union peacekeepers was the right thing to do.
CNN: Greenland's frozen landscape warming up
My taxi driver is telling me about his meal last night. His name is William. He ate whale.
CNN: Muslims around the world end fast, usher in Eid
Muslims around the world woke up Sunday and welcomed the end of a long month of fasting with hearty greetings of "Eid Mubarak," or happy festivities.
CNN: Thai king, world's oldest reigning monarch, hospitalized
Thailand's King Bhumibol Adulyadej, the world's longest reigning monarch, has been hospitalized with fever and fatigue, the royal palace said Sunday.
BUSINESS
For the latest business news: www.CNNMoney.com.
CNN: Riding the bull a little longer
With little on the docket to challenge investor optimism, the defiantly bullish stock market is looking to extend its staggering run in the week ahead.
Washington Post: Firms Start to See Climate Change as Barrier to Profit
As the real-world impacts of climate change begin to materialize and regulation of greenhouse gases appears more likely, corporate America has begun to grapple with a challenging question: How do you quantify the risks associated with climate change?
New York Times: Once Slave to Luxury, Japan Catches Thrift Bug
Not long ago, many Japanese bought so many $100 melons and $1,000 handbags that this was the only country in the world where luxury products were considered mass market.
In Case You Missed It
To watch the latest interviews and reporting: http://www.cnn.com/video.
CNN: Protesters take to Tehran streets
Iran's green clad opposition movement faces off against pro-government crowds. CNN's Reza Sayah reports.
Subscribe to the CNN=Politics DAILY podcast at http://www.cnn.com/politicalpodcast.
And now stay posted on the latest from the campaign trail by downloading the CNN=Politics SCREENSAVER at http://www.CNN.com/situationroom.