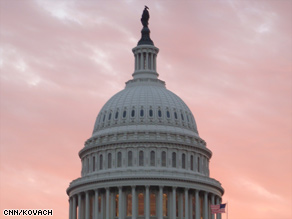 The CNN Washington Bureau's morning speed read of the top stories making news from around the country and the world.
WASHINGTON/POLITICAL
For the latest political news: www.CNNPolitics.com.
CNN: Obama's global support put to the test?
President Obama, facing daunting domestic challenges, may have another tough battle on his hands: maintaining the United States' growing popularity throughout the world.
CNN: Baucus plans changes to his own health care proposal
In effort to show fellow Democrats he hears their deep concerns about his health care plan, Senate Finance Chairman Max Baucus plans to make changes to his own proposal even before the committee starts voting Tuesday on hundreds of proposed amendments to the $774 billion dollar plan.
CNN: Why are some politicians forgiven in sex scandals?
Damning new allegations about former Sen. John Edwards' extramarital affair are coming out - this time, the claims could spell the end of Edwards' political career.
CNN: Bill Clinton: Not all fighting health reform motivated by race
While some criticism targeting President Obama is racially motivated, the fight over health care isn't, former President Bill Clinton told CNN Monday.
CNN: Obama mixes policy, humor with Letterman
President Obama mixed policy discussion with personal reflections on his daughters and, yes, a few jokes in an appearance on CBS's "Late Show With David Letterman," taped Monday afternoon.
CNN: Justice Dept. inspector general to launch limited ACORN investigation
The activist community-organizing group ACORN will be the subject of a limited investigation by the Justice Department's inspector general, the internal watchdog office announced Monday.
CNN: Pataki coy on possible NY Senate bid
Former New York Gov. George Pataki wouldn't say Monday if he is interested in challenging Kirsten Gillibrand for her U.S. Senate seat next year — but didn't rule it out, either.
CNN: Source: White House not looking for 'soft landing' for Paterson
An Obama administration source denies reports that the White House has been looking for a 'soft landing' for embattled New York Gov. David Paterson — but says Paterson hasn't flatly refused to remove himself from the race, though he is being coy about his plans.
CNN: Joe Wilson passes $2 million mark
South Carolina Republican congressman Joe Wilson has now raised over $2 million in campaign contributions since he shouted "You lie!" at the president earlier this month.
CNN: Online, campaigns take advantage of 'You lie!' storm
When Rep. Joe Wilson yelled "You lie!" at President Obama, the South Carolina Republican's political team quickly launched an online strategy to capitalize on the incident.
CNN: Deeds launches new offensive in Virginia race
Buttressed by a new poll that shows the Virginia governor's race tightening, Democrat Creigh Deeds launched a pair of tough new ads Monday that once again call attention to Republican Bob McDonnell's controversial master's thesis.
CNN: President Obama called Wilder about Virginia governor's race
President Obama called former Virginia Gov. Doug Wilder about making an endorsement in the state's closely watched governor's race, Wilder confirmed to CNN on Monday.
CNN: Lazio not waiting for Giuliani this time
This time, Rick Lazio isn't deferring to Rudy Giuliani. The former Republican congressman from Long Island is expected Tuesday morning to formally announce that he's running for governor of New York.
CNN: Commentary: Conservatism is far from dead
As the White House and Senate Democrats move toward Sen. Max Baucus' compromise on health care, there is a growing sense among Democrats that the political power of conservatism remains much stronger than some observers believed after Barack Obama's victory in November 2008.
CNN: DeLay's daughter drums up votes before his 'Dancing' debut
Tom DeLay, a one-time House Majority Whip, now has a vote counter of his own.
New York Times: White House Is Taking a More Aggressive Role in State Races
The White House's intervention in the race for New York governor is the latest evidence of how President Obama and his top advisers are taking an increasingly direct role in contests across the country, but their assertiveness has bruised some Democrats who suggest it could undercut Mr. Obama's appeal with voters tired of partisan politics.
Washington Post: In S.C., One Road Divides Two Ways of Thinking
The Bolen and Elmore homes, three blocks apart in opposite directions off Columbia Road in this small city, could not seem more alike. Both are simple brick ranch-style houses occupied by retired couples, the men former police officers, who spend hours a day in dark dens where cigarette smoke wafts beneath the whirl of ceiling fans.
Washington Post: Despite Institute's Woes, Rep. Murtha Still Seeks Earmarks
The buzzer is broken at the John P. Murtha Institute for Homeland Security, and a note invites visitors, "Please knock." On a summer afternoon, a lone intern answers the door of the mostly empty basement offices that through the years have overseen $50 million in federal money awarded to projects designed to make the nation safer.
NATIONAL
For the latest national news: www.CNN.com.
CNN: Stunned Georgians scramble to safety
The incessant banging on the door finally roused Ted Jackson from a deep sleep.
CNN: Man sought for questioning in slayings held in Haiti
A man in the custody of Haitian authorities is believed to be a Naples, Florida, man sought for questioning in the deaths of his wife and five children, police said Monday.
CNN: Bail set for terrorism suspect in Colorado
A federal magistrate set bail at $50,000 Monday for one of the three men charged with lying to federal agents during a wide-ranging terrorism inquiry, as the men made their first appearances in courtrooms in New York and Colorado.
CNN: U.S. racism 'everywhere,' says Dave Matthews
Watching the Dave Matthews Band moments before they take the stage is like watching a football team bursting out of the locker room before a big game.
CNN: Employee held in slaying at posh New York hotel
An employee of a luxurious New York hotel has been arrested in connection with the slaying of a woman in one of the hotel's residential condominiums, police say.
CNN: Garrido claimed black box could speak his mind
The black box sat inside a cabinet. Philip Garrido had given it to a friend for safekeeping, and that's where the friend kept it.
CNN: Students launch camera to edge of space, snap pics of Earth
Oliver Yeh is the kind of guy who cooks up ideas so kooky, so out-of-this-world, that even his fellow MIT students tend to roll their eyes when they hear them.
New York Times: Refitted to Bury Emissions, Plant Draws Attention
Poking out of the ground near the smokestacks of the Mountaineer power plant here are two wells that look much like those that draw natural gas to the surface. But these are about to do something new: inject a power plant's carbon dioxide into the earth.
New York Times: First Woman Ascends to Top Drill Sergeant Spot
It may come as no surprise that the Army's new top drill sergeant idolizes Gen. George S. Patton Jr., has jumped out of planes 33 times, aces every physical training test and drives a black Corvette with "noslack" vanity plates.
New York Times: Researcher Had Bacteria for Plague at His Death
A weakened and ordinarily harmless strain of the bacteria that cause plague may have led to the death of a University of Chicago researcher.
USA TODAY: GAO audit: Schools slow to get alerts about tainted food
Federal agencies that supply food for 31 million schoolchildren fail to ensure that tainted products are pulled quickly from cafeterias, a federal audit obtained by USA TODAY finds.
Wall Street Journal: Recession Hits Immigrants Hard
The number of foreign-born residents of the U.S. declined for the first time since at least 1970, as a recession and tight labor market dented America's image as the land of opportunity.
INTERNATIONAL
For the latest international news: http://edition.cnn.com/
CNN: Facebook gets caught in Golan Heights dispute
Logging onto Facebook as a resident in the Golan Heights, should you enter Syria or Israel as your home country?
CNN: Afghan leader backs U.S. military call for more troops
Afghan President Hamid Karzai said Monday that he backs a recommendation from the top U.S. commander in Afghanistan to boost American troop levels in the embattled Islamic nation.
CNN: Israel on Iran: All options still on table
Israel on Monday restated its long-standing policy regarding Iran after Russia's president indicated that Israel had taken the military option off the table.
CNN: Latin American drug cartels find home in West Africa
Colombian and Mexican drug cartels have jumped the Atlantic Ocean and expanded into West Africa, working closely with local criminal gangs to carve out a staging area for an assault on the lucrative European market.
CNN: Zelaya returns to Honduras
Ousted Honduran President Jose Manuel Zelaya returned Monday to the capital city of Honduras, where he said he is planning to meet with his critics to arrange for his return to power.
CNN: Tunnel links continents, uncovers ancient history
It's a common sight in the traffic-clogged streets of Istanbul, a city that straddles two continents.
CNN: Firm offers to settle toxic waste case in Ivory Coast
A giant oil-trading company is offering to pay thousands of Africans a settlement after a contractor illegally dumped toxic waste in West Africa three years ago.
CNN: At least 8 dead as quake rocks Bhutan
A strong earthquake rocked Bhutan on Monday, blocking access roads in the mountainous Asian kingdom and killing at least eight people, the country's home minister told CNN.
CNN: 'District 9' depiction angers some Nigerians
When Ken Umeano went to watch the summer sci-fi blockbuster "District 9," he stormed out after 30 minutes.
New York Times: China Spreads Aid in Africa, With a Catch for Recipients
It is not every day that global leaders set foot in this southern African nation of gravel roads, towering sand dunes and a mere two million people. So when President Hu Jintao of China touched down here in February 2007 with a 130-person delegation in tow, it clearly was not just a courtesy call.
Washington Post: U.S. Commanders Told to Shift Focus to More Populated Areas
Gen. Stanley A. McChrystal, the top military officer in Afghanistan, has told his commanders to pull forces out of sparsely populated areas where U.S. troops have fought bloody battles with the Taliban for several years and focus them on protecting major Afghan population centers.
Washington Post: French Minister's Star Status Holds Political Promise
The photographer insisted on telling her how to pose. A television soundman thrust his microphone toward her face while behind him the intruding camera rolled. A knot of bystanders, meanwhile, edged in for a close-up look and opened fire with cellphone snapshots.
Wall Street Journal: China's Rich Youth Spark Bitter Divide
When a wealthy street-car racer knocked down and killed a young man from modest origins last May, it ignited the flames of class conflict in this prosperous city in eastern China.
Wall Street Journal: Peru Battles Thriving Drug Trade
Surging cocaine production is rattling Peru after years of relative calm, raising fears that the associated increase in violence and corruption could derail one of the fastest-growing economies in Latin America.
BUSINESS
For the latest business news: www.CNNMoney.com.
CNNMoney: Bank of America pays $425M to end U.S. guarantee
Bank of America said Monday it will pay the U.S. government $425 million to end a federal backstop of assets related to its purchase of troubled brokerage Merrill Lynch earlier this year.
CNNMoney: Where to find the fattest paychecks
Maryland is the nation's top-earning state for the third year in a row, with a median household income of $70,545, according to a U.S. Census Bureau report released Monday.
New York Times: With Low Prices, Hyundai Builds Market Share
It was not exactly a planned strategy, but the recession, particularly in the United States, has been very good for Hyundai, the South Korean automaker.
New York Times: F.D.I.C. May Borrow Funds From Banks
Tired of the government bailing out banks? Get ready for this: officials may soon ask banks to bail out the government.
Wall Street Journal: To Outfox the Chicken Tax, Ford Strips Its Own Vans
Several times a month, Transit Connect vans from a Ford Motor Co. factory in Turkey roll off a ship here shiny and new, rear side windows gleaming, back seats firmly bolted to the floor.
In Case You Missed It
To watch the latest interviews and reporting: http://www.cnn.com/video.
CNN: Husband stressed to death?
A woman says debt collectors contributed to her husband's death by calling 10-12 times a day, causing too much stress.
Subscribe to the CNN=Politics DAILY podcast at http://www.cnn.com/politicalpodcast.
And now stay posted on the latest from the campaign trail by downloading the CNN=Politics SCREENSAVER at http://www.CNN.com/situationroom.