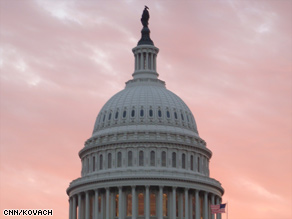 The CNN Washington Bureau's morning speed read of the top stories making news from around the country and the world.
WASHINGTON/POLITICAL
For the latest political news: www.CNNPolitics.com.
CNN: Senate panel votes down public option for health care bill
The Senate Finance Committee on Tuesday rejected two amendments to include a government-run public health insurance option in the only compromise health care bill so far.
CNN: Rockefeller 'disappointed' Obama didn't push harder for public option
Sen. Jay Rockefeller told CNN on Monday that he's "disappointed" that President Obama wasn't more forceful in pushing the Senate to include a public option in its health care bill.
CNN: Thursday meeting with Iran to test Obama 'engagement' policy
Thursday's meeting between the United States and Iran may be the highest-level talks in three decades between the two countries, but the United States is cautious about predicting what might come next.
CNN: 4,000 U.S. troops expected to leave Iraq in October
The United States will withdraw another 4,000 troops in Iraq by the end of October, the U.S. military commander in Iraq said in prepared testimony for a congressional hearing Wednesday.
CNN: Obama Olympics trip carries political risks
President Obama's decision to head to Copenhagen, Denmark, later this week to make a push to bring the 2016 Olympic Games to Chicago is not without political controversy.
CNN: Steele says Obama's Olympic trip 'not necessary.'
Republican National Committee Chairman Michael Steele is sharply criticizing President Obama's planned trip to Denmark to promote Chicago's bid for the 2016 Olympics, characterizing the 24-hour trek as an unnecessary distraction.
CNN: Can Obama fit any more on his plate?
President Obama faces a daunting fall to-do list against the backdrop of an American public losing enthusiasm on a variety of issues.
CNN: Former Democratic fund-raiser sentenced for fraud convictions
A former Democratic fund-raiser who contributed to the presidential campaigns of Hillary Clinton and Barack Obama was sentenced Tuesday to 292 months, or more than 24 years, in prison for fraud including campaign finance violations, U.S. Attorney Preet Bharara announced.
CNN: Bank of America pulls ACORN funding
Troubled community organizing group ACORN suffered another setback on Monday, when Bank of America announced it is pulling its funding of ACORN Housing.
CNN: Vice President Biden's son home from Iraq
Beau Biden, the son of Vice President Joe Biden and Delaware's attorney general, has returned from a year-long deployment to Iraq, according to the Delaware National Guard.
CNN: Perry camp claims Web site hacked as act of 'political sabotage'
RickPerry.org, the official re-election Web site of Texas Republican Gov. Rick Perry was hacked Tuesday during a live Web broadcast, his campaign claimed. The site went down for approximately 10 minutes at 11:20 a.m. central time.
CNN: Santorum weighs presidential bid
Former Sen. Rick Santorum will make a foray into 2012 campaign territory Thursday, when the Pennsylvania Republican heads to Iowa to deliver a sharp critique of President Obama's first nine months in office.
CNN: First on the Ticker: DNC to target seniors in new ad
National Democrats will begin airing a new TV ad Wednesday aimed at trying to convince senior citizens that Republicans are perpetuating falsehoods about President Obama's efforts to reform health care.
CNN: Poizner backer switches his support to Whitman
A former GOP official in California is dropping his endorsement of State Insurance Commissioner Steve Poizner and will instead support his rival, eBay CEO Meg Whitman, in the state's Republican gubernatorial primary.
CNN: Palin's father to campaign for Nevada Senate hopeful
Watch out Harry Reid: Sarah Palin's dad is coming to Nevada. Chuck Heath will travel from Alaska to Nevada on October 2 to spend the weekend campaigning with Senate candidate Danny Tarkanian, one of the many Republicans hoping to unseat the Senate Majority Leader next November.
CNN: Franks aide clarifies 'enemy of humanity' comment
A spokeswoman for a Republican congressman who called President Obama "an enemy of humanity" said Tuesday that he should have clarified that he was talking about the president's policies on abortion.
CNN: Poll: Minnesotans split on Pawlenty White House bid
A new poll suggests Minnesotans don't want their two term governor to run for the White House in 2012. But if Tim Pawlenty does win the next GOP presidential nomination, a Minneapolis-St. Paul Star Tribune survey released Tuesday says about half those questioned would consider voting for him.
CNN: Menendez: GOP's August gains will translate to 2010 losses
A Senate Democratic leader acknowledged Tuesday his party failed to move quickly enough to counter Republican critics over the summer, but predicted that GOP gains based on town hall pushback to President Obama's health care plan would cost Republicans at the polls next November.
CNN: Crist stands by prediction Obama could face massive defeat
Florida Gov. Charlie Crist is standing by his recent prediction that President Obama may be headed for a massive electoral defeat similar to that which President Carter faced in 1980.
CNN: Biden headed to Iowa
Joe Biden's headed back to Iowa. Wait — this isn't a flashback to 2007, when then-Sen. Biden was making his own bid for the White House. The vice president will be the special guest at the Iowa Democratic Party's annual Jefferson Jackson Dinner.
CNN: Warner appears in new ad for Creigh Deeds
With just over a month to go until election day in Virginia, Democratic gubernatorial candidate Creigh Deeds is deploying the state's most popular elected politician in a big way.
New York Times: Colorado Democrats Brace for Senate Primary
When Ken Salazar resigned his seat in the United States Senate to become interior secretary, Democrats in Colorado expected a smooth transition. The state's Democratic governor appointed a fellow Democrat, Michael Bennet, to finish Mr. Salazar's term, and Mr. Bennet began raising millions of dollars to stave off a Republican challenge in next year's election.
New York Times: In Dispute With Iran, Path to Iraq Is in Spotlight
To many Americans, Secretary of State Colin L. Powell's February 2003 speech to the United Nations on Iraq's unconventional weapons was powerfully persuasive. It was a dazzling performance, featuring satellite images and intercepts of Iraqi communications, delivered by one of the most trusted figures in public life.
Washington Post: Success Against al-Qaeda Cited
U.S. and international intelligence officials say that improved recruitment of spies inside the al-Qaeda network, along with increased use of targeted airstrikes and enhanced assistance from cooperative governments, has significantly reduced the terrorist organization's effectiveness.
Washington Post: Oil, Ideology Keep China From Joining Push Against Iran
In its effort to muster support for sterner action against Iran, the Obama administration will have to overcome China's reluctance to punish a country that is one of its top oil suppliers and a major beneficiary of its energy-related investments.
Washington Post: A Cold War Man, a Hot War and a Legal Gray Area
The government of Sudan, eager to curry favor with a U.S. government that accused it of genocide, sought help last fall from an unlikely source: a former Reagan administration official known for his role in the Iran-contra scandal.
USA TODAY: GAO report: Millions in fraud, drug abuse clogs Medicaid
As Congress debates the government's role in health care, a report out Wednesday finds that state and federal officials failed to detect millions of dollars in Medicaid prescription drug abuse.
USA TODAY: Senate climate bill would speed emissions reductions
Senate legislation designed to slow global warming would reduce greenhouse gas emissions more rapidly than competing legislation passed by the House of Representatives, according to a draft bill obtained by USA TODAY.
USA TODAY: Afghan forces' problems are a drag on U.S. effort
It was a golden opportunity for the Afghan police to make themselves look good and the Taliban look bad.
Washington Times: Effort to defund ACORN faces hurdles
Congress is rushing to defund the controversial group ACORN, but its efforts might have unintended consequences: Some argue that one version of the effort violates the Constitution, while a growing chorus says a second measure is so broad that it could block major contractors such as the Boeing Co. from getting government jobs.
Los Angeles Times: Former ACORN worker details blackjack voter registration bonuses
A former field director testifies about extra payments to Las Vegas canvassers for bringing in 21 new registration cards in a day. A judge is considering whether his supervisor and the group will face
Wall Street Journal: U.S. General Says Iraq Exit Is on Track
The top U.S. commander in Iraq said the U.S. is on pace to withdraw tens of thousands of troops from Iraq in coming months despite a spate of recent attacks there.
Wall Street Journal: Schools Push Hits the Road
Education Secretary Arne Duncan invited an odd pair of allies to classrooms in this city to help tout his multibillion-dollar bid to shake up the country's education system: the liberal Rev. Al Sharpton and the conservative former House Speaker Newt Gingrich.
Wall Street Journal: Group Tied to Obama Urges Tax Increase
A liberal think tank with close ties to President Barack Obama says the administration and Congress should consider raising taxes on Americans to help close federal budget deficits, an opening salvo in what is likely to be a protracted debate on tax policy.
McClatchy: Regulators: It's hard to keep tabs on dietary supplements
The market for dietary supplements is so vast that federal regulators have trouble determining which ones are laced with steroids and should be off limits to consumers, they told a Senate panel Tuesday.
NATIONAL
For the latest national news: www.CNN.com.
CNN: Suspect pleads not guilty in alleged New York bomb plot
An Afghan native accused of planning to bomb a New York target pleaded not guilty Tuesday to a terrorism conspiracy charge.
CNN: Filmmakers demand Polanski's release
Woody Allen, Pedro Almodovar and Martin Scorsese have "demanded the immediate release" of fellow filmmaker Roman Polanski, who was arrested in Switzerland on a U.S. arrest warrant related to a 1977 child sex charge.
CNN: Victim: Courts did more harm than Polanski
The events of a single afternoon when she was 13 years old have haunted Samantha Geimer her entire life. A famous movie director allegedly gave her champagne and had sex with her.
CNN: Chicago police seek 3 more in teen's death
Chicago police asked the public for help Tuesday in finding three more people believed connected to last week's videotaped fatal beating of 16-year-old Derrion Albert.
CNN: Fighter jet missing 5 decades found off California coast
Searchers in California say they have found and identified the wreck of a fighter jet that disappeared into the Pacific Ocean near Los Angeles International Airport nearly 54 years ago.
CNN: Fire call hits close to home for 911 dispatcher
From baby deliveries to unexpected deaths, Mike Bowes, a 911 dispatcher from Quincy, Massachusetts, has handled a wide range of emergency calls.
CNN: Travolta's lawyer testifies in Bahamas extortion trial
John Travolta's lawyer testified Tuesday that the paramedic who drove Travolta's son to a hospital the day he died later wanted money for documents the driver suggested could be detrimental to the actor.
CNN: Dan Rather's lawsuit against CBS dismissed
A New York appeals court on Tuesday dismissed Dan Rather's $70 million lawsuit against CBS, in which the television news anchor accused his former employer of breach of contract.
New York Times: Dementia Risk Seen in Players in N.F.L. Study
A study commissioned by the National Football League reports that Alzheimer's disease or similar memory-related diseases appear to have been diagnosed in the league's former players vastly more often than in the national population — including a rate of 19 times the normal rate for men ages 30 through 49.
New York Times: Immigration Crackdown With Firings, Not Raids
A clothing maker with a vast garment factory in downtown Los Angeles is firing about 1,800 immigrant employees in the coming days — more than a quarter of its work force — after a federal investigation turned up irregularities in the identity documents the workers presented when they were hired.
Los Angeles Times: Surfers paddle out to catch swell but tsunami surge fizzles
As Los Angeles-area beaches were expecting a possible tidal surge, three Venice surfers paddled out into the darkness to catch some tsunami waves.
INTERNATIONAL
For the latest international news: http://edition.cnn.com/
CNN: Quake, tsunami near American Samoa kills at least 22
A magnitude 8.0 earthquake struck the Pacific near American Samoa, triggering towering tsunami waves that gushed over the island and leaving at least 22 people dead.
CNN: Iran to give IAEA inspection timetable
Iran will soon tell the International Atomic Energy Agency when it can inspect the Islamic republic's recently revealed nuclear facility, the country's state-run Press TV reported.
CNN: Honduras says OAS delegation can visit
A controversial emergency decree limiting some freedoms in Honduras remained in place Tuesday, despite de facto President Roberto Micheletti's stated intention to repeal it.
CNN: Ambulance offers hope in war-torn Somalia
Chaos and death on the streets of Mogadishu: unfortunately, it's nothing new in the Somali capital.
CNN: Senior U.S. official holds talks in Cuba
A senior American diplomat had high-level talks with the Cuban government in Havana, the State Department said Tuesday.
CNN: New photos highlight rainforest devastation
A series of photographic exhibitions have been organized in Europe and North America this autumn to highlight a campaign by Britain's Prince Charles to combat tropical deforestation.
New York Times: Network of Militants Is Robust After Mumbai Siege
Ten months after the devastating attacks in Mumbai by Pakistan-based militants, the group behind the assault remains largely intact and determined to strike India again, according to current and former members of the group, Lashkar-e-Taiba, and intelligence officials.
Wall Street Journal: The Olympic Hopefuls
As Friday's Vote Looms, the Four 2016 Bid Cities Pitch Their Distinct Visions for the Games
BUSINESS
For the latest business news: www.CNNMoney.com.
CNNMoney: Toyota warns on potentially deadly floormats
Lexus and Toyota advised drivers of 3.8 million of its cars to remove floor mats or risk a forced-down accelerator pedal that could lead to a fatal crash.
CNN: Foreclosure blight: The cleanup crawls along
A controversial $3.9 billion federal program aimed at saving neighborhoods blighted by foreclosure is hitting hurdles that could threaten its effectiveness.
New York Times: Pickup Sales Fall in Another Blow to Automakers
The closing of a big General Motors truck plant this week is another sign that America's love affair with pickup trucks is fading fast.
In Case You Missed It
To watch the latest interviews and reporting: http://www.cnn.com/video.
CNN: Vali Nasr on battling extremism
CNN's Becky Anderson talks to a scholar about his solution to combating radicalism.
Subscribe to the CNN=Politics DAILY podcast at http://www.cnn.com/politicalpodcast.
And now stay posted on the latest from the campaign trail by downloading the CNN=Politics SCREENSAVER at http://www.CNN.com/situationroom.