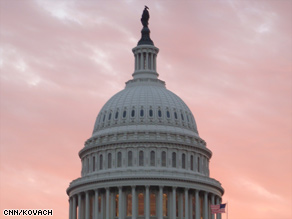 The CNN Washington Bureau's morning speed read of the top stories making news from around the country and the world.
WASHINGTON/POLITICAL
For the latest political news: www.CNNPolitics.com.
CNN: Pressure increases on Obama over Afghanistan
President Obama is under increasing pressure to decide whether the United States will commit more troops and resources to the conflict in Afghanistan.
CNN: An expert's view on Afghanistan strategy discussions
A meeting between President Obama and his national security team Wednesday could be a turning point in the war in Afghanistan, says someone who's been in similar meetings.
CNN: Borger: Obama's is vote that matters on Afghanistan
Sometimes, even in Washington, there's no way around a central truth: that in governing, there are moments when real, tough decisions must be made. No waffling. None of the usual "on the one hand, on the other hand." No hiding behind the votes cast by others.
CNN: Top U.S. security officials share Afghan-Pakistan border concerns
As President Obama huddles with key military advisers to talk about a strategy in Afghanistan, top officials charged with protecting the homeland on Wednesday pointedly stressed the danger from terrorists in the Afghan-Pakistan border area.
CNN: Democrat stands ground after 'die quickly' health care remark
Freshman U.S. Rep. Alan Grayson refused to back down Wednesday from remarks made on the House floor the night before, in which he said the Republican health care plan calls for sick people to "die quickly."
CNN: Grayson calls Republicans 'knuckle-dragging Neanderthals'
Freshman Congressman Alan Grayson refused to back down Wednesday from controversial remarks he made on the House floor the night before saying the Republican health care plan calls for sick people to "die quickly."
CNN: Republicans decide not to introduce Grayson resolution
House Republicans changed course on Wednesday and decided not to move forward with a resolution condemning Rep. Alan Grayson, D-Florida, for saying that the GOP health care plan calls for sick people to "die quickly."
CNN: Senate panel rejects GOP bid to strengthen abortion provision
Republican amendments that Democrats said would broaden current restrictions on federal funding for abortion were defeated Wednesday by a Senate committee considering the only compromise health care bill so far.
CNN: Public option: 'Nothing is ever dead on Capitol Hill'
As lawmakers huddled this summer to put together the framework for health care legislation, it quickly became evident that the battle over President Obama's top priority would be neither quick nor easy.
CNN: Palin's book shoots to No. 1
Sarah Palin's 432 page memoir isn't set to be released for more than seven weeks, but the highly anticipated tell-all has already shot to No. 1 on Barnes and Nobles' Web site, supplanting new releases from bestselling authors Dan Brown and Mitch Albom.
CNN: Steele calls Tom Friedman a 'nut job' over latest column
Republican National Committee Chairman Michael Steele Wednesday beat back suggestions from some political commentators — most recently from the New York Times' Tom Friedman — that conservative opposition to President Obama is creating a political climate that may foreshadow attempts of violence against the commander-in-chief.
CNN: Justices take on potentially landmark gun rights cases
Setting the stage for a dramatic battle over gun rights, the Supreme Court on Wednesday accepted an appeal challenging the ability of state and local governments to enforce strict limits on handguns and other weapons.
CNN: Justices to review Patriot Act provision
The Supreme Court has agreed to review a civil liberties dispute over the government's power to criminalize "support" of a terrorist organization.
CNN: Gingrich group withdraws invite to adult entertainment exec
For the second time this month, Newt Gingrich's 527 has decided that it made a mistake inviting an adult entertainment industry entrepreneur to attend a "private dinner" with the former House Speaker.
CNN: Corker: Canada, France have 'parasitic relationship' with US
Republican Sen. Bob Corker suggested Wednesday that when it comes to health care, Canada and France have a "parasitic relationship" towards the United States.
CNN: Obama to help DGA rake in half million bucks
President Barack Obama wears the fundraiser-in-chief hat Thursday, as he headlines an event for the Democratic Governors Association.
CNN: Obama spokesman: Video of beating death 'chilling'
The videotaped beating death of an honors student in Chicago, Illinois, is "chilling" and one of the most shocking things "you can ever see," White House spokesman Robert Gibbs said Wednesday.
CNN: Poll: New Jersey governors race tightening up
With less than five weeks before Election Day, a new poll suggests that New Jersey's gubernatorial race is tightening up.
Wall Street Journal: Gates Doubts U.S.'s Afghan Strategy
President Barack Obama met with senior counselors for three hours Wednesday to launch his review of Afghan war strategy, amid indications that his defense secretary - the key link between the White House and the military - is among those undecided about the right approach.
New York Times: As U.S. Plots Iran Strategy, Envoy's Visit Hints at a Thaw
As the United States and Iran prepared for critical talks over Tehran's nuclear program, the Iranian foreign minister arrived quietly in Washington on Wednesday to visit the unofficial embassy here, the first visit to the capital by an Iranian of that rank in a decade.
New York Times: E.P.A. Moves to Curtail Greenhouse Gas Emissions
Unwilling to wait for Congress to act, the Obama administration announced on Wednesday that it was moving forward on new rules to regulate greenhouse gas emissions from hundreds of power plants and large industrial facilities.
New York Times: Rare Source of Attack on 'Don't Ask, Don't Tell'
In an unusual show of support for allowing gay men and lesbians to serve openly in the armed forces, an article in an official military journal argues forcefully for repealing the "don't ask, don't tell" law, which requires homosexuals in the services to keep their sexual orientation secret.
New York Times: Congress Passes Bill to Keep Government Running
With time running out, Congress on Wednesday passed a stopgap measure to keep the federal government operating for another month while it struggled to finish nearly a dozen overdue spending bills.
Washington Post: On War, Obama Could Turn to GOP
With much of his party largely opposed to expanding military operations in Afghanistan, President Obama could be forced into the awkward political position of turning to congressional Republicans for support if he follows the recommendations of the commanding U.S. general there.
Boston Globe: McCain a booster as Romney works to win over skeptics
Mitt Romney had already sent out invitations for his Phoenix fund-raiser, offering supporters the chance to meet him in a Chase Field luxury box over a $300-per-person lunch or a $3,000 VIP reception.
Los Angeles Times: Education Department official acknowledges error in counseling teen
Kevin Jennings, under fire from conservatives, says he erred as a teacher 21 years ago when he failed to notify authorities that a student told him he had sexual relations with an adult.
Wall Street Journal: DHS Secretary's Late Arrival Prompts Dig on 'Situational Awareness'
Homeland Security Secretary Janet Napolitano apparently was stuck in traffic as Connecticut Sen. Joe Lieberman started a hearing where she was scheduled to testify on the terrorism threat in light of the recent alleged al Qaeda bombing plot.
Christian Science Monitor: The Bidens, and six other political dynasties in the making
Beau Biden, son of Vice President Joe Biden, returned from Iraq Wednesday. He's tipped to run for the US Senate. Several other political families also have members eyeing 2010.
POLITICO: House Dems' Afghan anxieties
As President Barack Obama wrestles over what to do next in Afghanistan, there may be no one watching him more closely than junior House Democrats.
NATIONAL
For the latest national news: www.CNN.com.
CNN: Convicted child killer Couey dies in prison, Florida officials say
A Florida death-row inmate convicted of abducting and murdering 9-year-old Jessica Lunsford in 2005 has died, prison officials said Wednesday.
CNN: 'Unresponsive' pilot crashes in Indiana as F-16s trail
A small plane crashed outside Muncie, Indiana, as military F-16s trailed it Wednesday after its pilot failed to respond to radio calls, the North American Aerospace Defense Command said.
CNNMoney: Chicago's Olympic bid: An expensive proposition
With help from hometown heroes like the Obamas, Chicago is aggressively lobbying to host the 2016 Summer Olympics. But making the games profitable would not be an easy win.
CNN: Texas governor shakes up panel probing 2004 execution
Texas Gov. Rick Perry on Wednesday shook up the ranks of a state commission that is probing whether a man executed in 2004 belonged on death row, forcing the commission to delay a scheduled hearing on the case.
CNN: Actor Dennis Hopper hospitalized
Actor Dennis Hopper was taken to a New York City area hospital Wednesday morning for an undisclosed ailment, according to a publicist.
CNN: Taking aim at God on 'Blasphemy Day'
In his youth, Ronald Lindsey planned to enter the priesthood, so fervent was his devotion to God. But these days, Lindsay is devoted to protecting a person's right to ridicule, criticize - even lambaste God.
CNN: Papers: Stain in Casey Anthony's trunk looks like child outline
What appears to be the outline of a child in a fetal position can be seen in a photograph of the trunk liner from the car driven by Casey Anthony, a Florida woman charged with killing her 2-year-old daughter, according to documents released in the case.
CNN: Travolta: Defendants threatened to blame me for son's death
John Travolta testified Wednesday that would-be extortionists threatened to go the media with stories implying "the death of my son was intentional and I was culpable somehow."
New York Times: After 39 Years, Soldiers Honored for Vietnam Rescue Mission
On the day Ray R. Moreno came home from Vietnam, the day antiwar protestors called him a baby killer, he decided to pack away his Army uniform for good. Memories and nightmares still intruded, but he rarely discussed them. Battle buddies were forgotten.
New York Times: White House Proposes Changes in Bill Protecting Reporters' Confidentiality
The Obama administration has told lawmakers that it opposes legislation that could protect reporters from being imprisoned if they refuse to disclose confidential sources who leak material about national security, according to several people involved with the negotiations.
Washington Post: Most Stay-at-Home Moms Start That Way, Study Finds
A first census snapshot of married women who stay home to raise their children shows that the popular obsession with high-achieving professional mothers sidelining careers for family life is largely beside the point.
USA TODAY: Cockpit chatter cited in six crashes
Airline pilots regularly violate federal law by chit-chatting or joking during critical phases of flight — the kind of distractions that may have played a role in two recent fatal crashes that killed a total of 62 people, according to government records.
Wall Street Journal: Detroit Coaxes Students to High-Stakes Roll Call
Public school districts across Michigan mobilized Wednesday to boost attendance for Count Day, the annual fall roll call that largely determines how much money each district receives under the state's per-pupil funding system.
INTERNATIONAL
For the latest international news: http://edition.cnn.com/
CNN: Indonesia quake toll soars past 400
Another strong earthquake rocked Indonesia early Thursday as the Southeast Asian nation was reeling from an earlier jolt that killed more than 400 people and caused widespread destruction.
CNN: Saudi investigation: Would-be assassin hid bomb in underwear
The would-be assassin of Saudi Arabia's Prince Mohammed bin Nayef, head of Saudi Arabia's counterterrorism efforts, hid his bomb in his underwear, apparently believing that cultural taboos would prevent a search in that part of his body, according to a Saudi government official close to the investigation.
CNN: China 60 years on: From Mao to today
Soon after I first came to visit China in the autumn of 1971, I saw a contingent of militia soldiers doing marching drills in Tiananmen Square. I was told they were rehearsing for the annual National Day parade on October 1, which people eagerly awaited.
CNN: U.N. condemns violence in Guinea
The United Nations Security Council has condemned political violence in Guinea that reportedly killed nearly 160 people.
CNN: Former Peruvian president sentenced to fourth prison term
Peru's supreme court on Wednesday sentenced ex-President Alberto Fujimori to six years in prison for authorizing illegal wiretaps and bribing congressmen and journalists.
New York Times: Unity Is Rallying Cry Ahead of Iraq Elections
Iraqi politics has a new catchphrase, the "yes, we can" of the country's coming parliamentary elections. It is "national unity," and while skepticism abounds, it could well signal the decline of the religious and sectarian parties that have fractured Iraq since 2003.
New York Times: After Clash Over Afghan Election, U.N. Fires a Diplomat
The United Nations fired its No. 2 official in Afghanistan on Wednesday after the diplomat, Peter W. Galbraith, wrote a scathing letter accusing the head of the mission here of concealing election fraud that benefited the campaign of the incumbent president, Hamid Karzai.
Wall Street Journal: India's Drought Is Worst Since 1972
India's meteorological department declared the country's four-month monsoon season had ended, leaving behind what it said was the country's worst drought in decades, with rains 23% below normal.
Los Angeles Times: Afghanistan's people have advice for U.S.
Take advice from locals instead of trying to impose your own ideas on a tribal society. Invite the Taliban to the negotiating table. Use traditional governing structures rather than reinventing the wheel. And spend a lot more money on plowshares than on swords.
Washington Times: Piracy decline 'a fact'
A year after Somali pirates grabbed headlines with a series of high-profile hijackings in East African waters, piracy appears to be waning. In the past three months, there has been just one successful hijacking in the Somali Basin, a swath of ocean stretching from the Gulf of Aden into the Indian Ocean that is criss-crossed by tens of thousands of commercial vessels each month. There were 17 hijackings In the comparable period last year.
BUSINESS
For the latest business news: www.CNNMoney.com.
CNNMoney: Super rich are $300 billion lighter
The recession has taken its toll on the nation's super rich, whose collective net worth fell for only the fifth time in 28 years, according to a survey released Wednesday.
CNNMoney: Bank of America CEO Ken Lewis to retire
Ken Lewis, the beleaguered CEO of Bank of America, announced Wednesday that he will retire at year's end.
CNNMoney: 47% will pay no federal income tax
Most people think they pay too much to Uncle Sam, but for some people it simply is not true.
CNNMoney: Bailout cop on the prowl for perps
Bailout cop Neil Barofsky is on the lookout for scammers and thieves.
Bloomberg: IMF Raises 2010 Global Growth Forecast as Asia Leads Recovery
The International Monetary Fund raised its forecast for global growth next year as more than $2 trillion in stimulus packages and demand in Asia pull the world economy out of its worst recession since World War II.
In Case You Missed It
To watch the latest interviews and reporting: http://www.cnn.com/video.
CNN: Dem defiant over 'die quickly'
Florida Democratic Rep. Alan Grayson visits CNN's Situation Room to discuss his controversial remarks.
CNN: Can Colombia win the war?
"Back|Story" sat down with CNN en Espanol correspondent and Colombian Luis Velez after an embed with the Colombian military.
Subscribe to the CNN=Politics DAILY podcast at http://www.cnn.com/politicalpodcast.
And now stay posted on the latest from the campaign trail by downloading the CNN=Politics SCREENSAVER at http://www.CNN.com/situationroom.