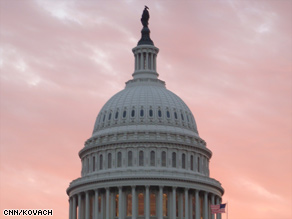 The CNN Washington Bureau's morning speed read of the top stories making news from around the country and the world.
WASHINGTON/POLITICAL
For the latest political news: www.CNNPolitics.com.
CNN: Obama's high-stakes Olympic gamble
If there was any question about whether President Obama would do anything to bring the Olympics to Chicago in 2016, he's put those doubts to rest.
CNN: Odierno: May not be possible to declare victory in Iraq
It isn't clear whether the United States will ever be able to declare victory in Iraq, the top U.S. commander there said Thursday.
CNN: 'Humility' needed in Afghanistan, commander says
The top U.S. commander in Afghanistan said Thursday the coalition in the war-torn country is going to have to do things "dramatically differently, even uncomfortably differently" in order to succeed.
CNN: Red Mass: lobbying high court or simple prayer service?
The beautifully ornate Catholic church in the nation's capital has seen its share of history and controversy.
CNN: Education official becomes the latest target for Obama critics
Kevin Jennings is the latest target for critics of the Obama administration.
CNN: Pelosi: GOP has double standard in health care rhetoric debate
House Speaker Nancy Pelosi ripped congressional Republicans on Thursday for holding Democrats to a higher standard in the rhetoric employed in the often acidic health care debate.
CNN: In wake of violence, Obama sends Cabinet members to Chicago
President Barack Obama is sending a pair of top Cabinet officials next week to visit the Chicago, Illinois, school where an honors student was beaten to death, the beating videotaped and broadcast around the world.
CNN: Schwarzenegger: Treat Polanski 'like everyone else'
California Gov. Arnold Schwarzenegger told CNN on Thursday that he thinks filmmaker Roman Polanski, who was arrested in Switzerland last weekend for having sex with a 13-year-old girl, should not get special treatment because of his celebrity status.
CNN: Don't threaten Iran, Carter says
The United States and other nations should take a diplomatic approach toward Iran in negotiations over that nation's nuclear program, President Carter said Thursday.
CNN: McCain awaiting Palin's memoir
Count Sen. John McCain among those who are eagerly awaiting Sarah Palin's upcoming tell-all memoir.
CNN: Abortion support falls sharply, new research finds
Support for abortion rights has fallen sharply in the past year, with Americans now split roughly 50-50 between those who back legal access to abortion and those who oppose it, according to a new survey.
CNNMoney: Bernanke backs Obama regulation overhaul
Federal Reserve Chairman Ben Bernanke on Thursday endorsed most of the Obama administration's plan to overhaul the regulatory system, except for a consumer agency.
CNN: RGA hits Corzine as New Jersey gubernatorial race tightens
The Republican Governors Association launched its latest ad slamming incumbent Gov. Jon Corzine Thursday, as a new survey suggested his GOP challenger's advantage has largely evaporated.
CNN: Christie web video: Corzine is 'whack'
Hours before the first official faceoff between the three candidates fighting to be New Jersey's next governor, Republican hopeful Chris Christie released a spoof music video on the Internet that asks voters if they can afford four more years of Democratic Gov. Jon Corzine.
CNN: Obama to raise money for Dodd in Connecticut
President Obama will campaign for yet another vulnerable Democrat in late October, when he travels to Connecticut to raise money for embattled Sen. Chris Dodd.
CNN: 'There'll be no adjustment of this Census,' agency director says
As outreach efforts begin to ramp up for the 2010 Census, the head of the Census Bureau said Thursday that there are no plans to adjust the result of the upcoming national count to account for possible undercounting of Latinos or other groups.
CNN: Nevada GOP head to run for Senate
A former Miss New Jersey-turned-veteran Nevada lawmaker announced her bid for Senate Thursday, joining a crowded primary field of Republicans hoping to defeat Senate Majority Leader Harry Reid in 2010.
CNN: Poll: Specter approval rating drops
A new poll of Pennsylvania voters indicates that Sen. Arlen Specter's appoval rating continues to drop.
CNN: Pawlenty rolls out new political organization
Gov. Tim Pawlenty is rolling out a new political action committee on Thursday and announcing a fleet of new advisers — the first concrete signs that the Minnesota Republican is actively working towards a presidential bid in 2012.
New York Times: Senator's Aid After Affair Raises Flags Over Ethics
Early last year, Senator John Ensign contacted a small circle of political and corporate supporters back home in Nevada — a casino designer, an airline executive, the head of a utility and several political consultants — seeking work for a close friend and top Washington aide, Douglas Hampton.
New York Times: Texting While Driving Banned for Federal Staff
Federal employees will not be allowed to text while driving, according to an executive order signed Wednesday night by President Obama.
Washington Post: White House Eyeing Narrower War Effort
Senior White House officials have begun to make the case for a policy shift in Afghanistan that would send few, if any, new combat troops to the country and instead focus on faster military training of Afghan forces, continued assassinations of al-Qaeda leaders and support for the government of neighboring Pakistan in its fight against the Taliban.
Washington Post: New Data Raise Fears of a Post-Stimulus Hangover
The fragile economic recovery has relied heavily on government stimulus spending, but new data show that as the money runs out, a sustained rebound may be elusive.
Washington Post: Senate Republicans Criticize Taxes in Health-Care Bill
As it drew close Thursday to finishing work on a health-care overhaul, a key Senate panel engaged in a spirited debate about whether the measure is "riddled" with tax increases that would violate President Obama's campaign pledge not to raise taxes on middle-class Americans.
Washington Post: Kerry's Attempt to Block DeMint's Honduras Trip Reveals Policy Feud
A simmering feud over U.S. policy toward Latin America burst into the open Thursday when Sen. John F. Kerry (D-Mass.) tried to prevent a fact-finding trip to Honduras by a Republican senator who is blocking two important diplomatic appointments.
USA TODAY: Secret Service IDs kid for Facebook 'assassination poll' - no charges
The Secret Service announced today that a juvenile was behind the Facebook posting that asked whether President Obama should be assassinated, calling it a prank that would not lead to prosecution.
Washington Times: GAO: National alert system 'unreliable'
A failure to test and modernize the U.S. emergency alert system leaves doubt whether the president would be able to communicate with the American people during a terrorist attack or natural disaster, congressional investigators said Thursday.
NATIONAL
For the latest national news: www.CNN.com.
CNN: Letterman reveals affairs with staff, extortion attempt
"Late Show" host David Letterman acknowledged on his show Thursday night that he'd had sexual relations with members of his staff and that he revealed those liaisons during grand jury testimony for a case involving an attempted extortion.
CNN: Ex-prosecutor admits he lied about Polanski case
A retired prosecutor whose comments in a 2008 HBO documentary threatened to derail a 31-year-old sex case against film director Roman Polanski now says he lied.
CNN: Commentary: Hollywood is clueless when it comes to Polanski
If a famous child actress such as Tatum O'Neal, Anna Paquin, Dakota Fanning or Natalie Portman were raped by a stalker who pleaded guilty to the crime and then fled the country and lived a life of luxury in Europe for 32 years, would Hollywood heavyweights be standing behind the convicted rapist?
CNNMoney: Detroit: Too broke to bury their dead
At 1300 E. Warren St., you can smell the plight of Detroit.
CNN: H1N1 vaccine on schedule, official says
The rollout of vaccine intended to protect against the global pandemic of H1N1 influenza is continuing on or ahead of schedule, a federal health official told reporters Thursday.
CNN: Judge orders $12M fund for peanut salmonella claims
A U.S. bankruptcy judge Thursday ordered Peanut Corporation of America's insurance carrier to set aside $12 million to reimburse people for health complications that resulted from eating tainted peanut products.
CNN: Victims, relatives press for action on distracted driving
Greg Zaffke II's mother, Anita, was killed in May when a car struck her motorcycle at a stoplight, he said.
CNN: US Airways Capt. Chesley 'Sully' Sullenberger returns to cockpit
US Airways Capt. Chesley "Sully" Sullenberger and First Officer Jeffrey Skiles were reunited in the cockpit Thursday for the first time since Sullenberger safely landed a disabled passenger plane in the Hudson River in January.
CNN: Shake-up in Texas execution probe draws criticism, questions
An investigation into claims that faulty evidence led Texas to execute an innocent man in 2004 was at a "crucial point" when the state's governor replaced three of its members this week, one of the three said Thursday.
USA TODAY: Recession's unemployment takes bigger toll on singles
Singles have been hit harder in this recession than married folks, losing jobs at more than a 50% higher rate.
USA TODAY: Madoff's gone but Ponzi schemes go on
If you want to know how rampant Ponzi schemes are, just ask Michigan attorney Andrew Kochanowski.
Los Angeles Times: Before the Station fire, a cost-cutting memo
Three weeks before the deadly Station fire erupted, the U.S. Forest Service issued a cost-cutting order to reduce its use of state and local firefighters, documents and interviews show.
Chicago Tribune: 2016 Olympics: Cliffhanger in Copenhagen fills air with electric anticipation
Eight-hundred-year-old Copenhagen, a former fishing colony that is now a blend of the fine and the funky, the historic and the sleekly modern, is a city on edge.
INTERNATIONAL
For the latest international news: http://edition.cnn.com/
CNN: Obama demands 'unfettered' access to Iran facilities
U.S. President Barack Obama called on Iran to provide the U.N. nuclear watchdog agency with "unfettered" access to the newly disclosed Qom uranium enrichment site, and Tehran's nuclear negotiator said the country would cooperate with inspectors.
CNN: Chicago, Rio lead 2016 Olympics host race
The International Olympic Committee was preparing Friday to elect a host city for the 2016 Summer Olympic Games, a prize so sought-after that presidents, sports legends and royalty have turned out to lobby for their country's candidate city.
CNN: Storm-ravaged Philippines braced for 'super typhoon' Parma
Days after one storm left hundreds dead and most of Manila under water, the Philippines was bracing itself Thursday for the impact of a super typhoon gathering pace in the western Pacific.
CNN: Mom in tsunami: I saw my daughter floating away
Taitasi Fitiao was holding her six-year-old daughter's hand when a tsunami wave crashed onto their coastal village in American Samoa.
CNN: NATO: Airstrike killed Afghan women, children
Civilians, including women and children, were killed in an airstrike by coalition troops in southern Afghanistan, NATO's International Security Assistance Force said Thursday.
CNN: Shoe thrower targets IMF chief in Istanbul
A protester threw a shoe at the IMF director at the end of a question-and-answer session Thursday at a university in Istanbul.
CNN: Oldest human skeleton offers new clues to evolution
The oldest-known hominid skeleton was a 4-foot-tall female who walked upright more than 4 million years ago and offers new clues to how humans may have evolved, scientists say.
CNN: Searchers comb Curacao for missing U.S. diplomat
Searchers combed the Dutch Caribbean island of Curacao for traces of a U.S. diplomat missing for nearly a week, a State Department spokesman told CNN Thursday.
New York Times: Palestinians Halt Push on War Report
In a startling shift, the Palestinian delegation to the United Nations Human Rights Council dropped its efforts to forward a report accusing Israel of possible war crimes to the Security Council, under pressure from the United States, diplomats said Thursday.
New York Times: Pakistan to Target Taliban 'Epicenter'
After fighting peripheral wars against militants for the last several years, the military is poised to open a campaign in coming days against the Taliban's main stronghold in Pakistan's tribal areas, South Waziristan, according to senior military and security officials.
Bloomberg: Berlusconi Scandals Mean Legal Fights for Newspaper Readership
Italian Prime Minister Silvio Berlusconi's alleged romps with prostitutes may have staunched the decline in readership at the nation's newspapers. They've also landed the publications in court.
McClatchy: Task force created to combat al Qaida in Afghan prisons
The Obama administration took steps Thursday toward confronting a troubling al Qaida presence in Afghanistan's prison system, announcing the creation of a military task force to oversee detention operations there and naming a prominent military lawyer to be its deputy commander.
BUSINESS
For the latest business news: www.CNNMoney.com.
CNNMoney: Dow plunges 200 points
Stocks tumbled Thursday after a bigger-than-expected rise in weekly jobless claims and a weaker-than-expected reading on manufacturing sparked worries about the pace of the economic recovery.
CNNMoney: BofA CEO: $53 million retirement score
Ken Lewis doesn't have a golden parachute, but he's all set for a comfortable landing - unlike his long-suffering shareholders.
New York Times: Who Can Take Charge at Bank of America?
Who will lead Bank of America out of this mess?
In Case You Missed It
To watch the latest interviews and reporting: http://www.cnn.com/video.
CNN: Morgues full in Indonesia
CNN's Dan Rivers reports from Indonesia on the desperate effort of rescue workers trying to save lives after an earthquake.
Subscribe to the CNN=Politics DAILY podcast at http://www.cnn.com/politicalpodcast.
And now stay posted on the latest from the campaign trail by downloading the CNN=Politics SCREENSAVER at http://www.CNN.com/situationroom.