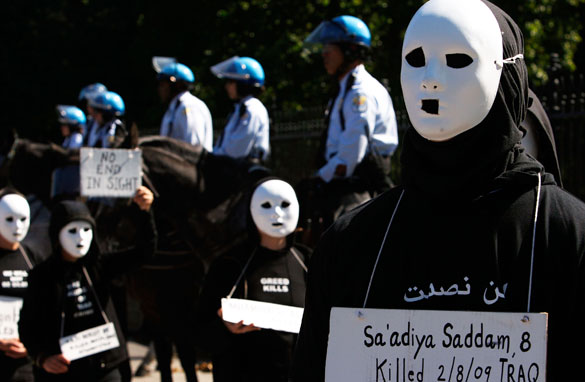 Dozens of protesters were arrested after they gathered in front of the White House to call for the end of the wars in Iraq and Afghanistan. (Photo Credit: Getty Images)
WASHINGTON (CNN) - As the war in Afghanistan nears the start of its ninth year, a group of anti-war protesters gathered in front of the White House today to express their disappointment that the wars in Iraq and Afghanistan are not yet over, and to request a meeting with President Obama.
An estimated 500 people from different anti-war groups gathered on the sidewalk in front of the White House. A few chained themselves to the fence, some laid down on the sidewalk as if they were dead, and others chanted: "mourn the dead, heal the wounded, end the war!"
The protest was peaceful, though U.S. Park Police said that 61 people were arrested for failure to obey a lawful order after the crowd was repeatedly asked to move back from the sidewalk. According to Park Police Sgt. David Schlosser, all were cited and released.
Cindy Sheehan, whose son was killed in Iraq in 2004, was among the protestors, and was one of those who were arrested. She said she had not been a supporter of President Obama or of Sen. John McCain during last year's election but said protestors were running out of patience. "I think the mood of the country and the mood of our movement is getting a little bit more desperate, and (that) this will be the time to be able to translate our tireless activism and work for peace," she said.

Sheehan added that President Obama has been in office long enough to start working towards peace in Iraq and Afghanistan, and that his supporters want him to make those changes.
White House Press Secretary Robert Gibbs said that neither he nor the president were aware of the protest until it was mentioned in the daily briefing to the press, adding: "I think the president has long believed that whether your opinion is on one side of this issue or the other, that this is the greatness of our country, is that you get to amplify that opinion."