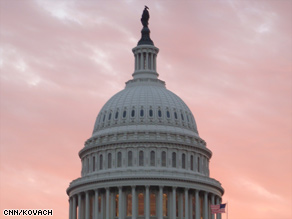 The CNN Washington Bureau's morning speed read of the top stories making news from around the country and the world.
WASHINGTON/POLITICAL
For the latest political news: www.CNNPolitics.com.
CNN: King: Obama team to hash out Afghanistan strategy
What you'll see in Washington in this week is a White House focus on health care and jobs. What you won't see - or see much of, at any rate - is just as critical a challenge for the administration.
CNN: Obama adviser: Afghanistan in no immediate danger of falling
There is no immediate danger of Afghanistan falling to the Taliban, National Security Adviser James Jones said Sunday.
CNN: 'I take exception' to McCain's remark, Jones says
A top military adviser to President Barack Obama said Sunday that politics does not play any role in the advice he gives to the president.
CNN: Jones questions McChrystal's tactics in pushing for more troops
President Obama's national security adviser walked a fine line Sunday when asked about Gen. Stanley McChrystal's public comments about requiring more troops for Afghanistan.
Des Moines Register: Musharraf: U.S. Afghanistan pullout would be 'disastrous'
Americans need to prepare for the likelihood that more U.S. troops will be needed in Afghanistan and that they will be there many years, the former president of neighboring Pakistan said in Iowa Saturday.
Wall Street Journal: Al Qaeda's Diminished Role Stirs Afghan Troop Debate
Since first invading Afghanistan nearly a decade ago, America set one primary goal: Eliminate al Qaeda's safe haven.
New York Times: Clear Voice of Bush's Pentagon Becomes Harder to Hear
Gen. David H. Petraeus, the face of the Iraq troop surge and a favorite of former President George W. Bush, spoke up or was called upon by President Obama "several times" during the big Afghanistan strategy session in the Situation Room last week, one participant says, and will be back for two more meetings this week.
Los Angeles Times: Obama quietly tries to shore up Senate support for public option
Despite months of outward ambivalence about creating a government health insurance plan, the Obama White House has launched a behind-the-scenes campaign to get divided Senate Democrats to take up some version of the idea for a final vote in the coming weeks.
USA TODAY: Health care bills tackle gender gap in coverage
Women's health groups, legal organizations and some female senators are fighting for a host of little-known provisions in the health care legislation being debated in Congress that they say will dramatically improve health care and insurance coverage for women.
USA TODAY: Sandra Day O'Connor says rulings are being 'dismantled'
Retired Supreme Court justice Sandra Day O'Connor says she regrets that some of her decisions "are being dismantled" by the current Supreme Court.
CNN: Boxer: Ethics committee doing preliminary Ensign investigation
The chair of the Senate Ethics Committee said Sunday that a preliminary investigation has begun into the conduct of Nevada Republican Sen. John Ensign.
Washington Post: Obama's Meeting With the Dalai Lama Is Delayed
In an attempt to gain favor with China, the United States pressured Tibetan representatives to postpone a meeting between the Dalai Lama and President Obama until after Obama's summit with his Chinese counterpart, Hu Jintao, scheduled for next month, according to diplomats, government officials and other sources familiar with the talks.
CNN: Beck is 'out and out nuts,' Carville says
Fox News anchor and conservative commentator Glenn Beck was taking incoming fire Sunday from both ends of the political spectrum, but especially from Democratic strategist James Carville.
New York Times: Corzine's Wall Street Résumé Loses Value for Voters
When Gov. Jon S. Corzine crossed from the gilded halls of Goldman Sachs to the gritty trenches of New Jersey politics, his Wall Street pedigree was an incalculable advantage that served as the very basis for his candidacy.
Boston Globe: Midterm elections raise ante for Obama
President Obama, facing a critical series of domestic and foreign challenges in upcoming months that will determine whether he delivers on the promises of his presidency, now must grapple with another potential peril: next year's midterm congressional elections.
POLITICO: Joe Biden: Patron saint of House freshmen
For a politician who spent nearly his entire career in the Senate, Vice President Joe Biden is paying a lot of attention to the House.
CNN: Kyl: To help the economy, help small businesses with taxes
A leading Senate Republican said Sunday that the Obama administration should consider keeping marginal tax rates at current levels in order to help small businesses who may be struggling in the midst of a down economy.
CNN: Greenspan: Budget neutral health care overhaul not enough
A bill to overhaul the nation's ailing health care system must avoid additional spending now, and also lower costs down the road, former Federal Reserve Chairman Alan Greenspan said Sunday.
New York Times: The G.O.P. Campaign Message in a Word: Jobs, Jobs, Jobs
For President Obama and his party, last week brought another stiff dose of pain: the announcement of 263,000 more jobs lost, while unemployment ticked up to 9.8 percent.
Virginian Pilot: In cash race, businesses back Va. governor candidate McDonnell
In the race for contributions from local businesses and executives, it's Bob McDonnell by a landslide over Creigh Deeds.
CNN: Alaska's 'First Dude' resigns
The 'First Dude' of Alaska will no longer be working in the oil fields.
New York Times: A Senate Candidate Accustomed to Being Thrown in the Ring
She emerges from an apparent coma and kicks her cheating husband in the groin. In a showdown with her daughter, she goes flying to the mat after her daughter smacks her in the face. And, after a black-booted bald man hoists her feet-first in the air, she falls on her back, bouncing slightly in her business suit before splaying helplessly on the ground.
CNN: Grayson: Americans 'want to see a congressman with guts'
Rep. Alan Grayson's re-election campaign is seeing an increase in donations since his House floor speech last week in which the freshman Florida Democrat said the Republican health care plan calls for sick people to "die quickly."
Washington Post: Damaged Money, Priceless Stories
The fast-talking and well-dressed Texas customs broker has arrived at the Treasury Department twice in recent years with luggage stuffed with crusty, grimy greenbacks. The money was ruined, he said, and worth about $6.4 million.
Philadelphia Inquirer: Rendell chides Democrats for undoing budget deal
Gov. Rendell gave his own party a rare public tongue-lashing yesterday for reneging on the bipartisan budget deal struck two weeks ago.
NATIONAL
For the latest national news: www.CNN.com.
CNN: Sources: Several who went to Pakistan with Zazi back in U.S.
Several people who traveled from New York to Pakistan last year with a man accused of plotting a terrorist attack have since returned to the United States, sources close to the investigation told CNN.
CNN: California wildfire forces evacuations; destroys homes
California Gov. Arnold Schwarzenegger declared a state of emergency Sunday in San Bernardino County as a fast-moving wildfire burned through a national forest, threatening homes and forcing hundreds of evacuations.
Los Angeles Times: Sharp rise in Chinese arrests at U.S. border
Amid an overall drop in arrests of illegal immigrants crossing the U.S-Mexico border, an intriguing anomaly has cast a new light on human smuggling: Authorities report an almost tenfold spike in the number of Chinese people caught in the southern Arizona desert, the busiest smuggling corridor on the international line.
CNN: Greenspan predicts economic growth to hit 3 percent or higher
The U.S. economy will grow more than expected in the third quarter, but unemployment also will continue to increase and will pass 10 percent, former Federal Reserve Chairman Alan Greenspan said Sunday.
Los Angeles Times: War injury leads to advances at home
A world away from the roadside bombs and combat injuries of Iraq and Afghanistan, Americans are suffering the same type of brain injury seen in troops coming home from those war-torn countries. On American roads, at workplaces and on playing fields, more than 11 million have been hurt since the fighting overseas started.
CNN: Relatives, Chicago officials attend beaten teen's funeral
The funeral of a Chicago teenager whose beating death was caught on video was attended Saturday by scores of family members, officials and community leaders, including the Rev. Jesse Jackson.
Los Angeles Times: Proportion of 8-year-olds diagnosed with autism is up 50% in 2 years, CDC says
About 1 in 100 of America's 8-year-olds have been diagnosed with autism spectrum disorder, according to U.S. Centers for Disease Control and Prevention researchers, who will be releasing details of their study later this year.
CNN: Arrest made in ESPN reporter's voyeur video case
Authorities arrested a man accused of secretly taping ESPN sports reporter Erin Andrews in the nude and posting the videos on the Internet, the FBI said Friday.
Chicago Tribune: ESPN broadcaster's lawyer criticizes hotel management
The attorney for ESPN reporter Erin Andrews criticized management at a hotel where prosecutors allege a Westmont man altered a peephole to take nude videos of the celebrity, saying Sunday that not only was the man booked in a room next to Andrews' at his request but that the rooms were in an alcove removed from the main hallway.
Pittsburgh Post Gazette: Men arrested for G-20 Twittering say it's free speech
The quick evolution of technology has changed the way Americans do almost everything, including how law enforcement combats crime, and consequently, how criminals elude law enforcement.
CNN: Police: Abducted baby found safe in Alabama
A newborn infant, who was abducted Tuesday from his home in Tennessee, has been found alive in Alabama, according to authorities.
CNN: Film shows how newspaper family 'invented' Los Angeles
The Los Angeles Times' headquarters aptly sits where the U.S. Army corralled camels during the Civil War, when Southern California was a desert with no natural resources.
INTERNATIONAL
For the latest international news: http://edition.cnn.com/
CNN: 8 U.S. troops killed in battle with militants in Afghanistan
Hundreds of militants attacked American and Afghan troops in eastern Afghanistan on Saturday, opening fire on an outpost from multiple locations with rockets, mortars and heavy-caliber machine guns, according to an initial U.S. military report on the battle.
CNN: U.N. to inspect Iran nuclear plant this month
United Nations inspectors will visit Iran's recently disclosed nuclear power plant on October 25, the head of the International Atomic Energy Agency announced Sunday from Tehran, Iran.
New York Times: Black Market Shows Iran Can Adapt to Sanctions
President Obama has vowed to keep the pressure on Iran over its nuclear program after last week's meeting in Geneva, and his advisers said the United States was intensively recruiting other nations to join in a harsher economic embargo against Tehran should diplomacy fail.
CNN: 15 dead as Typhoon Parma whips Philippines
Typhoon Parma crossed the northern tip of the already storm-battered Philippines over the weekend, triggering landslides that killed at least 12 people, local media reported Sunday.
New York Times: China Yearns to Form Its Own Media Empires
China plans to spend billions of dollars in the next few years to develop media and entertainment companies that it hopes can compete with global giants like the News Corporation and Time Warner, and will in the process loosen some of its tight control of these industries.
CNN: Socialists win in Greece; 'hard work' ahead, Papandreou says
Greece's opposition Socialist party on Sunday defeated the incumbent center-right government of Prime Minister Kostas Karamanlis, as Socialist leader George Papandreou promised to chart a new course for an economic comeback.
CNN: Report: More than 1M preemies die in first month annually
More than 1 million babies born prematurely die each year before they are a month old, the March of Dimes said Sunday in the first comprehensive global report on premature births.
CNN: Argentine singer Mercedes Sosa, 'voice of Latin America,' dies at 74
Argentine singer Mercedes Sosa, known as "the voice of Latin America" for her songs about the plight of the poor, died Sunday, according to an announcement on her Web site. She was 74.
New York Times: Nigerian Amnesty Program Viewed With Caution
The Nigerian government's 60-day amnesty program for fighters in its restive oil-rich region ended Sunday night with no clear picture of whether it had succeeded.
CNN: Controversial former Japanese finance minister found dead
Former Japanese Finance Minister Shoichi Nakagawa, who resigned from his post after appearing intoxicated at a news conference earlier this year, was found dead in his home Sunday, police said.
BUSINESS
For the latest business news: www.CNNMoney.com.
CNNMoney: Investors brace for a rocky ride
The stock advance has hit some resistance in the last two weeks and it's only going to get tougher as the third quarter reporting period gets underway.
New York Times: Buyout Firms Profited as a Company's Debt Soared
For most of the 133 years since its founding in a small city in Wisconsin, the Simmons Bedding Company enjoyed an illustrious history.
In Case You Missed It
To watch the latest interviews and reporting: http://www.cnn.com/video.
CNN: Recovering the dead
As survivors in Indonesia uncover the bodies of their loved ones, stories of anguish emerge. CNN's Arwa Damon reports.
Subscribe to the CNN=Politics DAILY podcast at http://www.cnn.com/politicalpodcast.
And now stay posted on the latest from the campaign trail by downloading the CNN=Politics SCREENSAVER at http://www.CNN.com/situationroom.