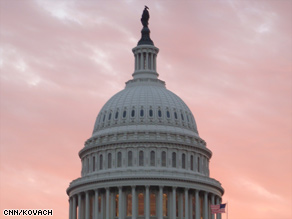 The CNN Washington Bureau's morning speed read of the top stories making news from around the country and the world.
WASHINGTON/POLITICAL
For the latest political news: www.CNNPolitics.com.
CNN: Clinton, Gates: U.S. in Afghanistan for long haul
Secretary of State Hillary Clinton and Defense Secretary Robert Gates, in a rare joint interview, said Monday that the United States is committed to a regional strategy to build long-standing relations with Afghanistan and Pakistan.
CNN: Obama, congressional leaders to meet on Afghan war
President Obama will meet with top congressional leaders from both parties Tuesday to discuss a war in Afghanistan that now appears to be at a potential tipping point.
CNN: Sharp division inside White House on Afghanistan, analyst says
Deliberations over what to do in Afghanistan are taking place behind closed doors, but the divisions among some of President Obama's trusted advisers are starting to emerge.
Wall Street Journal: Afghan War Units Begin Two New Efforts
The Pentagon is establishing two new units devoted to the Afghan war, highlighting the military's focus on the conflict even as the White House considers scaling back the overall U.S. mission there.
CNN: Petraeus treated for prostate cancer
Gen. David Petraeus, the top U.S. military commander in the Middle East, has been treated for early stage prostrate cancer, said a statement from his office.
CNN: Obama rallies doctors for health care reform
President Obama kicked off a crucial week in the health care reform debate Monday by castigating political opponents for spreading distortions about his plan.
Washington Post: U.S. Losing Ground on Preventable Deaths
As Congress presses forward with landmark legislation to revamp the nation's health-care system, lawmakers are grappling with a troubling question: Are Americans dying too soon? The answer is yes.
CNN: Supreme Court begins new term with a new justice
The Supreme Court began its new term Monday with much of the focus on new Justice Sonia Sotomayor, who recently made history by becoming the high court's first Latina member.
CNN: High court to decide if war memorial violates Constitution
Driving along a pockmarked road amid rocks and Joshua trees in a lonely southern California desert, religious controversy might be the last thing you'd expect to encounter.
Wall Street Journal: U.S. to Revise Detention Standards for Immigration Detainees
The Obama administration is expected on Tuesday to unveil an outline of sweeping changes for the nation's immigration-detention system, saying it will decide whom to lock up and for how long based on the danger and flight risk posed by detainees.
Denver Post: Top federal officials push intel sharing to thwart terror plots
Sharing and analyzing intelligence between law enforcement agencies is crucial to keeping the United States safe from a terrorist attack, the nation's top federal officials told an audience of police chiefs in Denver on Monday.
CNN: Cindy Sheehan arrested at White House anti-war protest
As the war in Afghanistan nears the start of its ninth year, a group of anti-war protesters gathered in front of the White House today to express their disappointment that the wars in Iraq and Afghanistan are not yet over, and to request a meeting with President Obama.
CNNMoney: Bailout cop: Treasury set 'unrealistic expectations'
A government watchdog says federal officials weren't entirely honest with the public about the health of the first 9 financial firms that got federal bailouts, according to a report released Monday.
New York Times: As Job Loss Rises, Obama Aides Act to Fix Safety Net
With unemployment expected to rise well into next year even as the economy slowly recovers, the Obama administration and Democratic leaders in Congress are discussing extending several safety net programs as well as proposing new tax incentives for businesses to renew hiring.
CNN: Gates: Taliban has the momentum in Afghanistan
Defense Secretary Robert Gates said Monday that the Taliban insurgency currently has the momentum in Afghanistan, and a Taliban takeover of the country would empower the al Qaeda terrorist network.
McClatchy: Gates to Army: We'll follow Obama's orders on Afghanistan
Amid tension between the military and President Barack Obama over military action in Afghanistan, Secretary of Defense Robert Gates told a gathering of Army officers Monday that the Pentagon would follow any strategy that Obama orders.
New York Times: U.S. Push to Expand in Pakistan Meets Resistance
Steps by the United States to vastly expand its aid to Pakistan, as well as the footprint of its embassy and private security contractors here, are aggravating an already volatile anti-American mood as Washington pushes for greater action by the government against the Taliban.
Washington Post: Burden Of Proof
The dental office of Orly Taitz, DDS, Esq., is in a low-slung complex in a quiet planned community in Orange County, alongside an assortment of small businesses and solo practitioners. The practice, Appealing Dentistry, is busy this morning. In the waiting room are a woman with no dental insurance and a boy with three cavities, and the phone is ringing off the hook with dentists eager to fill a job opening.
CNN: Whitman targeted as McDonnell fundraiser canceled
Former eBay CEO Meg Whitman's appearance at a Virginia fundraiser this week for Republican gubernatorial candidate Bob McDonnell has been canceled.
San Francisco Chronicle: Clinton gives Newsom shot in the arm
Former President Bill Clinton delivered a boost Monday to San Francisco Mayor Gavin Newsom's campaign for governor, formally endorsing him in next year's race and calling Newsom a national leader in green technology and energy.
CNN: Steele applauded ACORN leader in speech
Like other GOP leaders, Republican National Committee chairman Michael Steele took a harsh tone toward ACORN last month after several of the group's employees were caught on tape offering financial advice to activists posing undercover as a pimp and prostitute.
CNN: New FTC guidelines call for greater blogger disclosure
The Federal Trade Commission passed new guidelines Monday that advise bloggers and celebrities to clearly disclose their relationships with advertisers.
CNN: New GOP ad hits Deeds on remark to female reporter
After weeks of Democratic attacks on Republican Bob McDonnell's 20-year-old comments on women in the workplace, the GOP is going on the offensive in the Virginia governor's race, hitting Creigh Deeds over a public comment to a female reporter.
CNN: Top McDonnell backer mocks Deeds' speaking problems
Few Virginians would describe Creigh Deeds as a great speaker. The Democratic candidate for governor frequently fumbles his words in press conferences and on debate stages. The Washington Post has described him as "stammering."
New York Times: Levi Johnston Takes a Crack at Pitching Shells
Levi Johnston, the former fiancé of Bristol Palin and the father of Sarah Palin's grandson, is making light on his past in video advertisements for a pistachio company.
POLITICO: Charlie Rangel rides out storm - so far
The subject line of the e-mail said, "Heard anything about Rangel?" And the text of the message delivered: "Rumor is that he steps down as w&m chair tonight. It's been floating around K St today."
CNN: Biden to campaign in New Jersey and Virginia
The White House is dispatching Vice President Biden to New Jersey and Virginia later this week to campaign for each of the state's Democratic candidates for governor.
Bloomberg: Obama Weighs Spending to Stem Job Cuts Without Second Stimulus
President Barack Obama is considering a mix of spending programs and tax cuts to respond to widening job losses that would amount to an additional economic stimulus without carrying that label.
CNN: Dalai Lama to meet with Obama after his trip to China
President Barack Obama will meet with the Dalai Lama after the president's trip to China, the State Department said Monday.
Washington Times: Analysts: GOP to gain many seats in '10
Following major setbacks in 2008, the national political landscape for Republicans has improved so dramatically in recent months that election analysts say the only remaining question is how deep the Democrats' losses will be in the 2010 congressional midterm races.
CNN: Minority groups join forces in health care debate
Minority groups joined forces Monday to form a coalition aimed at mobilizing African-American and Latino communities in the national debate over health care.
CNN: Obama to be keynote speaker at HRC dinner
President Obama will speak at the Human Rights Campaign's annual dinner in Washington this weekend, the White House said Monday.
Washington Post: D.C. to Introduce Same-Sex Marriage Bill
Democrats and Republicans on Capitol Hill said it appears unlikely that Congress will block a bill to be introduced Tuesday that would allow same-sex marriages in the District.
CNN: Paterson challenges potential foes
New York Gov. David Paterson is calling on potential challengers to lay their cards on the table.
NATIONAL
For the latest national news: www.CNN.com.
CNN: Letterman apologizes to wife on Monday night's show
After declaring last week that he won't publicly discuss his sexual relationships with staffers again, David Letterman continued his mea culpa Monday night - apologizing to his wife who, he said, had been "horribly hurt by my behavior."
CNN: Texas terror suspect made video for bin Laden, FBI says
Texas terrorism suspect Hosam Smadi recorded a seven-minute video message for al Qaeda mastermind Osama bin Laden before his arrest on charges of plotting to blow up a Dallas building, an FBI agent testified Monday.
USA TODAY: Behind the scenes, system sniffs for biological attacks
A ringing telephone startled Tom Slezak from a sound sleep. It was 1 a.m. on Oct. 6, 2001. The caller gave Slezak three hours to pack for a chilling, top-secret mission: to protect Washington, D.C., and other U.S. cities from a major bioterror attack.
Christian Science Monitor: New York to fight terrorism with more street-corner cameras
On the heels of breaking up an alleged bomb terror plot, New York is planning to place high-tech security cameras, license plate readers, and "weapons sensors" in midtown Manhattan.
Chicago Tribune: Fenger kids tell why they fight
His left eye still swollen shut, Vashion Bullock doesn't deny fighting in the massive brawl that killed a Fenger High School student two weeks ago.
CNN: Ohio governor delays execution amid confusion
Ohio's governor granted temporary reprieves to two death row inmates just hours after a federal appeals court blocked the execution of one of them - adding to the mounting confusion over the state's capital punishment system.
New York Times: Prepaid, but Not Prepared for Debit Card Fees
Buying a prepaid debit card these days is just about as easy as picking up a bottle of shampoo or a candy bar. Walk into a Wal-Mart or almost any major drugstore, and rows of plastic worth $25, $100 and even $500 beckon from kiosks alongside prepaid phone cards and gift cards for retailers.
CNN: 2 in custody after reports of armed men on South Florida campus
Campus police at the University of South Florida were questioning two men in connection with back-to-back incidents on the school campus Monday.
CNN: Drive-in theater a throwback to the '50s
You know you've arrived at Bengies Drive-In Theatre when you first see the giant movie marquee, announcing the features showing that weekend. Each letter has to be placed and adjusted by hand, as it did when the theater first opened.
CNN: First doses of H1N1 flu vaccine arrive
A national campaign to inoculate tens of millions of Americans against H1N1 influenza began Monday, with health care workers in Indiana and Tennessee targeted as the first recipients, federal health authorities said.
CNN: Blues musician keeps long-ago past vibrant
As you walk down Prince Street in Old Town Alexandria, Virginia, it may be easy to forget that it's 2009.
INTERNATIONAL
For the latest international news: http://edition.cnn.com/
CNN: Video from al Qaeda's No. 2 slams Obama, threatens attacks
Al Qaeda's second-in-command slams the "smiling Obama" and threatens attacks in the latest video posted on radical Islamist Web sites.
CNN: Report: North Korea open to nuke talks
North Korean leader Kim Jong Il has again indicated willingness to participate in bilateral talks with the United States and return to six-party talks over its nuclear program, China's Xinhua news agency reported.
CNN: No death penalty for suspect in bombings of U.S. embassies
The Tanzanian national indicted in the 1998 terrorist bombings of the American embassies in Kenya and Tanzania will not face the possibility of the death penalty, according to a letter issued by U.S. Attorney General Eric Holder on Monday.
CNN: Cab-driving shutterbug chronicles Istanbul's underbelly
Sevket Sahintas works the night shift driving his taxi around Istanbul Turkey from midnight until dawn.
New York Times: Scrambling for Space in Life, and Afterward
Aleksei Orlov's grandfather was buried in Moscow's Danilovskoe Cemetery in 1946. His grandmother was laid to rest there four decades later. And, about 11 years ago, Mr. Orlov buried his father there.
CNN: Pilots charged with Argentina dirty war 'death flights'
An extradition hearing is expected in Spain this week for one of two pilots arrested recently on charges they participated in "death flights" in which more than 1,000 prisoners were thrown out of planes during Argentina's "dirty war" in the 1970s and 1980s, officials said.
CNN: Former Costa Rican president sentenced
Former Costa Rican President Rafael Calderon was sentenced to five years in prison after being convicted of corruption during his term.
Los Angeles Times: Discovery sheds new light on Stonehenge
British archaeologists have found the remains of a massive stone henge, or ceremonial circle, that was part of the ancient and celebrated Stonehenge complex, a find that is shedding new light on how the monument was built and its religious uses.
BUSINESS
For the latest business news: www.CNNMoney.com.
CNN: Does sex still sell? Adult industry not immune to recession
More than 100 purveyors of adult entertainment waited hours for Edison's giant convention hall to fill last month, a slow attendance that reflected recessional challenges that nearly all industries have faced.
CNNMoney: The 'sale-less' recovery
More and more economists are talking about how they think the economy actually grew in the third quarter. Unfortunately, it might be hard to find evidence of that once companies start reporting their latest quarterly results.
In Case You Missed It
To watch the latest interviews and reporting: http://www.cnn.com/video.
CNN: Village becomes mass grave
An 18-year-old Indonesian girl arrives home to find her family and entire village buried by a quake-triggered landslide.
Subscribe to the CNN=Politics DAILY podcast at http://www.cnn.com/politicalpodcast.
And now stay posted on the latest from the campaign trail by downloading the CNN=Politics SCREENSAVER at http://www.CNN.com/situationroom.