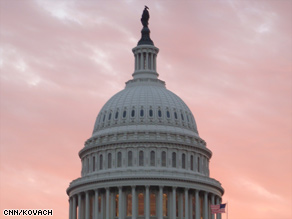 The CNN Washington Bureau's morning speed read of the top stories making news from around the country and the world.
WASHINGTON/POLITICAL
For the latest political news: www.CNNPolitics.com.
CNN: McCain warns against 'historic' error in Afghanistan
Sen. John McCain said any added military deployment in Afghanistan smaller than the 40,000 troops reportedly requested by the top U.S. commander there "would be an error of historic proportions."
CNN: Feinstein urges Obama to decide soon on Afghan troop levels
A leading Democrat on Capitol Hill urged President Barack Obama to heed the advice of his top commander in Afghanistan, who is calling for more troops.
New York Times: Civilian Goals Largely Unmet in Afghanistan
Even as President Obama leads an intense debate over whether to send more troops to Afghanistan, administration officials say the United States is falling far short of his goals to fight the country's endemic corruption, create a functioning government and legal system and train a police force currently riddled with incompetence.
Wall Street Journal: White House Bid to Close Gitmo Hampered by Snags in Congress
President Barack Obama's order to close the Guantanamo Bay prison by January faces snags in Congress that some of the president's supporters say result from a lack of White House muscle.
New York Times: U.S. Can't Trace Foreign Visitors on Expired Visas
Eight years after the Sept. 11 terrorist attacks and despite repeated mandates from Congress, the United States still has no reliable system for verifying that foreign visitors have left the country.
CNN: GOP needs its own health care reform agenda, McCain says
As the national debate over health care reform is set to enter a new phase with next week's scheduled vote in the Senate Finance Committee, Sen. John McCain, R-Arizona, says his party needs to crystallize its own positive agenda for health care reform.
USA TODAY: If a health bill passes, benefits not immediate
Sixty years is how long Democrats say they've been pushing for legislation that provides health care access for all Americans. They'll have to wait three more if President Obama gets a bill to sign this year.
Washington Post: New Bill Would Raise Rates, Says Insurance Group
After months of collaboration on President Obama's attempt to overhaul the nation's health-care system, the insurance industry plans to strike out against the effort on Monday with a report warning that the typical family premium in 2019 could cost $4,000 more than projected.
CNN: Casey: $250K cap on malpractice damages 'insulting'
A moderate Pennsylvania Democrat came out strongly Sunday against the possibility of imposing a cap on medical malpractice damages as part of comprehensive health care reform legislation currently under consideration in Congress.
Washington Times: Hispanics mull boycotting census
Angered by President Obama's lack of success in legalizing illegal immigrants, some Hispanic activists are urging all Hispanics to boycott the 2010 census as a sign of displeasure.
Boston Globe: Stalled agenda irks labor leaders
With Democrats in control of Congress and the White House, organized labor had hoped to be celebrating a long list of legislative successes this year. Instead, labor's agenda has been pushed down on the priority list by the very lawmakers they helped elect, leaving some union backers frustrated.
CNN: 'Obama, I know you are listening': Gay activists march to Capitol
Judy Shepard stood before a massive crowd at the Capitol on Sunday for a single, painful reason.
CNN: Obstacles ahead for Obama's gay rights goals
As thousands gathered Sunday in Washington for a march and rally focused on gay rights issues, lawmakers showed that some of the demonstrators' key goals face major obstacles ahead.
CNN: Dem senators mixed on gay rights issues
Less than a day after President Obama gave a rousing speech to the nation's largest gay rights group, two of Obama's fellow Democrats in the Senate had a mixed reaction on a trio of issues important to gay and lesbian supporters of the Democratic Party.
CNN: WH aide: Fox News operates like an arm of the GOP
Far from backing away from its recent slam at 24-hours cable news outlet Fox News, the White House is stepping up its criticism of the cable news network.
Wall Street Journal: Pelosi Key to GOP 2010 Playbook
Republicans are stepping up attacks on House Speaker Nancy Pelosi, deciding that a major part of their 2010 electoral strategy will be linking Democratic candidates to her.
Washington Post: U.S. and U.K. Say 'Special Relationship' Is Still Going Strong
Secretary of State Hillary Rodham Clinton came to Britain over the weekend with a message about the two countries' alliance: It is special. Very special.
CNN: 'I have no plans to leave,' top Obama lawyer says
White House Counsel Greg Craig is trying to put to rest rumors that his time as the president's top in-house lawyer is coming to an untimely end, according to a report by the National Law Journal.
CNN: Henry: Is Obama's Nobel a blessing or curse?
Yes he can win the Nobel Peace Prize. Even on the same day that President Obama met with his war council yet again to consider sending up to 40,000 more U.S. troops to Afghanistan.
Bloomberg: Obama Risks Violence Unless He Pushes Mideast Peace, Turki Says
President Barack Obama risks triggering violence unless he follows through on his promises to promote Middle East peace, according to Prince Turki al-Faisal, a former Saudi ambassador to the U.S.
CNN: McCain weighs in on Palin in 2012
Former Republican presidential hopeful Sen. John McCain is openly admitting that there were tensions between his former campaign manager Steve Schmidt and those close to former Alaska Gov. Sarah Palin, McCain's one-time White House running mate. Still, McCain calls Palin "a formidable force" in the GOP and remains open to the possibility of Palin being his party's presidential nominee in 2012.
New York Times: 2 State Races May Put Lens on Obama
When President Obama captured the White House nearly a year ago, his victory in Virginia was, for many Democrats, one of the most heartening moments of the night.
The Hill: DNC pulls ad after Dole objects
The DNC is scrapping plans to air a TV ad touting Bob Dole's support for healthcare reform after the former Majority Leader objected.
Washington Post: A Focused Bid by the Woman From EBay
Former eBay chief executive Meg Whitman's plan for California can be boiled down to one word: focus.
NATIONAL
For the latest national news: www.CNN.com.
CNN: Suspect in 1968 hijacking at JFK is captured
A man accused of playing a role in the 1968 hijacking of a Pan Am flight from New York to Puerto Rico was captured Sunday, federal officials said.
CNN: U.S. soldiers recount fierce Afghanistan battle on Facebook
The assault began at dawn, as bullets and rockets peppered the remote outpost in eastern Afghanistan.
CNN: Fourth member replaced on Texas panel probing execution
Texas Gov. Rick Perry has removed a fourth member of a state commission charged with investigating claims that an innocent man may have been executed, his office said.
Washington Post: Racing the Clock to Avoid Foreclosures
Bank of America employees are reminded every day of how far they still have to go. Just outside the elevators of their vast third-floor command center, attached to the wall, is a cardboard thermometer that shows them inching toward their goal of signing up 125,000 struggling borrowers for a federal program to modify their mortgages.
CNN: Snippet of Jackson's new song apparently leaked
A snippet of the new Michael Jackson song, "This Is It," was apparently leaked online before its planned release on the late singer's Web site early Monday.
USA TODAY: U.S. looks at tourist tax to fund company to promote tourism
To entice more international travelers to visit, U.S. tourism officials and lawmakers may start charging some who do make the trip an extra $10 for the privilege.
CNN: 'Sweatbox' borrows from long tradition that's difficult to emulate
The people who died Thursday at a spiritual resort in Arizona had spent time in a "sweatbox" similar to what Native Americans and other cultures have used for prayer and purification rituals throughout history.
INTERNATIONAL
For the latest international news: http://edition.cnn.com/
CNN: 3 Iranians tied to election protests get death sentences
Three Iranians have been tentatively sentenced to death in connection with post-election protest activities, according to semi-official state media.
CNN: Report: Iran to enrich its uranium if talks fail
Iran will move to further enrich its uranium for a research reactor if it cannot obtain the fuel from overseas, semi-official state media reported Saturday.
Los Angeles Times: Diplomacy in the lead on Iran nuclear issue - for now
Tehran's agreement to let nuclear inspectors into the facility revealed by Obama has boosted the diplomatic track. The site's location in a mountain points up the difficulty of the military option.
CNN: Israel out of NATO event because of Gaza, Turkish official says
Turkey excluded Israel from a planned NATO military exercise partly because of Turkey's criticism of Israel's Gaza offensive nearly a year ago, Turkey's foreign minister told CNN on Sunday.
CNN: Abbas tables report slamming Israel, cites lack of support
Palestinian Authority leader Mahmoud Abbas on Sunday defended a controversial decision to defer action on a United Nations report accusing Israel and Hamas of war crimes.
CNN: Israeli settlers burn fields after illegal outpost dismantled
Israeli settlers on Sunday set Palestinian fields and olive groves on fire after their illegal outpost in the West Bank was dismantled, Israeli military sources told CNN.
CNN: U.N. official admits Afghan vote fraud
The top United Nations official in Afghanistan on Sunday defended himself against allegations that he has been wary to publicly address problems in the country's recent presidential election.
CNN: Days of flooding, landslides kill 186 in Philippines
Flooding and landslides from tropical depression Parma have killed 186 people in the Philippines, authorities said Saturday.
CNN: Mexico seizes utility company
The Mexican government on Sunday dissolved the company that supplies power to the capital and four central states because of the utility's unsustainable financial position, Interior Minister Fernando Gomez Mont said.
CNN: Irish priest kidnapped during 'evening stroll' in Philippines
An Irish priest was kidnapped Sunday in the southern Philippines, his missionary society said.
CNN: Ramadi, Iraq on high alert after car bombings
Iraqi authorities on Sunday closed all entrances into Ramadi and imposed a curfew after a series of car bombings killed at least 19 people and injured more than 80 others, according to Interior Ministry officials.
CNN: Cirque du Soleil founder returns from space
Cirque du Soleil founder Guy Laliberte, sporting a foam clown nose, landed back on Earth after a $35 million working vacation at the international space station.
CNN: Boyzone's Stephen Gately dies in Spain
Singer Stephen Gately, a member of the Irish band Boyzone, died Saturday while vacationing on the Spanish island of Majorca, the group's Web site said Sunday.
BUSINESS
For the latest business news: www.CNNMoney.com.
CNNMoney: New highs, but now a big test
The stalled-out stock-market rally got a reboot last week, pushing the Dow and S&P 500 to fresh one-year highs. But that resilience will be tested in the week ahead with the release of the first big batch of third-quarter financial results.
CNNMoney: The dollar's weak - but it's not a crisis
It sounds like the plot of a bad spy novel. A group of international villains are holding a secret meeting in their headquarters - which are naturally buried deep in the side of a mountain.
In Case You Missed It
To watch the latest interviews and reporting: http://www.cnn.com/video.
CNN: 'Obama, are you listening?'
Pop star Lady Gaga gives a rousing speech in support of gay rights.
Subscribe to the CNN=Politics DAILY podcast at http://www.cnn.com/politicalpodcast.
And now stay posted on the latest from the campaign trail by downloading the CNN=Politics SCREENSAVER at http://www.CNN.com/situationroom.