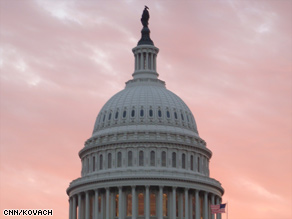 The CNN Washington Bureau's morning speed read of the top stories making news from around the country and the world.
WASHINGTON/POLITICAL
For the latest political news: www.CNNPolitics.com.
CNN: How many troops are enough for Afghanistan strategy?
Determining the amount of troops necessary to win a war is never an easy decision for a commander in chief and his military commanders if history is any guide.
Washington Post: Support Troops Swelling U.S. Force in Afghanistan
President Obama announced in March that he would be sending 21,000 additional troops to Afghanistan. But in an unannounced move, the White House has also authorized - and the Pentagon is deploying - at least 13,000 troops beyond that number, according to defense officials.
CNN: Rates to rise under Senate health plan, industry group says
Health insurance premiums for the typical American family would increase by another $4,000 by 2019 under a key Senate overhaul plan, according to an industry trade group analysis.
CNN: Tort reform could save $54 billion, Congressional Budget Office says
The Congressional Budget Office is now estimating that limits on medical malpractice lawsuits - reforms favored by many Republicans - could save the government as much as $54 billion over the next 10 years.
New York Times: Congress Is Split on Effort to Tax Costly Health Plans
A proposed tax on high-cost, or "Cadillac," health insurance plans has touched off a fierce clash between the Senate and the House as they wrestle over how to pay for legislation that would provide health benefits to millions of uninsured Americans.
POLITICO: Insurers face blowback after report
In the health care reform debate, where playing nice has been the rule, a scathing insurance industry report looked to critics Monday like a grenade aimed at scuttling progress in Congress.
Wall Street Journal: Business Fends Off Tax Hit
The Obama administration has shelved a plan to raise more than $200 billion in new taxes on multinational companies following a blitz of complaints from businesses.
Washington Times: GOP Graham's endorsement boosts climate change bill
The surprise endorsement of climate-change legislation by a leading Senate Republican has jump-started the languishing proposal but also has raised the prospect that it will include two major items that environmentalists dislike: more nuclear power and more offshore oil drilling.
CNN: Poll: Reid faltering in re-election bid
Senate Majority Leader Harry Reid is trailing one potential Republican challenger by 10 points in a hypothetical 2010 matchup, a new poll suggests, and he's not faring much better against another possible opponent.
Washington Post: A Vigorous Push From Federal Regulators
The Obama administration is taking on Cheerios. And popular cold remedies and swimming pool drains and rhinestones on children's clothing.
CNN: Hillary Clinton says she won't run for president again
Secretary of State Hillary Clinton said Monday she would not run for president again, and brushed off suggestions that she is being marginalized in the Obama White House.
CNN: Clinton pledges U.S. support for Northern Ireland peace process
In a passionate address to Northern Ireland's legislature, U.S. Secretary of State Hillary Clinton on Monday pledged Washington's commitment to the Northern Ireland peace process.
Washington Post: Summers Comes Out Swinging on Economic Policy
The White House's top economic adviser took aim at Republican criticism of President Obama's economic recovery policies on Monday, delivering a sharply worded letter to lawmakers that credited the administration with pulling the nation back from an "abyss" and faulted the record of recent GOP presidents on the economy.
CNN: Schwarzenegger signs bill honoring gay-rights activist
California Gov. Arnold Schwarzenegger has signed a bill commemorating Harvey Milk, the first openly gay politician elected to public office in the state, a spokesman for the governor said Monday.
CNN: Sestak: 'Rogue unit' abused gay sailor
Rep. Joe Sestak, a Pennsylvania Democrat who served in the Navy for 30 years, called a group of servicemen responsible for hazing a gay colleague a "rogue unit" and an "aberration."
USA TODAY: N.J.'s Corzine in dead heat with GOP challenger
When Gov. Jon Corzine began his bid for a second term in January, public opinion polls showed voters in recession-racked New Jersey didn't like him and weren't going to vote for him.
CNN: Romney hits the road for Christie, Toomey
Mitt Romney, continuing to lay the groundwork for a possible 2012 presidential run, will officially endorse Pennsylvania Senate candidate Pat Toomey Tuesday in Philadelphia.
Washington Post: Barbs Traded on Taxes, Traffic in Prime Time
Democrat R. Creigh Deeds sought to regain momentum in the race for Virginia governor Monday night by aggressively attacking Republican Robert F. McDonnell on transportation, women's issues and several other fronts during their first prime-time debate, while McDonnell repeatedly countered that his opponent would raise taxes.
CNN: Limbaugh: 'The media didn't make me, and they can't break me'
Conservative radio host Rush Limbaugh is dismissing Democratic campaigns to paint him as the man steering the Republican Party, and media frenzies over his most controversial comments.
Los Angeles Times: Federal scientists: Limit offshore drilling plans
Citing danger to marine life, the National Oceanic and Atmospheric Administration opposes opening large tracts of coast to drilling and recommends buffer zones off Santa Barbara.
CNN: White House mum on Michelle Obama doll
The White House said it had no comment Monday in response to the upcoming release of a new Michelle Obama action-figure doll.
NATIONAL
For the latest national news: www.CNN.com.
CNN: Born with half a brain, woman living full life
Michelle Mack has turned medical thinking upside down.
USA TODAY: Churches, others limit touching to curb spread of H1N1
Hospitals, churches, firehouses and even taxi companies are loading up on hand sanitizer, changing behavior and taking other steps to prevent the spread of swine flu.
CNN: Fake veteran faces 'stolen valor' charge
Richard Strandlof said he survived the 9/11 attacks on the Pentagon. He said he survived again when a roadside bomb went off in Iraq, killing four fellow Marines. He'd point to his head and tell people he had a metal plate, collateral damage from the explosion.
McClatchy: Health bills in Congress won't fix doctor shortage
Even as Congress moves to expand health insurance coverage to millions of Americans, it's doing little to ensure there will be enough primary care doctors to meet the expected surge in demand for treatment, experts say.
CNN: Florida to seek death penalty in couple's slaying
Prosecutors will seek the death penalty against four of seven suspects facing murder charges in the July death of a Florida couple known for adopting special-needs children, authorities said Monday.
Los Angeles Times: Cheerleaders take high-flying risks under untrained eyes
Patty Phommanyvong, a cheerleader for Marshall High School in Los Angeles, was thrust into the air while performing a stunt at a football game two years ago. The next thing anyone knew, she was limp. Her heart had stopped beating.
CNN: 12-year-old fights friend's cancer on the streets
People in big cities walk past them every day - street performers, or buskers. Some are talented, some are not, and most aren't performing for a cause greater than themselves. But on Monday, 12-year-old Abby Miller was.
CNN: Police: New York man beaten for being gay
A man brutally beaten in New York City was targeted because he is openly gay, the New York Police Department said Monday.
CNN: American father mistreated in Japanese jail, attorney says
An American father jailed in Tokyo has been harshly treated, his attorney said Monday, while Japanese authorities said he is getting "special" treatment.
CNN: First woman wins Nobel Prize for economics
Americans Elinor Ostrom and Oliver Williamson won the Nobel Prize for economics for work on how community institutions can prevent conflict, the Nobel Committee announced Monday.
CNN: Love me (legal) tender: Elvis ranch on market for $6.5 million
It's arguably one of the largest pieces of Elvis Presley memorabilia ever: a 154.5-acre ranch in Horn Lake, Mississippi, once owned by the king of rock 'n' roll.
INTERNATIONAL
For the latest international news: http://edition.cnn.com/
CNN: Afghan quits election complaints commission
One of five members of the Electoral Complaints Commission in Afghanistan has resigned amid the group's probe of allegations of voting fraud during the presidential election.
Washington Post: In Pakistan, a Deadly Resurgence
At summer's end, there were hints of optimism in the battle against Pakistan's Islamist insurgents. The military said it had routed the Taliban from the verdant Swat Valley. A CIA missile had killed the Pakistani Taliban's chief - so shaking the group, U.S. and Pakistani intelligence officials said, that his likely successor was killed in a duel for the top spot. Bombings slowed.
CNN: Clinton to meet Medvedev for wide-ranging talks
Russian President Dmitry Medvedev has invited U.S. Secretary of State Hillary Clinton to his private residence in suburban Barvikha for a discussion Tuesday on a broad range of issues in what one senior State Department official called a "relaxed setting."
New York Times: Eastern Europe Fears New Era of Russian Dominance
With an ambitious new pipeline planned to run along the bed of the Baltic Sea, the Russian natural gas giant Gazprom is driving a political wedge between Eastern and Western Europe.
CNN: Girls sell sex in Hong Kong to earn shopping money
She doesn't want to be identified, except by her nickname "Sze," and she has a secret past. Her father doesn't know what she did as a 16-year-old, and she hopes he never finds out. But Sze, now 19, wants young girls to hear her story so they never make the same mistake.
Washington Post: Safety Regained, Al-Rabie Street Again Teems With Life
More than a year ago, al-Rabie Street, a two-mile swath of office buildings, apartments and homes, was a deserted stretch of Baghdad. Commercial life had stopped. Shops were either shut down or bombed out.
CNN: Soldier dies after receiving smoker's lungs in transplant
A leading UK hospital has defended its practice of using organs donated by smokers after the death of a soldier who received the cancerous lungs of a heavy smoker.
Wall Street Journal: Critics Say Swiss Compromised Neutrality for U.S.
Switzerland's vaunted ability to stand above the fray of global politics is under pressure on the heels of several international dustups in which critics say the famously neutral country has conceded too much to others, especially the U.S.
CNN: 41 dead in Pakistan Swat Valley blast
At least 41 people were killed and dozens wounded in a blast Monday at a security forces checkpoint in northwest Pakistan, authorities said.
New York Times: Iranian Journalists Flee, Fearing Retribution for Covering Protests
For two months Ehsan Maleki traveled around Iran with a backpack containing his cameras, a few pieces of clothing and his laptop computer, taking pictures of the reformist candidate Mir Hussein Moussavi during the presidential campaign. He did not know that his backpack and his cameras would soon become his only possessions, or that he would be forced to crawl out of the country hiding in a herd of sheep.
BUSINESS
For the latest business news: www.CNNMoney.com.
CNNMoney: Recession may be over, but recovery is painful
More than 80% of top economists believe that the recession that started almost two years ago is finally over. But most don't expect meaningful improvement in jobs, credit or housing for months to come.
CNNMoney: Dow finishes higher – but no 10,000 yet
The Dow inched closer to the 10,000 level Monday, carving out a fresh one-year high despite a choppy day on Wall Street as strength in banks and commodities vied with weakness in technology.
Washington Post: Bank of America Relents, Will Hand Over Merrill Merger Files
Bank of America will turn over to investigators legal documents related to its purchase of Merrill Lynch, reversing its previous stance that such information must be kept confidential under privacy rules, three sources familiar with the decision said Monday.
New York Times: Disney's Retail Plan Is a Theme Park in Its Stores
The Walt Disney Company, with the help of Steven P. Jobs and his retailing team at Apple, intends to drastically overhaul its approach to the shopping mall.
In Case You Missed It
To watch the latest interviews and reporting: http://www.cnn.com/video.
CNN: Ex-player: Rush a 'bigot'
Ex-NFL player Eugene "Mercury" Morris says he thinks Rush Limbaugh is a "bigot,' but not a racist.
Subscribe to the CNN=Politics DAILY podcast at http://www.cnn.com/politicalpodcast.
And now stay posted on the latest from the campaign trail by downloading the CNN=Politics SCREENSAVER at http://www.CNN.com/situationroom.