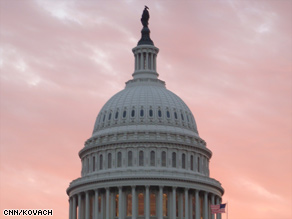 The CNN Washington Bureau's morning speed read of the top stories making news from around the country and the world.
WASHINGTON/POLITICAL
For the latest political news: www.CNNPolitics.com.
CNN: On New Orleans visit, Obama tells critics, 'I'm just getting started'
Before a cheering crowd at a town hall meeting in New Orleans, President Obama fired back at critics who accuse him of accomplishing little in his nine months in office, saying "I'm just getting started."
CNN: Millions spent to sway health care opinions
The amount of money lobbyists are spending on health care reform could break records, and now that the five bills before Congress have cleared committee, that spending is expected to go into overdrive.
CNN: Democrats chastise Snowe over health care 'influence'
There was candid frustration Thursday coming from rank-and-file congressional Democrats about the influence of Maine's Republican senator in the health care reform debate.
CNN: Pelosi steps up defense of public option on health care
House Speaker Nancy Pelosi warned her Senate counterparts Thursday that she intends to fight hard for a government-run health care plan as part of any comprehensive overhaul bill.
Washington Post: Wellness Incentives Could Create Health-Care Loophole
Get in shape or pay a price. That's a message more Americans could hear if health-care reform provisions passed by the Senate finance and health committees become law.
CNN: Weiner: Nobody would be forced into 'public option'
Lawmakers are hard at work trying to keep the ball rolling on health care reform. The next big hurdle is the so-called public option – a government-run insurer to compete with private plans.
Wall Street Journal: Democrats Weigh Wider Coverage
Senate Democrats may widen insurance coverage in sweeping health legislation, Finance Committee Chairman Max Baucus said Thursday, but they face a struggle to come up with ways to pay for the extra spending.
Washington Post: Obama Criticized as Too Cautious, Slow on Judicial Posts
President Obama has not made significant progress in his plan to infuse federal courts with a new cadre of judges, and liberal activists are beginning to blame his administration for moving too tentatively on what they consider a key priority.