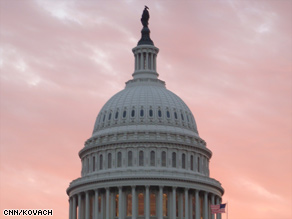 The CNN Washington Bureau's morning speed read of the top stories making news from around the country and the world.
WASHINGTON/POLITICAL
For the latest political news: www.CNNPolitics.com.
CNN: On New Orleans visit, Obama tells critics, 'I'm just getting started'
Before a cheering crowd at a town hall meeting in New Orleans, President Obama fired back at critics who accuse him of accomplishing little in his nine months in office, saying "I'm just getting started."
CNN: Millions spent to sway health care opinions
The amount of money lobbyists are spending on health care reform could break records, and now that the five bills before Congress have cleared committee, that spending is expected to go into overdrive.
CNN: Democrats chastise Snowe over health care 'influence'
There was candid frustration Thursday coming from rank-and-file congressional Democrats about the influence of Maine's Republican senator in the health care reform debate.
CNN: Pelosi steps up defense of public option on health care
House Speaker Nancy Pelosi warned her Senate counterparts Thursday that she intends to fight hard for a government-run health care plan as part of any comprehensive overhaul bill.
Washington Post: Wellness Incentives Could Create Health-Care Loophole
Get in shape or pay a price. That's a message more Americans could hear if health-care reform provisions passed by the Senate finance and health committees become law.
CNN: Weiner: Nobody would be forced into 'public option'
Lawmakers are hard at work trying to keep the ball rolling on health care reform. The next big hurdle is the so-called public option – a government-run insurer to compete with private plans.
Wall Street Journal: Democrats Weigh Wider Coverage
Senate Democrats may widen insurance coverage in sweeping health legislation, Finance Committee Chairman Max Baucus said Thursday, but they face a struggle to come up with ways to pay for the extra spending.
Washington Post: Obama Criticized as Too Cautious, Slow on Judicial Posts
President Obama has not made significant progress in his plan to infuse federal courts with a new cadre of judges, and liberal activists are beginning to blame his administration for moving too tentatively on what they consider a key priority.
CNN: Afghan ambassador to U.S. says election runoff likely
A runoff election between Afghan President Hamid Karzai and his leading challenger, Abdullah Abdullah, appears likely, Afghanistan's ambassador to the United States said Thursday.
Wall Street Journal: Sen. Levin Crafts Afghan Compromise
Michigan Democratic Sen. Carl Levin is emerging as a pivotal player in the debate over Afghanistan, with the lawmaker's plan to speed the training of Afghan security forces drawing growing support within the White House and the Pentagon.
Wall Street Journal: U.S. Considers a New Assessment of Iran Threat
U.S. spy agencies are considering whether to rewrite a controversial 2007 intelligence report that asserted Tehran halted its efforts to build nuclear weapons in 2003, current and former U.S. intelligence officials say.
CNN: Obama signs $7.5 billion Pakistan aid bill
President Obama signed legislation providing an additional $7.5 billion in assistance to the Pakistani government.
CNN: Poll: Hillary Clinton more popular than Barack Obama
She lost to him in last year's battle for the Democratic presidential nomination, but a new national poll suggests that Secretary of State Hillary Clinton is now more popular than her boss, President Barack Obama.
CNN: Reid: Everything is just 'fine'
When it comes to questions about his sagging poll numbers, Sen. Harry Reid has a simple response: Everything is fine.
Los Angeles Times: Bush-era oil-shale decision under review
The Obama Interior Department is reviewing a decision made by the Bush administration in its final days that attempted to lock in lucrative royalty rates and favorable regulations for oil companies holding leases for oil-shale development on public lands.
CNNMoney: 30,383: First tally on stimulus jobs
The White House on Thursday unveiled the first hard data on how many jobs the $787 billion recovery act has created.
Detroit Free Press: So far, stimulus not a big boost for Michigan jobs
Despite Michigan's worst-in-the-nation unemployment rate, not many jobs - 400 or so - have been created or saved in the state so far by federal contracts under the stimulus bill, according to new data released Thursday by the Obama administration.
CNN: Justice Ginsburg released after night in hospital
Supreme Court Justice Ruth Bader Ginsburg was hospitalized overnight for what appeared to be an adverse reaction to medication, but was released Thursday, a court spokeswoman said in a statement.
CNN: First on the Ticker: Insurance industry new DNC target
The Democratic National Committee is targeting the health insurance industry in its latest public relations campaign to try and discredit critics of President Obama's efforts to reform the nation's health care system, a party official tells CNN.
CNN: Latino farmers' discrimination suit back in court
A group of Latino farmers is scheduled to return to federal court Thursday to argue that the government has discriminated against them in providing loans, disaster relief and other financial aid.
CNN: Meghan McCain runs into backlash over photograph
Meghan McCain says she's ready to quit Twitter all together after generating a wave of criticism from users of the popular social networking site Wednesday night for posting a picture of herself in a tank top that left little to the twitterverse's imagination.
CNN: Palin to campaign in Texas
Here's one place where a Sarah Palin campaign appearance is welcome: Texas.
CNN: Schmidt defends choice of Palin for VP
Ten days after declaring Sarah Palin would be "catastrophic" to the Republican Party should she become its standard bearer in 2012, former McCain campaign manager Steve Schmidt defended the choice of the former Alaska governor for the No. 2 spot on the GOP's presidential ticket last year.
New York Times: Acorn's Woes Strain Its Ties to Democrats
Last December, in one of his last acts as New York City's top urban development official — and just days before President Obama nominated him as the federal housing secretary — Shaun Donovan attended a groundbreaking ceremony in the South Bronx.
CNN: Jenny Sanford to make rare public appearance
South Carolina First Lady Jenny Sanford will make her first public appearance on Saturday since separating from her scandal-plagued husband and moving out of the governor's mansion in August.
CNN: McDonnell holds cash advantage over Deeds in final stretch
With less than three weeks to go until Election Day, Virginia Republican Bob McDonnell holds a big cash advantage over his Democratic opponent Creigh Deeds, according to fundraising information released by both campaigns Thursday.
New York Times: Democrats Recruit Door-to-Door for Deeds in Va.
When President Obama won the White House, the grassroots network that helped get him there, Obama for America, changed its name to Organizing for America.
CNN: Michigan Dem responds to GOP charges about Muslim interns
House Judiciary Committee Chairman John Conyers is blasting charges by a group of Republican lawmakers that a Muslim activist group has planted interns on Capitol Hill in an effort to alter national security legislation.
CNN: Poll: GOP split could lead to Democratic victory
A new poll indicates that a split on the right could allow Democrats to take over a congressional district they haven't won in generations.
CNN: Arkansas GOP candidate scales back ties to firm
Tim Griffin, the former U.S. Attorney and Karl Rove aide now running for Congress in Arkansas, has "scaled back" his relationship with his own political consulting firm because of his campaign, according to an aide.
POLITICO: New DOD photo rules prompt outcry
U.S. military commanders in Afghanistan are retreating somewhat from an effort to ban embedded journalists from publishing photos or video of American soldiers killed in action there, according to ground rules issued Thursday.
CNN: Democratic Senate primary heats up in Kentucky
Kentucky Attorney General Jack Conway announced Thursday that his campaign has raised more than $2 million so far this year for his U.S. Senate bid.
CNN: Portman leads money race in Ohio Senate battle
Republican Rob Portman, the former congressman and George W. Bush cabinet official now running for Senate in Ohio, finished the latest fundraising period with a big cash advantage over the frontrunner for the Democratic nomination, Lt. Gov. Lee Fisher.
NATIONAL
For the latest national news: www.CNN.com.
CNN: Family believed son was in balloon
The Henne family explains why they thought their son might have gone up in the balloon and what they did after it took off.
CNN: World watches odyssey of 'Balloon Boy' in real time
The whole world watched Thursday as a lighter-than-air craft set loose by a 6-year-old boy floated above eastern Colorado.
CNN: Louisiana justice under fire for refusing interracial marriage
Civil rights advocates in eastern Louisiana are calling for a justice of the peace of Tangipahoa Parish to resign after he refused to issue a marriage license to an interracial couple.
CNN: Willingham juror no longer sure of his guilt in Texas case
At least one member of the jury that sentenced Cameron Todd Willingham to death in the arson homicides of his three children says she is struggling with the idea that she might have convicted an innocent man.
Washington Post: DHS Reshapes Its Immigration Enforcement Program
A controversial federal program that deputizes state and local law enforcement agents to catch illegal immigrants is expanding under the Obama administration, despite changes announced this summer intended to curb alleged racial profiling and other police abuses.
CNN: Their children in Iran, 3 U.S. moms swing into action
Laura Fattal rolls a piece of Scotch tape, attaching a picture of her son and his two friends to a cardboard box. Her calm demeanor doesn't give away the gravity of the situation and the reason why she's in a New York hotel room with two other mothers.
New York Times: A Mother, a Sick Son and His Father, the Priest
With three small children and her marriage in trouble, Pat Bond attended a spirituality retreat for Roman Catholic women in Illinois 26 years ago in hopes of finding support and comfort.
CNN: Raped at 13, victim fights to eliminate rape kit backlog
Lavinia Masters was 13. She winced as the doctor swabbed her vagina for possible evidence. She watched as he put her underwear and purple nightgown into plastic bags, careful not to disturb any fibers or hairs.
McClatchy: One industry that's booming: debt collection
In the often murky waters of the debt collection industry, United Recovery Systems in Houston is considered a "whale hunter."
CNN: Sweat lodge deaths investigated as homicides
An investigation into the deaths of two people who spent up to two hours inside a "sweat lodge" at an Arizona retreat last week has been elevated from an accidental death investigation to a homicide inquiry, Yavapai County Sheriff Steve Waugh told reporters Thursday.
Wall Street Journal: In Digital Era, Marketers Still Prefer a Paper Trail
Never is the elusiveness of a paperless world more evident than at this time of year, when mailboxes overflow with catalogs.
CNN: Original KISS drummer celebrates surviving breast cancer
A year after beating breast cancer, Peter Criss, a founding member of the rock band KISS, calls himself "the luckiest man in the planet."
CNN: Tom Joyner gets justice for electrocuted kin, 94 years later
Nationally syndicated radio host Tom Joyner raised his hand in victory. Nearly 100 years had passed since his great-uncles, Thomas Griffin and Meeks Griffin, were wrongfully executed in South Carolina. On Wednesday, a board voted 7-0 to pardon both men, clearing their names in the 1913 killing of a veteran of the Confederate Army.
CNN: Judge: Sex not motivation for drugs in Anna Nicole Smith case
The prosecution cannot argue that sex was a motivation for doctors to give Anna Nicole Smith the drugs that may have led to her death, a judge ruled Thursday.
CNN: Will e-bikes be the new 'commuter cool'?
Keith Felch is admittedly a big guy, but more than a few super-fit cyclists in Southern California have been left wondering how that dude just went flying by.
INTERNATIONAL
For the latest international news: http://edition.cnn.com/
CNN: Pakistan attacks militant hideouts
Pakistani jet fighters and attack helicopters fired on militant hideouts in South Waziristan, killing more than 20 militants, a senior military official told CNN.
New York Times: Pakistan Attacks Show Tightening of Militant Links
A wave of attacks against top security installations over the last several days demonstrated that the Taliban, Al Qaeda and militant groups once nurtured by the government are tightening an alliance aimed at bringing down the Pakistani state, government officials and analysts said.
CNN: Far-right British party agrees to consider letting nonwhites join
The far-right British National Party on Thursday agreed to consider letting nonwhite members join after the country's Equality and Human Rights Commission took them to court.
Washington Post: U.S. Is Open To Talks on Conventional Weapons
Secretary of State Hillary Rodham Clinton announced late Wednesday that the United States is prepared to begin negotiations on a global treaty regulating trade in conventional weapons but said Washington would sign the accord only if all other states agreed.
CNN: 2,500 seek release of U.S. hikers detained in Iran
Families of three U.S. hikers detained by Iran submitted a 2,500-signature petition to Tehran's U.N. mission Thursday, appealing for their release "as soon as possible."
CNN: Massive African lake could dry up, U.N. agency says
Up to 30 million people are facing "a humanitarian disaster" as one of Africa's biggest lakes shrinks, a United Nations agency warned Thursday.
New York Times: Japan Rethinks a Dam, and a Town Protests
The clatter of construction machinery still fills this forested mountain gorge, where legions of men in hard hats busily pour concrete, clear hillsides and erect a huge, unfinished bridge whose concrete supports tower over the valley floor like crucifixes in an immense graveyard.
CNN: UN panel debates Gaza War report slamming Israel, Hamas
The U.N. Council for Human Rights began debate Thursday over whether to adopt the recommendations of a controversial U.N. report examining the three-week winter war between Israel and the militant group Hamas in Gaza.
CNN: Strike protests job cuts in Puerto Rico
Thousands of people took to the streets of Puerto Rico on Thursday, paralyzing commercial activity in downtown San Juan to protest government budget cuts that are expected to result in at least 13,000 layoffs.
CNN: More than 1 billion going hungry, U.N. says
The global economic crisis has caused a spike in world hunger that has left more than a billion undernourished, United Nations agencies said in a new report.
BUSINESS
For the latest business news: www.CNNMoney.com.
CNNMoney: No 2009 pay for Bank of America CEO Ken Lewis
In the past, Bank of America Chief Executive Officer Ken Lewis has received an annual salary of $1.5 million. But this year he will get nothing.
Fortune: Goldman Sachs: Your tax dollars, their big bonuses
It's probably cold comfort, but Goldman Sachs couldn't have done it without your help.
CNNMoney: No 2010 increase in Social Security
There will be no cost-of-living increase for 57 million Social Security beneficiaries next year because consumer prices have fallen, the Social Security Administration announced on Thursday.
In Case You Missed It
To watch the latest interviews and reporting: http://www.cnn.com/video.
CNN: Battle for top NYC street chef
With thousands of street food options in New York City, how do you find the best one? The annual Vendy Awards can help.
Subscribe to the CNN=Politics DAILY podcast at http://www.cnn.com/politicalpodcast.
And now stay posted on the latest from the campaign trail by downloading the CNN=Politics SCREENSAVER at http://www.CNN.com/situationroom.