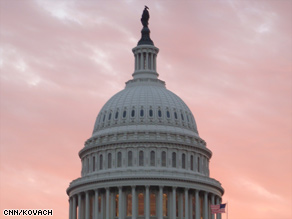 The CNN Washington Bureau's morning speed read of the top stories making news from around the country and the world.
WASHINGTON/POLITICAL
For the latest political news: www.CNNPolitics.com.
CNN: King: Monday Memo: Some strong yearnings for good earnings
A diverse collection of earnings and government reports will again put the economy at center stage this week, as investors wonder whether the Dow will remain comfortably above the 10,000 mark.
CNN: Emanuel: Bush never asked key questions on Afghanistan
One of President Obama's top advisers said Sunday the Bush administration failed to ask critical questions about the war in Afghanistan, leaving the Obama administration starting from scratch - and leaving the war "adrift."
CNN: Obama aides question Wall St. firms lobbying against reforms
Wall Street needs to focus more on helping Main Street than self-enrichment, two of President Barack Obama's top advisers said Sunday.
New York Times: Energy Firms Deeply Split on Bill to Battle Climate Change
As the Senate prepares to tackle global warming, the nation's energy producers, once united, are battling one another over policy decisions worth hundreds of billions of dollars in coming decades.
CNN: Obama aide defends tax on so-called 'Cadillac' plans
As the debate over health care reform moves into a new phase, White House Chief of Staff Rahm Emanuel is defending one proposal to help finance the nearly $900 billion price tag for Democrats' ambitious plans to restructure the nation's health care system.
New York Times: Health Care Poses Stiff Tests for Top Democrats
As she pulls together a health care bill, Speaker Nancy Pelosi has been exceedingly direct, lawmakers say, asking them explicitly what it will take to win their vote.
CNN: Axelrod: Compromise on health care coming
Compromise is coming on a health care reform bill, President Barack Obama's senior adviser said Sunday.
Los Angeles Times: Healthcare bills lack protections against treatment denials, experts say
Despite growing frustration with the way health insurers deny medical treatments, major healthcare bills pending in Congress would give patients little new power to challenge those sometimes life-and-death decisions.
Washington Post: In health debate, those numbers are just numbers
Phil Ellis may be the most powerful guy you've never heard of in the health-care debate. A senior analyst with the Congressional Budget Office, Ellis is the man who has to decide what it would cost to rebuild the health insurance system.
CNN: Gregg: U.S. could be on path to a 'banana republic' situation
A leading fiscal mind on Capitol Hill and a one-time Obama Cabinet pick sounded the alarm Sunday over the projected long-term financial challenges the country faces.
CNN: 'This is not Vietnam,' Kerry says of Afghanistan
Massachusetts Democrat Sen. John Kerry, the chair of the Senate Foreign Relations Committee and a Vietnam War veteran, said he does not see parallels between the war in Vietnam and the U.S. engagement in Afghanistan.
New York Times: A Variety of Sources Feed Into Taliban's War Chest
The Taliban in Afghanistan are running a sophisticated financial network to pay for their insurgent operations, raising hundreds of millions of dollars from the illicit drug trade, kidnappings, extortion and foreign donations that American officials say they are struggling to cut off.
CNN: Kerry: Obama would be 'irresponsible' to send more troops to Afghanistan now
Sen. John Kerry cautioned President Obama Saturday against raising troop levels in Afghanistan, saying it would be "entirely irresponsible" to do so while the Afghan government remains in turmoil following national elections.
Wall Street Journal: Karzai Camp Hardens Its Line on Recount
Afghan President Hamid Karzai may not accept the results of a vote recount from the summer's general election, officials from his campaign hinted, adding a further twist to the already fraught post-poll political environment. On Sunday, his supporters began demonstrations against "foreign interference" in the elections.
Los Angeles Times: Questions about Al Qaeda's next move
The plot for the Sept. 11 attacks was set in motion in late 1999 from a cluster of Al Qaeda training camps near Kandahar.
CNN: Emanuel explains White House's view of Fox News
A week after White House Communications Director Anita Dunn said Fox News operates like a wing of the Republican Party, President Obama's Chief of Staff provided another window into the administration's thinking on the cable news outlet.
CNN: Reliable Sources: WH vs. Fox News … the saga continues
The Obama administration's feud with Fox News continued on the Sunday morning talk shows, with White House Chief of Staff Rahm Emanuel saying on CNN's State of the Union that Fox News "is not a news organization" and Fox News Sunday host Chris Wallace venting on his program that "the White House refused to make any administration officials available to Fox News Sunday."
CNN: Palin weighs in on the health care debate
Sarah Palin wrote a 1,000-word Facebook "note" (including 17 footnotes) late Saturday night titled, "Good Intentions Aren't Enough with Health Care Reform." In her post, the former Alaska governor reacts to the Senate Finance Committee's approval of the health care bill, noting that now is "a good time to step back and take a look at the long term consequences should its provisions be enacted into law."
CNN: Sarah Palin joins LinkedIn
Sarah Palin has placed her resume on LinkedIn. Known as the "Facebook for professionals," LinkedIn is a social media site that displays more than 50 million people's resumes and allows for virtual business networking for those interested in keeping in touch or finding a job
CNN: Sharpton threatens suit against Limbaugh
Reverend Al Sharpton and his lawyers say they are preparing to file a defamation lawsuit against conservative radio host Rush Limbaugh for an op-ed published Saturday, which Sharpton alleges "erroneously" characterizes his (Sharpton's) role in a string of violent incidents in New York in the early 90's.
New York Times: When Keeping Quiet May Be Just the Right Thing to Do
Lawrence B. Lindsey lost his job as director of the National Economic Council in part for excessive public candor.
CNN: VA Gubernatorial Candidate Stumps in Key Area
Fresh off the announcement that President Barack Obama will stump for him later this month, Virginia gubernatorial candidate Creigh Deeds stumped on Saturday throughout the key battleground area of Northern Virginia, in the Washington suburbs.
Washington Post: On Fox, McAuliffe and Rove Wager $5 on Va., N.J.
Former Virginia gubernatorial candidate Terry McAuliffe appeared this afternoon on Fox News Sunday with Chris Wallace, along with Karl Rove, mostly to discuss recent charges by the White House that Fox's news coverage is slanted. But as the interview concluded, the two got into a brief but spirited debate over the outcomes of the Virginia and New Jersey races.
CNN: Political stars descend on Virginia campaigns
As one of only two statewide campaigns in the 2009 election cycle, the Virginia governor's race has seen a parade of national political stars make the trip to the Old Dominion.
CNN: Connecticut for Lieberman? Not. So. Fast.
Connecticut Sen. Joe Lieberman lost the Democratic primary in 2006 but won the November election anyway by forming a third party and siphoning votes from Republicans who didn't want progressive Democratic candidate Ned Lamont to take his seat in Washington.
Wall Street Journal: Nobel Committee Chairman Draws Fire Over Pick
Thorbjørn Jagland helped shepherd the Nobel Peace Prize to U.S. President Barack Obama, setting off a war over whether the award was deserved - and landing himself squarely in the crosshairs.
NATIONAL
For the latest national news: www.CNN.com.
CNN: Authorities: 'Balloon boy' incident was a hoax
Three days after the world watched a giant balloon fly through the air as a tearful family expressed fears that their 6-year-old boy could be inside, authorities announced what millions already suspected: The whole thing was staged.
CNN: Balloon 'not capable of lifting off' with the boy, Colorado police say
As authorities confirmed the "balloon boy" saga was a hoax, they checked the vessel created by Richard Heene to see whether it could have actually carried his 6-year-old son Falcon.
Los Angeles Times: In Oregon, an eight-year antiwar protest
The day the Afghanistan war began in 2001, several dozen people held a candlelight vigil in Corvallis, Ore. Every afternoon since, the protest has continued.
CNN: Police: UConn football player stabbed to death
Cornerback Jasper Howard called his mom Saturday night after Connecticut beat Louisville, and he was given the game-winning ball. He was thrilled.
CNN: Mother's final duty to soldier son - escort his body home
When the Army flew home the body of Spc. Stephan Mace from Afghanistan, his mother climbed aboard a small jet with the flag-draped coffin for the last leg of his trip.
New York Times: Foreclosures Force Ex-Homeowners to Turn to Shelters
The first night after she surrendered her house to foreclosure, Sheri West endured the darkness in her Hyundai sedan. She parked in her old driveway, with her flower-print dresses and hats piled in boxes on the back seat, and three cherished houseplants on the floor. She used her backyard as a restroom.
USA TODAY: Combat's positive effects examined
Sgt. 1st Class Gregory Frikken says three combat tours in Iraq and Afghanistan have robbed him of precious time with his family, but have also changed him — in some ways for the better.
McClatchy: Little reclaimed surface mining land is being developed
As attacks on mountaintop-removal mining in Appalachia have grown increasingly sharp, the coal industry and its supporters have defended the practice by saying that reclaimed mine areas provide flat land for development in a place where level sites are scarce.
CNN: Third person dies in Arizona 'sweatbox' case
A woman hospitalized after spending time in a sauna-like "sweatbox" has died, bringing the total fatalities to three, authorities said late Saturday.
Wall Street Journal: Build It With Tax Incentives, and Hollywood Will Come
All summer long, this sober Midwest city rubbed shoulders with actors such as Forest Whitaker, Adrien Brody and Elisabeth Shue. No fewer than four Hollywood productions were shooting in town.
CNN: Three die in Detroit marathon
Three runners died Sunday during the Detroit Free Press/Flagstar Marathon in Detroit, Michigan, police told CNN.
New York Times: Students' Advocate Was Once Convicts' Last Hope
"Pick your head up, buddy," Tom Dunn said to Darius Nash, who had fallen asleep during the morning's reading drills. "Sabrieon, sit down, buddy," he called to a wandering boy. "Focus."
CNN: Restaurant critics struggle to stay anonymous
They arrive cloaked in secrecy, often using fictitious names and sometimes donning disguises.
CNN: Immigrant activists call out 'Illegal Alien' costumes
Immigrant rights activists are calling on U.S. retailers to stop selling two controversial "Illegal Alien" costumes that have surfaced for Halloween, saying the outfits are a broadside attack on illegal immigrants.
INTERNATIONAL
For the latest international news: http://edition.cnn.com/
CNN: Taliban fighters resist Pakistani assault
Pakistan's army said Sunday it has killed 60 "terrorists" as it battles to wrest control of part of the country from the Taliban. Five soldiers were killed in the last 24 hours of the assault, the military said.
Washington Post: Flow of terrorist recruits increasing
Midway through a propaganda video released last month by a group calling itself the German Taliban, a surprise guest made an appearance: a cleanshaven, muscular gunman sporting the alias Abu Ibrahim the American.
New York Times: At Book Fair, a Subplot About Chinese Rights
As China extends its economic reach, it has also increased efforts to promote its culture, or "soft power," to counter Western influence and improve its image in the wider world.
CNN: Hurricane Rick downgraded to Category 4 storm
Hurricane Rick weakened to a Category 4 storm Sunday evening as it churned in the Pacific off the west coast of Mexico, the National Hurricane Center said.
CNN: Rio fortifies streets after deadly shootout
Some 2,000 police officers patrolled the streets of Rio de Janeiro Sunday after a bloody confrontation between rival drug gangs and authorities that killed 14 over the weekend, including two police officers.
Wall Street Journal: A Leader Delaying Lisbon Treaty? Czech
The European Union's Lisbon Treaty, meant to streamline the bloc's decision making and increase its global clout, has been approved by 27 national parliaments and, earlier this month, 1,214,268 voters in an Irish referendum.
Washington Post: India's carbon fighters must wait
Giant mountains of smelly kitchen waste, bottles, coconuts, plastic and paper in the heart of New Delhi's industrial district are being transformed into rich, black organic fertilizer for farming.
CNN: Bombing kills at least 29, Iranian media report
A man carrying explosives blew himself up as participants headed to a conference between Shia and Sunni groups in southeastern Iran on Sunday, killing at least 29 people, Iranian media reported.
New York Times: Love of Designer Threads Adds Flair to Corruption Trial
The drug trafficker and the police commissioner were once nattily attired pals, or so the allegations go. The two men would shop together here in the finest high-fashion boutiques, occasionally pausing for a cappuccino between expensive purchases of designer apparel.
CNN: Button secures Formula One world championship
Brawn GP's Jenson Button has won the 2009 Formula One drivers championship after finishing fifth in the Brazilian Grand Prix at Interlagos.
CNN: Irish, Uganda aid workers freed in Darfur
Two foreign aid workers held hostage for three months in Sudan's volatile Darfur region were released Sunday, the agency they work for said.
BUSINESS
For the latest business news: www.CNNMoney.com.
CNNMoney: Wall Street braces for onslaught of earnings
So far, so good. But next week brings the first big test for corporate profits.
CNNMoney: Jobless flock to sign up for the military
The nation's armed services wrapped up a record year for recruiting as a withering job market and bigger bonuses trumped two unpopular wars.
New York Times: Arrest of Hedge Fund Chief Unsettles the Industry
For years, whenever anyone asked Raj Rajaratnam about the success of his hedge fund, the Galleon Group, he chalked it up to being hungrier than everyone else.
In Case You Missed It
To watch the latest interviews and reporting: http://www.cnn.com/video.
CNN: Hikers' mothers speak in NYC
The mothers of three American hikers detained in Iran step up action to free their children. Here's the BackStory
Subscribe to the CNN=Politics DAILY podcast at http://www.cnn.com/politicalpodcast.
And now stay posted on the latest from the campaign trail by downloading the CNN=Politics SCREENSAVER at http://www.CNN.com/situationroom.