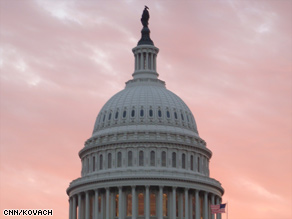 The CNN Washington Bureau's morning speed read of the top stories making news from around the country and the world.
WASHINGTON/POLITICAL
For the latest political news: www.CNNPolitics.com.
CNN: Behind the scenes in Obama's war council debate
There's an air of mystery hanging over President Obama's war council, which meets in secrecy yet again this week to discuss a new strategy for Afghanistan in the highly secure White House Situation Room.
CNN: Pardon for black boxer jailed for interracial dating waits on Obama
The White House refused to indicate Monday whether President Obama will issue a posthumous pardon for Jack Johnson, the African-American boxing champion convicted in 1913 for dating a white woman.
CNN: Chamber of Commerce to seek investigation of hoax
The U.S. Chamber of Commerce says it will ask law enforcement officials to investigate a fake press release and fake press conference staged at the National Press Club.
Washington Post: Rift between Obama and Chamber of Commerce widening
The White House is moving aggressively to remove the U.S. Chamber of Commerce from its traditional Washington role as the chief representative for big business, the latest sign of a public feud ignited by disagreement over the administration's effort to overhaul the health-care system.
Wall Street Journal: Home-Buyer Credit Is Focus of Inquiry
The Internal Revenue Service is examining more than 100,000 suspicious claims for the first-time home-buyer tax break, another sign of potential trouble for the soon-to-expire program.
CNN Poll: Will Afghanistan turn into another Vietnam?
A slight majority of Americans think that the war in Afghanistan is turning into another Vietnam, according to a new national poll which also indicates that nearly six in 10 oppose sending more U.S. troops to the conflict.
Washington Post: Public option gains support
A new Washington Post-ABC News poll shows that support for a government-run health-care plan to compete with private insurers has rebounded from its summertime lows and wins clear majority support from the public.
McClatchy: Health care bills would end gender differences, keep age discrepancies
The older you are, the more you usually pay for health coverage, and that's a difference likely to persist under the sweeping health care legislation that Congress is now considering.
CNN: Commentary: Obama wrong to release interrogation memos
I know that the story has moved on, that the outline of the journalistic narrative has been set, and that the "first draft" of history has been just about finalized. Before the ink dries though, I would like to offer at least a footnote.
New York Times: Financial Giants Donating Little to Obama Party
The Wall Street giants that received a financial lifeline from Washington may have no compunction about paying big bonuses to their dealmakers and traders. But their willingness to deliver "thank you" gifts to President Obama and the Democrats is another question altogether.
Boston Globe: Same-sex marriage fight roils Maine
Just six months after Governor John Baldacci signed a law legalizing gay marriage in Maine, voters will decide whether to preserve it, making the state the latest battleground in the national fight over same-sex marriage.
CNN: U.S. to shift Sudan policy, pursue greater engagement
The United States will change its policy on Sudan to pursue greater engagement with the Sudanese government and less isolation, senior U.S. officials said Monday.
Chicago Tribune: Obama's EPA cracks down, orders more tests for BP refinery
The Obama administration is cracking down on BP as the oil company overhauls its massive refinery in northwest Indiana, one of the largest sources of air pollution in the Chicago area.
CNN: Sanford impeachment resolution likely next week
A resolution of impeachment against Gov. Mark Sanford is likely to be introduced next week during a special session of the South Carolina legislature, but lawmakers said the governor's job is safe for the time being.
CNN: Romney hammers Obama on Iran negotiations
Mitt Romney has a message for the Obama administration: Stop talking to Iran. Period.
New York Times: Iran Threatens to Back Out of Fuel Deal
Iran opened two days of nuclear talks with the United States, Russia and France on Monday with veiled public threats that it could back away from an agreement to ship more than three-quarters of its stockpile of nuclear fuel out of the country, unless the West acceded to Iranian demands to provide it with new fuel.
Los Angeles Times: Fed chairman urges Americans to save, Asians to spend
The chairman of the Federal Reserve, delving into the sensitive area of global economic imbalances, warned that the U.S. and Asian nations must do more to avert the kind of uneven trade patterns underlying the recent financial crisis.
CNN: Inhofe endorses Rubio in Florida Senate race
Another out-of-state conservative is weighing in on the Florida Republican Senate primary, and this time Marco Rubio is the beneficiary.
CNN: DCCC doubles NRCC fundraising in September
Congressional Democrats won the money war in September. The Democratic Congressional Campaign Committee announced Monday that it doubled its Republican counterpart in fundraising last month, bringing in $7.05 million to bring its total to $14.7 million in the bank.
Bloomberg: Armageddon in Alabama Proves Parable for Local U.S. Governments
In its 190-year history, Jefferson County, Alabama, has endured a cholera epidemic, a pounding in the Civil War, gunslingers, labor riots and terrorism by the Ku Klux Klan. Now this namesake of Thomas Jefferson, anchored by Birmingham, is staring at what one local politician calls financial "Armageddon."
CNN: Corzine gets some big name help
New Jersey Gov. Jon Corzine gets a helping hand from some big names this week as he fights for re-election.
CNN: 2010 Challengers: DeMint opponent has national support
South Carolina Sen. Jim DeMint's sharp attacks on President Obama – including his memorable line that conservatives can "break" the president by blocking health care reform – have put him in the Democratic crosshairs.
CNN: Club for Growth calls NY-23 candidates 'two liberals'
The conservative Club for Growth is spending another $300,000 on a new ad attacking the Democratic and Republican candidates in the race to fill the congressional seat vacated by New York Rep. John Hughes.
CNN: Progressives hit Harry Reid on health care
Days after Senate Majority Leader Harry Reid launched a pair of campaign ads in anticipation of a potentially difficult reelection bid, the Nevada Democrat is taking heat in his home state from liberal activists upset over the likelihood that the final Senate health care bill will not include a public option.
CNN: Health care critic advises 'divide and conquer' strategy
A prominent foe of health care reform sent a memo to allied groups last week urging greater coordination in the health care message wars as Democrats work to hammer out a final bill.
CNN: Deeds plays up Post endorsement in new ad
Will the endorsement of the Washington Post help propel Virginia Democratic gubernatorial hopeful Creigh Deeds to victory in November in the same way it did in the June Democratic primary? The Deeds campaign is launching a new ad campaign plan with that goal in mind.
Washington Times: Deeds, McDonnell see absentee vote as crucial
Virginia's gubernatorial candidates have been actively courting absentee voters - a crucial bloc that represented more than half the margin of victory when Republican Robert F. McDonnell defeated Democrat R. Creigh Deeds in the 2005 attorney general's race.
Washington Post: Deeds races to hook true-blue Democrats
Democrat R. Creigh Deeds is making a final push for Virginia governor that aims to do what he has been unable to accomplish so far: awaken loyal Democrats who voted in droves for President Obama a year ago but are unexcited about Deeds.
CNN: Sotomayor: White House picked my nomination suit
Just how tightly scripted did the White House manage U.S. Supreme Court Justice Sonia Sotomayor's nomination process?
NATIONAL
For the latest national news: www.CNN.com.
CNN: UConn to honor slain football player at game
When the Connecticut Huskies take to the field to play West Virginia on Saturday, their helmets will carry the initials of cornerback Jasper Howard, who was stabbed to death over the weekend.
CNN: Scientist charged with improperly passing on classified information
A former U.S. government scientist who served in sensitive positions on classified aerospace projects has been arrested and charged with trying to deliver classified information to someone he thought was an Israeli intelligence official.
CNN: Balloon boy family feels 'under siege,' lawyer says
The lawyer of a Colorado father accused of carrying out a bizarre hoax involving his son and a huge balloon said Monday that official charges in the case could be filed next week.
CNN: U.S. attorneys told to go after pot traffickers, not patients
The Justice Department has provided federal prosecutors "clarification and guidance" urging them to go after drug traffickers, but not patients and caregivers, in the 14 states that have medical marijuana laws.
New York Times: Nudging Recycling From Less Waste to None
At Yellowstone National Park, the clear soda cups and white utensils are not your typical cafe-counter garbage. Made of plant-based plastics, they dissolve magically when heated for more than a few minutes.
USA TODAY: Census predicts fall in response rate
Turbulent political and economic times roiling the nation are expected to diminish initial participation by households in next year's Census despite a $326 million marketing blitz that far outspends previous Census campaigns.
CNN: Gang member latest to join FBI's Ten Most Wanted Fugitives list
Joe Saenz rubbed his hands together and smiled as he walked up to a Los Angeles County, California, home.
CNN: Louisiana newlyweds want justice of peace fired
Two newlyweds are fighting for the dismissal of the justice of the peace who refused them a marriage license because they are of different races.
USA TODAY: In a switch, police invite scrutiny of racial profiling
By the time police Sgt. Robert Motyka responds to the disturbance call at a local hospital emergency room, the man at the reception counter is clearly agitated.
Wall Street Journal: USDA Confirms H1N1 in Minnesota Pigs
The Agriculture Department said at least one pig from Minnesota has tested positive for the H1N1 virus, the first case of a pig contracting the virus in the U.S.
CNN: Suspect in historic mass murder dies at 88
Howard Unruh, a World War II veteran accused of killing more than a dozen people in a deadly shooting spree in New Jersey 60 years ago, died Monday, authorities said. He was 88.
New York Times: Judge Delays Another Ohio Execution
A federal judge has indefinitely delayed an execution scheduled for Dec. 8, the fourth execution to be postponed in Ohio since technicians failed for two hours last month to administer lethal drugs to a man convicted of murder and rape.
CNN: Medical society boots doctor who did IVF in Suleman octuplets case
The doctor who implanted six embryos in octuplets' mother Nadya Suleman last year has been expelled from a fertility medical society, a spokesman for the group said.
INTERNATIONAL
For the latest international news: http://edition.cnn.com/
CNN: Abdullah ready for runoff with Afghan President Karzai
Afghan President Hamid Karzai's primary challenger said Monday he is prepared to participate in a runoff vote after a report concluded that Karzai did not win a majority, but he also is willing to consider alternatives.
CNN: Iran mourns dozens killed in militant attack
Three days of mourning began in the Iranian province of Sistan-Baluchestan on Monday, after dozens of people were killed in a militant attack a day earlier, state media reported.
CNN: IAEA chief: Iran nuke talks 'off to good start'
The first day of meetings on the future of Iran's nuclear program ended Monday on a note of optimism from the director-general of the U.N.'s nuclear watchdog agency.
CNN: Spain arrests two ETA suspects
Police in France Monday arrested the suspected chief of the political apparatus of the Basque separatist group ETA, along with another suspect, Spanish Interior Minister Alfredo Perez Rubalcaba said.
CNN: Chinese ship hijacked in Indian Ocean
A Chinese ship with 146 people aboard was hijacked Monday in the Indian Ocean, the European Union Naval Force said.
CNN: Petraeus, Kerry visit Pakistan as military battles on militants
The top U.S. military commander for the Middle East and Central Asia visited Pakistan on Monday as the Pakistani army battled Taliban militants in the country's northwest, U.S. Embassy officials said.
New York Times: Iraqi Campus Is Under Gang's Sway
Mustansiriya University, one of Iraq's most prestigious universities, was temporarily closed this month by the prime minister in an effort to rid it of a shadowy student gang accused of murdering, torturing and raping fellow students, and killing professors and administrators.
CNN: 32 planets discovered outside solar system
Thirty-two planets have been discovered outside Earth's solar system through the use of a high-precision instrument installed at a Chilean telescope, an international team announced Monday.
CNN: No winner in $5 million African leadership prize
A $5 million prize to reward good leadership in Africa was dramatically awarded Monday to ... nobody.
BUSINESS
For the latest business news: www.CNNMoney.com.
CNNMoney: Apple shares soar on earnings report
Apple Inc. said Monday that record sales of Macintosh computers and iPhones lifted its quarterly profit and revenue, which trounced Wall Street's forecasts.
CNNMoney: Overdraft fees: Senate gets tough
Senate leaders on Monday unveiled their proposal to tackle overdraft fees, the penalties banks charge customers who spend more than they have in their accounts.
CNNMoney: Employees face 'shockingly higher' health costs
It's open enrollment time at work. Prepare yourself. Starting in 2010, your employer is making sure that when it comes to paying for your health care, you're going to be sharing much more of the burden.
In Case You Missed It
To watch the latest interviews and reporting: http://www.cnn.com/video.
CNN: Meatless Mondays?
Baltimore has instituted a "meatless Monday" school lunch program. CNN's Lisa Sylvester reports.
Subscribe to the CNN=Politics DAILY podcast at http://www.cnn.com/politicalpodcast.
And now stay posted on the latest from the campaign trail by downloading the CNN=Politics SCREENSAVER at http://www.CNN.com/situationroom.