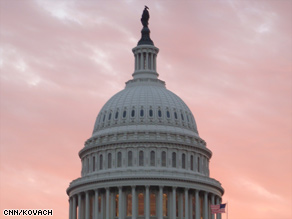 The CNN Washington Bureau's morning speed read of the top stories making news from around the country and the world.
WASHINGTON/POLITICAL
For the latest political news: www.CNNPolitics.com.
CNNMoney: Pay czar ready to drop hammer
The Obama administration will soon order the nation's biggest bailed-out companies to drastically cut the pay packages of 175 top executives, a senior administration official confirmed to CNN Wednesday.
CNN: TARP chief: Banks possibly 'in more danger now'
The banking system today may be in a more precarious position than it was a year ago, the man charged with overseeing a $700 billion bailout program said Wednesday.
CNN: Obama's poll numbers show wear and tear
As President Obama navigates his way through a series of issues as controversial as they are vital, he's getting a yellow flag from the American people.
CNN Poll: Americans split on Obama proposals
Americans are split right down the middle over President Barack Obama's health care reform proposals, according to a new national poll.
CNN: Possible decision on U.S. troops before Afghan runoff election
President Barack Obama could decide how many additional U.S. troops to send to Afghanistan before the country's scheduled November 7 runoff election, White House Press Secretary Robert Gibbs said Wednesday.
CNN: CBO finds Dem bill with public option reduces deficit
A preliminary estimate from the Congressional Budget Office projects that the House Democrats' health care plan that includes a public option would cost $871 billion over 10 years, according to two Democratic sources.
CNN: Democrats lose vote to stop steep physician payment cuts
Senate Democrats lost a key vote Wednesday on a controversial $247 billion measure designed to ensure that doctors experience no cut in Medicare reimbursement payments over the next 10 years.
Washington Post: Despite H1N1 fears, many worry about vaccination
Americans have become increasingly alarmed about the swine flu, but many are wary about getting vaccinated against the disease, according to a new Washington Post-ABC News poll.