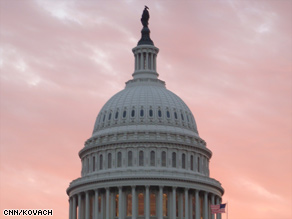 The CNN Washington Bureau's morning speed read of the top stories making news from around the country and the world.
WASHINGTON/POLITICAL
For the latest political news: www.CNNPolitics.com.
CNNMoney: Pay czar ready to drop hammer
The Obama administration will soon order the nation's biggest bailed-out companies to drastically cut the pay packages of 175 top executives, a senior administration official confirmed to CNN Wednesday.
CNN: TARP chief: Banks possibly 'in more danger now'
The banking system today may be in a more precarious position than it was a year ago, the man charged with overseeing a $700 billion bailout program said Wednesday.
CNN: Obama's poll numbers show wear and tear
As President Obama navigates his way through a series of issues as controversial as they are vital, he's getting a yellow flag from the American people.
CNN Poll: Americans split on Obama proposals
Americans are split right down the middle over President Barack Obama's health care reform proposals, according to a new national poll.
CNN: Possible decision on U.S. troops before Afghan runoff election
President Barack Obama could decide how many additional U.S. troops to send to Afghanistan before the country's scheduled November 7 runoff election, White House Press Secretary Robert Gibbs said Wednesday.
CNN: CBO finds Dem bill with public option reduces deficit
A preliminary estimate from the Congressional Budget Office projects that the House Democrats' health care plan that includes a public option would cost $871 billion over 10 years, according to two Democratic sources.
CNN: Democrats lose vote to stop steep physician payment cuts
Senate Democrats lost a key vote Wednesday on a controversial $247 billion measure designed to ensure that doctors experience no cut in Medicare reimbursement payments over the next 10 years.
Washington Post: Despite H1N1 fears, many worry about vaccination
Americans have become increasingly alarmed about the swine flu, but many are wary about getting vaccinated against the disease, according to a new Washington Post-ABC News poll.
CNN: U.S. still open to Iran negotiations, Clinton says
Secretary of State Hillary Clinton stressed Wednesday that the White House remains open to diplomatic engagement with the Iranian government if Tehran is serious about negotiations regarding its controversial nuclear program.
Washington Post: Iranian officials accept draft deal on uranium transfer
Iranian negotiators on Wednesday accepted a draft agreement that would transfer the bulk of Iran's enriched uranium stockpile out of the country, providing a major boost for the Obama administration as it seeks to engage the Islamic republic.
Washington Post: U.S. pressures Japan on military package
Worried about a new direction in Japan's foreign policy, the Obama administration warned the Tokyo government Wednesday of serious consequences if it reneges on a military realignment plan formulated to deal with a rising China.
CNNMoney: Like it or not, here comes more stimulus
You won't see it all in one neat package. And you won't hear the White House call it stimulus.
Wall Street Journal: Signs of Recovery Don't Extend to Jobs
U.S. states and regions continue to see their economies slowly improve, but employers across the country remain skittish about hiring, according to two government reports released Wednesday.
CNN: Duncan to call for change in teachers' education
Secretary of Education Arne Duncan is expected to push for reforms in how teachers are taught when he speaks at Teachers College at Columbia University in New York on Thursday.
Los Angeles Times: South Carolina embarrassed by politicians behaving badly
It's tough these days being from South Carolina. Ask Dick Harpootlian. He was in Peru, on a train from Cusco to Machu Picchu, when he and his wife began chatting with another couple. Where, Harpootlian asked, are you from? Rio, came the response, and you? South Carolina, Harpootlian replied. Mark Sanford! the couple exclaimed. Argentina!
CNN: Congressman contracts swine flu
The H1N1 virus commonly known as 'swine flu' has hit Capitol Hill.
POLITICO: Sheriff has McCain in immigration jam
Earlier this year, a TV reporter in Arizona coaxed Sen. John McCain into a quick on-air game of word association. The reporter would say a word or two, McCain would offer a short response and it all went along well until the reporter said the following words: "Joe Arpaio."
CNN: George W. Bush wants to help people 'Get Motivated!'
Former President George W. Bush has a new speaking gig.
Washington Post: Torture songs spur a protest most vocal
Was the theme to "Sesame Street" really played to torture prisoners held at Guantanamo and other detention camps? What about Don McLean's "American Pie"? Or the Meow Mix jingle? Bruce Springsteen's "Born in the U.S.A."?
McClatchy: SEC frowns on trading systems that keep investors in the dark
The Securities and Exchange Commission proposed on Wednesday new steps that could soon bring more oversight over private trading systems that go by the ominous sounding name of "dark pools."
CNN: 'Die quickly' Dem launches Web site honoring the dead
Rep. Alan Grayson – whose statement that Republican health care calls for the sick to "die quickly" – has launched a new Web site, namesofthedead.com, that invites users to submit stories of loved ones who have died because they lack health insurance.
CNN: First lady dishes on fitness, french fries
Michelle Obama may be a renowned fitness fiend – but she's equally devoted to her fries.
CNN: Justice Dept moves lawyer who guided Stevens prosecution
The man who oversaw the flawed prosecution of corruption charges against former U.S. Sen. Ted Stevens of Alaska will leave his post at the Justice Department at the end of this week, a top official there announced Wednesday.
CNN: Pawlenty reaches out to governors over health care reform
Minnesota Republican Gov. Tim Pawlenty reached out Wednesday to his fellow governors throughout the country with his proposal for states to work together to allow the purchase of health insurance across state lines.
CNN: Public option gets support from Hollywood actress
Supporters of a public health care option are getting a helping hand from Austin Powers actress Heather Graham.
CNN: Fiorina boasts of NRSC support in California primary
Carly Fiorina, a likely Republican candidate for Senate in California, made public on Tuesday what her GOP primary opponent Chuck DeVore has long claimed: that the national party is supporting her bid to take out Sen. Barbara Boxer next year.
CNN: Obama finalizes details of Deeds rally in Virginia
President Obama will campaign for Democratic gubernatorial hopeful Creigh Deeds in the Hampton Roads region of Virginia next week, the campaign announced Wednesday, finalizing details of the much-anticipated presidential appearance.
CNN: Deeds touts Obama support in new ad
With just under two weeks until voters head to the polls in Virginia, Democratic gubernatorial candidate Creigh Deeds is playing up his support from President Obama.
CNN: Poll: Crist's primary lead over Rubio shrinking
The battle for Florida Republican voters appears to be heating up.
NATIONAL
For the latest national news: www.CNN.com.
CNN: Mistrial declared in Travolta extortion trial
A mistrial has been declared in the trial of two people accused of attempting to extort millions from actor John Travolta after the death of his 16-year-old son, Jett.
CNN: Police: Man ran down 'too Westernized' daughter
Arizona police are looking for an Iraqi man who they allege ran down his daughter and her friend because he believed his daughter had become "too Westernized."
CNN: Lawsuit: Madoff's workplace was rife with cocaine, sex
A new lawsuit alleges that convicted swindler Bernie Madoff financed a cocaine-fueled work environment and a "culture of sexual deviance," and he diverted money to his London, England, office when he believed federal authorities were closing in at home.
CNN: FBI: Mobster 'more powerful than a John Gotti'
Semion Mogilevich may be the most powerful man you've never heard of.
Boston Globe: Epilogue for a lost Marine
Billy Lynch left Dorchester 72 years ago, and they're pretty sure they've finally found him, a long way from home, deep in the ground in China.
New York Times: Concussion Trauma Risk Seen in Amateur Athlete
Brain damage commonly associated with boxers and recently found in deceased N.F.L. players has been identified in a former college athlete who never played professionally, representing new evidence about the possible safety risks of college and perhaps high school football.
CNN: Feds look at instruments, approach lights in taxiway landing
Federal investigators trying to determine why a Delta Air Lines jet landed on a taxiway instead of the runway in Atlanta on Monday morning say the runway was illuminated, but that approach lights and a ground-based instrument that helps pilots line up with the runway were off.
Bloomberg: AT&T Takes On Google Over 'Terrifying' Internet Rules
Google Inc. backs "extreme regulatory standards," AT&T Inc.'s top Washington official says. His rival at Google calls the phone company's campaign against new Internet rules "almost laughable."
CNN: Woman recants story of West Virginia abuse
A 22-year-old woman whose claims that she was abused in a trailer in rural West Virginia in 2007 helped send six people to prison now says she made up the story, her lawyer said Wednesday.
New York Times: In Atlanta, String of Black Mayors May Be Broken
Since 1973, this Southern capital has elected a succession of black mayors, sometimes to the consternation of residents in the largely white, prosperous neighborhood of Buckhead in the north.
CNN: Incentives drawing more Latinos to military, Rand study finds
Though the percentage of Latinos in the U.S. military remains lower than the percentage in the general population, gains are being made in efforts to increase diversity in the military, a recent study shows.
CNN: Child's body found in landfill, police looking for girl say
Police looking for a missing 7-year-old Florida girl said Wednesday they have found the body of a child in a landfill in south Georgia, about an hour from the girl's home.
CNN: New black Barbies get mixed reviews
Grace, Kara and Trichelle were created to fill a void for young black girls who for so long have been playing with dolls that don't look like them.
CNN: Newark airport guard accused of threats against Obama
A security guard at New Jersey's Newark Liberty International Airport is under arrest for allegedly making threatening remarks about President Obama, a spokesman for the U.S. Secret Service said Wednesday.
INTERNATIONAL
For the latest international news: http://edition.cnn.com/
CNN: World failing to dent heroin trade, U.N. warns
Afghan opium kills 100,000 people every year worldwide - more than any other drug - and the opiate heroin kills five times as many people in NATO countries each year than the eight-year total of NATO troops killed in Afghan combat, the United Nations said Wednesday.
Los Angeles Times: China's push for oil in Gulf of Mexico puts U.S. in awkward spot
A Chinese company's gambit to drill for oil in U.S. territory demonstrates China's determination to lock up the raw materials it needs to sustain its rapid growth, wherever those resources lie.
CNN: Drug-related killings skyrocket in Juarez
Has Ciudad Juarez, Mexico, been lost to the drug cartels?
CNN: Pakistan says rebel blamed in Iran attack is in Afghanistan
Pakistan denied Wednesday that it is harboring a Sunni rebel leader accused of orchestrating a suicide attack in neighboring Iran.
Washington Post: In Helmand, a model for success?
Before a battalion of U.S. Marines swooped into this dusty farming community along the Helmand River in early July, almost every stall in the bazaar had been padlocked, as had the school and the health clinic.
CNN: Iraqi MPs fail to agree on new election law
Iraq's parliament failed Wednesday to reach agreement on a new electoral law, but the parliament speaker said it would not affect the date of the general election scheduled for January.
New York Times: Offer Raises Idea of Marriage for Catholic Priests
In making it easier for traditionalist Anglicans to become Catholic, Pope Benedict XVI once again revealed the character of his papacy: to reach out to the most fervent of like-minded believers, even if they are not Catholic. Yet some observers wonder whether his move could paradoxically liberalize the church — or at least wedge it open — on a crucial issue: celibacy.
CNN: Schools across Pakistan close after deadly suicide blasts
Pakistani authorities have closed all educational institutions across the county until at least the end of the week, following twin suicide bombings at an Islamic university Tuesday.
CNN: Israel, U.S. begin joint military exercises
Israel and the United States commenced what is believed to be their largest ever joint military exercises in missile defense Wednesday.
CNN: China's GDP grows nearly 9 percent last quarter
China's GDP increased 8.9 percent for the third quarter, moving closer toward the goal of 8 percent growth for the year.
BUSINESS
For the latest business news: www.CNNMoney.com.
CNNMoney: Losing their lifeline – 7,000 a day
Another day, another 7,000 people run out of unemployment benefits.
CNNMoney: What housing bust?
If you're a beef-eating, beer-guzzling, pick-up driving resident of heartland America, there's a good chance you escaped the housing bust. But pesto-chomping, chardonnay-sipping, hybrid-driving city-slickers were probably out of luck.
In Case You Missed It
To watch the latest interviews and reporting: http://www.cnn.com/video.
CNN: Afghan heroin problem
Christiane Amanpour speaks with Antonio Maria Costa, executive director of the U.N. Office of Drugs and Crime.
Subscribe to the CNN=Politics DAILY podcast at http://www.cnn.com/politicalpodcast.
And now stay posted on the latest from the campaign trail by downloading the CNN=Politics SCREENSAVER at http://www.CNN.com/situationroom.