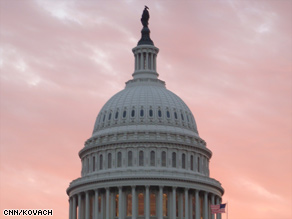 The CNN Washington Bureau's morning speed read of the top stories making news from around the country and the world.
WASHINGTON/POLITICAL
For the latest political news: www.CNNPolitics.com.
CNN: Optional public option enters health care talks
Senate Democratic leaders met Thursday night with White House officials to consider including a government-funded public health insurance option, along with a provision allowing states to opt out of it, in a health care overhaul bill.
CNN: Hate crimes bill goes to Obama for signature
The Senate passed groundbreaking legislation Thursday that would make it a federal crime to assault an individual because of his or her sexual orientation or gender identity.
CNN: Cheney: Obama seems 'afraid' to make decision on Afghanistan
After dialing back his attacks on President Obama's foreign policy, former Vice President Dick Cheney says the administration has damaged U.S. ties with key allies, dangerously wavered in Afghanistan, undermined progress in Iraq and sabotaged the Bush administration's national security legacy.
CNN: Gibbs hits back at Cheney
White House Press Secretary Robert Gibbs fired back Thursday at the latest criticisms from Dick Cheney, and suggested the Bush administration did not send U.S. troops into foreign conflicts responsibly.
CNN: Pelosi chastises Cheney for saying Obama 'afraid'
House Speaker Nancy Pelosi pushed back Thursday at former Vice President Dick Cheney's comment that President Barack Obama seems "afraid to make a decision" about his strategy in Afghanistan.
Washington Post: For Kerry, a growing role on foreign policy stage
Five years after his painful loss to George W. Bush, ending a presidential campaign in which he was accused of being an Iraq war defeatist who was too willing to talk to America's adversaries, Sen. John F. Kerry has finally found his place in the foreign policy spotlight.
CNN: Stimulus debate heats up as Dems push aid for small business
House Speaker Nancy Pelosi said Thursday that Congress is set to consider a measure increasing the amount of money the federal government can lend to small businesses.
CNN: Bands want to know if their music was used on Gitmo detainees
A coalition of top musicians, including R.E.M. and Pearl Jam, want to know if their music was used by the U.S. military as part of controversial interrogation methods at the detention facility at Guantanamo Bay, Cuba.
Wall Street Journal: U.S. Moves to Protect Habitat of Polar Bears
The Obama administration is setting aside 200,000 square miles in Alaska and off its coast as "critical habitat" for polar bears, an action that could increase restrictions on future offshore drilling for oil and gas.
CNN Poll: Is the worst of the recession over?
The number of Americans who think the country's economy is currently in very poor shape is on the rise, according to a new national poll. But the CNN/Opinion Research Corporation survey released Thursday also indicates that a growing number of Americans think the worst of the recession is over.
CNN Poll: 3 out of 4 want illegal immigration decreased
A new national poll indicates that nearly three-quarters of all Americans would like to see a decrease in the number of illegal immigrants in the country.
Washington Post: In Massachusetts, Obama won't promote state's plan
President Obama will travel Friday to Massachusetts, one of only two states to implement a universal health-care program similar to his ambitions for the entire country. But he does not plan to use the trip to make his case for far-reaching reform; he will tout clean energy and raise money for the Democratic governor.

CNN: Joe Wilson's wife diagnosed with swine flu
Rep. Joe Wilson's wife Roxanne has been diagnosed with swine flu, the congressman's office confirmed to CNN on Thursday.
CNN: Palin endorses in New York race, while Pawlenty holds back
Sarah Palin and Tim Pawlenty, two Republicans widely viewed as possible 2012 White House hopefuls, weighed in Thursday night on the closely-watched special election in New York's 23rd congressional district. They chose very different approaches – but neither endorsed the GOP candidate.
McClatchy: FBI looks at bribery allegations against Alaska Rep. Young
An Alaska businessman admitted to giving gifts to Republican Rep. Don Young, the state's long-serving sole congressman, in a confession made public this week as part of an ongoing federal investigation into political corruption in the state.
Washington Post: U.S. urges probe of Sri Lanka war
The State Department's top war crimes official called on Sri Lanka on Thursday to conduct a "genuine" investigation into allegations of war crimes by Sri Lankan troops and Tamil rebels during the bloody final months of the country's 25-year-long civil war.
New York Times: Senators Question the Role of 'Czars'
Several senators on Thursday morning sharply questioned the need for so many policy "czars" at the White House, with Republicans and Democrats both citing historical concerns that such presidential advisers often fall outside the scrutiny of Congressional review.
CNN: FCC proposes new rules of the road for the Internet
The Federal Communications Commission took the first step Thursday in a process intended to formalize and further define principles governing management of the Internet's infrastructure by the nation's broadband access service providers.
CNN: Sanford: National political efforts had become distraction
Before an extramarital affair came to light in June that effectively ended his future political ambitions, South Carolina Gov. Mark Sanford said repeatedly that he was not thinking about running for president in 2012, despite clear indications that he was working to build a national profile among conservatives.
Washington Post: After war, a Biden's new battle
On Sept. 30, a ceremony in front of the Delaware statehouse welcomed the 261st Theater Tactical Signal Brigade home from Iraq to the brick buildings of Dover.
New York Times: For History, a Special Substitute Teacher
Talk about a field trip. Vice President Joseph R. Biden Jr. brought his 11-year-old granddaughter, Finnegan, with him for his three-day trip through Eastern Europe and gave her some first-hand lessons in modern diplomacy and Cold War history.
First on the Ticker: Leading Democrat warns of tough midterm
Maryland Rep. Chris Van Hollen warned fellow Democrats Thursday that they are heading into a challenging midterm election, but assured them that everything is being done to head off major losses in 2010.
Philadelphia Inquirer: Chris Daggett: Profile of an independent
How many people, Chris Daggett wants to know, feel well represented by Republicans or Democrats in Trenton?
CNN: GOP fault lines on display in NY-23
If Democrat Bill Owens manages to claim victory in next month's special congressional election in upstate New York, he'll have some unlikely benefactors to thank.
Washington Post: Deeds ignored advice, White House says
Sensing that victory in the race for Virginia governor is slipping away, Democrats at the national level are laying the groundwork to blame a loss in a key swing state on a weak candidate who ran a poor campaign that failed to fully embrace President Obama until days before the election.
CNN: Graham attacked over cap-and-trade in new ad
An interest group supported by energy companies is attacking Sen. Lindsey Graham in his own backyard over his willingness to support cap-and-trade legislation.
Boston Globe: Fiscal policy role fuels Frank fund-raising
Representative Barney Frank's central role in drafting new regulations for the US financial industry has dramatically boosted his power as a political fund-raiser, helping him increase campaign contributions by almost a third more than at this point in the last election cycle.
CNN: Poll: Bloomberg widens lead in NYC Mayoral race
With less than two weeks until election day, a new poll suggests that Michael Bloomberg holds a 16-point lead over his Democratic rival as the New York City mayor bids for a third term in office.
CNN: Obama signs bill to improve budgeting for veterans' health care
President Barack Obama on Thursday signed a bill to ensure that government funding for veterans' health care avoids any gaps in the budgeting process.
CNN: Pawlenty heads to Washington for first PAC fundraiser
Minnesota Gov. Tim Pawlenty is holding the first fundraiser for his newly-formed political action committee Thursday night in Washington.
CNN: New Jersey poll shows Daggett gaining
A new poll of New Jersey voters suggests independent candidate Chris Daggett continues to make gains in that state's highly competitive gubernatorial race, primarily peeling support away from Republican challenger Chris Christie in campaign's final days.
NATIONAL
For the latest national news: www.CNN.com.
CNN: Detained immigrant children face legal maze in U.S.
When "Marta" was 12, she entered the United States illegally, hoping to join her mother, who had left her in Central America years ago to search for work. Three years later she was sitting in immigration detention by herself waiting to be deported back home to her grandmother, who was dying of cancer.
CNN: Small town killing puts focus on crimes against Latinos
Crystal Dillman says she will never understand why a group of teenage boys beat her fiancé to death.
Washington Post: Scramble to parcel out H1N1 vaccine
The federal government's unprecedented campaign to protect the nation against the swine flu pandemic has gotten off to a sputtering start, frustrating parents, pregnant women and others anxious to get immunized against the new virus.
Los Angeles Times: H1N1 vaccine a tough sell to pregnant women
As the H1N1 influenza vaccine trickles into clinics and pharmacies over the next few weeks, public health officials and doctors desperately hope that pregnant women will be at the front of the line for the shot. Past influenza pandemics have proved that they're at increased risk for severe complications - and they appear to be even more vulnerable to this new flu strain.
CNN: Airliner crew flies 150 miles past airport
A Northwest Airlines flight from San Diego, California, overshot the Minneapolis, Minnesota, airport by about 150 miles Wednesday evening, and federal investigators are looking into whether the pilots had become distracted, as they claimed, or perhaps fell asleep.
CNN: Justice Department announces 300 drug arrests
The Justice Department on Thursday announced 300 additional arrests in a four-year operation that it says produced nearly 1,200 arrests and seizures totaling 11.7 tons of illegal drugs.
CNN: Organized crime's new target: Medicare and Medicaid
Organized crime gangs are exploiting a new target for illegal profit: Medicare and Medicaid.
USA TODAY: Hurricane alleys get big break
When a hurricane hits South Florida, the employees at Beach Ace Hardware, two blocks from the ocean in Lauderdale-By-The-Sea, work until the sheriff's department warns it is shutting the bridge that connects the beachfront town to the mainland.
CNN: Taser makers say don't aim at chest
The maker of Taser stun guns has advised law enforcement agencies to avoid hitting suspects in the chest, partly "to minimize controversy."
CNN: San Francisco police look at 'Night Stalker' for 25-year-old case
The San Francisco Police Department is reopening a 25-year-old homicide that may be linked to convicted killer Richard Ramirez, known during his 1984-85 spree as the Night Stalker.
CNN: Katherine Jackson replaces lawyers in estate battle
Michael Jackson's mother fired the lawyers helping her fight for control of her son's estate, but her new lawyer missed a key hearing where the judge gave more power to the men she is opposing.
CNN: Lil Wayne pleads guilty to weapons charge
Hip-hop artist Lil Wayne pleaded guilty Thursday to attempted criminal possession of a weapon, the Manhattan district attorney's office said.
INTERNATIONAL
For the latest international news: http://edition.cnn.com/
CNN: Refusing runoff would be 'insulting democracy,' Karzai says
Afghanistan's president is downplaying accusations of widespread fraud in his country's recent elections, but he's emphasizing the importance of a runoff for the sake of ensuring peace and stability in his nascent and war-torn democracy.
New York Times: A Lone Cleric Is Loudly Defying Iran's Leaders
A short midlevel cleric, with a neat white beard and a clergyman's calm bearing, Mehdi Karroubi has watched from his home in Tehran in recent months as his aides have been arrested, his offices raided, his newspaper shut down. He himself has been threatened with arrest and, indirectly, the death penalty.
CNN: Iraqis top list of refugees seeking asylum
For the fourth year in a row, Iraqis top a growing roster of people seeking asylum in an industrialized nation. They are just ahead of people fleeing wars in Afghanistan and Somalia, said a report published by the U.N. refugee agency Wednesday.
Wall Street Journal: China, India Stoke 21st-Century Rivalry
In the brewing discord between two giant, ambitious nations, even a remote meadow in the Himalayas is worth fighting over.
CNN: Is Mexico winning its war on drugs?
Mexico's arrest of drug cartel suspects has become fairly commonplace. On Thursday, it was six suspected members of La Familia, based in Michoacan. A day earlier, it was a man identified as a top leader of the ruthless Zetas.
CNN: Strong earthquake rocks Afghanistan
A strong earthquake rumbled deep beneath mountainous regions northeast of Kabul early Friday, waking residents and sending some into the streets.
Wall Street Journal: Afghan Ballots Go Out, by Air and Donkey
Afghan authorities and the United Nations, supported by U.S.-led international forces, began distributing millions of ballots, tamper-proof ink and equipment for a runoff presidential election on Nov. 7.
CNN: 'I am not a Nazi,' National Party leader says on BBC
British National Party leader Nicholas Griffin denied Thursday in a controversial appearance on a popular BBC television program that he is a Nazi.
CNN: French Red Cross worker abducted in Darfur
Several armed men Thursday abducted a French national working for the Red Cross in Sudan's volatile Darfur region, the agency said.
CNN: Clergyman linked to Rwandan genocide seized in Italy
A Rwandan accused of "complicity" in the massacre of students at the college he headed during the country's genocide 15 years ago has been arrested in Italy, where he served as a clergyman, an international police agency said.
BUSINESS
For the latest business news: www.CNNMoney.com.
CNN: Windows 7 born from Vista's frustrations
If consumers like the new Windows 7 operating system, they'll have the much-maligned Windows Vista to thank.
Los Angeles Times: Solar energy firm takes advantage of auto industry's manufacturing expertise
Skyline Solar, a Silicon Valley start-up, has become the latest green energy company to tap the struggling auto industry's manufacturing muscle.
CNNMoney: 3 AIG execs get bonus OK from pay czar
In the end, pay czar Kenneth Feinberg's hardest case was AIG.
New York Times: Pay Cuts, but Little Headway in What Matters Most
And then the country's pay czar descended from the mountaintop, or at least from his Washington law office, and handed down his rulings. And for his 175 subjects — er, I mean the 25 most highly paid executives at the seven big companies that still hold billions of dollars in government assistance — his rulings were painful.
CNNMoney: Insurers not improving nation's health care
The quality of health care for millions of Americans insured through commercial or public plans has stopped improving for the first time in more than a decade, according to an industry accreditation group's report issued Thursday.
Bloomberg: New Jersey Pays Goldman Sachs for Swaps on Nonexistent Bonds
New Jersey taxpayers are sending almost $1 million a month to a partnership run by Goldman Sachs Group Inc. for protection against rising interest costs on bonds that the state redeemed more than a year ago.
In Case You Missed It
To watch the latest interviews and reporting: http://www.cnn.com/video.
CNN: Qatar and the recession
MME addresses the issues of the recession to the Former Economy and Commerce Minister Sheikh Mohamed Ahmed Jassim Al Thani.
Subscribe to the CNN=Politics DAILY podcast at http://www.cnn.com/politicalpodcast.
And now stay posted on the latest from the campaign trail by downloading the CNN=Politics SCREENSAVER at http://www.CNN.com/situationroom.