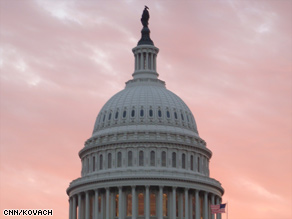 The CNN Washington Bureau's morning speed read of the top stories making news from around the country and the world.
WASHINGTON/POLITICAL
For the latest political news: www.CNNPolitics.com.
CNN: Reid backs health care public option
The contentious debate over health care took a new twist Monday as Senate Majority Leader Harry Reid announced his decision to craft legislation including a public insurance option allowing states to opt out.
CNN: Reid: Reconciliation 'always an option'
After announcing his intention to move forward with a health care reform bill in the Senate that includes a version of the public health insurance option that would allow states to opt out, Senate Majority Leader Harry Reid told CNN that he has not ruled out using a budgetary procedure called reconciliation which would allow Democrats to pass the bill with a simple majority.
CNN: Clyburn: 60 shouldn't be 'the crucial number' for Senate health bill
Citing a recent CNN/Opinion Research Corporation poll, House Majority Whip James Clyburn said Monday that the Senate Majority Leader should use a budgetary maneuver to pass health care reform with a government-run insurance option if Democrats do not have the 60 votes necessary to break a filibuster.
Washington Post: AARP: Reform advocate and insurance salesman
The nation's preeminent seniors group, AARP, has put the weight of its 40 million members behind health-care reform, saying many of the proposals will lower costs and increase the quality of care for older Americans.
CNN: Kerry treads middle ground on Afghanistan
The chairman of the Senate Foreign Relations Committee warned Monday against a narrowing of the U.S. mission in Afghanistan, but also suggested a plan by the commanding U.S. general in the country is overly ambitious.
CNN: Commentary: U.S. is losing Afghan war on two fronts
We are losing in Afghanistan, on two fronts. The most important center of gravity of the conflict - as the Taliban well recognizes - is the American public. And now, most Americans are opposed to the war.
Washington Post: U.S. official resigns over Afghan war
When Matthew Hoh joined the Foreign Service early this year, he was exactly the kind of smart civil-military hybrid the administration was looking for to help expand its development efforts in Afghanistan.
Washington Post: Why such a shortage of swine flu vaccine?
Administration officials sought Monday to explain why so much less H1N1 flu vaccine is available than had been promised, blaming the manufacturers and the vagaries of science for nationwide shortages.
Wall Street Journal: Political Uncertainty Puts Freeze on Small Businesses
W. Michael Brown has scaled back hiring plans in his Virginia auto-parts stores. Carl Redman halted an expansion project at his Oregon contracting business. Bill Hammack is preparing layoffs at his road-construction company in Georgia.
McClatchy: Some lawmakers wary of 'Death Panels' for banks, too
The chairman of a key congressional panel Monday scaled back important parts of the Obama administration's plan to dismantle financial institutions that are deemed "too big to fail."
CNN: Corzine rethinks ad about Christie throwing 'his weight around'
New Jersey Gov. Jon Corzine said Monday that a recent ad about his Republican challenger should have used a different expression than "threw his weight around," a turn-of-phrase which some political observers took as an effort to ridicule Chris Christie because of his waistline.
CNN: Poll: McDonnell increases lead over Deeds
A new poll indicates that Republican Bob McDonnell holds a double-digit lead over Democrat Creigh Deeds in Virginia's gubernatorial battle.
Washington Post: Kaine rallies the troops
Gov. Tim Kaine spent the day in the Richmond area rallying volunteers at several stops, encouraging them to knock on doors and make calls on behalf of the Democratic ticket - Creigh Deeds, Jody Wagner and Steve Shannon.
Richmond Times-Dispatch: McDonnell leads Deeds in poll, cash
Republican Bob McDonnell enters the countdown to the gubernatorial election comfortably ahead in the latest poll and flush with cash, while Democrat R. Creigh Deeds is looking to a presidential visit today to boost his lagging campaign.
CNN: Obama to help Democrats raise $1.5 million
President Barack Obama is the main attraction Monday night at a fundraiser in Miami for his party.
CNN: Pawlenty: Obama may be making country less safe
As Minnesota Gov. Tim Pawlenty has ramped up his national profile over the past year, he has focused primarily on domestic issues when criticizing the Obama administration.
Los Angeles Times: New York race at epicenter of a GOP mutiny
Silvan Johnson adores Sarah Palin, belongs to a conservative discussion group and fumes at President Obama's spending policies. But when it comes to picking a new congressional representative for her upstate New York district, she is in no mood to help the Republican Party.
CNN: Pawlenty joins GOP crowd in backing Hoffman
Just four days after professing ignorance about the special election in New York's 23rd congressional district, Tim Pawlenty changed course Monday and decided to endorse Conservative Party candidate Doug Hoffman instead of the Republican in the race.
CNN: Gingrich: 'You can't have a purely right-wing majority'
Former House Speaker Newt Gingrich has taken considerable heat from conservative activists for endorsing Republican Dede Scozzafava over Conservative Party candidate Doug Hoffman in next month's special congressional election in New York.
Boston Globe: Rivals sound a Kennedy theme
In their first debate of the campaign, the four Democratic candidates for US Senate sparred gently last night, each seeking to play to a liberal base and win recognition as the rightful heir to the seat once held by Edward M. Kennedy.
CNN: White House uses blog to emphasize support for public option
The White House and Congressional Democrats are feeling the heat from liberal Democrats, who are demanding that a federally funded insurance program be a key component of health care reform.
CNN: Christie Vilsack turns down Senate bid
Christie Vilsack, the wife of former Iowa Gov. Tom Vilsack, announced Monday that she will not challenge Republican Charles Grassley for his Senate seat in 2010.
CNN: Elizabeth Edwards: Marriage is a 'great love story'
Despite John Edwards' extramarital affair that rocked his marriage, his wife described their union as a "love story," albeit an unconventional one.
CNN: Poll: NYC Mayor Bloomberg holds 18-point lead
A new survey suggests that New York City Mayor Michael Bloomberg, vying for a third term in office, holds an 18-point lead over his Democratic rival, with just eight days to go before voters there head to the polls.
New York Times: As Series Looms, Senators Offer Cheesy Wager
Baseball fans may be bracing for a bang-up World Series between the Yankees and the Phillies, but in the political world could there be anything more boring than sports wagering among fellow Democrats?
NATIONAL
For the latest national news: www.CNN.com.
CNN: Report: Stray jet's pilots were on laptops
The pilots of the commercial jetliner that last week overshot its destination by about 150 miles have said they were using their laptops and lost track of time and location, federal safety officials said Monday.
CNN: Madoff investor who drowned in swimming pool had a heart attack
A major investor in convicted swindler Bernie Madoff's Ponzi scheme drowned in his swimming pool in Florida after a heart attack, his attorney said Monday. The medical examiner's office confirmed the report.
CNN: Police: 'Jane Doe' emptied bank account before surfacing in NYC
The teen who mysteriously turned up in New York with apparent amnesia emptied her bank account and left behind "everything" before she left her home in Washington, police told CNN.
CNN: Obama: Americans killed in Afghan crash were 'doing this nation proud'
Fourteen Americans died in two helicopter crashes in Afghanistan on Monday, NATO's International Security Assistance Force said: 10 in one incident and four in the other.
USA TODAY: H1N1 flu 'pushing hospitals to their limit'
To Mitchell Goldstein, the flood of sick children seemed endless. Day after day, nearly three times as many kids as usual streamed into the rainbow-colored pediatric emergency room at Johns Hopkins Hospital, sniffling and feverish, worried parents hovering.
CNN: NASA's Ares rocket set for test flight
For the first time in decades, a rocket instead of a space shuttle is occupying launchpad 39-B at the Kennedy Space Center in Florida.
New York Times: N.F.L.'s Dementia Study Has Flaws, Experts Say
The N.F.L. and its doctors have consistently dismissed independent studies showing unusual cognitive decline in former players. They insist that a long-term study by the league's committee on concussions, expected to be published in several years, will be the authoritative analysis.
CNN: 52 children recovered, 60 alleged child pimps arrested in crackdown
Law enforcement authorities have recovered 52 children and arrested 60 pimps allegedly involved in child prostitution, the FBI announced Monday.
CNN: Arson or accident? FBI, ATF investigate fuel depot fire in Puerto Rico
Investigators don't know if the massive fire at a fuel storage facility near San Juan was deliberately started or was an accident, the agent in charge of the FBI's San Juan office said Monday.
CNN: Police: Gang rape outside school dance lasted over two hours
A California high school student who police said was gang raped in a two-and-a-half-hour assault outside a homecoming dance remained hospitalized in stable condition Monday, three days after she was flown from the attack scene in critical condition.
INTERNATIONAL
For the latest international news: http://edition.cnn.com/
CNN: Karzai rival issues conditions for Afghan runoff
The main challenger to Afghan President Hamid Karzai Monday demanded the removal of the country's election chief and 200 other staffers of the election commission to ensure a fair runoff election.
CNN: 30 children among 160 killed in Iraq bombings, Interior Ministry says
At least 30 Iraqi children riding in a bus were among the 160 people killed in Sunday's twin car bombings in Baghdad, the Interior Ministry said Monday.
Wall Street Journal: Iraq Increases Security After Blasts
Iraqi authorities scrambled to reassure the public after the worst bombing attack in two years by increasing vigilance at checkpoints and closing off roads in the Iraqi capital.
New York Times: German Limits on War Are Facing Reality in Afghanistan
Forced to confront the rising insurgency in once peaceful northern Afghanistan, the German Army is engaged in sustained and bloody ground combat for the first time since World War II.
CNN: Roadside doctors with no degrees thrive in India
Sitting on an iron bench along a busy street, Chaman Lal sticks his fingers into a mug full of a greasy concoction and then applies the dark-red brew to areas where his patients complain of pain.
CNN: World travelers: America wants you
Kenyan artist Nicholas Sironka received a warm welcome to the United States when he first visited in 1999 - a reception he's missed since.
CNN: Israel rules out questioning troops about Gaza offensive
The Israeli government has ruled out setting up an independent investigative body that would interview Israeli military personnel about allegations that the military committed war crimes during its offensive against Hamas earlier this year.
CNN: Karadzic boycotts start of war crimes trial
U.N. judges adjourned the long-awaited war-crimes trial of Radovan Karadzic on Monday after the former Bosnian Serb leader refused to appear on the opening day.
CNN: German man on trial for stabbing Muslim woman
A German man accused of stabbing to death a pregnant Muslim woman in a Dresden courtroom went on trial Monday - in the same court and amid tight security.
CNN: Ignored by society, Afghan dancing boys suffer centuries-old tradition
A young boy dressed in women's clothing, his face caked in make-up, dances the night away for a crowd of men.
BUSINESS
For the latest business news: www.CNNMoney.com.
New York Times: Ex-A.I.G. Chief Is Back, Luring Talent From Rescued Firm
Maurice R. Greenberg, who built the American International Group into an insurance behemoth with an impenetrable maze of on- and offshore companies, is at it again.
Financial Times: South Korean growth at seven-year high
Rising Chinese demand helped drive South Korea's economy to its fastest growth in seven years in the third quarter, underscoring how Asia is leading the global economy and trade out of the worldwide downturn.
CNNMoney: No relief in sight for Main Street banks
JPMorgan Chase, Goldman Sachs and other Wall Street megabanks may be showing signs of recovery lately, but things are hardly looking up for regional banks.
In Case You Missed It
To watch the latest interviews and reporting: http://www.cnn.com/video.
CNN: Where work IS a zoo
A look at the unique world of work stops at the London Zoo to look at animal keepers.
Subscribe to the CNN=Politics DAILY podcast at http://www.cnn.com/politicalpodcast.
And now stay posted on the latest from the campaign trail by downloading the CNN=Politics SCREENSAVER at http://www.CNN.com/situationroom.