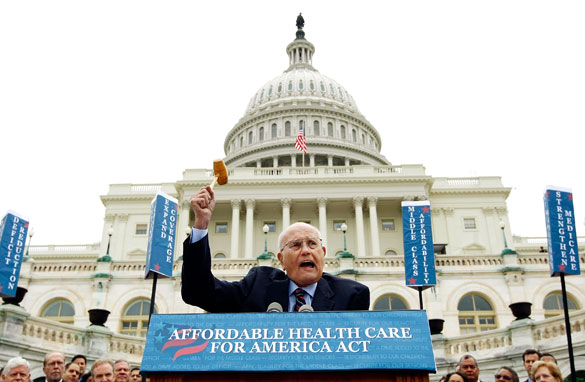 John Dingell wields the gavel used when he chaired the committee that passed Medicare legislation in 1965 during an event at the U.S. Capitol unveiling the House of Representatives' Affordable Health Care for America Act (Photo Credit: Getty Images)

Washington (CNN) - House Democratic leaders unveiled a sweeping health care reform bill Thursday that includes a more moderate version of the government-run public health insurance option.
The bill - a combination of versions passed by three House committees - includes what is termed a "negotiated rate" public option. It will cost $894 billion over 10 years and extend insurance coverage to 36 million Americans, according to House Speaker Nancy Pelosi's office.
The bill guarantees that 96 percent of Americans have coverage, Pelosi's office said. The figure is based on an analysis by the nonpartisan Congressional Budget Office.
"Today, we are ... laying the foundation for a brighter future for generations to come," Pelosi said on Capitol Hill.

Full story