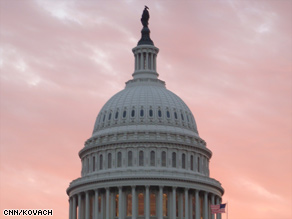 The CNN Washington Bureau's morning speed read of the top stories making news from around the country and the world.
WASHINGTON/POLITICAL
For the latest political news: www.CNNPolitics.com.
CNN: House Democrats unveil $894 billion health care bill
The battle over health care reform reached another milestone Thursday as top House Democrats unveiled sweeping legislation that includes a highly controversial public health insurance option.
Washington Post: Dozens in Congress under ethics inquiry
House ethics investigators have been scrutinizing the activities of more than 30 lawmakers and several aides in inquiries about issues including defense lobbying and corporate influence peddling, according to a confidential House ethics committee report prepared in July.
New York Times: Iran Rejects Deal to Ship Out Uranium, Officials Report
Iran told the United Nations nuclear watchdog on Thursday that it would not accept a plan its negotiators agreed to last week to send its stockpile of uranium out of the country, according to diplomats in Europe and American officials briefed on Iran's response.
CNN: Clinton questions why Pakistan has not destroyed al Qaeda
Secretary of State Hillary Clinton on Thursday questioned why Pakistani officials have not been able to capture or kill members of al Qaeda taking refuge in the country.
CNNMoney: White House fights back on Cash for Clunkers
The Obama administration on Thursday lashed out at a prominent critic of its Cash for Clunkers program, arguing that the popular trade-in initiative helped give the auto industry and the economy a much needed boost in the past few months.
Washington Post: 7 on defense panel scrutinized
Nearly half the members of a powerful House subcommittee in control of Pentagon spending are under scrutiny by ethics investigators in Congress, who have trained their lens on the relationships between seven panel members and an influential lobbying firm founded by a former Capitol Hill aide.
McClatchy: Blue Dogs aren't there yet on new House health bill
Democratic leaders Thursday invoked the spirit of generations of party heroes to rally their members of the House of Representatives behind a new health care plan - but it's clear that winning a majority will be a tough fight.
CNN: Rieckhoff takes veterans' fight from 'sandbox' to White House
Standing behind the president during a bill signing is a shining moment for any policy activist.
New York Times: A Senate Naysayer, Spoiling for Health Care Fight
Senator Tom Coburn's office is the rare Capitol Hill work space without a "me wall" — the display of photographs of a lawmaker standing beside presidents, foreign leaders and other dignitaries, all illustrating How Big a Deal he is.
CNN: Bill Clinton hindered wife's VP chances, book reveals
Some Democrats had dubbed the possibility of a Barack Obama-Hillary Clinton pairing last year as a "dream ticket," though the notion that the two once-bitter primary rivals would team up always seemed far-fetched.
CNN: Obama to meet prime minister of Turkey at White House
President Barack Obama will host Turkish Prime Minister Recep Tayyip Erdogan at a White House meeting on December 7, the White House announced Thursday.
CNN: Pakistan drone war takes a toll on militants - and civilians
The Obama administration has dramatically ratcheted up the American drone warfare program in Pakistan. Since President Obama took office, U.S. drone strikes have killed about a half-dozen militant leaders along with hundreds of other people, a quarter of whom were civilians.
Washington Post: Audit finds Iraq contractor overbilled for vehicle parts
A defense contractor that supplied vehicle parts for the Iraqi army sought reimbursements from the U.S. military far in excess of the cost of the items, according to a new report by the special inspector general for Iraq reconstruction.
CNN: Industry group blasted for 'fraudulent' information on energy bill
Democratic Rep. Edward Markey, chairman of the House Select Committee on Energy Independence and Global Warming, grilled witnesses Thursday on what he called "fraudulent letters" sent to Congress on energy and climate legislation before a crucial House vote on the issue.
CNN: Senate leaders reach deal on extending homebuyers' tax credit
Two U.S. senators on Thursday confirmed a bipartisan deal intended to extend the first-time homebuyers' tax credit that was originally passed earlier this year as part of the economic stimulus bill.
New York Times: U.S. Signals Spouse Abuse Claims Could Lead to Asylum
In an unusually protracted and closely watched case, the Obama administration has recommended political asylum for a Guatemalan woman fleeing horrific abuse by her husband, the strongest signal yet that the administration is open to a variety of asylum claims from foreign women facing domestic abuse.
CNN: DNC asks supporters to take on Palin's 'lies'
The Democratic National Committee is taking fresh aim at Sarah Palin, encouraging supporters to attack the former Alaska governor on Facebook in order to "debunk her lies."
CNN: Christie to Corzine: Call me fat!
Chris Christie wants Jon Corzine to "man up" and come right out and say the New Jersey Republican gubernatorial candidate is fat.
CNN: Steele: Virginia a 'blueprint' for GOP success
Republican National Committee Chairman Michael Steele isn't predicting victory yet in the Virginia and New Jersey governor's races, but in Virginia – a race Republicans look poised to win – he sees a "blueprint" for GOP success in 2010.
CNN: Letter from Obama hits Virginia mailboxes
With their final mailing of the Virginia governor's race, Democrats are hoping President Obama can motivate his 2008 supporters to show up once again for Creigh Deeds next Tuesday.
CNN: Romney won't back either Republican or Conservative in NY 23 Race
Is Mitt Romney weighing in on the intra-Republican Party fight in race for New York's 23 Congressional District by refusing to make an endorsement?
Wall Street Journal: No Deal: Chamber Chief Battles Obama
With President Barack Obama bidding to overhaul the health-care system, tighten bank oversight and make industries pay for their greenhouse-gas emissions, some trade-association chiefs have decided to compromise with the party in power.
CNN: GOP Rep: House vote on Confucius birthday 'a Joke'
In a belated celebration on Wednesday, the House marked last month's 2,560th birthday of Chinese philosopher Confucius by passing a resolution recognizing "his invaluable contributions to philosophy and social and political thought."
CNN: Cantor launches 'WhipCast' application for BlackBerry
A new BlackBerry application released Thursday by the office of House Minority Whip Eric Cantor is the latest technology upgrade for Republicans.
CNN: Judge dismisses suit about Obama's eligibility to be president
President Barack Obama may have one less problem to worry about.
CNN: After credit card outrage, Ohio couple gets relief
Chuck and Jeanne Lane got some good news earlier this week: After more than doubling the Lanes' monthly minimum payment, their credit card company is now slashing their payment.
New York Times: Beer Summit Goes for a Second Round
If their highly publicized meeting over the summer was the Beer Summit, then perhaps this was simply the Beer Meal.
CNN: Jeb Bush: Obama trying to 'attack capitalism'
Since his brother left office in January, former Florida Gov. Jeb Bush has been mostly diplomatic when discussing the Obama administration.
CNN: Republican Twitter accounts hacked
Two prominent Republicans had their Twitter accounts hacked on Wednesday. Florida Senate candidate Marco Rubio and Tennessee gubernatorial candidate Zach Wamp both fell victim to a "phishing attack" that urged their followers to visit a site hawking colon cleansing pills.
NATIONAL
For the latest national news: www.CNN.com.
CNN: Court hearing held for six tied to group seeking Islamic state in U.S.
Six men appeared in federal court Thursday, a day after they were arrested in raids targeting an African-American Muslim group that the FBI said sought to establish an Islamic state in the United States.
CNN: Plane, helicopter collide off California coast; 9 missing
A search was on Thursday night for nine people left missing after a Coast Guard plane collided with a Marine helicopter over the Pacific Ocean near Southern California, officials said.
CNN: Bay Bridge ready for Friday commute?
Chances have increased slightly that the San Francisco-Oakland Bay Bridge will reopen in time for the Friday morning commute, transportation officials said Thursday evening.
CNN: They make their mark in mug shot history
Police say guilt was written all over their faces. Police received a call Friday night that two men with hooded sweatshirts and painted faces had tried to break into a man's home in Carroll, Iowa.
CNN: 4 arraigned in California gang rape case
Four teenagers were arraigned Thursday on charges connected to the alleged gang rape of a 15-year-old girl on a high school campus after a homecoming dance.
Wall Street Journal: FBI Lets Barred Tycoon Visit U.S.
One of Russia's most powerful tycoons - barred entry to the U.S. for years due to U.S. government concerns about possible ties to organized crime - visited the country twice this year under secret arrangements made by the Federal Bureau of Investigation.
Boston Globe: Firms' deals for flu drug draw fire
The Boston-based law firm Ropes & Gray made arrangements this month for hundreds of its employees and their families to obtain the antiviral medicine Tamiflu to protect them from swine flu, a move that the company calls a wise precaution but that public health officials criticized as medically questionable stockpiling.
CNN: New York's Gov. Paterson declares H1N1 state of emergency
Broadening the number of health care professionals who can administer vaccine, New York Gov. David Paterson issued a sweeping executive order Thursday officially declaring a state of emergency due to the increase in H1N1 cases, including 75 H1N1-related deaths in New York state.
CNN: Friend of gang rape victim blasts school officials over safety
She had come alone to the Richmond High School homecoming dance, gorgeous in a sparkling purple dress and faux diamond baubles. The DJ played salsa, meringue, rap. When the teenager disappeared, her friends thought she had gone home early.
New York Times: Federal Researchers Find Lower Standards in Schools
A new federal study shows that nearly a third of the states lowered their academic proficiency standards in recent years, a step that helps schools stay ahead of sanctions under the No Child Left Behind law. But lowering standards also confuses parents about how children's achievement compares with those in other states and countries.
Boston Globe: Detained immigrant's death leaves far-reaching questions
The last time Milady Tavarez spoke with her brother, Pedro, he sounded lonely but otherwise fine. For a year and a half, he had been bounced from jail to jail, fighting deportation to the Dominican Republic. Now, he sat in the Suffolk County House of Correction, eager for her to visit.
Wall Street Journal: Racial Milestone in York, Pa.
Forty years after race riots erupted on its streets, this city in the southeastern corner of Pennsylvania is about to elect its first African-American mayor.
CNN: Jury hears boy, 7, describe how mother attacked him and his brother
A mother's plot to blame a stranger for killing her sons went awry when one of the boys survived and told police how Michelle Kehoe cut his throat, then moved on to his younger brother, an Iowa prosecutor said Thursday.
Los Angeles Times: Palo Alto campus searches for healing after suicides
The small squares of colored paper began cropping up on the doors and walls of Henry M. Gunn High School last week, two days after William Dickens, 16, killed himself on the nearby train tracks. "Just keep swimming," one Post-it note said. "There is always someone who will listen," was written on another. And, "There's no meaning to happiness w/o sadness. Take it easy."
CNN: Bea Arthur leaves $300K to gay youth
"Golden Girls" star Bea Arthur's generosity lives on.
INTERNATIONAL
For the latest international news: http://edition.cnn.com/
CNN: Somali women beaten for violating Islamic law, officials say
Militants who control parts of Somalia's capital city are beating women in broad daylight for violating their radical brand of Islamic law, according to local officials and witnesses in Mogadishu.
CNN: Caught in crossfire, civilians flee Waziristan
They come trudging up a dirt path in single file, towards a white cricket stadium in the middle of this dusty provincial town.
CNN: U.N. chief urges more security for staff in Afghanistan
United Nations Secretary-General Ban Ki-Moon is calling for additional security for U.N. staff in Afghanistan, citing a "dramatically escalated threat" due to the world body's support for that nation's electoral process.
CNN: Passport with 9/11 suspect's name found in Pakistan
A passport bearing the name of Said Bahaji, a suspect linked to the September 11 attacks on New York and Washington, has been found in a town captured by the Pakistani military.
New York Times: Saudis Try to Head Off Swine Flu Fears Before Hajj
Every year, the single largest gathering on the planet is the annual pilgrimage to Mecca: 2.5 million people from 160 countries packed into a small city in Saudi Arabia for five days.
CNN: Dozens of security officials detained in Iraq bombings
More than 60 people responsible for security in the area of Baghdad where bombers killed 160 people this week have been detained amid growing criticism of a security breakdown in the capital.
Washington Post: In Russia, an intensifying insurgency
Her face wet with tears and framed by a black shawl, Madina Albakova sat in her ransacked living room and described how she had become another teenage widow here in Ingushetia, the most volatile of Russia's Muslim republics.
CNN: Canadian folk singer killed by coyotes, park official says
A rising Canadian folk singer was killed by coyotes this week in a national park in Nova Scotia, a park spokesman said Thursday.
CNN: Strikes hit schools, hospitals, subways in Argentina's capital
Argentina's capital city was beset by strikes Thursday, with teachers, doctors and transit employees refusing to work over money matters.
CNN: Chinese officials try to find parents of 60 lost children
In some of the photos, the young children are wearing bibs and slight smiles can be seen on their chubby faces.
CNN: Iraqi elections facing possible delay
The fate of Iraq's national elections hung in the balance Thursday as the nation's lawmakers failed to convene for an official session and adopt an election law, a move that could spark a delay in the upcoming vote.
BUSINESS
For the latest business news: www.CNNMoney.com.
CNNMoney: Economy finally back in gear
The U.S. economy grew at a 3.5% annual rate in the third quarter, ending a string of declines over four quarters that resulted in the most severe slide since the Great Depression. But some economists raised doubts about how long such strong growth can last.
CNNMoney: Federal deficit: Trail of broken promises
When it comes to figuring out what has caused the country's record accumulation of debt, just about every politician in Washington has a theory.
In Case You Missed It
To watch the latest interviews and reporting: http://www.cnn.com/video.
CNN: CIA agents on trial
CNN's Paula Newton reports the latest on the rendition trial moving forward in Italy.
Subscribe to the CNN=Politics DAILY podcast at http://www.cnn.com/politicalpodcast.
And now stay posted on the latest from the campaign trail by downloading the CNN=Politics SCREENSAVER at http://www.CNN.com/situationroom.