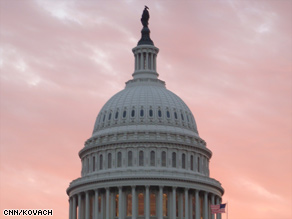 The CNN Washington Bureau's morning speed read of the top stories making news from around the country and the world.
WASHINGTON/POLITICAL
For the latest political news: www.CNNPolitics.com.
CNN: King: One year after Obama's victory
This is a week that, in more ways than one, will bring lessons of how much has changed since President Obama's historic election victory one year ago.
CNN: Karzai challenger quits Afghan runoff
Afghan politician Abdullah Abdullah withdrew Sunday from the upcoming runoff election, saying he believes that the second round would be as fraudulent as the first.
New York Times: With Karzai, U.S. Faces Weak Partner in Time of War
With the White House's reluctant embrace on Sunday of Hamid Karzai as the winner of Afghanistan's suddenly moot presidential runoff, President Obama now faces a new complication: enabling a badly tarnished partner to regain enough legitimacy to help the United States find the way out of an eight-year-old war.
CNN: Police: Dozens dead in Pakistan explosion
A suicide bomber detonated explosives Monday outside a bank in Rawalpindi where people had lined up to pick up their monthly checks, police said.
CNN: GOP nominee endorses Democrat
The Republican Party nominee in this week's special congressional election in New York endorsed her Democratic opponent Sunday, one day after releasing supporters from their commitment to support her, the Watertown Daily Times reported on its Web site.
CNN: RNC commends Scozzafava, endorses Hoffman
Republican National Committee Chairman Michael Steele quickly endorsed Conservative Party candidate Doug Hoffman in New York's 23rd congressional district Saturday, after Republican Dede Scozzafava's late decision to drop out of the special election.
CNN: Palestinians blast Clinton for Israel praise
Palestinian leaders angrily dismissed Secretary of State Hillary Clinton's praise for Israel on Sunday, openly questioning her ability to jumpstart peace talks just hours after she left Israel.
Washington Post: Climate bill faces hurdles in Senate
The climate-change bill that has been moving slowly through the Senate will face a stark political reality when it emerges for committee debate on Tuesday: With Democrats deeply divided on the issue, unless some Republican lawmakers risk the backlash for signing on to the legislation, there is almost no hope for passage.
Financial Times: US Senate to introduce draft financial bill
The US Senate is close to producing draft legislation on financial regulation – but in a form that complicates the Obama administration's own plan for dealing with future crises and that may end the chances of a bipartisan law passing this year.
CNN: Cheney told FBI he did not know who leaked Plame's identity
Former vice president Dick Cheney told a special prosecutor in 2004 that he had no idea who leaked the identity of CIA agent Valerie Plame, according to newly released FBI documents.
CNN: Obama administration moves to stop release of classified information
The Obama administration invoked the state secrets privilege on Friday in a lawsuit pertaining to government eavesdropping intended to intercept terrorist communications, and one privacy advocacy group called the decision "incredibly disappointing."
Wall Street Journal: Democrats' Quiet Changes Pile Up
While President Barack Obama still faces stiff headwinds on a range of major legislation on his agenda, he has been signing into law a slew of smaller initiatives that had gathered dust on the Democratic wish list for years.
CNN: Tea Party Express takes on Oregon
The Tea Party Express rolled into Portland, Oregon, Friday and took aim at the city's left-leaning image.
CNN: Reid's public option push comes amid tough re-election bid
In a video posted on YouTube dubbed "A call to action," Senate Majority Leader Harry Reid asked Americans to "contact your reps back here in Washington and push hard. We want a health care bill that has a public option."
Washington Post: Bad news for Democrats in revelation of ethics probes
After years of criticism that congressional lawmakers were reluctant to investigate their colleagues, the disclosure in recent days of a sensitive document from the House ethics committee offers the contradictory portrait of a panel actively pursuing a range of probes even as Democrats under scrutiny remain in positions of power.
CNN: Palin robocalls urge Virginians to 'vote for Sarah's values'
Sarah Palin isn't staying out of the Virginia governor's race after all.
USA TODAY: Small airports land big money
Congress has steered $1.1 billion since 2001 to favored projects at airports that cater to private planes, much of it going to low-priority improvements or to benefit corporate jets, a USA TODAY analysis shows.
CNN: Top Republican sounds off on 'political rebellion'
Trying to explain successful efforts by conservatives to topple the Republican establishment's pick to run in an upstate New York congressional special election, a leading Republican said Sunday that he thinks the country is in the midst of a "political rebellion" driven largely by people who have not previously been vocal in the political process.
CNN: Owens compares Hoffman to former President Bush
In New York's 23rd congressional district, Democratic candidate Bill Owens is capitalizing on Republican candidate Dede Scozzafava's last-minute decision to drop out of the special election as a final opportunity to tie Conservative Party candidate Doug Hoffman to former President Bush.
CNN: Barbour gets 'The Last Word' on NY-23, gov races
Mississippi Gov. Haley Barbour had blunt words on CNN's State of the Union about the conservative uprising that toppled a moderate Republican candidate in New York's 23rd Congressional District.
Washington Post: High-stress position, low-key personality
During the past year, Patrick Gaspard, the low-profile White House political director, kept showing up in the middle of high-profile predicaments.
CNN: Ad spending in New Jersey reaches $37 million
Candidates and outside groups in New Jersey's highly contested gubernatorial race have spent nearly $37 million dollars on advertising since May.
St. Petersburg Times: Gov. Charlie Crist's popularity slides
The bottom is falling out beneath Florida's once hugely popular governor.
CNN: Limbaugh questions if Obama, Democrats care about America
Rush Limbaugh brought his popular vitriol to national television Sunday, calling President Barack Obama unqualified and questioning if Obama and other Democrats care about the nation's well-being.
CNN: Boehner promises GOP health care bill
With debate poised to begin in the House this week on Democrats' nearly 2000-page health care reform bill, House Minority Leader John Boehner said Sunday that House Republicans intend to present their own health care bill.
CNN: Lieberman: Doing nothing better than a public option
Sen. Joe Lieberman said Sunday that America would be better off with no health care bill instead of one that includes a government-run public health insurance option.
CNN: Reliable Sources: The forgotten war takes the spotlight
One day after the end of the deadliest month for U.S. troops in Afghanistan, news from the once under-reported region continued to appear on the front pages of American newspapers and as lead stories on television, as the opposition candidate to the current Afghan President Hamid Karzai announced today he will not participate in a run-off presidential election.
CNN: Geithner: Deficit must come down, but growth still the priority
Economic growth and job creation remain the government's top priorities, despite a federal deficit that is "too high," Treasury Secretary Timothy Geithner said in an interview broadcast Sunday.
NATIONAL
For the latest national news: www.CNN.com.
CNN: Search ends for missing after midair collision
Authorities have decided to call off a search-and-rescue mission for nine people who may have plunged into the Pacific Ocean off southern California after a Coast Guard C-130 plane and a Marine AH-1 Cobra helicopter collided Thursday night.
CNN: First U.S. man since 1982 wins NYC race
For the first time since 1982, an American man won the New York City Marathon on Sunday.
CNN: Officials unsure on schedule for Bay Bridge reopening
The San Francisco-Oakland Bay Bridge will remain closed Monday morning, and officials said Sunday that they can't predict exactly when its toll booths will open for business again.
USA TODAY: Critics blast Kellogg's claim that cereals can boost immunity
Kellogg, the nation's largest cereal maker, is being called to task by critics who object to the swine flu-conscious claim now bannered in bold lettering on the front of Cocoa Krispies cereal boxes: "Now helps support your child's IMMUNITY."
Boston Globe: Billions in aid to banks not reaching many seeking loans
Last month, Tim Burr needed $35,000 to boost his small software company, so he applied for loans at Bank of America and Citibank, both of which took billions of dollars in government bailout funds intended to spur lending and lift the economy out of a recession.
New York Times: 23 Private College Presidents Made More Than $1 Million
The presidents of the nation's major private research universities were paid a median compensation of $627,750 in the 2007-8 fiscal year — a 5.5 percent increase from the previous year — according to The Chronicle of Higher Education annual executive compensation survey.
Los Angeles Times: Military refines a 'constant stare against our enemy'
The Pentagon plans to dramatically increase the surveillance capabilities of its most advanced unmanned aircraft next year, adding so many video feeds that a drone which now stares down at a single house or vehicle could keep constant watch on nearly everything that moves within an area of 1.5 square miles.
CNN: Mexico extradites record number to U.S.
Mexico extradited 11 fugitives to the United States over the weekend, putting 2009's total Mexico-to-U.S. extraditions at the highest yearly level ever, the U.S. Department of Justice said Sunday.
New York Times: Immigrant Jail Tests U.S. View of Legal Access
A startling petition arrived at the New York City Bar Association in October 2008, signed by 100 men, all locked up without criminal charges in the middle of Manhattan.
CNN: Seattle authorities vow arrests in police officer's slaying
Law enforcement officials in Seattle, Washington, vowed Sunday to catch whoever is responsible for fatally shooting a police officer and wounding a student officer as they sat in a parked patrol car.
INTERNATIONAL
For the latest international news: http://edition.cnn.com/
CNN: U.N. chief arrives in Afghanistan
U.N. Secretary-General Ban Ki-moon arrived in the Afghan capital Monday, less than a week after an attack on a guesthouse killed five U.N. workers and wounded nine others.
CNN: Australia: Boat sinks with 39 on board
Eighteen people were rescued - but as many as 21 others were missing - after a boat sank late Sunday in remote seas off Australia's Cocos Islands, according to Australian Customs and Border Protection Service officials.
CNN: Six Afghans arrested for attack on U.N. staff
Six Afghans have been arrested for planning this week's guest house suicide attack that killed five U.N. employees in Kabul, Afghanistan's chief of national security said Saturday.
Washington Post: Jordan Valley may be hurdle in peace talks
The backhoes are busy on housing plots for this new Israeli settlement in the Jordan Valley, and young families, under army guard and toting M-16s, have begun cultivating dozens of acres of land with dates, olives and other crops.
CNN: Bombings kill 7, wound more than 45 in Iraq
Bombings in central and western Iraq killed at least seven people and wounded 45 others on Sunday, the Interior Ministry said.
CNN: At least 14 dead after Typhoon Mirinae lashes Philippines
At least 14 people were dead and four missing in the Philippines a day after Typhoon Mirinae roared through the heart of the country, the National Disaster Coordinating Council said Sunday.
CNN: Deportation could leave Gaza student without degree
For Berlanty Azzam, Wednesday's two-hour round trip from Bethlehem to Ramallah was supposed to signal the possibility of a new life chapter for the 21-year-old college student.
New York Times: Israelis Arrest West Bank Settler in Attacks
The Israeli police said Sunday that they had arrested a 37-year-old American immigrant, a West Bank settler, and charged him in an array of killings and terrorist attacks over the last 12 years, including the murders of two Palestinians, the bombing of a leftist Israeli professor's home and the maiming of a 15-year-old boy who belongs to a community of Jews who believe in Jesus.
BUSINESS
For the latest business news: www.CNNMoney.com.
CNNMoney: CIT files for 5th largest U.S. bankruptcy
CIT Group Inc., one of the nation's leading funders of small and medium-sized businesses, filed for the fifth largest bankruptcy by assets in U.S. history Sunday as part of a reorganization plan that has the support of an overwhelming majority of debtholders.
Bloomberg: Pandit 'Near Death' Cash Hoard Signals Lower U.S. Bank Profits
Citigroup Inc. and JPMorgan Chase & Co. are hoarding cash as if another crisis were on the way.
McClatchy: Goldman takes on new role: taking away people's homes
When California wildfires ruined their jewelry business, Tony Becker and his wife fell months behind on their mortgage payments and experienced firsthand the perils of subprime mortgages.
CNNMoney: Wall Street's broken rally
Last week's big selloff did more than just rattle investors: it put an end to a seven-month win streak that had pushed the S&P 500 more than 60% above the March lows.
In Case You Missed It
To watch the latest interviews and reporting: http://www.cnn.com/video.
CNN: China iPhone launch
CNN's Emily Chang reports on the huge crowds at the the iPhone's official debut in China.
Subscribe to the CNN=Politics DAILY podcast at http://www.cnn.com/politicalpodcast.
And now stay posted on the latest from the campaign trail by downloading the CNN=Politics SCREENSAVER at http://www.CNN.com/situationroom.