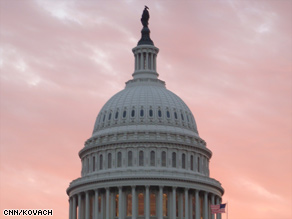 The CNN Washington Bureau's morning speed read of the top stories making news from around the country and the world.
WASHINGTON/POLITICAL
For the latest political news: www.CNNPolitics.com.
CNN: Question marks for GOP in New York district and beyond
If Democrats suffer a loss in an upstate New York congressional race Tuesday, it could well spark an uneasy celebration among Republican leaders.
CNN: Analysis: Anger, frustration fuel Election Day 2009
As voters across the country head to the polls Tuesday, one thing appears certain: Many of them are angry.
CNN: Reports: N. Korea completes work on fuel rods
North Korea has completed reprocessing thousands of spent fuel rods, producing plutonium which could be used in nuclear weapons, state-run media reported Tuesday.
CNN: Obama calls for 'new chapter' in Afghanistan
President Barack Obama called Monday for a "new chapter" of improved governance in Afghanistan now that Hamid Karzai's re-election as president is complete.
CNN: Commentary: Phantom fear of Taliban is driving the war in Afghanistan
The recent suicidal violence in Pakistan coincides with a growing concern that President Obama might be tempted by the same folly that drove President Bush and massively increase the number of U.S. troops in Afghanistan - by up to 65,000 if he were to listen to some of his military advisers.
Washington Post: Karzai is wild card for U.S. strategy
As the dust settles from Afghanistan's election, President Hamid Karzai's emergence as the victor by default cements the central dilemma facing President Obama as he decides whether to escalate the U.S. involvement in the war there.
CNN: Biden a key part of Obama's inner circle
Apparently you can take the vice president out of the Senate, but you just can't take the Senate out of the vice president, and that might be the secret to Joe Biden's influence in President Obama's inner circle.
CNN: Biden stumps for Owens, takes dig at Palin
Vice President Joe Biden challenged Republican voters in New York's 23rd congressional district to teach conservative "absolutists" a lesson in the special House election Tuesday by voting for the Democratic candidate in the race.
Washington Post: Fed gives Wall Street deadline on pay plan
Summoned to the ornate Lower Manhattan headquarters of the New York Federal Reserve building on Monday, Wall Street's top bankers were given a Feb. 1 deadline to submit proposals for how they plan to improve their pay practices, people with knowledge of the meeting said.
CNN: Clinton tries to put praise of Israel in context
Two days after Secretary of State Hillary Clinton angered Palestinian leaders by praising Israel for what she called "unprecedented" steps to limit – but not fully halt – the construction of Jewish settlements, she clarified her remarks.
CNN: Obama warns of more job losses despite economic uptick
President Barack Obama warned Monday that more job losses should be expected in the months ahead despite recent signs of economic recovery.
USA TODAY: UPS, FedEx reap the benefits of airports' pet projects
For nine years, Texans in Congress have been steering federal money to a Fort Worth airport with no passenger flights.
New York Times: In Iowa, Second Thoughts on Obama
Pauline McAreavy voted for President Obama. From the moment she first saw him two years ago, she was smitten by his speeches and sold on his promise of change. She switched parties to support him in the Iowa caucuses, donated money and opened her home to a pair of young campaign workers.
Wall Street Journal: In Vote, Watch the Intensity Factor
Polls can measure many things, but one thing they have a hard time getting at is intensity: Yes, people will tell a pollster whom they prefer in a campaign, but do they feel so strongly about their choice that they'll actually go out to vote?
CNN: Poll suggests dead heat in battle for New Jersey governor
With one day to go until Election day, a new poll suggests New Jersey Gov. Jon Corzine's in a statistical tie with his Republican challenger, Chris Christie.
CNN: Virginia election will have low turnout, Democrat predicts
Rep. Bobby Scott, D-Virginia, acknowledged Monday a lack of enthusiasm among Virginia Democrats in this year's gubernatorial race, and predicted that turnout at the polls tomorrow will be low.
CNN: Poll: NYC Mayor Bloomberg's lead down to 12 points
A new survey suggests that New York City Mayor Michael Bloomberg, running for a third term in office, holds a 12-point lead over his Democratic rival with just one day to go before voters there head to the polls.
CNN: GOP congresswoman says health care bill scarier than terrorism
A Republican congresswoman said Monday on the House floor that she believes Americans have more to fear from the Democrats' health care bill "than we do from any terrorist right now in any country."
CNN: Poll: Hoffman grabs the edge in NY-23
The Conservative Party candidate in the special election for New York's 23rd congressional district has a 5-point edge over the Democrat in the race, according to a new poll.
CNN: Hoffman: NY-23 is 'unique situation'
Conservative Party candidate Doug Hoffman told CNN on Monday that battle over the congressional seat in New York's 23rd district that led to the withdrawal of the Republican candidate isn't evidence of a split within the GOP.
CNN: Boehner regrets endorsing Scozzafava
The top Republican in the House said Monday that he regretted endorsing Dede Scozzafava, the former GOP candidate who dropped out of a special election to fill a vacant congressional seat in upstate New York.
CNN: RNC says 'vote conservative' in NY-23
The Republican National Committee is pouring some last-minute money into the highly-anticipated special election in New York's 23rd congressional district with a new radio ad, as the party throws its support to Conservative Party candidate Doug Hoffman.
CNN: Scozzafava campaigns for Owens
Not only is the former Republican candidate in a special New York congressional election now supporting the Democrat in the race, she is actively campaigning for him.
CNN: Outgoing Atlanta mayor not backing likely replacement
Atlanta's outgoing mayor announced Monday that she will not be voting for the candidate poised to become the city's first white mayor in more than three decades.
Washington Times: Big money buys seats at lawmakers' dinner tables
Want to dine with five U.S. senators? Then just drop by Wednesday night and, oh, by the way, bring $30,400.
Wall Street Journal: Flash Points Linger in Health Bill
House Democrats are wrestling with how their health-care bill will deal with abortion and immigration issues as they prepare to bring the bill to the floor as soon as Friday.
The Hill: Reid reassures the left Lieberman is on board
Sen. Joe Lieberman has reached a private understanding with Majority Leader Harry Reid that he will not block a final vote on healthcare reform, according to two sources briefed on the matter.
Los Angeles Times: Healthcare provision seeks to embrace prayer treatments
Backed by some of the most powerful members of the Senate, a little-noticed provision in the healthcare overhaul bill would require insurers to consider covering Christian Science prayer treatments as medical expenses.
Boston Globe: In fight over credit rules, she wields a plan
Her critics portray her as an ivory tower elitist intent on disrupting the American Dream. But to her legions of fans in the Democratic Party, Harvard law professor Elizabeth Warren is the nation's leading economic David, fighting to protect middle-class families from corporate Goliaths.
NATIONAL
For the latest national news: www.CNN.com.
CNN: Pregnant mother, pregnant daughter battle H1N1
Nancy Brizendine's slow-paced life in California's Antelope Valley has become something of a slick race track.
New York Times: Urban Hospitals May Feel Squeeze in a Health Overhaul
As Congress struggles to rein in health care costs as part of its sweeping reform efforts, hospitals in New York City and other urban areas that provide some of the most expensive care are among the primary targets.
CNN: Bay Bridge reopens after nearly a week
The San Francisco-Oakland Bay Bridge reopened Monday, six days after two steel rods and a steel crossbeam plummeted from the span and caused a traffic nightmare for hundreds of thousands of commuters.
Washington Post: An NAACP chapter of a different hue
Benjamin Todd Jealous pulls in front of the prison compound, passes through the only unlocked door in the building and surrenders his BlackBerry and driver's license to guards. He is ushered quickly through a metal detector, then past a heavy green door that clangs shut
New York Times: Gore's Dual Role in Spotlight: Advocate and Investor
Former Vice President Al Gore thought he had spotted a winner last year when a small California firm sought financing for an energy-saving technology from the venture capital firm where Mr. Gore is a partner.
CNN: Iraqi woman, 20, dies; police in Arizona say father ran her over
A 20-year-old woman from Iraq has died in an Arizona hospital, nearly two weeks after her father, police say, ran her over with a car because she had become "too Westernized."
CNN: Set afire, teen now struggles for survival
He lies in a bed on a balloon-type mattress, to reduce pressure on his burned body. He is covered with bandages; a ventilator breathes for Michael Brewer because he can't do it for himself.
CNNMoney: Nuclear renaissance - not dead yet
Whatever happened to all those new nuclear power plants the country was supposed to build?
CNN: New Navy ship honors 9/11 victims
The new Navy assault ship USS New York steamed into New York harbor Monday, cutting through the water with a bow built using seven and a half tons of steel recovered from the wreckage of the World Trade Center.
CNN: Death of nun investigated as a murder
Federal officials said Monday they are seeking information about the killing of a 64-year-old nun whose body was found Sunday on the Navajo reservation in northwest New Mexico.
INTERNATIONAL
For the latest international news: http://edition.cnn.com/
CNN: Iran warns reformists as hostage anniversary nears
As Tehran approaches the 30th anniversary of the Iranian hostage crisis, in which dozens of Americans where held against their will for 444 days, the Islamic republic is firmly warning against reformists taking to the streets to protest the government.
CNN: On the Taliban trail in South Waziristan
Take a trip to Pakistan's tribal district of South Waziristan these days and there's no guarantee you won't get hurt, kidnapped or something worse.
CNN: Karzai declared elected president of Afghanistan
Afghan electoral officials Monday declared incumbent President Hamid Karzai the winner of another term in office, after canceling this weekend's second round of voting.
CNN: North Korea calls for direct talks with U.S.
North Korea pressed for direct talks with the United States on Monday, saying the two need to settle their differences before meaningful multilateral nuclear discussions could proceed, state media reported.
Washington Post: In North Korea, the military now issues economic orders
North Korea's military, whose nuclear program vexes the Obama administration, has grabbed nearly complete command of the nation's state-run economy and staked out a lucrative new trade in mineral sales to China to make money for its supreme commander, Kim Jong Il.
CNN: War forces Iraqi mom into prostitution
Wedad can't bear to live this way much longer. Disgusted by the work, she can hardly stand it. Wedad is a prostitute in Iraq.
CNN: Kercher trial nears end two years after brutal killing
It has been two years since the body of 21-year-old Meredith Kercher was found in the house she shared with fellow students in Perugia, Italy.
CNN: Former Argentina dictator, 5 others on trial, accused of rights abuses
Argentina's last dictator and five military leaders who helped rule the country more than 25 years ago went on trial Monday on human rights charges.
CNN: Kurds report U.S. pressure to accept Iraqi election deal
A Kurdish member of Iraq's parliament said Monday that the United States is pressuring the "highest levels of the Kurdish leadership" to accept a compromise that would dictate how national elections would be held in January.
CNN: U.N. cuts aid to Congo army brigade
The United Nations has suspended assistance to a Congolese army brigade battling rebels amid allegations that its troops killed 62 civilians, including women and children, between May and September.
CNN: Peace Corps to return to Sierra Leone
U.S. and Sierra Leone government officials have agreed to re-establish a Peace Corps program in Sierra Leone after a 15-year absence, the Peace Corps said Monday.
CNN: Attorney: Alleged 'Jewish terrorist' unstable
An American-born Israeli man, described by police as a "Jewish terrorist," is mentally unstable and in need of psychiatric help, his attorney told CNN Monday.
BUSINESS
For the latest business news: www.CNNMoney.com.
Washington Post: British plan breakup of bailed-out banks
The British government is moving to break up parts of major financial institutions bailed out by taxpayers, with a restructuring plan expected to be unveiled as soon as Tuesday. The move highlights a growing divide across the Atlantic over how to deal with the massive banks partially nationalized during the height of the financial crisis.
McClatchy: Goldman left foreign investors holding the subprime bag
Inside the thick Goldman Sachs investment circular were the details of a secret, $2 billion deal channeled through a Caribbean tax haven.
CNNMoney: Ford reports a nearly $1 billion profit
Ford Motor reported a surprise profit for the third quarter Monday, helped by a bump in sales from the Cash for Clunkers program, a reduced cost structure and problems at its U.S. rivals.
Boston Globe: Learning to play their cross-cultural cards right
Keiko Sakurai held up a business card for her audience of 20 biotechnology managers whose company, Millennium Pharmaceuticals Inc., was sold last year to a Japanese drug maker. How they use their cards, she told them, is key to maintaining a good relationship with their new bosses.
CNNMoney: Half a million pounds of beef recalled on E.coli fears
A voluntary recall was announced Monday for more than half a million pounds of ground beef because it may be contaminated with bacteria linked to at least two deaths, officials said.
CNNMoney: Ghost among the machines
Detroit's derelict Packard Plant is the country's largest abandoned industrial site. One last small company still calls the complex home.
In Case You Missed It
To watch the latest interviews and reporting: http://www.cnn.com/video.
CNN: How the Wall fell
CNN's Fred Pleitge on how leaders connected to bring down the Berlin Wall.
Subscribe to the CNN=Politics DAILY podcast at http://www.cnn.com/politicalpodcast.
And now stay posted on the latest from the campaign trail by downloading the CNN=Politics SCREENSAVER at http://www.CNN.com/situationroom.