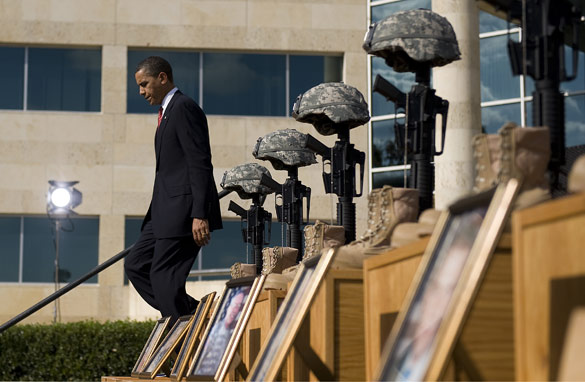 "No words can fill the void that has been left," President Obama told the loved ones of the thirteen killed by the recent shootings at Fort Hood. (Photo Credit: Getty Images)
Fort Hood, Texas (CNN) - President Obama led a memorial service Tuesday for the 13 people killed in last week's massacre at the largest U.S. military installation, telling thousands of mourners that the legacy of the dead will live beyond their "incomprehensible" slayings.
Related video: Obama speaks at Fort Hood memorial

Obama told the families of those killed that "no words can fill the void that has been left." But he added, "Your loved ones endure through the life of our nation."
"Their life's work is our security, and the freedom that we too often take for granted. Every evening that the sun sets on a tranquil town; every dawn that a flag is unfurled; every moment that an American enjoys life, liberty and the pursuit of happiness - that is their legacy," the president said.
The boots, helmets and rifles and service photographs of the slain soldiers were lined up before the podium where Obama spoke, and family members of the dead wore white ribbons as they were escorted to seats at the ceremony.
"This is a time of war. And yet these Americans did not die on a foreign field of battle," Obama said to a crowd estimated at about 15,000. "They were killed here, on American soil, in the heart of this great American community. It is this fact that makes the tragedy even more painful and even more incomprehensible."