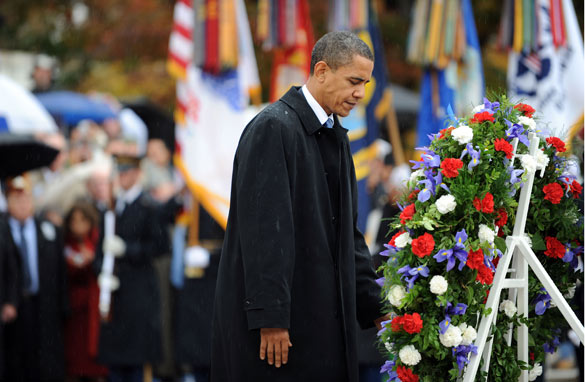 On Veterans Day, the president laid a wreath at the Tomb of the Unknowns . (Photo Credit: Getty Images)
Washington (CNN) - President Obama paid tribute Wednesday to those who have lost their lives in the nation's wars as well as to the men and women who currently serve.
"There's no tribute, no commemoration, no praise that can truly match the magnitude of your service and your sacrifice," he said in a speech at Arlington National Cemetery on a rainy, overcast Veterans Day.
"We call this a holiday, but for many veterans, it's another day of memories that drive them to live their lives each day as best as they possibly can," he said.
"For our troops, it is another day in harm's way. For their families, it is another day to feel the absence of a loved one and the concern for their safety. For our wounded warriors, it is another day of slow recovery. And in this national cemetery, it is another day when grief remains fresh."
He vowed that "America will do right" by its troops.
"To all who served in every battle in every war, we say that it's never too late to say thank you."
Earlier Wednesday, the president laid a wreath at the Tomb of the Unknowns. He then stood solemnly as a bugle played taps. Some onlookers watched from under umbrellas.