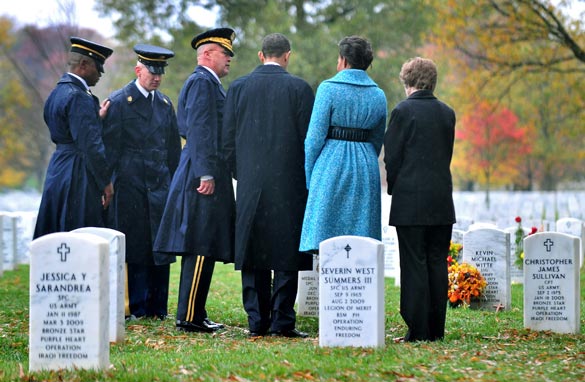 The president and first lady made a surprise visit on Veterans Day to Section 60 of Arlington National Cemetery, where the war dead from Afghanistan and Iraq are buried. (Photo Credit: Getty Images)
Washington (CNN) - Skip and Rhonda Rollins were visiting the gravesite of their son Justin at Arlington National Cemetery Veterans Day when they received condolences from unexpected visitors - President Obama and First Lady Michelle Obama.
After making remarks at the Arlington's annual National Veterans Day Observance, the president made a surprise visit to Section 60 of the cemetery, where the war dead from Afghanistan and Iraq are buried.
Obama spoke with families, visited gravesites, and shook the hands of visiting veterans. The visit came just before he headed back to the White House to preside over what could be one of his last meetings with top advisers before he decides whether to send more troops to Afghanistan.
The Rollins' son Justin, who would have turned 25 years old the day before Veterans Day, was killed in Iraq in 2007.

The couple told CNN they were "extremely surprised" to see President Obama take the time to speak with the families in Section 60. Skip Rollins said that although he generally holds "different political views" from the president, that supporting American soldiers, both living and dead, "should always be a nonpartisan issue."
The couple comes from New Hampshire every year to visit their son's gravesite for the combination of Veterans Day and his birthday, though this was the first time they had ever seen a president walking the grounds of the cemetery. While the trip is fraught with emotion, the couple commended Obama's effort to speak with the families. "It was extremely nice of him to take this time out to come down here and do this, " Skip Rollins said.
Rhonda Rollins added, "When you come here and it's not just my son that I mourn for when I see all the others stones, the ages of the soldiers, and you know they've given the ultimate sacrifice for all of us. And you know it's hard for me to leave, to leave my son."