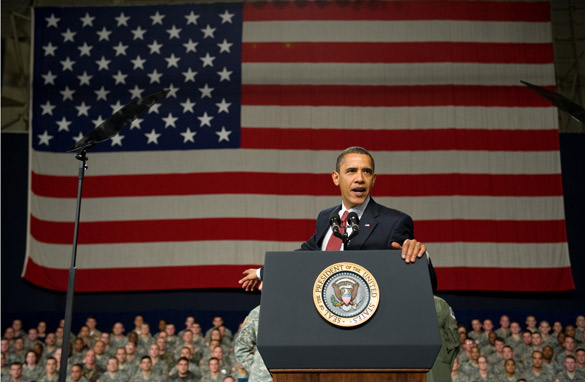 President Obama visited U.S. troops at Elmendorf Air Force Base in Anchorage, Alaska Thursday. (Photo Credit: Getty Images)
(CNN) - President Barack Obama completed his geographic American journey Thursday, visiting his 50th state by stopping in Alaska to pay tribute to military personnel while en route to Asia.
"I had up until today visited 49 states, so this is officially my 50th state," Obama told a cheering crowd - many holding up flashing cameras - at Elmendorf Air Force Base in Anchorage, Alaska.
Repeating themes from his Veterans Day speech at Arlington National Cemetery a day earlier, Obama thanked the soldiers, sailors, airmen and others for their military service, saying it protects America's freedom and values.
The president cited this week's "days of tribute," noting the memorial service at Fort Hood, Texas, on Tuesday to honor "13 Americans who have been taken from us," as well as the Veterans Day observance Wednesday.
"As citizens of a grateful nation, we are humbled by such service," Obama said.
"I'm here to say to all of you, all of you who serve, all the families that are here, of all the privileges I have as president, I have no greater honor than serving as your commander in chief," he said to cheers and applause.
Obama promised to fully support the military in his presidency to ensure it can carry out whatever mission the nation requires.

"I will never hesitate to use force to protect the American people or our vital interests," Obama said, adding: "I will not risk your lives unless it is necessary to America's vital interests, and if it is necessary, the United States of America will have your back."
Calling the nation's obligation to the military "a sacred trust that we are honor-bound to uphold," Obama concluded by saying: "Thank you for serving today. Thank you to you and your families for all you do to protect this nation we love."
The stop in Alaska was part of the initial leg of Obama's first trip to Asia as president, a four-nation visit intended to strengthen U.S. ties in the region.