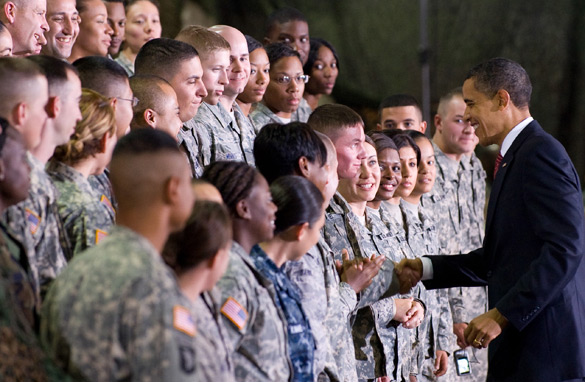 President Obama greeted US troops at Osan Air Base, south of Seoul, Thursday. (Getty Images)
Seoul, South Korea (CNN) - President Obama wrapped up an eight-day tour of Asia on Thursday, holding talks with South Korean President Lee Myung-bak and speaking to American troops at Osan Air Base.
Nuclear negotiations involving North Korea and Iran highlighted a news conference held by the leaders.
Obama announced that he will send American envoy Stephen Bosworth to North Korea on December 8 for bilateral talks on dismantling Pyongyang's nuclear program.
"If North Korea is prepared to take concrete and irreversible steps to fulfill its obligations and eliminate its nuclear weapons program, the United States will support economic assistance and help promote its full integration into the community of nations," Obama said. "That opportunity and respect will not come with threats. North Korea must live up to its obligations."