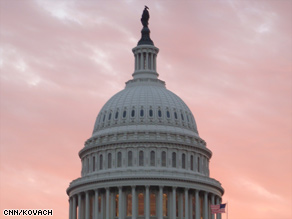 The CNN Washington Bureau's morning speed read of the top stories making news from around the country and the world. WASHINGTON/POLITICAL For the latest political news: www.CNNPolitics.com.
CNN: Feds: Couple crashed Obama's state dinner
Two people without invitations crashed President Obama's first White House state dinner, the U.S. Secret Service said Wednesday.
CNN: Obama to announce Afghanistan troop strategy Tuesday
President Obama will announce the U.S. troop strategy for Afghanistan in a speech at 8 p.m. ET Tuesday at the U.S. Military Academy at West Point, New York, White House spokesman Robert Gibbs said Wednesday.
LA Times: Obama's climate vow boosts chances for Copenhagen deal
Environmentalists and world leaders are encouraged by the president's commitment on U.S. greenhouse gas emissions and by his plans to attend international talks in December.
CNN: Palin, Bachmann to headline Tea Party convention
Sarah Palin will be the main attraction at what's being billed as the "First National Tea Party Convention."
Wall Street Journal: EU, U.S. Prepare for Climate Summit
As the prospect of a global climate deal this year recedes, European governments worry that their critical industries will be left dangerously uncompetitive.

St. Louis Post-Dispatch: Six charged in town hall disturbance
Six people arrested in August outside a raucous town hall meeting in south St. Louis County have been charged with misdemeanor ordinance violations.
Boston Globe: N.E. governors' races give GOP a chance to build on gains
Invigorated by state house victories earlier this month in Virginia and New Jersey, Republicans are turning their attention to governorships in New England, where they believe the retirement of four incumbents and a competitive race in Massachusetts has created wide-open opportunities.