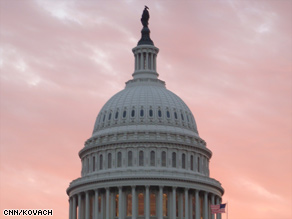 The CNN Washington Bureau's morning speed read of the top stories making news from around the country and the world. WASHINGTON/POLITICAL For the latest political news: www.CNNPolitics.com.
CNN: Feds: Couple crashed Obama's state dinner
Two people without invitations crashed President Obama's first White House state dinner, the U.S. Secret Service said Wednesday.
CNN: Obama to announce Afghanistan troop strategy Tuesday
President Obama will announce the U.S. troop strategy for Afghanistan in a speech at 8 p.m. ET Tuesday at the U.S. Military Academy at West Point, New York, White House spokesman Robert Gibbs said Wednesday.
LA Times: Obama's climate vow boosts chances for Copenhagen deal
Environmentalists and world leaders are encouraged by the president's commitment on U.S. greenhouse gas emissions and by his plans to attend international talks in December.
CNN: Palin, Bachmann to headline Tea Party convention
Sarah Palin will be the main attraction at what's being billed as the "First National Tea Party Convention."
Wall Street Journal: EU, U.S. Prepare for Climate Summit
As the prospect of a global climate deal this year recedes, European governments worry that their critical industries will be left dangerously uncompetitive.

St. Louis Post-Dispatch: Six charged in town hall disturbance
Six people arrested in August outside a raucous town hall meeting in south St. Louis County have been charged with misdemeanor ordinance violations.
Boston Globe: N.E. governors' races give GOP a chance to build on gains
Invigorated by state house victories earlier this month in Virginia and New Jersey, Republicans are turning their attention to governorships in New England, where they believe the retirement of four incumbents and a competitive race in Massachusetts has created wide-open opportunities.
Washington Post: Leftovers? It's left-outs that deserve some dish
Sant Singh Chatwal, an Indian hotelier and Democratic donor, noticed a glaring difference between Tuesday night's state dinner in honor of the Indian prime minister and the one he attended in honor of the Indian prime minister back in 2000.
Denver Post: Bennet joins with GOP to warn about Wall St. bill
U.S. Sen. Michael Bennet suddenly finds himself the darling of liberals on health care reform, but he appears more cautious on the Democrats' other major priority for the year — imposing new regulations on Wall Street.
Atlanta Journal Constitution: How will Norwood-Reed runoff take shape?
The Atlanta mayoral runoff could be a contest of Mary Norwood's grass-roots organization against Kasim Reed's fund-raising prowess.
NATIONAL
For the latest national news: www.CNN.com.
Wall Street Journal: What Facebook Can't Give You
Before there was Facebook, there was the Wednesday 10. In 1957, as men in their late 20s, they began meeting—initially over breakfast, then over dinners held at the Sherry-Netherland Hotel or at the Harvard Club in midtown Manhattan. Few were born to means. Many were sons of immigrants. Most went on to become luminaries in their fields—presidents of television networks, partners at banks, editors of magazines.
Miami Herald: At museum, uncle keeps Elián story alive
Delfin González walks around the modest museum he has maintained for years inside his Little Havana home and can't help but grow nostalgic looking at the photographs, toys and clothes that once belonged to his famous nephew, Elián.
INTERNATIONAL
For the latest international news: http://edition.cnn.com/
Bloomberg: Mixed-Sex Saudi University Hits Clerical Opposition
Saudi Arabia, the only country in the world that forbids women from driving, isn't ready to alter that, said Ali Suwaiyel, a 28-year-old Saudi banker.
CNN: Jewish orphan finds new life with Indian savior
In a scene his parents would have been heartened to see, family and friends recently thronged around young Moshe Holtzberg as men in black suits and black hats took turns cutting locks of hair from the boy's head on a stage in a rented party tent outside Tel Aviv, Israel.
BBC: Palestinians shun Israeli settlement restriction plan
The Palestinian Authority has reacted negatively to Israel's offer to temporarily restrict construction in Jewish settlements in the West Bank. Chief negotiator Sayeb Erekat said any settlement freeze that did not include East Jerusalem was unacceptable.
BUSINESS
For the latest business news: www.CNNMoney.com.
Bloomberg: Mumbai Marks Anniversary of Attacks That Paralyzed Finance Hub
Mumbai residents will today mark the first anniversary of a three-day assault on the city by Pakistani gunmen that forced a security overhaul in India's financial hub and capsized peace talks between the two nations.
Los Angeles Times: Cyber Monday is losing its luster for online retailers
As long as there has been online shopping, there has been Cyber Monday. But is that now more virtual than real?
In Case You Missed It
To watch the latest interviews and reporting: http://www.cnn.com/video.
CNN: Saving lives a house at a time
Breast cancer survivor Andrea Ivory goes door to door to sign up uninsured women for free mammograms.
Subscribe to the CNN=Politics DAILY podcast at http://www.cnn.com/politicalpodcast.
And now stay posted on the latest from the campaign trail by downloading the CNN=Politics SCREENSAVER at http://www.CNN.com/situationroom.