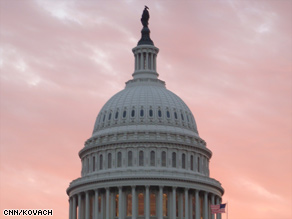 The CNN Washington Bureau's morning speed read of the top stories making news from around the country and the world.
WASHINGTON/POLITICAL
For the latest political news: www.CNNPolitics.com.
CNN: White House crashers named in 16 civil suits
The Virginia couple accused of crashing President Obama's first White House state dinner on Tuesday are named in at least 16 different civil suits in Fauquier County, sometimes as plaintiffs, sometimes as defendants.
POLITICO: Party crashers recorded by Bravo crew at White House state dinner
Two aspiring socialites who allegedly slipped uninvited into the White House for a state dinner Tuesday night were being filmed by a camera crew for a reality television show as they prepared for their headline-grabbing caper.
Los Angeles Times: Democrats work on multibillion-dollar jobs package
Troubled by the rising jobless rate, President Obama and the Democratic majority in Congress are assembling a new jobs package that would devote billions of dollars to projects meant to put people back on payrolls in 2010 and keep them working.
ABC News: Obama, GOP Air Differences Over Jobs, Economy In Thanksgiving Addresses
On this Thanksgiving, President Obama and top House Republican Mike Pence, R-Ind., each used his party's weekly address in a bipartisan display of gratitude for U.S. servicemen and women serving abroad.
Albany Times Union: State's creditors always first in line for payment
Gov. David Paterson has been warning that the state will run out of cash next month if lawmakers can't agree to eliminate the $3.2 billion deficit facing New York this fiscal year.
Wall Street Journal: IAEA Chief Says Iran Talks at 'Dead End'
Iran appeared headed for further confrontation with the U.S. and other world powers over its nuclear program after the chief of the United Nations' atomic watchdog said the agency's cooperation with Tehran had reached a "dead end."